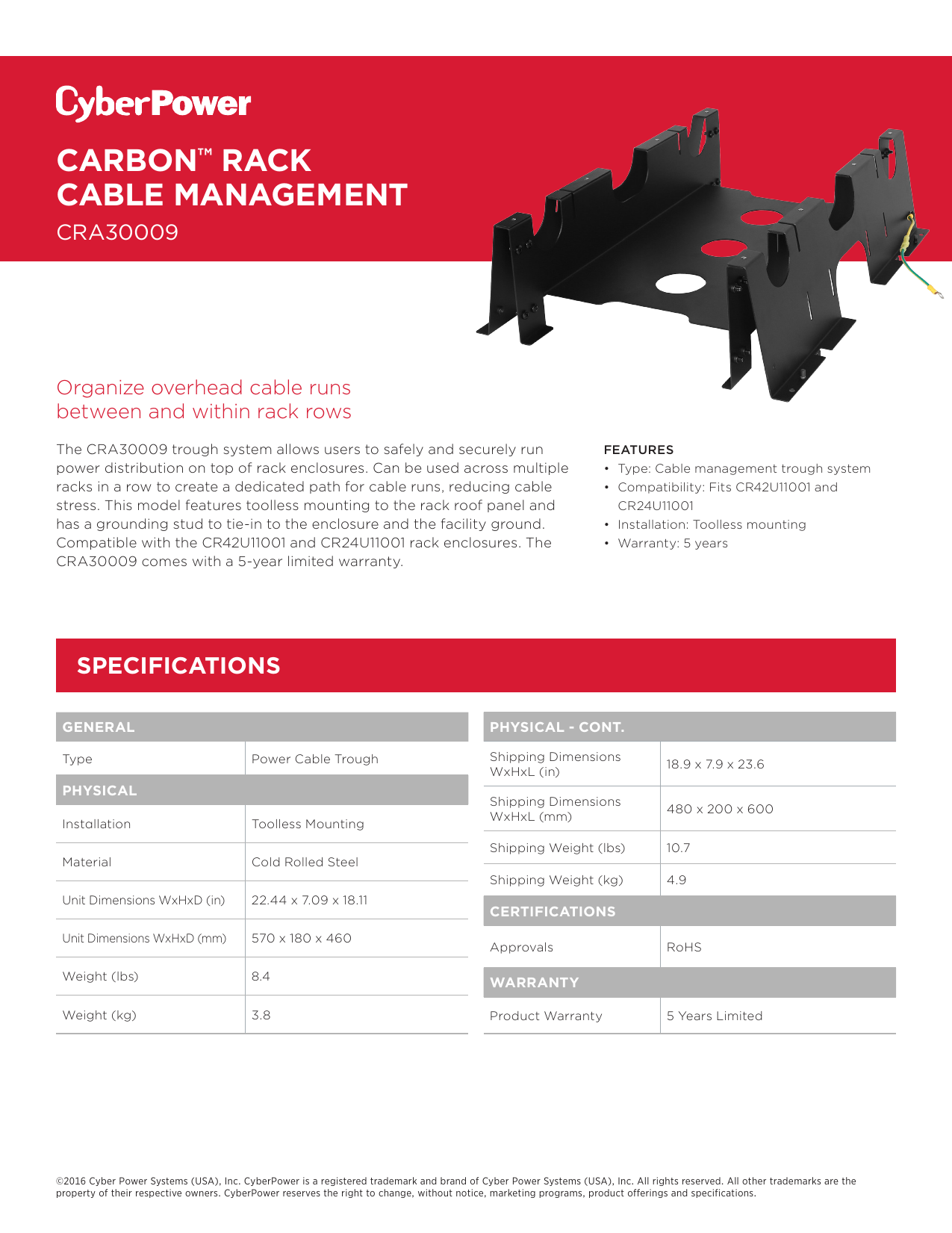 CARBON™ RACK
CABLE MANAGEMENT
CRA30009
Organize overhead cable runs
between and within rack rows
The CRA30009 trough system allows users to safely and securely run
power distribution on top of rack enclosures. Can be used across multiple
racks in a row to create a dedicated path for cable runs, reducing cable
stress. This model features toolless mounting to the rack roof panel and
has a grounding stud to tie-in to the enclosure and the facility ground.
Compatible with the CR42U11001 and CR24U11001 rack enclosures. The
CRA30009 comes with a 5-year limited warranty.
FEATURES
• Type: Cable management trough system
• Compatibility: Fits CR42U11001 and
CR24U11001
• Installation: Toolless mounting
• Warranty: 5 years
SPECIFICATIONS
GENERAL
Type
PHYSICAL - CONT.
Power Cable Trough
PHYSICAL
Shipping Dimensions
WxHxL (in)
18.9 x 7.9 x 23.6
Shipping Dimensions
WxHxL (mm)
480 x 200 x 600
Shipping Weight (lbs)
10.7
Shipping Weight (kg)
4.9
Installation
Toolless Mounting
Material
Cold Rolled Steel
Unit Dimensions WxHxD (in)
22.44 x 7.09 x 18.11
Unit Dimensions WxHxD (mm)
570 x 180 x 460
Weight (lbs)
8.4
WARRANTY
Weight (kg)
3.8
Product Warranty
CERTIFICATIONS
Approvals
RoHS
5 Years Limited
©2016 Cyber Power Systems (USA), Inc. CyberPower is a registered trademark and brand of Cyber Power Systems (USA), Inc. All rights reserved. All other trademarks are the
property of their respective owners. CyberPower reserves the right to change, without notice, marketing programs, product offerings and specifications.

* Your assessment is very important for improving the work of artificial intelligence, which forms the content of this project