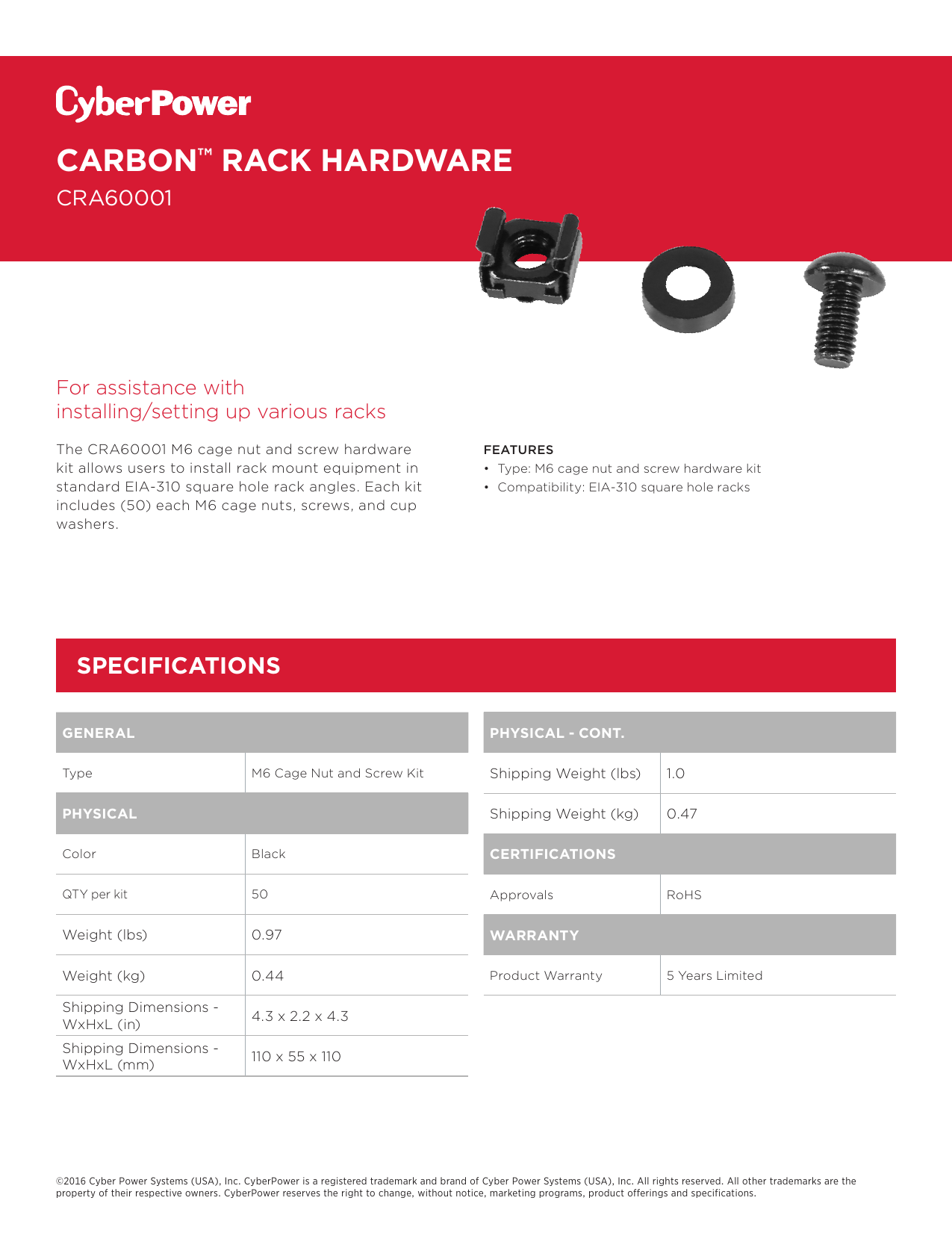 CARBON™ RACK HARDWARE
CRA60001
For assistance with
installing/setting up various racks
The CRA60001 M6 cage nut and screw hardware
kit allows users to install rack mount equipment in
standard EIA-310 square hole rack angles. Each kit
includes (50) each M6 cage nuts, screws, and cup
washers.
FEATURES
• Type: M6 cage nut and screw hardware kit
• Compatibility: EIA-310 square hole racks
SPECIFICATIONS
GENERAL
Type
PHYSICAL - CONT.
M6 Cage Nut and Screw Kit
PHYSICAL
Shipping Weight (lbs)
1.0
Shipping Weight (kg)
0.47
Color
Black
CERTIFICATIONS
QTY per kit
50
Approvals
Weight (lbs)
0.97
WARRANTY
Weight (kg)
0.44
Product Warranty
Shipping Dimensions WxHxL (in)
4.3 x 2.2 x 4.3
Shipping Dimensions WxHxL (mm)
110 x 55 x 110
RoHS
5 Years Limited
©2016 Cyber Power Systems (USA), Inc. CyberPower is a registered trademark and brand of Cyber Power Systems (USA), Inc. All rights reserved. All other trademarks are the
property of their respective owners. CyberPower reserves the right to change, without notice, marketing programs, product offerings and specifications.

* Your assessment is very important for improving the work of artificial intelligence, which forms the content of this project