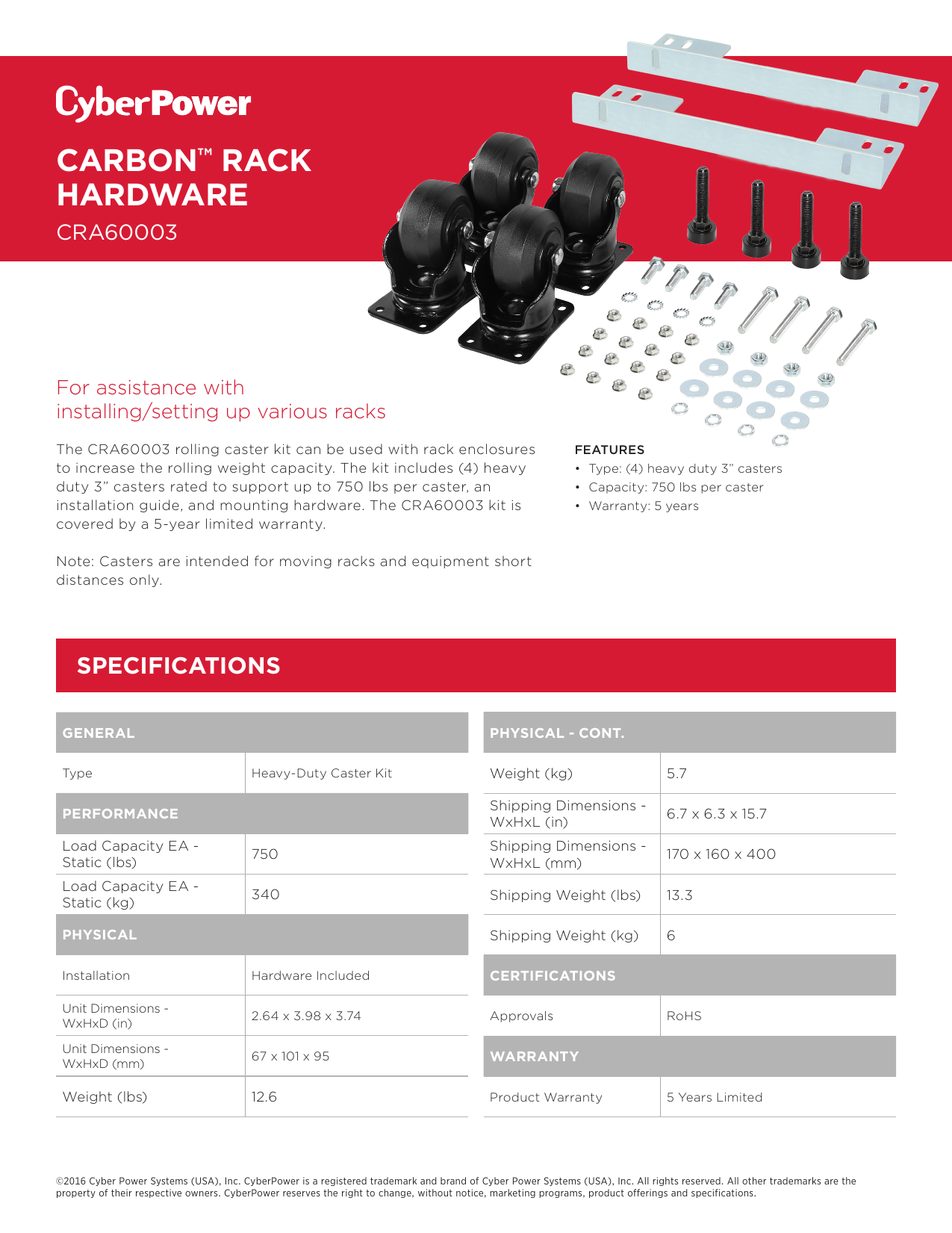 CARBON™ RACK
HARDWARE
CRA60003
For assistance with
installing/setting up various racks
The CRA60003 rolling caster kit can be used with rack enclosures
to increase the rolling weight capacity. The kit includes (4) heavy
duty 3" casters rated to support up to 750 lbs per caster, an
installation guide, and mounting hardware. The CRA60003 kit is
covered by a 5-year limited warranty.
FEATURES
• Type: (4) heavy duty 3" casters
• Capacity: 750 lbs per caster
• Warranty: 5 years
Note: Casters are intended for moving racks and equipment short
distances only.
SPECIFICATIONS
GENERAL
Type
PHYSICAL - CONT.
Heavy-Duty Caster Kit
PERFORMANCE
Weight (kg)
5.7
Shipping Dimensions WxHxL (in)
6.7 x 6.3 x 15.7
Load Capacity EA Static (lbs)
750
Shipping Dimensions WxHxL (mm)
170 x 160 x 400
Load Capacity EA Static (kg)
340
Shipping Weight (lbs)
13.3
Shipping Weight (kg)
6
PHYSICAL
Installation
Hardware Included
CERTIFICATIONS
Unit Dimensions WxHxD (in)
2.64 x 3.98 x 3.74
Approvals
Unit Dimensions WxHxD (mm)
67 x 101 x 95
WARRANTY
Weight (lbs)
12.6
Product Warranty
RoHS
5 Years Limited
©2016 Cyber Power Systems (USA), Inc. CyberPower is a registered trademark and brand of Cyber Power Systems (USA), Inc. All rights reserved. All other trademarks are the
property of their respective owners. CyberPower reserves the right to change, without notice, marketing programs, product offerings and specifications.

* Your assessment is very important for improving the work of artificial intelligence, which forms the content of this project