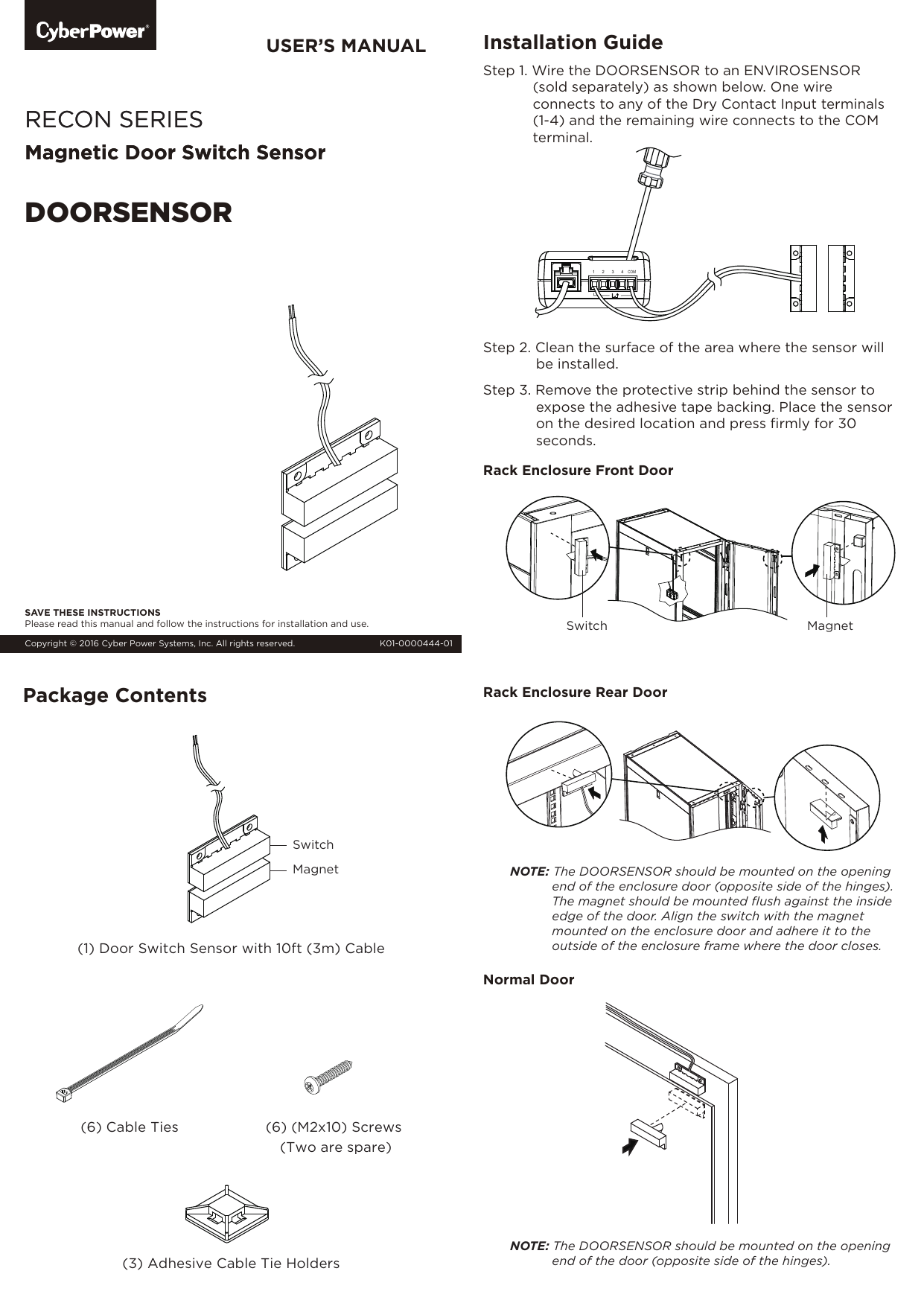 USER'S MANUAL
Installation Guide
Step 1. Wire the DOORSENSOR to an ENVIROSENSOR
(sold separately) as shown below. One wire
connects to any of the Dry Contact Input terminals
(1-4) and the remaining wire connects to the COM
terminal.
RECON SERIES
Magnetic Door Switch Sensor
DOORSENSOR
1
2
3
4
COM
Step 2. Clean the surface of the area where the sensor will
be installed.
Step 3. Remove the protective strip behind the sensor to
expose the adhesive tape backing. Place the sensor
on the desired location and press firmly for 30
seconds.
Rack Enclosure Front Door
SAVE THESE INSTRUCTIONS
Please read this manual and follow the instructions for installation and use.
Copyright © 2016 Cyber Power Systems, Inc. All rights reserved.
Switch
Magnet
K01-0000444-01
Package Contents
Rack Enclosure Rear Door
Switch
Magnet
(1) Door Switch Sensor with 10ft (3m) Cable
NOTE: The DOORSENSOR should be mounted on the opening
end of the enclosure door (opposite side of the hinges).
The magnet should be mounted flush against the inside
edge of the door. Align the switch with the magnet
mounted on the enclosure door and adhere it to the
outside of the enclosure frame where the door closes.
Normal Door
(6) Cable Ties
(6) (M2x10) Screws
(Two are spare)
(3) Adhesive Cable Tie Holders
NOTE: The DOORSENSOR should be mounted on the opening
end of the door (opposite side of the hinges).
(Optional) Drill 5/8" (1.6mm) holes where the
DOORSENSOR switch and magnet will be mounted on
the door frame and door.
For warranty and additional information, please visit:
www.cyberpower.com.
(Optional) Use the included cable ties and adhesive
backed cable tie holder to secure the DOORSENSOR
cables.
Appendix
1. When the door is closed, the DOORSENSOR should be
aligned and the distance (gap) between the switch and
magnet should be less than 1/4" (6mm), as shown
below.
Less than 1/4 inch (6 mm)
O
X
2. The ENVIROSENSOR Contact settings configured via
the connected RMCARD or PDU need to be changed to
"Normally Closed" in order for a closed door to be
monitored as such. See respective RMCARD or PDU
User Manual for more information.
Contact
#1 Name & State
#2 Name & State
#3 Name & State
#4 Name & State
Apply
Reset
DOORSENSOR
Contact#2
Contact#3
Contact#4
Normally Closed
Normally Open
Normally Open
Normally Open
Cyber Power Systems, Inc.
www.cyberpower.com
For USA and Canada:
4241 12th Ave East, Suite 400
Shakopee, MN 55379
Toll-free: (877) 297-6937
For all other regions:
Please visit our website for local contact information.

* Your assessment is very important for improving the work of artificial intelligence, which forms the content of this project