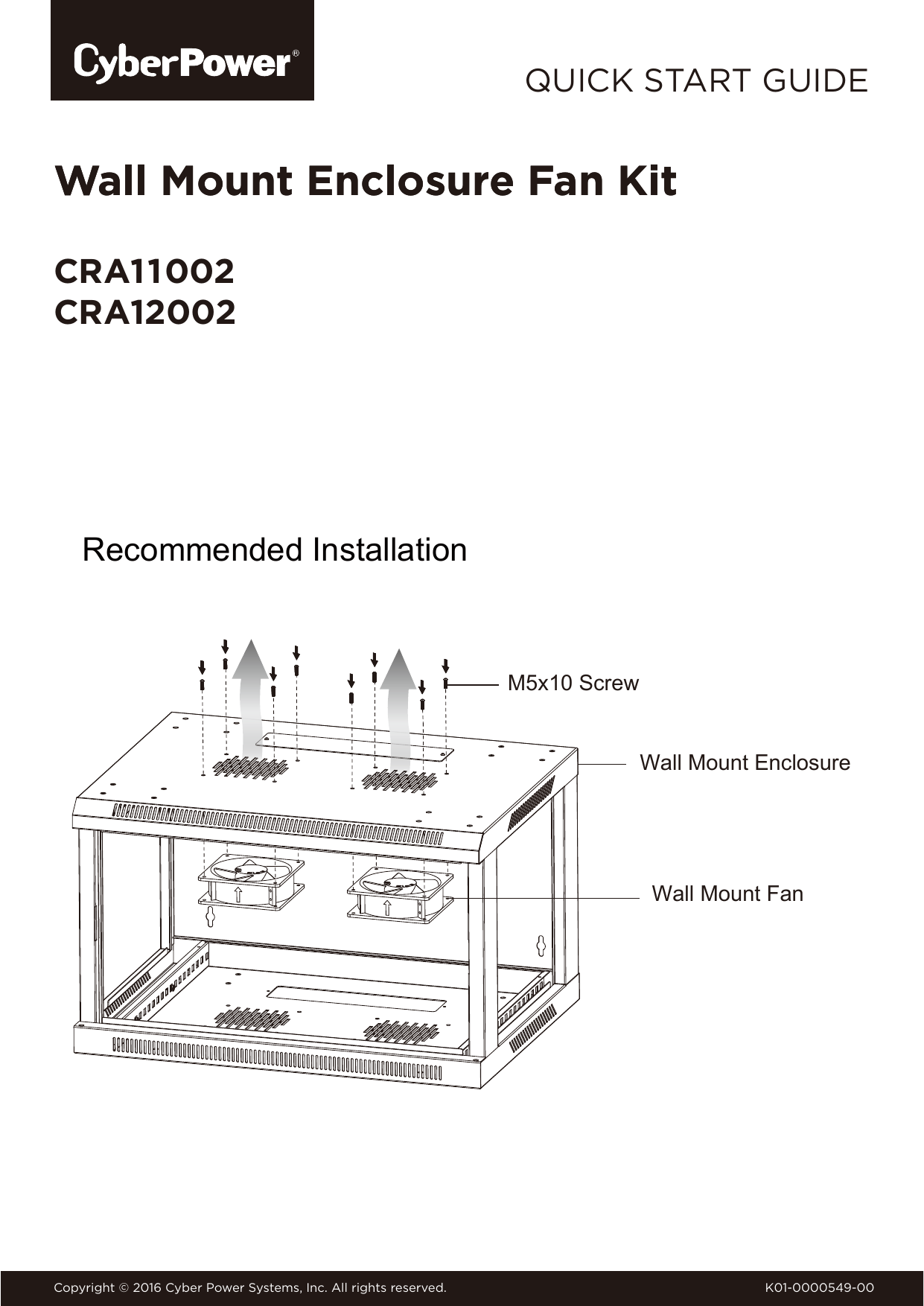 QUICK START GUIDE
Wall Mount Enclosure Fan Kit
CRA11002
CRA12002
Recommended Installation
M5x10 Screw
Wall Mount Enclosure
Wall Mount Fan
Copyright © 2016 Cyber Power Systems, Inc. All rights reserved.
K01-0000549-00
Alternative Installation
CyberPower's Wall Mount Enclosure Fan kit can also be installed on top of the enclosure.
1. Unscrew the metal protection cover. Keep the cover and hardware for later use.
Metal Protection Cover
2. Screw the cover back on the opposite side it was removed from. Then install
the fans on top of the wall mount enclosure as shown below.
Metal Protection Cover
AIR FLOW
Wall Mount Fan
M5x10 Screw
NOTE: The fans have an arrow pointing in the direction of the airflow. For correct
installation make sure that the fans are pulling air out of the enclosure.
Specifications
Model
Compatibility
CRA11002
CRA12002
Wall Mount Enclosures
Nominal Voltage
110/120Vac
208/240Vac
Plug Type
NEMA 5-15P
IEC-320 C14
Power Cord Length
6.5 ft (2 m)
Mounting Hardware
8 (M5x10) Screws Included
For warranty and additional information, please visit: www.cyberpower.com.

* Your assessment is very important for improving the work of artificial intelligence, which forms the content of this project