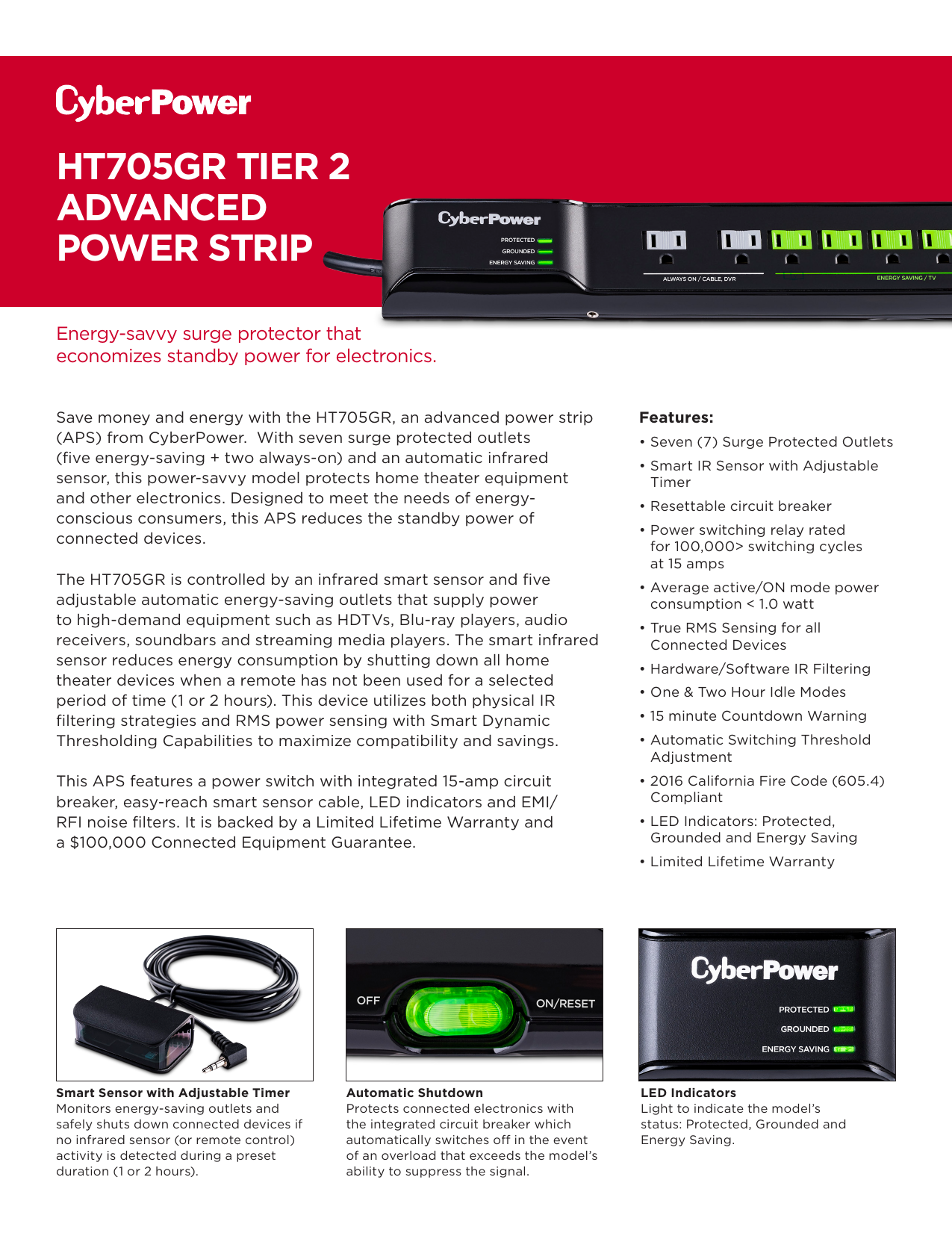 HT705GR TIER 2
ADVANCED
POWER STRIP
Energy-savvy surge protector that
economizes standby power for electronics.
Save money and energy with the HT705GR, an advanced power strip
(APS) from CyberPower. With seven surge protected outlets
(five energy-saving + two always-on) and an automatic infrared
sensor, this power-savvy model protects home theater equipment
and other electronics. Designed to meet the needs of energyconscious consumers, this APS reduces the standby power of
connected devices.
The HT705GR is controlled by an infrared smart sensor and five
adjustable automatic energy-saving outlets that supply power
to high-demand equipment such as HDTVs, Blu-ray players, audio
receivers, soundbars and streaming media players. The smart infrared
sensor reduces energy consumption by shutting down all home
theater devices when a remote has not been used for a selected
period of time (1 or 2 hours). This device utilizes both physical IR
filtering strategies and RMS power sensing with Smart Dynamic
Thresholding Capabilities to maximize compatibility and savings.
This APS features a power switch with integrated 15-amp circuit
breaker, easy-reach smart sensor cable, LED indicators and EMI/
RFI noise filters. It is backed by a Limited Lifetime Warranty and
a $100,000 Connected Equipment Guarantee.
Features:
• Seven (7) Surge Protected Outlets
• Smart IR Sensor with Adjustable
Timer
• Resettable circuit breaker
• Power switching relay rated
for 100,000> switching cycles
at 15 amps
• Average active/ON mode power
consumption < 1.0 watt
• True RMS Sensing for all
Connected Devices
• Hardware/Software IR Filtering
• One & Two Hour Idle Modes
• 15 minute Countdown Warning
• Automatic Switching Threshold
Adjustment
• 2016 California Fire Code (605.4)
Compliant
• LED Indicators: Protected,
Grounded and Energy Saving
• Limited Lifetime Warranty
Smart Sensor with Adjustable Timer
Monitors energy-saving outlets and
safely shuts down connected devices if
no infrared sensor (or remote control)
activity is detected during a preset
duration (1 or 2 hours).
Automatic Shutdown
Protects connected electronics with
the integrated circuit breaker which
automatically switches off in the event
of an overload that exceeds the model's
ability to suppress the signal.
LED Indicators
Light to indicate the model's
status: Protected, Grounded and
Energy Saving.
HT705GR TIER 2 APS
Programming the Smart Sensor
Press and hold the On/Off button for approximately
10 seconds. Release when the LED illuminates.
Then press:
Ÿ Once to program timer for one hour (default)
Ÿ Twice to program timer for two hours
The LED will flash once to confirm one hour, twice
to confirm two hours and three times for three hours.
SPECIFICATIONS
INPUT
INDICATORS
Voltage
125V
Switch
Non Lighted On/Off - Reset
Circuit Breaker
15A
Plug Type
NEMA 5-15P
Plug Style
Right Angle,
45° Offset Right
Cord Length
Standby Power
Protected
Grounded Energy Saving
LED Indicators
SMART SENSOR
Cord Length
8 ft
Shutdown Timer
15 Minute Notification
Smart Sensor Timer
1 or 2 Hours
5 ft
Energy Saving
Yes, IR Remote Controlled
<1 Watt
PHYSICAL
OUTPUT
Safety Covers
Yes
Yes
Outlet Type
NEMA 5-15R
Keyhole Mounting Slots
Outlets - Total
7
CERTIFICATIONS
Outlets - Widely Spaced
2
Outlets - Always-on
2
Outlets - Energy Saving
5
SURGE PROTECTION & FILTERING
Surge Suppression
1,500 Joules
Maximum Surge Current
60,000 Amps
Maximum Surge Current H-N
Safety
cUL
UL1363
UL1449 3rd Edition
Environmental
RoHS Compliant
WARRANTY
Product Warranty
Limited Lifetime Warranty
30,000 Amps
Connected Equipment
Guarantee
Lifetime
Maximum Surge Current H-G
15,000 Amps
CEG Amount
$100,000
Maximum Surge Current N-G
15,000 Amps
Clamping Voltage
500V (L-N)
500V (L-G, N-G)
Response Time
<1 Nanosecond
Attenuation
Upt to 43dB
EMI/RFI Filtration
150kHz - 100MHz
Tier 2 APS Approved
CONTACT | Cyber Power Systems (USA), Inc. | 877.901.1930 | sales@cpsww.com | www.cyberpowersystems.com
©2017 Cyber Power Systems (USA), Inc. All rights reserved. All other trademarks are the property of their respective owners. CyberPower reserves the
right to change, without prior notice, marketing programs, product offerings or specifications.

* Your assessment is very important for improving the work of artificial intelligence, which forms the content of this project