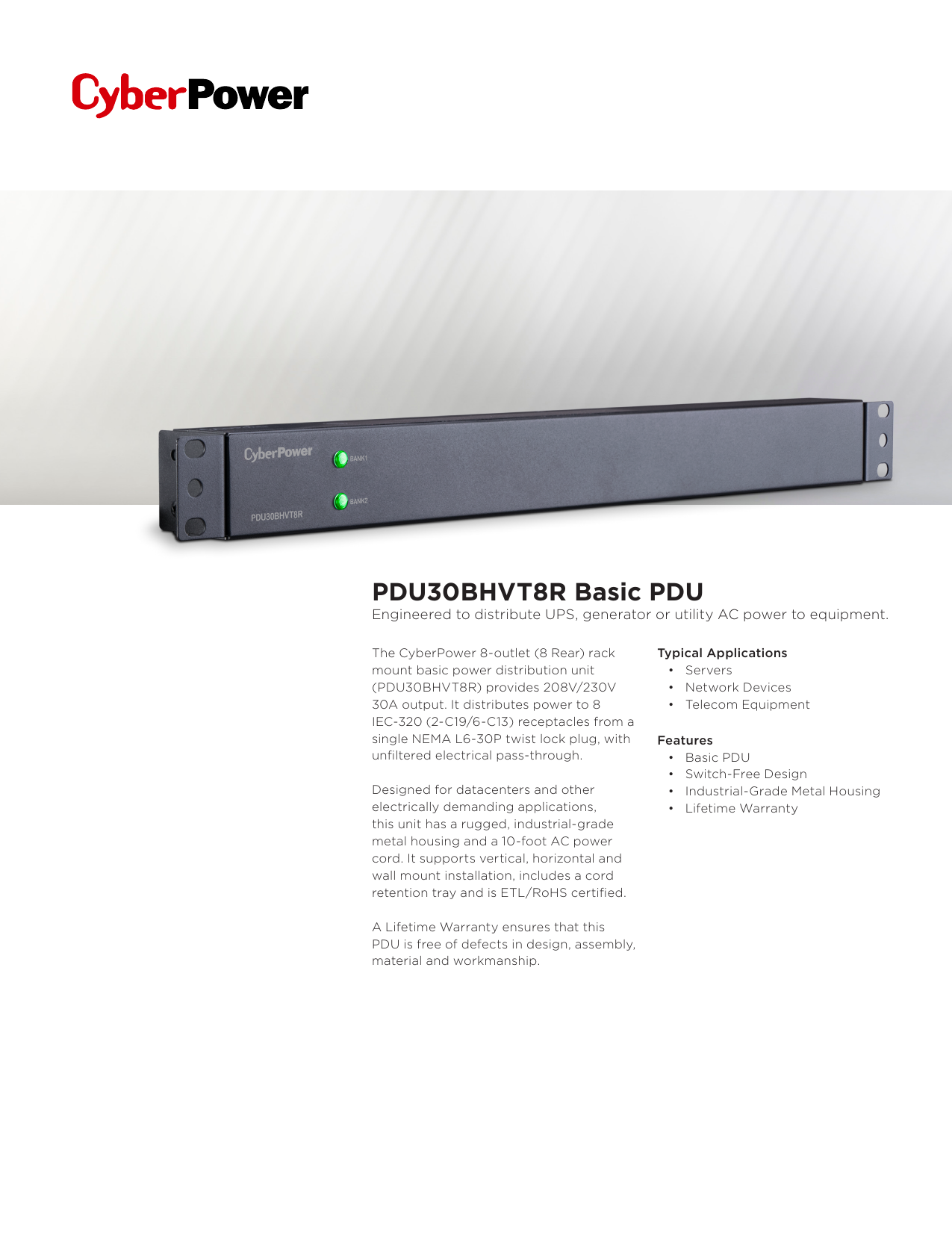 PDU30BHVT8R Basic PDU
Engineered to distribute UPS, generator or utility AC power to equipment.
The CyberPower 8-outlet (8 Rear) rack
mount basic power distribution unit
(PDU30BHVT8R) provides 208V/230V
30A output. It distributes power to 8
IEC-320 (2-C19/6-C13) receptacles from a
single NEMA L6-30P twist lock plug, with
unfiltered electrical pass-through.
Designed for datacenters and other
electrically demanding applications,
this unit has a rugged, industrial-grade
metal housing and a 10-foot AC power
cord. It supports vertical, horizontal and
wall mount installation, includes a cord
retention tray and is ETL/RoHS certified.
A Lifetime Warranty ensures that this
PDU is free of defects in design, assembly,
material and workmanship.
Typical Applications
• Servers
• Network Devices
• Telecom Equipment
Features
• Basic PDU
• Switch-Free Design
• Industrial-Grade Metal Housing
• Lifetime Warranty
PDU30BHVT8R Basic PDU
Engineered to distribute UPS, generator or utility AC power to equipment.
GENERAL
Type
Basic PDU
Phase
Single Phase
INPUT
Voltage
200V / 230V
Current
30A max (derated to 24A)
Frequency
50Hz/60Hz
Plug Type
NEMA L6-30P
Plug Style
Straight, Twist Lock
Cord Length
10'
OUTPUT
Nominal Output Voltage
200V/230V
Outlets - Total
8
Outlet Type
IEC-320 C19/C13
Outlets - Front
0
Outlets - Rear
2(C19)+6(C13)
LED Indicators
Bank 1 Green – Bank 2 Green
Overload Protection
16A x 2
PHYSICAL
Rack Size
0U
Form Factors Supported
Vertical Rackmount, Wallmount
Cord Retention Organizers
Yes
External Site Ground Pin
Yes
Adjustable Mounting Brackets
2 sets (L-short, L-long)
Dimensions (WxHxD) (in.)
17.5 x 1.75 x 1.5
Weight (lbs.)
4.5
ENVIRONMENTAL
Operating Temperature
32°F to 95°F / 0°C to 35°C
Operating Relative Humidity
0% - 95% non-condensing
Storage Temperature
5°F to 113°F / -15°C to 45°C
Maximum Operating Elevation
10,000 ft / 3,000 m
Maximum Storage Elevation
50,000 ft / 15,000 m
CERTIFICATIONS
Safety
UL60950_1 certified by ETL (USA),
CSA C22.2 (Canada)
Environmental
RoHS Compliant
WARRANTY
Product Warranty
Lifetime
©2015 CyberPower Systems (USA), Inc. All rights reserved. CyberPower reserves the right to change, without prior notice, product offerings or specifications.

* Your assessment is very important for improving the work of artificial intelligence, which forms the content of this project