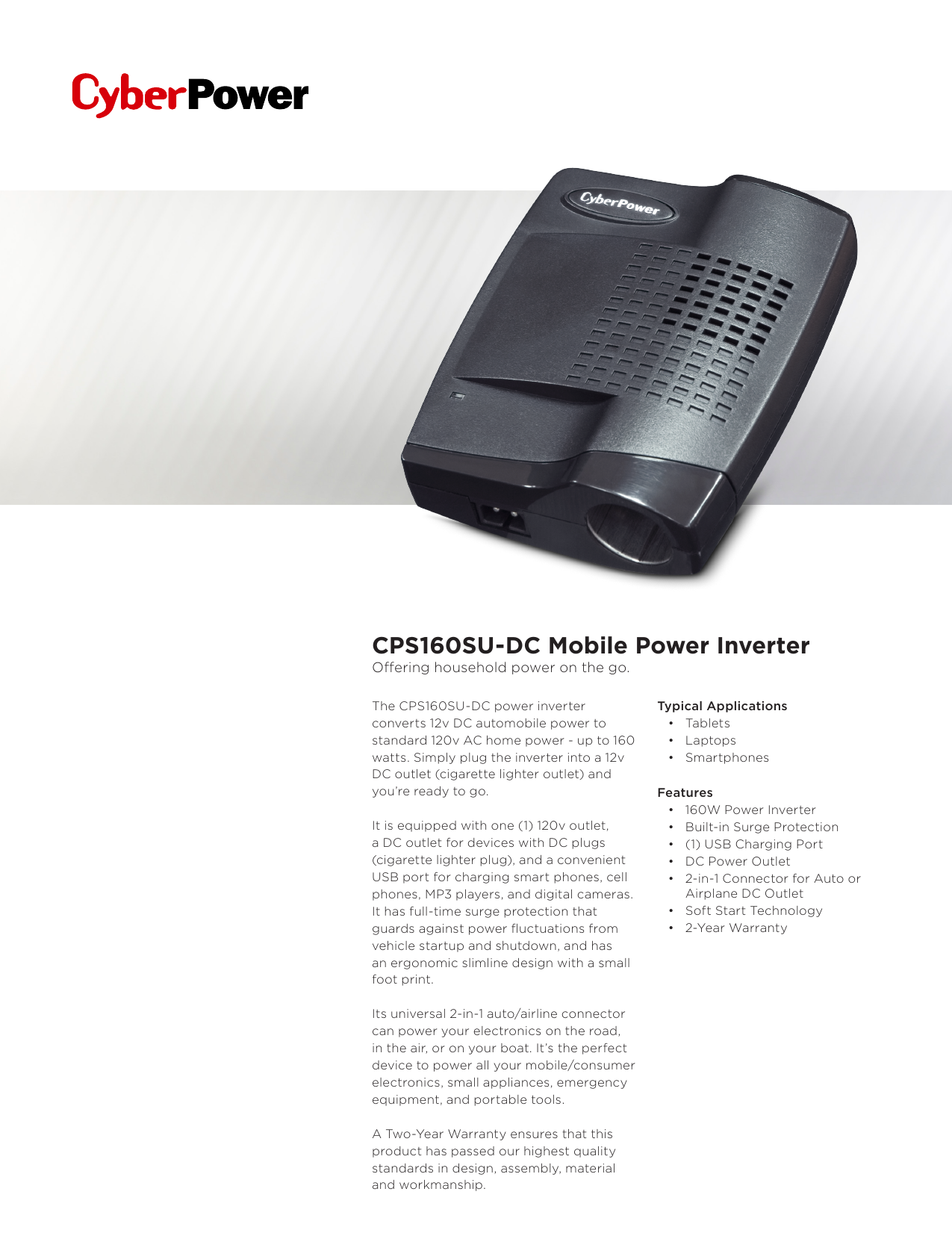 CPS160SU-DC Mobile Power Inverter
Offering household power on the go.
The CPS160SU-DC power inverter
converts 12v DC automobile power to
standard 120v AC home power - up to 160
watts. Simply plug the inverter into a 12v
DC outlet (cigarette lighter outlet) and
you're ready to go.
It is equipped with one (1) 120v outlet,
a DC outlet for devices with DC plugs
(cigarette lighter plug), and a convenient
USB port for charging smart phones, cell
phones, MP3 players, and digital cameras.
It has full-time surge protection that
guards against power fluctuations from
vehicle startup and shutdown, and has
an ergonomic slimline design with a small
foot print.
Its universal 2-in-1 auto/airline connector
can power your electronics on the road,
in the air, or on your boat. It's the perfect
device to power all your mobile/consumer
electronics, small appliances, emergency
equipment, and portable tools.
A Two-Year Warranty ensures that this
product has passed our highest quality
standards in design, assembly, material
and workmanship.
Typical Applications
• Tablets
• Laptops
• Smartphones
Features
• 160W Power Inverter
• Built-in Surge Protection
• (1) USB Charging Port
• DC Power Outlet
• 2-in-1 Connector for Auto or
Airplane DC Outlet
• Soft Start Technology
• 2-Year Warranty
CPS160SU-DC Mobile Power Inverter
Offering household power on the go.
GENERAL
Product Type
Power Inverter
INPUT
Voltage
10.5Vdc – 15.5Vdc
Current
10A max
Plug Type
12Vdc Auto Power Port
OUTPUT
Watts - Continuous
120
Watts - Peak
160
On Battery Voltage
120Vac
On Battery Frequency
60Hz
On Battery Waveform
Simulated Sine Wave
Outlets - Total
2
Outlet Type
NEMA 5-15R
DC Outlet
1
USB Charge Port - Total
1
USB Charging Amperage
2.1A
PHYSICAL
Color
Black/Gray
Enclosure Construction
ABS
Dimensions (WxHxD) (in.)
3.87 x 3.20 x 1.18
Weight (lbs.)
0.31 lbs / 4.92oz
ENVIRONMENTAL
Operating Temperature
32°F to 86°F / 0°C to 30°C
Storage Temperature
50°F to 85°F / 10°C to 28°C
CERTIFICATIONS
Environmental
RoHS Compliant
WARRANTY
Product Warranty
2 Years Limited
©2015 Cyber Power Systems (USA), Inc. All rights reserved. CyberPower reserves the right to change, without prior notice, product offerings or specifications.

* Your assessment is very important for improving the work of artificial intelligence, which forms the content of this project