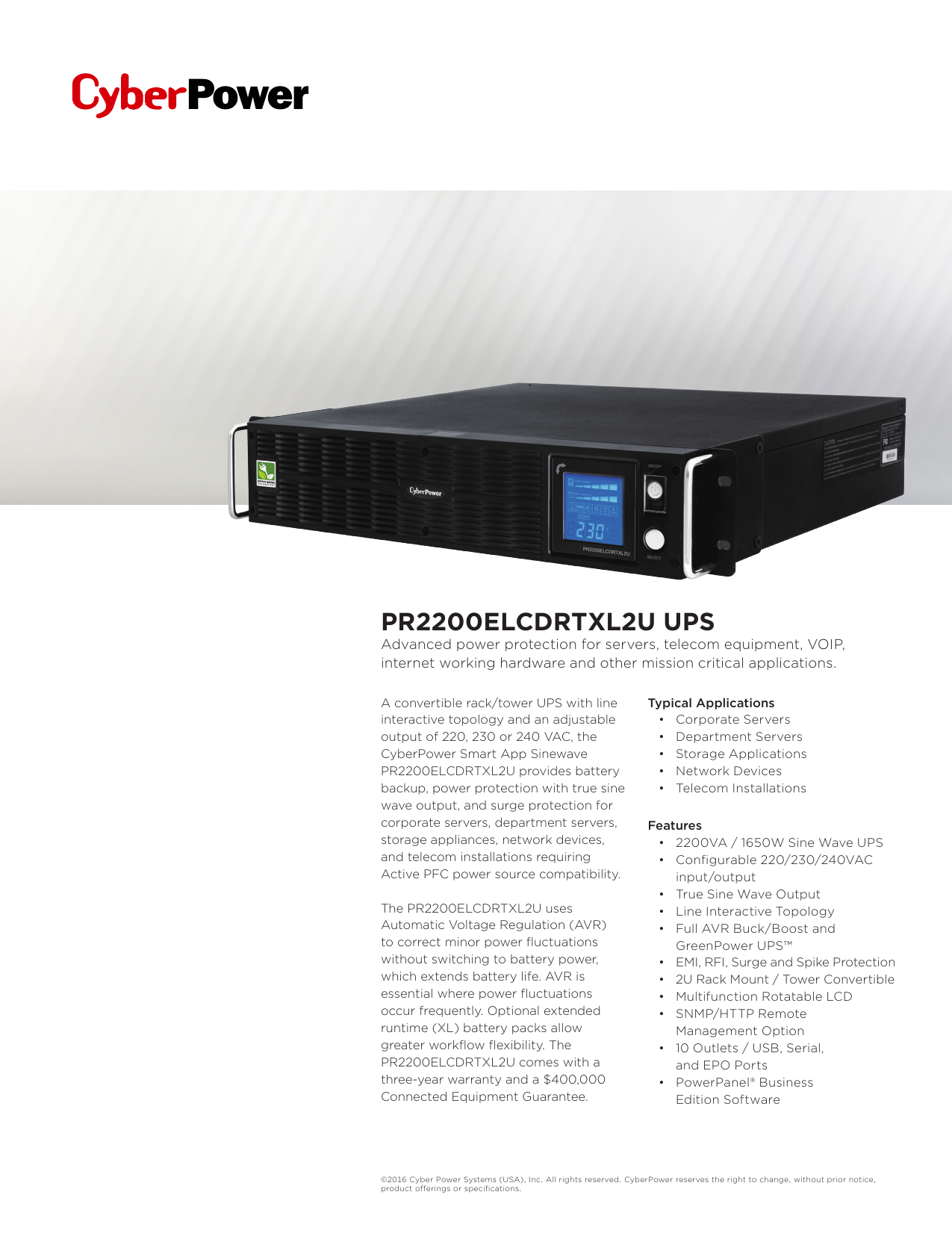 PR2200ELCDRTXL2U UPS
Advanced power protection for servers, telecom equipment, VOIP,
internet working hardware and other mission critical applications.
A convertible rack/tower UPS with line
interactive topology and an adjustable
output of 220, 230 or 240 VAC, the
CyberPower Smart App Sinewave
PR2200ELCDRTXL2U provides battery
backup, power protection with true sine
wave output, and surge protection for
corporate servers, department servers,
storage appliances, network devices,
and telecom installations requiring
Active PFC power source compatibility.
The PR2200ELCDRTXL2U uses
Automatic Voltage Regulation (AVR)
to correct minor power fluctuations
without switching to battery power,
which extends battery life. AVR is
essential where power fluctuations
occur frequently. Optional extended
runtime (XL) battery packs allow
greater workflow flexibility. The
PR2200ELCDRTXL2U comes with a
three-year warranty and a $400,000
Connected Equipment Guarantee.
Typical Applications
• Corporate Servers
• Department Servers
• Storage Applications
• Network Devices
• Telecom Installations
Features
• 2200VA / 1650W Sine Wave UPS
• Configurable 220/230/240VAC
input/output
• True Sine Wave Output
• Line Interactive Topology
• Full AVR Buck/Boost and
GreenPower UPS™
• EMI, RFI, Surge and Spike Protection
• 2U Rack Mount / Tower Convertible
• Multifunction Rotatable LCD
• SNMP/HTTP Remote
Management Option
• 10 Outlets / USB, Serial,
and EPO Ports
• PowerPanel® Business
Edition Software
©2016 Cyber Power Systems (USA), Inc. All rights reserved. CyberPower reserves the right to change, without prior notice,
product offerings or specifications.
PR2200ELCDRTXL2U
SPECIFICATIONS
Model Number
SPECIFICATIONS (continued)
PR2200ELCDRTXL2U
GENERAL
Model Number
PR2200ELCDRTXL2U
MANAGEMENT & COMMUNICATIONS
UPS Topology
Line-Interactive
Energy Saving
GreenPower UPS™ Bypass Technology
INPUT
LCD Control Panel
Yes
Multifunction LCD Diagnostic Display
Input Voltage, Output Voltage,
Est. Run Time, Normal, Battery, AVR,
Silent, Overload, Fault, Load Capacity
HID Compliant USB Port
Yes
Serial Port
Yes
Voltage
220/230/240Vac
Input Voltage Range
160Vac – 288Vac
Emergency Power Off (EPO) Port
Yes
Adjustable Voltage Range
150Vac – 300Vac
Dry Contacts
Yes
Input Frequency Range
50/60Hz ±0.1Hz
Management Cable
Yes
Cord Length
10 ft (3.04 m)
LED Indicators
Power On
Plug Type
Schuko
Audible Alarms
On Battery, Low Battery, Overload
Software
PowerPanel® Business Edition
SNMP / HTTP Remote Monitoring
Yes, with optional RMCARD202, RMCARD203
or RMCARD205
OUTPUT
VA
2200
Watts
1650
On Battery Waveform
Sine Wave
On Battery Voltage
220/230/240Vac ±5%
Automatic Voltage Regulation (AVR)
Double Boost, Single Buck
On Battery Frequency
50/60Hz ±0.1%
Overload Protection
Circuit Breaker / Internal Circuitry Limiting
Outlets — Total
Outlet Type
Outlets — Battery & Surge Protected
10
(1) IEC320 C19, (9) IEC320 C13
10
Outlets — Critical Load
4
Outlets — Non-Critical Load (NCL)
6
Transfer Time
4ms
BATTERY
Runtime at Half Load (min)
Runtime at Full Load (min)
13
5
Battery Type
Sealed Lead-Acid
Battery Size
12V/9AH
Battery Quantity
4
User Replaceable
Yes
Hot-Swappable
Yes
Typical Recharge Time
6 Hours
Extended Battery Module
BP48V75ART2U
Replacement Battery Pack
RBP0040
Replacement Battery Pack Quantity
1
PROTECTION
Surge Suppression
810 Joules
Phone Protection RJ11
1-in/1-out
Phone / Network Protection RJ11/RJ45
1-In/1-out
EMI/RFI Filtration
Yes
PHYSICAL
Form Factor
Rackmount
Dimensions (WxHxD) (in)
17.05 x 3.46 x 18.9
Dimensions (WxHxD) (mm)
433.1 x 87.9 x 480.0
Weight
77 lb (34.9 kg)
Shipping Dimensions (WxHxD) (in)
23.43 x 10.83 x 21.46
Shipping Dimensions (WxHxD) (mm)
595.1 x 275.1 x 545.1
Shipping Weight (lbs)
92.8 lb (42.1 kg)
ENVIRONMENTAL
Operating Temperature
+32°F to +104°F / 0°C to +40°C
Operating Humidity
0% - 95% non-condensing
Operating Elevation
0-10000 ft (0-3000 m)
Storage Temperature
+5°F to +113°F / -15°C to +45°C
Storage Relative Humidity
0 - 95%
Storage Elevation
0-50000 ft (0-15000 m)
Online Thermal Dissipation
170 BTU/hr
Audible Noise at 5ft from surface of unit 34.6 dB
CERTIFICATIONS
Safety
CE
Environmental
Yes
WARRANTY
Product Warranty
3 years
Connected Equipment Guarantee
Lifetime
CEG Amount
$400,000
©2016 Cyber Power Systems (USA), Inc. All rights reserved. CyberPower reserves the right to change, without prior notice, product offerings or specifications.

* Your assessment is very important for improving the work of artificial intelligence, which forms the content of this project