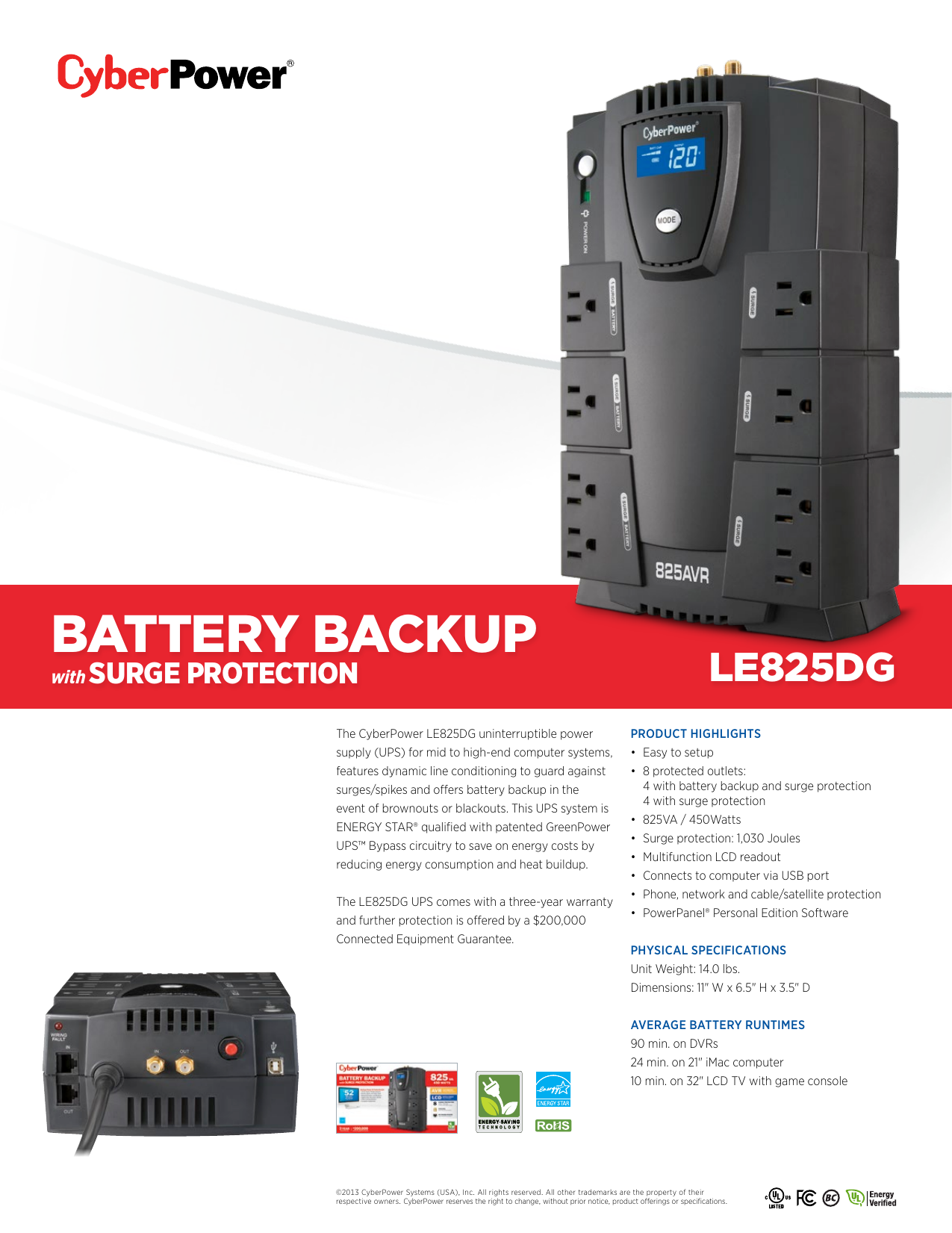 BATTERY BACKUP
with
SURGE PROTECTION
The CyberPower LE825DG uninterruptible power
supply (UPS) for mid to high-end computer systems,
features dynamic line conditioning to guard against
surges/spikes and offers battery backup in the
event of brownouts or blackouts. This UPS system is
ENERGY STAR® qualified with patented GreenPower
UPS™ Bypass circuitry to save on energy costs by
reducing energy consumption and heat buildup.
The LE825DG UPS comes with a three-year warranty
and further protection is offered by a $200,000
Connected Equipment Guarantee.
LE825DG
PRODUCT HIGHLIGHTS
• Easy to setup
• 8 protected outlets:
4 with battery backup and surge protection
4 with surge protection
• 825VA / 450Watts
• Surge protection: 1,030 Joules
• Multifunction LCD readout
• Connects to computer via USB port
• Phone, network and cable/satellite protection
• PowerPanel® Personal Edition Software
PHYSICAL SPECIFICATIONS
Unit Weight: 14.0 lbs.
Dimensions: 11" W x 6.5" H x 3.5" D
AVERAGE BATTERY RUNTIMES
90 min. on DVRs
24 min. on 21" iMac computer
10 min. on 32" LCD TV with game console
©2013 CyberPower Systems (USA), Inc. All rights reserved. All other trademarks are the property of their
respective owners. CyberPower reserves the right to change, without prior notice, product offerings or specifications.

* Your assessment is very important for improving the work of artificial intelligence, which forms the content of this project