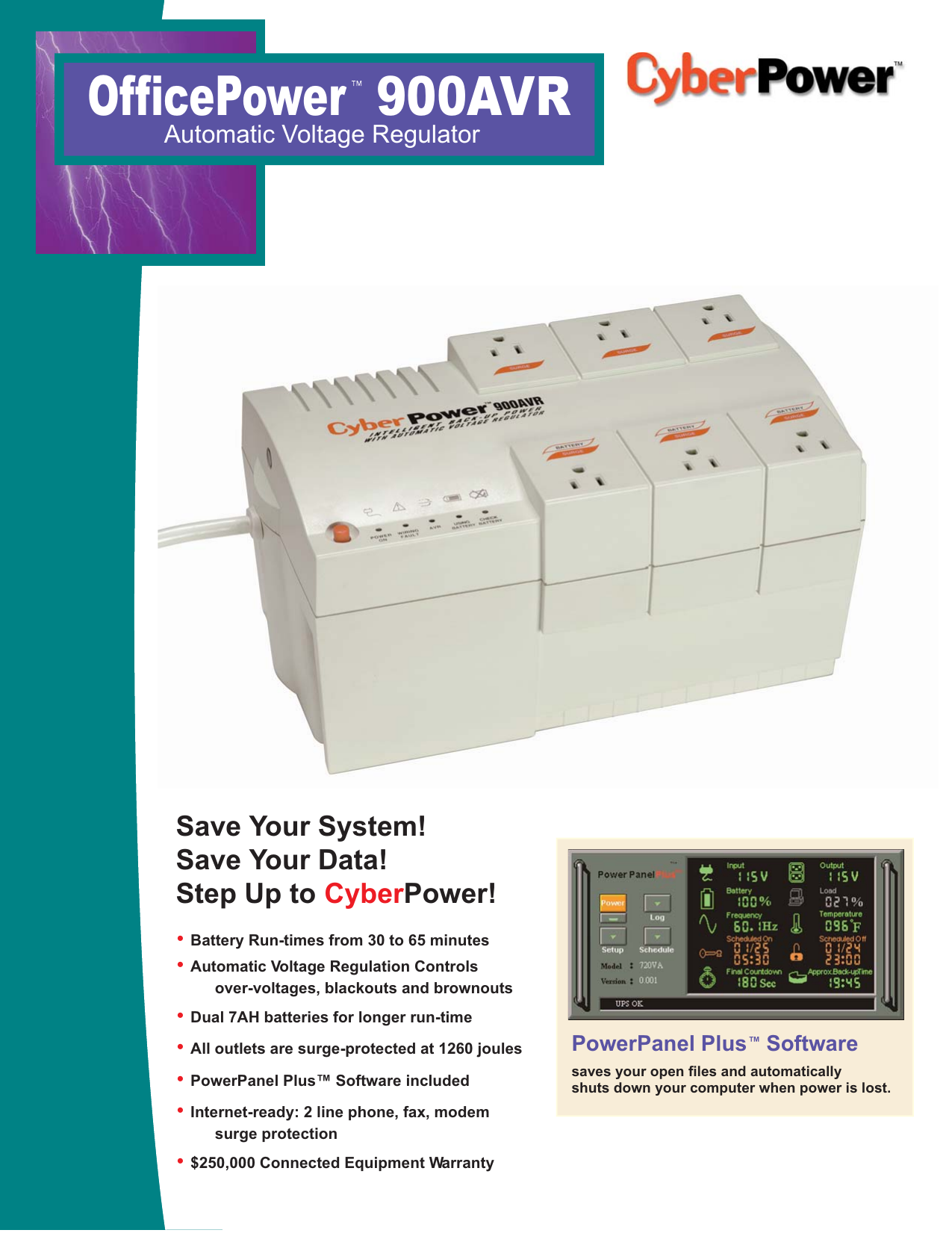 OfficePower
900AVR
Automatic Voltage Regulator
Save Your System!
Save Your Data!
Step Up to CyberPower!
• Battery Run-times from 30 to 65 minutes
• Automatic Voltage Regulation Controls
over-voltages, blackouts and brownouts
• Dual 7AH batteries for longer run-time
• All outlets are surge-protected at 1260 joules
• PowerPanel Plus™ Software included
• Internet-ready: 2 line phone, fax, modem
surge protection
• $250,000 Connected Equipment Warranty
PowerPanel Plus ™ Software
saves your open files and automatically
shuts down your computer when power is lost.
OfficePower
900AVR
Automatic Voltage Regulator
High Performance Power Protection
with Automatic Voltage Regulation
Brownouts are an everyday occurance!
CyberPower's OfficePower™ 900AVR Battery Back-up System with Automatic Voltage Regulator increases low or decreases high
voltages to a consistent and computer safe 110/120 volts. The OfficePower™ 900AVR not only guards against surges and spikes, but will
also provide battery back-up power if line voltage drops below 85 volts or exceeds 150 volts.
In the event of a power outage, PowerPanel Plus™ Software automatically logs and saves all open files then shuts down the computer
system in an intelligent and orderly manner.
2
2
9
10
11
3
1
1
12345678910 11 -
Battery Power / Surge Outlets
Full-Time Surge Protection Outlets
Power Switch
Power On Indicator
Wiring Fault Indicator
Automatic Voltage Regulator
Using Battery Indicator
Check Battery Indicator
Resettable Circuit Breaker
Serial Port to PC
Two (2) Line Phone/Fax/Modem
Communication Protection Ports
4 5 6 7 8
T E C H N I C AL SP EC IFICATION S
Model
VA Rati ng
Watts
Output Voltage on Utility
Saves open files and applications and automatically shuts down
your computer when a power outage occurs.
Provides monitoring of input voltage, output voltage, battery
capacity, load and temperature.
Allows for user-defined scheduled shutdown and startup of
computer system.
500W
98V to 136V (User Adjustable)
Frequency on Utility
57Hz to 63 Hz
120V +/- 5%
60Hz
Surge Energy Capacity
1260 Joules
Maximum Surge Current
36,000 Amps
Overload Protection
TM
900VA
Output Voltage on Battery
Frequency on Battery
PowerPanel Plus Software Features
CPS900AVR
Battery Run-time
Typical Battery Recharge Time
Total number of receptacles
Visual Indicators
Audible Indicators
Warranty
Conformance Approvals
Included Software
Connected Equip. Guarantee
Internal circuitry limiting. On-line circuit breaker
30 to 65 mins.
8 hours
3 battery / surge, 3 full-time surge-only
Power On/Off, Automatic Voltage Regulator,
Using Battery, Site Wiring Fault
Battery on, Low battery, UPS overload
Three Year Limited Warranty
on UPS unit and battery
UL 1778, cUL, FCC Doc Class B
PowerPanelPlus™ Power Management Software
$250,000
1157 Valley Park Drive, Suite 110, Shakopee, MN 55379
Phone: 877.297.6937
Fax: 952.403.0009
For more information, visit CyberPower's Web Site at www.cyberpowersystems.com or call 1-877-CY-POWER
©2000 CyberPower Systems. All Trademarks are the property of their owners.

* Your assessment is very important for improving the work of artificial intelligence, which forms the content of this project