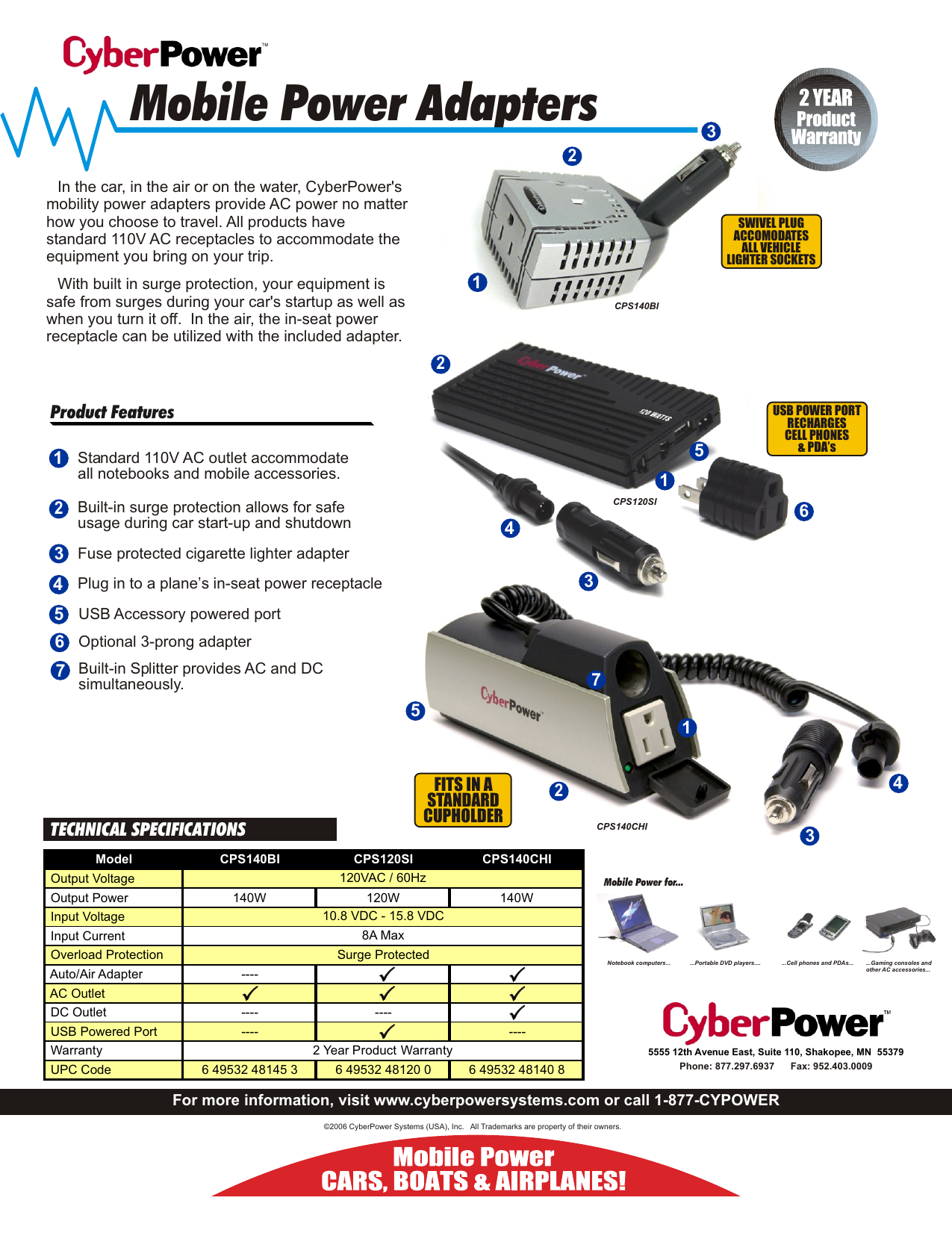 Mobile Power Adapters
3
2
In the car, in the air or on the water, CyberPower's
mobility power adapters provide AC power no matter
how you choose to travel. All products have
standard 110V AC receptacles to accommodate the
equipment you bring on your trip.
SWIVEL PLUG
ACCOMODATES
ALL VEHICLE
LIGHTER SOCKETS
1
With built in surge protection, your equipment is
safe from surges during your car's startup as well as
when you turn it off. In the air, the in-seat power
receptacle can be utilized with the included adapter.
CPS140BI
2
Product Features
5
1 Standard 110V AC outlet accommodate
all notebooks and mobile accessories.
USB POWER PORT
RECHARGES
CELL PHONES
& PDA's
1
CPS120SI
2 Built-in surge protection allows for safe
usage during car start-up and shutdown
6
4
3 Fuse protected cigarette lighter adapter
3
4 Plug in to a plane's in-seat power receptacle
5 USB Accessory powered port
6 Optional 3-prong adapter
7 Built-in Splitter provides AC and DC
7
simultaneously.
5
1
FITS IN A
STANDARD
CUPHOLDER
TECHNICAL SPECIFICATIONS
Model
Output Power
CPS120SI
120VAC / 60Hz
CPS140CHI
140W
120W
10.8 VDC - 15.8 VDC
140W
Input Voltage
3
Mobile Power for...
8A Max
Input Current
Surge Protected
Overload Protection
Auto/Air Adapter
CPS140CHI
CPS140BI
Output Voltage
4
2
Notebook computers...
...Portable DVD players....
----
...Cell phones and PDAs...
...Gaming consoles and
other AC accessories...
AC Outlet
DC Outlet
----
USB Powered Port
----
---2 Year Product Warranty
Warranty
UPC Code
----
6 49532 48145 3
6 49532 48120 0
6 49532 48140 8
5555 12th Avenue East, Suite 110, Shakopee, MN 55379
Phone: 877.297.6937
Fax: 952.403.0009
For more information, visit www.cyberpowersystems.com or call 1-877-CYPOWER
©2006 CyberPower Systems (USA), Inc. All Trademarks are property of their owners.

* Your assessment is very important for improving the work of artificial intelligence, which forms the content of this project