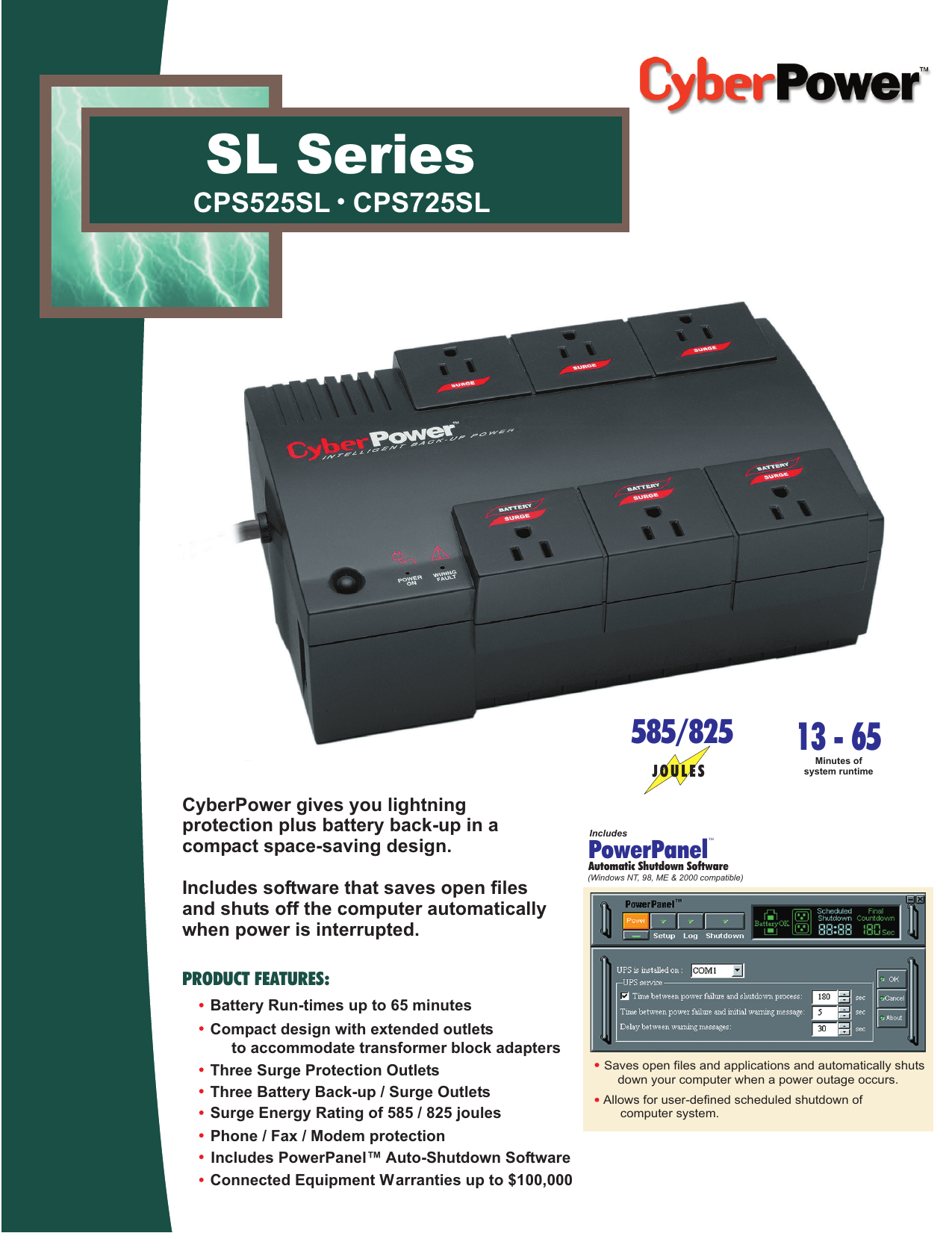 SL Series
CPS525SL CPS725SL
585/825
JOULES
CyberPower gives you lightning
protection plus battery back-up in a
compact space-saving design.
Includes software that saves open files
and shuts off the computer automatically
when power is interrupted.
13 - 65
Minutes of
system runtime
Includes
PowerPanel
Automatic Shutdown Software
(Windows NT, 98, ME & 2000 compatible)
PRODUCT FEATURES:
Battery Run-times up to 65 minutes
Compact design with extended outlets
to accommodate transformer block adapters
Three Surge Protection Outlets
Three Battery Back-up / Surge Outlets
Surge Energy Rating of 585 / 825 joules
Phone / Fax / Modem protection
Includes PowerPanel™ Auto-Shutdown Software
Connected Equipment Warranties up to $100,000
Saves open files and applications and automatically shuts
down your computer when a power outage occurs.
Allows for user-defined scheduled shutdown of
computer system.
SL Series
CPS525SL CPS725SL
Battery Back-up Systems with intelligence!
CyberPower's SL series of uninterruptible power systems are designed to bridge the gap between high-priced UPSs
and surge suppressors.
Dependable, yet affordable, CyberPower uninterruptible power systems not only guard against surges, spikes, sags,
brownouts and other power abnormalities, but also provide battery backup power to your computer system and
valuable data during a power outage.
PowerPanel™ Software is included with each model. In the event of a power outage, PowerPanel™ Software
automatically logs and saves all open files then shuts down the computer system in an intelligent and orderly manner.
2
2
6
7
12345678-
8
4
3
5
1
Battery Power / Surge Outlets
Full-Time Surge Protection Outlets
Power Switch
Power On Indicator
Wiring Fault Indicator
Resettable Circuit Breaker
Serial Port to PC
Two (2) Line Phone / Fax / Modem
Communication Protection Ports
1
Sample Packaging
TECHNICAL SPECIFICATIONS
Model
525SL
VA Rating
525VA
Watts
300W
Overload Protection
Battery Run-time
Visual Indicators
Audible Indicators
Warranty
Conformance Approvals
Included Software
Connected Equip. Guarantee
400W
585 Joules
ORDERING INFORMATION
825 Joules
Internal circuitry limiting. on-line circuit breaker
13 - 35 minutes
20 - 65 minutes
8 hours
Typical Battery Recharge Time
Total number of receptacles
725VA
100V to 140V
Input Voltage on Utility
Surge Energy Capacity
725SL
3 battery + surge and 3 surge-only
Power On/Off, Site Wiring Fault
Battery on, Low battery, UPS overload
Limited Three-Year Warranty on UPS unit and battery
Model
Master Carton Qty.
Sell Unit Dims. (L x W x H)
Sell Unit Net Wgt.
Master Dims. (L x W x H)
Master Wgt.
Sell Unit UPC Number
525SL
725SL
6 units
4 units
13 x 5 x 9
13 x 5 x 9
9 Lbs
13" x 8.13" x 4.5"
14 Lbs
19" x 14" x 11"
56 Lbs
56 Lbs
6 49532 00525 3
6 49532 00725 7
UL 1778, cUL, FCC verified
PowerPanel" Power Management Software
$50,000
$100,000
5555 12th Avenue East, Suite 110, Shakopee, MN 55379
Phone: 877.297.6937
Fax: 952.403.0009
For more information, visit CyberPower's Web Site at www.cyberpowersystems.com or call 1-877-CY-POWER
©2002 CyberPower Systems (USA), Inc. . All Trademarks are property of their owners.

* Your assessment is very important for improving the work of artificial intelligence, which forms the content of this project