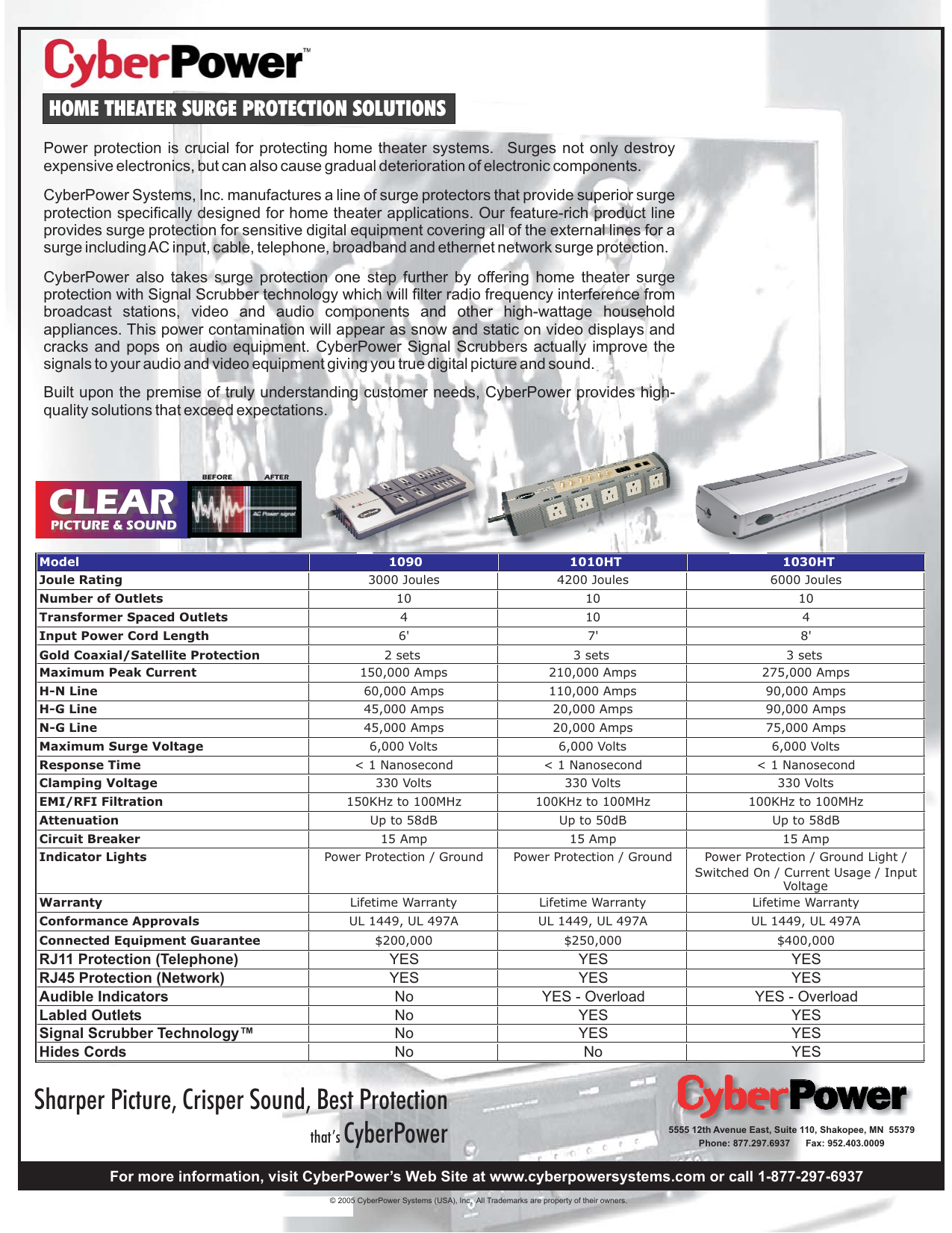 HOME THEATER SURGE PROTECTION SOLUTIONS
Power protection is crucial for protecting home theater systems. Surges not only destroy
expensive electronics, but can also cause gradual deterioration of electronic components.
CyberPower Systems, Inc. manufactures a line of surge protectors that provide superior surge
protection specifically designed for home theater applications. Our feature-rich product line
provides surge protection for sensitive digital equipment covering all of the external lines for a
surge including AC input, cable, telephone, broadband and ethernet network surge protection.
CyberPower also takes surge protection one step further by offering home theater surge
protection with Signal Scrubber technology which will filter radio frequency interference from
broadcast stations, video and audio components and other high-wattage household
appliances. This power contamination will appear as snow and static on video displays and
cracks and pops on audio equipment. CyberPower Signal Scrubbers actually improve the
signals to your audio and video equipment giving you true digital picture and sound.
Built upon the premise of truly understanding customer needs, CyberPower provides highquality solutions that exceed expectations.
CLEAR
BEFORE
AFTER
PICTURE & SOUND
Model
Joule Rating
Number of Outlets
1090
1010HT
1030HT
3000 Joules
4200 Joules
6000 Joules
10
10
10
Transformer Spaced Outlets
4
10
4
Input Power Cord Length
6'
7'
8'
2 sets
150,000 Amps
3 sets
210,000 Amps
3 sets
275,000 Amps
H-N Line
60,000 Amps
110,000 Amps
90,000 Amps
H-G Line
45,000 Amps
20,000 Amps
90,000 Amps
N-G Line
45,000 Amps
20,000 Amps
75,000 Amps
6,000 Volts
6,000 Volts
6,000 Volts
< 1 Nanosecond
< 1 Nanosecond
< 1 Nanosecond
Gold Coaxial/Satellite Protection
Maximum Peak Current
Maximum Surge Voltage
Response Time
Clamping Voltage
330 Volts
330 Volts
330 Volts
EMI/RFI Filtration
150KHz to 100MHz
100KHz to 100MHz
100KHz to 100MHz
Up to 58dB
Attenuation
Up to 58dB
Up to 50dB
Circuit Breaker
15 Amp
15 Amp
15 Amp
Indicator Lights
Power Protection / Ground
Power Protection / Ground
Warranty
Lifetime Warranty
Lifetime Warranty
Power Protection / Ground Light /
Switched On / Current Usage / Input
Voltage
Lifetime Warranty
Conformance Approvals
UL 1449, UL 497A
UL 1449, UL 497A
UL 1449, UL 497A
Connected Equipment Guarantee
$200,000
$250,000
$400,000
RJ11 Protection (Telephone)
RJ45 Protection (Network)
Audible Indicators
Labled Outlets
Signal Scrubber Technology™
Hides Cords
YES
YES
No
No
No
No
YES
YES
YES - Overload
YES
YES
No
YES
YES
YES - Overload
YES
YES
YES
Sharper Picture, Crisper Sound, Best Protection
that's CyberPower
5555 12th Avenue East, Suite 110, Shakopee, MN 55379
Phone: 877.297.6937
Fax: 952.403.0009
For more information, visit CyberPower's Web Site at www.cyberpowersystems.com or call 1-877-297-6937
© 2005 CyberPower Systems (USA), Inc. All Trademarks are property of their owners.

* Your assessment is very important for improving the work of artificial intelligence, which forms the content of this project