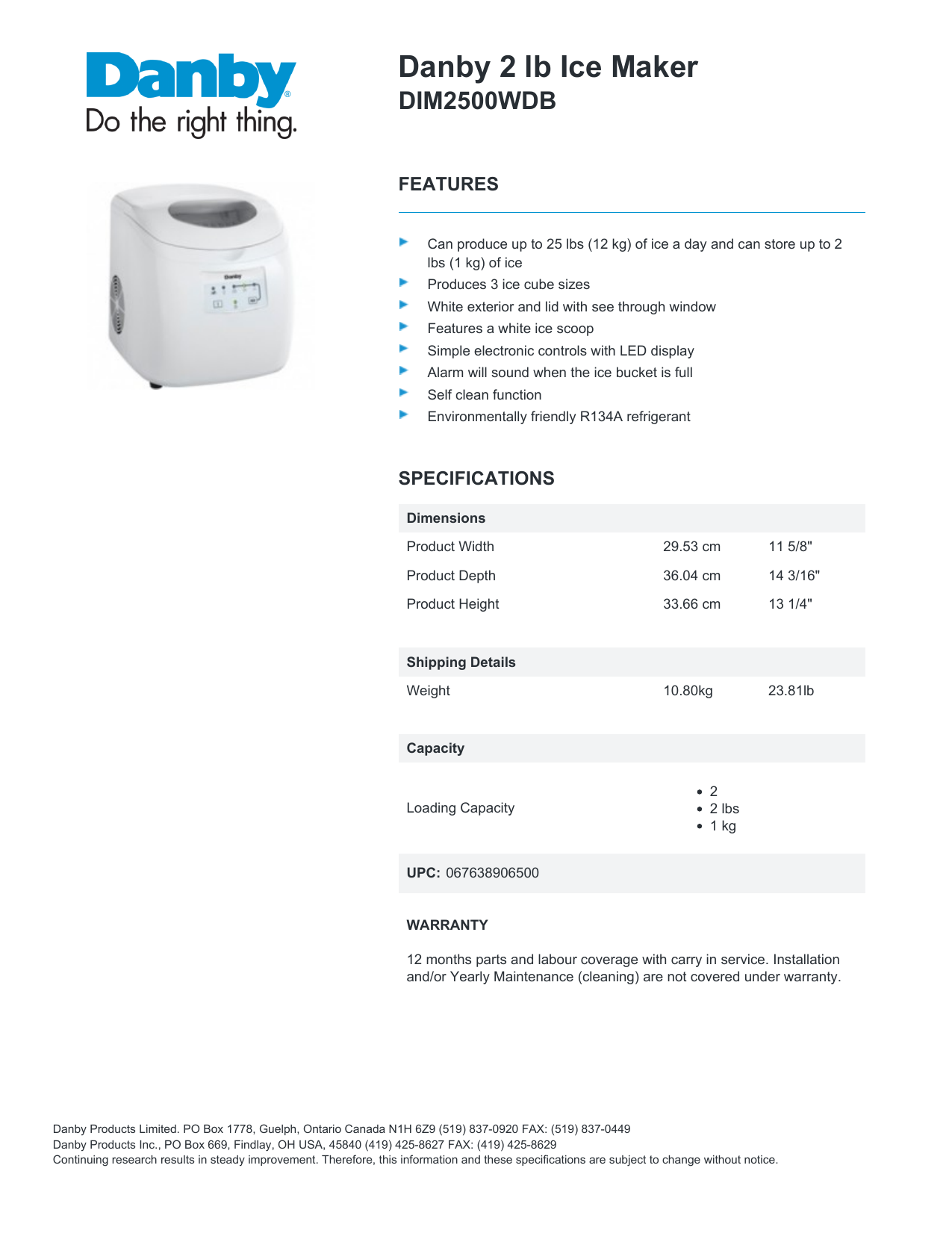 Danby 2 lb Ice Maker
DIM2500WDB
FEATURES
Can produce up to 25 lbs (12 kg) of ice a day and can store up to 2
lbs (1 kg) of ice
Produces 3 ice cube sizes
White exterior and lid with see through window
Features a white ice scoop
Simple electronic controls with LED display
Alarm will sound when the ice bucket is full
Self clean function
Environmentally friendly R134A refrigerant
SPECIFICATIONS
Dimensions
Product Width
29.53 cm
11 5/8"
Product Depth
36.04 cm
14 3/16"
Product Height
33.66 cm
13 1/4"
10.80kg
23.81lb
Shipping Details
Weight
Capacity
Loading Capacity
2
2 lbs
1 kg
UPC: 067638906500
WARRANTY
12 months parts and labour coverage with carry in service. Installation
and/or Yearly Maintenance (cleaning) are not covered under warranty.
Danby Products Limited. PO Box 1778, Guelph, Ontario Canada N1H 6Z9 (519) 837-0920 FAX: (519) 837-0449
Danby Products Inc., PO Box 669, Findlay, OH USA, 45840 (419) 425-8627 FAX: (419) 425-8629
Continuing research results in steady improvement. Therefore, this information and these specifications are subject to change without notice.

* Your assessment is very important for improving the work of artificial intelligence, which forms the content of this project