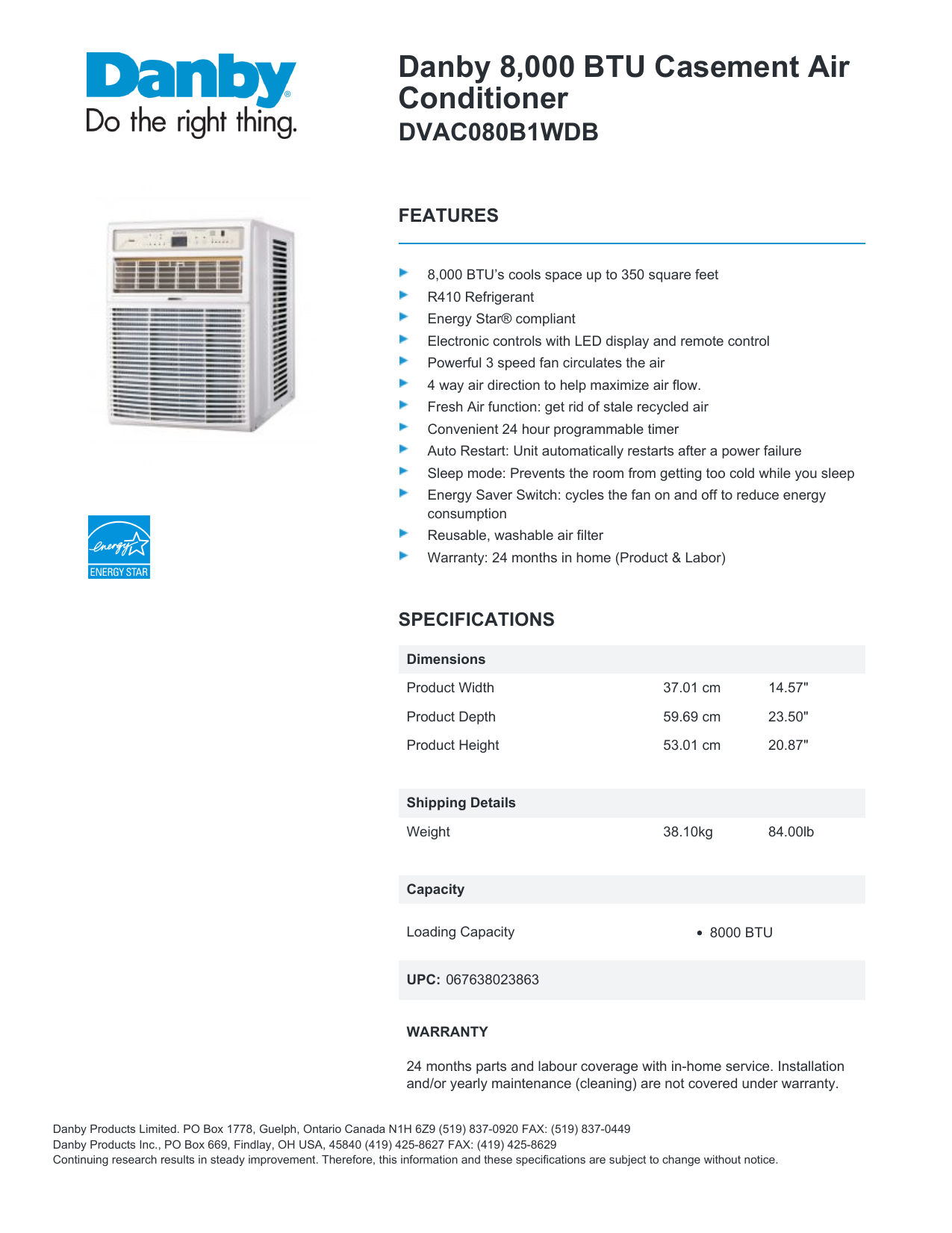 Danby 8,000 BTU Casement Air
Conditioner
DVAC080B1WDB
FEATURES
8,000 BTU's cools space up to 350 square feet
R410 Refrigerant
Energy Star® compliant
Electronic controls with LED display and remote control
Powerful 3 speed fan circulates the air
4 way air direction to help maximize air flow.
Fresh Air function: get rid of stale recycled air
Convenient 24 hour programmable timer
Auto Restart: Unit automatically restarts after a power failure
Sleep mode: Prevents the room from getting too cold while you sleep
Energy Saver Switch: cycles the fan on and off to reduce energy
consumption
Reusable, washable air filter
Warranty: 24 months in home (Product & Labor)
SPECIFICATIONS
Dimensions
Product Width
37.01 cm
14.57"
Product Depth
59.69 cm
23.50"
Product Height
53.01 cm
20.87"
38.10kg
84.00lb
Shipping Details
Weight
Capacity
Loading Capacity
8000 BTU
UPC: 067638023863
WARRANTY
24 months parts and labour coverage with in-home service. Installation
and/or yearly maintenance (cleaning) are not covered under warranty.
Danby Products Limited. PO Box 1778, Guelph, Ontario Canada N1H 6Z9 (519) 837-0920 FAX: (519) 837-0449
Danby Products Inc., PO Box 669, Findlay, OH USA, 45840 (419) 425-8627 FAX: (419) 425-8629
Continuing research results in steady improvement. Therefore, this information and these specifications are subject to change without notice.

* Your assessment is very important for improving the work of artificial intelligence, which forms the content of this project