Danby DPA140E1BDB-6 User manual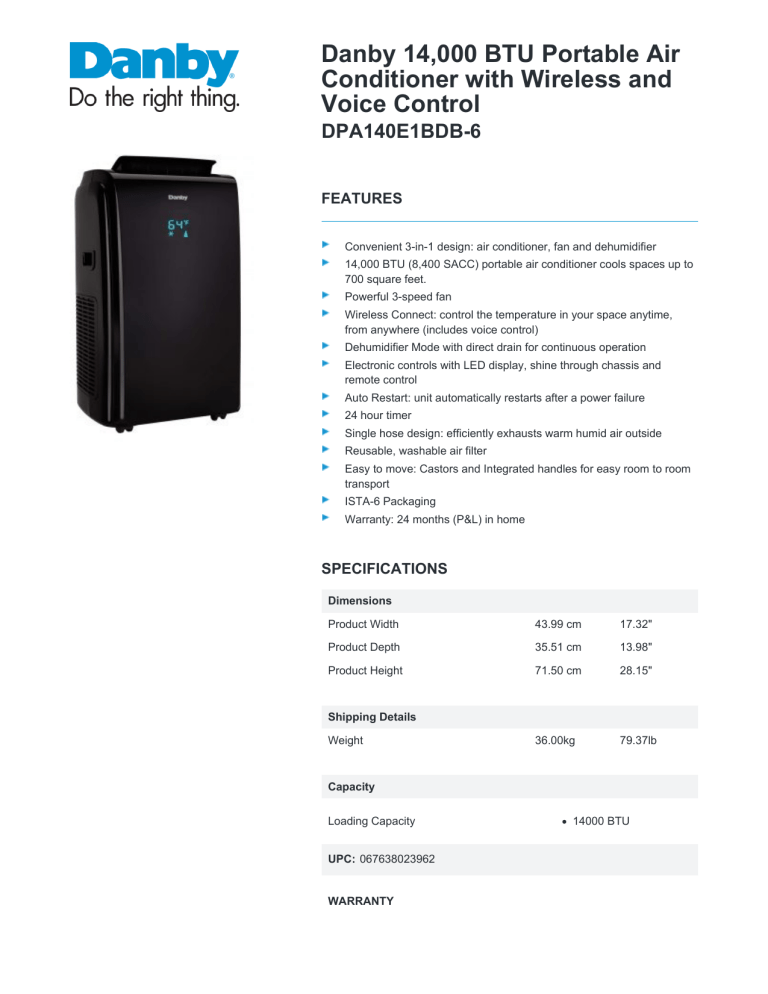 Danby 14,000 BTU Portable Air
Conditioner with Wireless and
Voice Control
DPA140E1BDB-6
FEATURES
Convenient 3-in-1 design: air conditioner, fan and dehumidifier
14,000 BTU (8,400 SACC) portable air conditioner cools spaces up to
700 square feet.
Powerful 3-speed fan
Wireless Connect: control the temperature in your space anytime,
from anywhere (includes voice control)
Dehumidifier Mode with direct drain for continuous operation
Electronic controls with LED display, shine through chassis and
remote control
Auto Restart: unit automatically restarts after a power failure
24 hour timer
Single hose design: efficiently exhausts warm humid air outside
Reusable, washable air filter
Easy to move: Castors and Integrated handles for easy room to room
transport
ISTA-6 Packaging
Warranty: 24 months (P&L) in home
SPECIFICATIONS
Dimensions
Product Width
43.99 cm
17.32"
Product Depth
35.51 cm
13.98"
Product Height
71.50 cm
28.15"
36.00kg
79.37lb
Shipping Details
Weight
Capacity
Loading Capacity
UPC: 067638023962
WARRANTY
14000 BTU
24 months parts and labour. Installation and/or Yearly Maintenance
(cleaning) are not covered under warranty.
Danby Products Limited. PO Box 1778, Guelph, Ontario Canada N1H 6Z9 (519) 837-0920 FAX: (519) 837-0449
Danby Products Inc., PO Box 669, Findlay, OH USA, 45840 (419) 425-8627 FAX: (419) 425-8629
Continuing research results in steady improvement. Therefore, this information and these specifications are subject to change without notice.

* Your assessment is very important for improving the work of artificial intelligence, which forms the content of this project