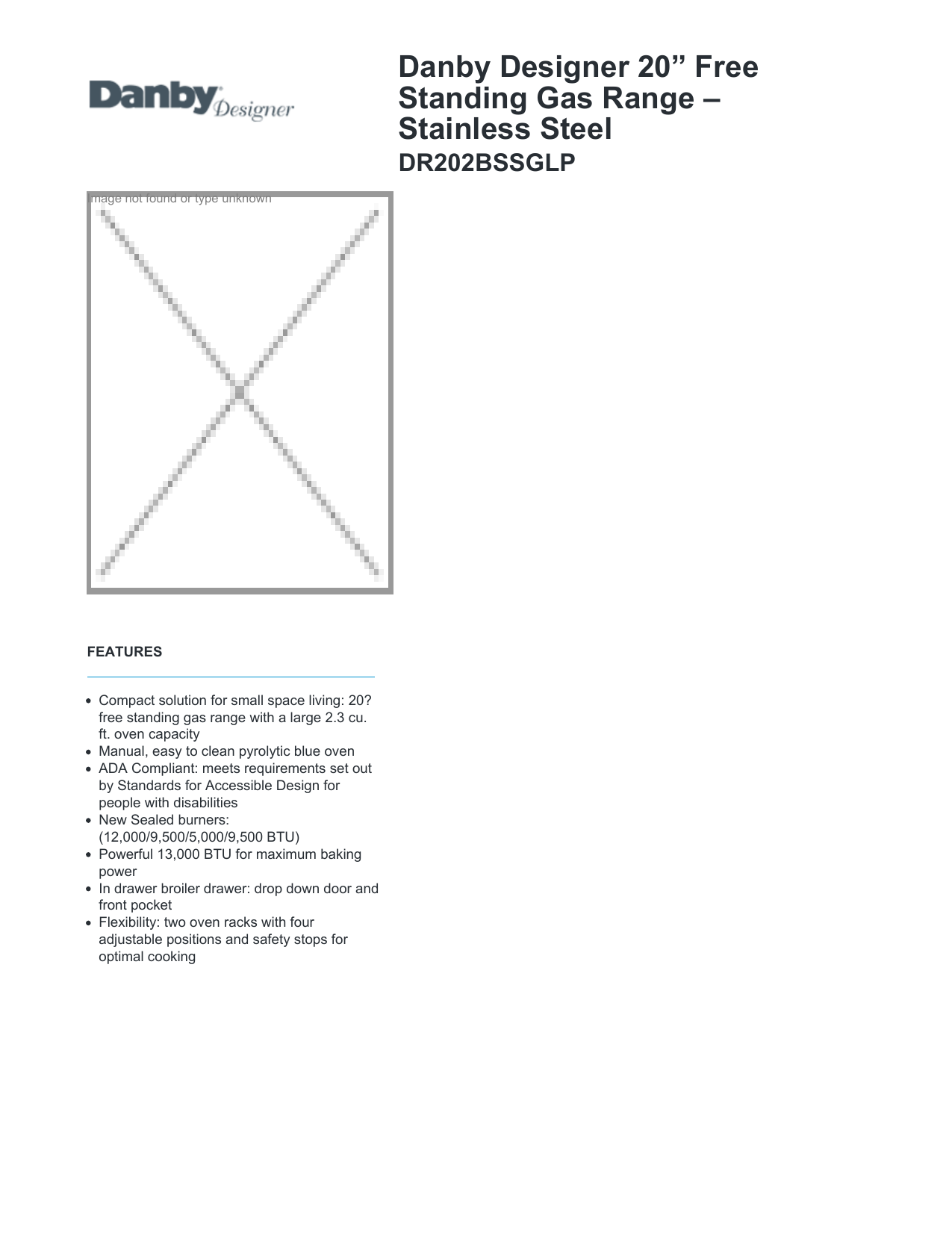 Danby Designer 20" Free
Standing Gas Range –
Stainless Steel
DR202BSSGLP
Image not found or type unknown
FEATURES
Compact solution for small space living: 20?
free standing gas range with a large 2.3 cu.
ft. oven capacity
Manual, easy to clean pyrolytic blue oven
ADA Compliant: meets requirements set out
by Standards for Accessible Design for
people with disabilities
New Sealed burners:
(12,000/9,500/5,000/9,500 BTU)
Powerful 13,000 BTU for maximum baking
power
In drawer broiler drawer: drop down door and
front pocket
Flexibility: two oven racks with four
adjustable positions and safety stops for
optimal cooking
SPECIFICATIONS
GENERAL
Brand
Danby Designer
Fuel
Country of Sale
USA
Color
Stainless Steel
ADA Compliant
Yes
UPC
067638015257
COOKTOP
Surface Finish
Porcelain Enamel
Lift-up cooktop
No
Backsplash
Yes
Backsplash Color
Black
Backsplash Height
5.24
Cooktop Color
Black
Burner Type
Sealed
Burner Type/Power
Left Front
9,500 / (9,500) btu
Right Front
12,000 / (12000) btu
Left Rear
9,500 / (9,500) btu
Right Rear
5,000 / (5,000) btu
Ignition System
Electronic Spark
Grates
2 pc Black Porcelain
Wire
Oven Vent Cover
Hidden
Hot surface indicator
No
Valve / Control
MANIFOLD
Knob Color
Black
Front Panel Color
Stainless Steel
Oven Control Method
Thermostat
Oven Light Switch
No
Oven "On" Indicator
Lamp
No
Surface Unit ON
Lamp
No
Knob Type Brand
OVEN
Overall Oven Volume
2.3
Bake Power
In-Oven Broil
2.3
Broil Power
N/A
Cleaning
Standard
Oven Cooking
Method
Thermal
Ignition System
Electronic/Glow Bar
Oven Interior Color
Pirolytic blue
Oven Light
Activation
No
Racks
2 Nickel
Rack Positions
4
Bodyside Color
Black
DOOR / DRAWER
Door Construction
Metal (with
window)
Window
Yes
Door Color
Stainless Steel
Handle Style
New design
Handle Color
Black
Drawer
Broil Drawer (Drop
down door)
Drawer Color
Stainless Steel
Drawer Handle (if
Drawer)
Front pocket (Black)
WEIGHTS & DIMENSIONS
Dimensions (WxDxH)
19.75" x 26" x
14.75"
Package Dimensions
(WxDxH)
22.33" x 29.04" x
42.84"
Installation Cutout
(WxDxH)
20" x 25" x 36"
Product Weight Net/Box
106.70 / 120.70
Adjustable Height to
Cookup (in)
36"
Voltage Rating
120V
MISC
Grid and Broil Pan
Yes
Anti-tip Bracket
Yes
Broil Drawer Rack
Yes
LP Kit Supplied
Yes
Warning Languages
English / Spanish
Leveling Feet
4
Agency Listing
CSA
Warranty
12
Danby Products Limited. PO Box 1778, Guelph, Ontario Canada N1H 6Z9 (519) 837-0920 FAX: (519) 837-0449
Danby Products Inc., PO Box 669, Findlay, OH USA, 45840 (419) 425-8627 FAX: (419) 425-8629
Continuing research results in steady improvement. Therefore, this information and these specifications are subject to change without notice.

* Your assessment is very important for improving the work of artificial intelligence, which forms the content of this project