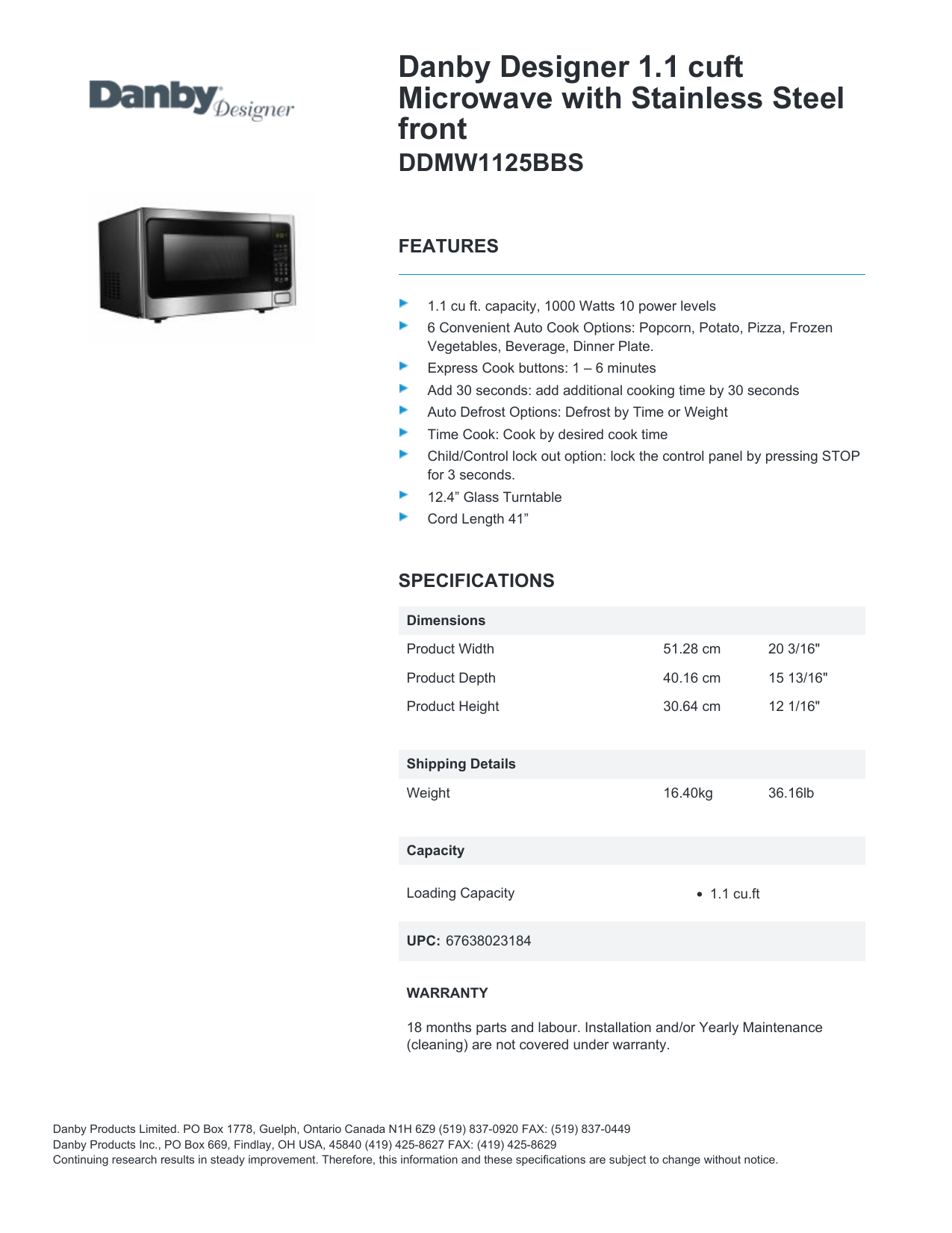 Danby Designer 1.1 cuft
Microwave with Stainless Steel
front
DDMW1125BBS
FEATURES
1.1 cu ft. capacity, 1000 Watts 10 power levels
6 Convenient Auto Cook Options: Popcorn, Potato, Pizza, Frozen
Vegetables, Beverage, Dinner Plate.
Express Cook buttons: 1 – 6 minutes
Add 30 seconds: add additional cooking time by 30 seconds
Auto Defrost Options: Defrost by Time or Weight
Time Cook: Cook by desired cook time
Child/Control lock out option: lock the control panel by pressing STOP
for 3 seconds.
12.4" Glass Turntable
Cord Length 41"
SPECIFICATIONS
Dimensions
Product Width
51.28 cm
20 3/16"
Product Depth
40.16 cm
15 13/16"
Product Height
30.64 cm
12 1/16"
16.40kg
36.16lb
Shipping Details
Weight
Capacity
Loading Capacity
1.1 cu.ft
UPC: 67638023184
WARRANTY
18 months parts and labour. Installation and/or Yearly Maintenance
(cleaning) are not covered under warranty.
Danby Products Limited. PO Box 1778, Guelph, Ontario Canada N1H 6Z9 (519) 837-0920 FAX: (519) 837-0449
Danby Products Inc., PO Box 669, Findlay, OH USA, 45840 (419) 425-8627 FAX: (419) 425-8629
Continuing research results in steady improvement. Therefore, this information and these specifications are subject to change without notice.

* Your assessment is very important for improving the work of artificial intelligence, which forms the content of this project