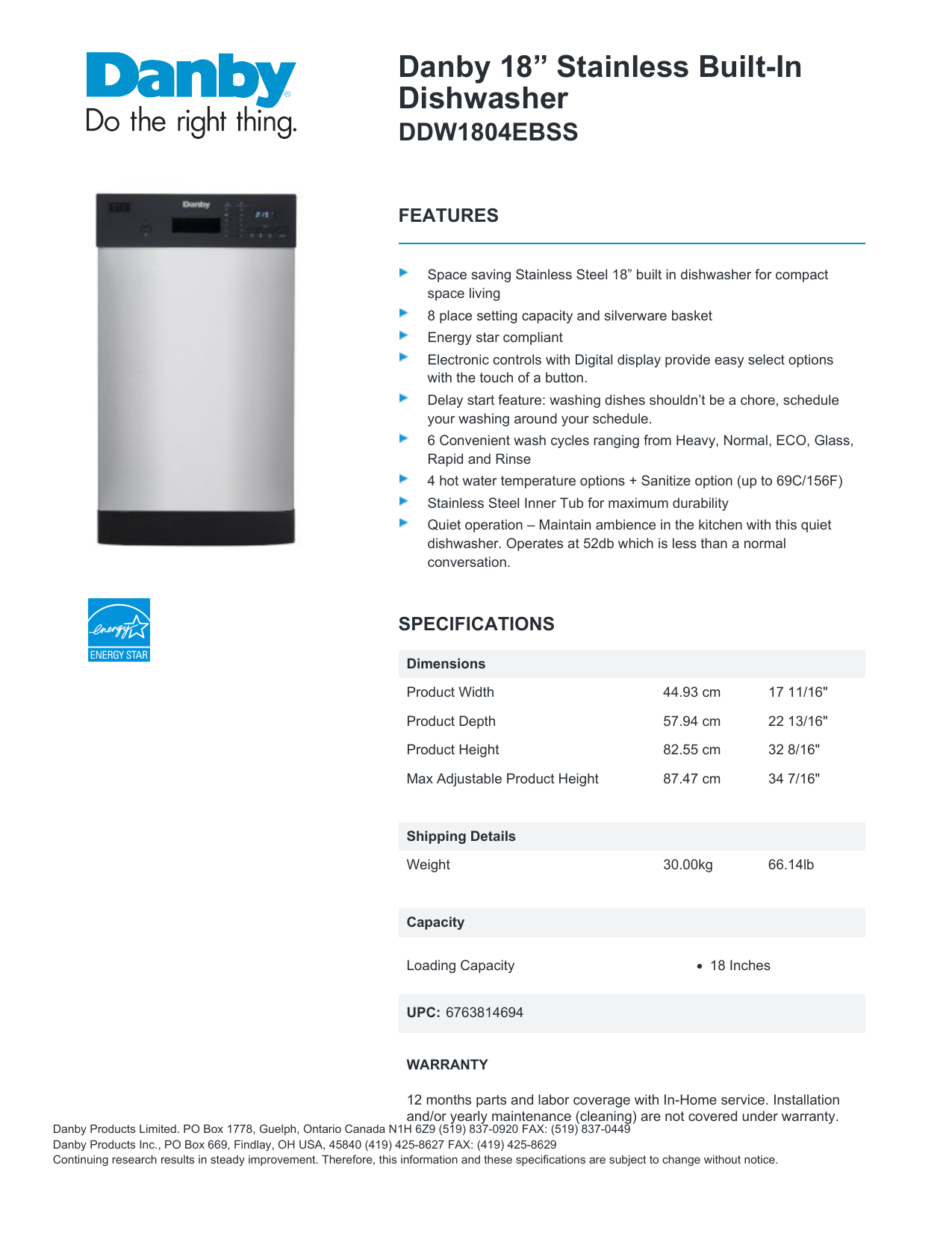 Danby 18" Stainless Built-In
Dishwasher
DDW1804EBSS
FEATURES
Space saving Stainless Steel 18" built in dishwasher for compact
space living
8 place setting capacity and silverware basket
Energy star compliant
Electronic controls with Digital display provide easy select options
with the touch of a button.
Delay start feature: washing dishes shouldn't be a chore, schedule
your washing around your schedule.
6 Convenient wash cycles ranging from Heavy, Normal, ECO, Glass,
Rapid and Rinse
4 hot water temperature options + Sanitize option (up to 69C/156F)
Stainless Steel Inner Tub for maximum durability
Quiet operation – Maintain ambience in the kitchen with this quiet
dishwasher. Operates at 52db which is less than a normal
conversation.
SPECIFICATIONS
Dimensions
Product Width
44.93 cm
17 11/16"
Product Depth
57.94 cm
22 13/16"
Product Height
82.55 cm
32 8/16"
Max Adjustable Product Height
87.47 cm
34 7/16"
30.00kg
66.14lb
Shipping Details
Weight
Capacity
Loading Capacity
18 Inches
UPC: 6763814694
WARRANTY
12 months parts and labor coverage with In-Home service. Installation
and/or yearly maintenance (cleaning) are not covered under warranty.
Danby Products Limited. PO Box 1778, Guelph, Ontario Canada N1H 6Z9 (519) 837-0920 FAX: (519) 837-0449
Danby Products Inc., PO Box 669, Findlay, OH USA, 45840 (419) 425-8627 FAX: (419) 425-8629
Continuing research results in steady improvement. Therefore, this information and these specifications are subject to change without notice.

* Your assessment is very important for improving the work of artificial intelligence, which forms the content of this project