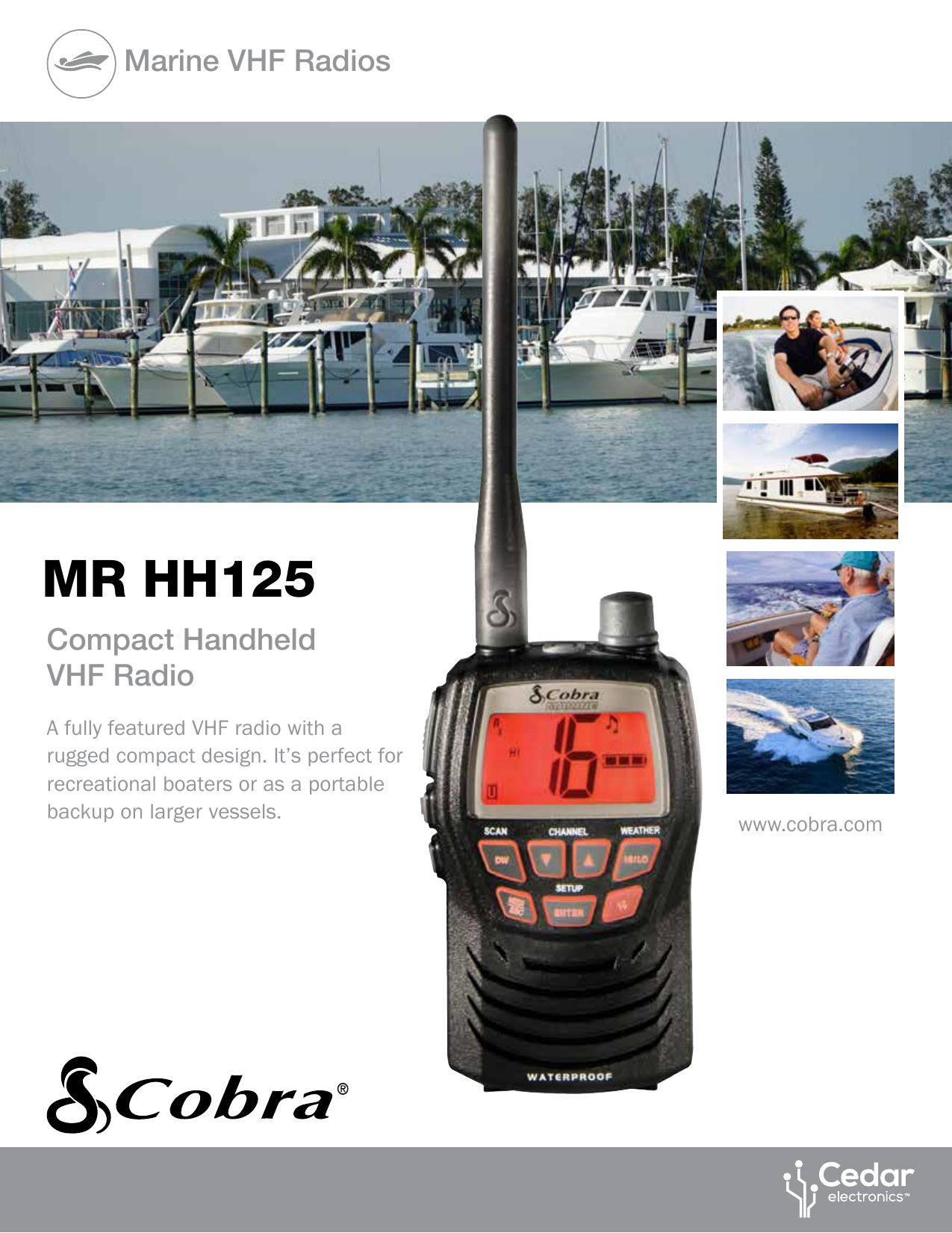 Marine VHF Radios
MR HH125
Compact Handheld
VHF Radio
A fully featured VHF radio with a
rugged compact design. It's perfect for
recreational boaters or as a portable
backup on larger vessels.
www.cobra.com
Marine VHF Radios
MR HH125
Anyone who lives, works or plays on the
water needs one of these VHF radios.
The backlit LCD and keypad allows it
to be used in low light conditions and
will turn off automatically to conserve
battery power. The built-in NOAA
Channels and NOAA weather alert give
you 24-hour access to local weather
information. It also acts as an AllHazards Emergency receiver and will
alert you to weather, natural disasters
and other emergencies provided to the
National Weather Service.
FEATURES:
SPECIFICATIONS:
U.S.A., Canada & International Channels Allows operation on any of
the three (3) different channel maps established for these areas.
Unit Weight (lbs.):
1 or 3 Watts
Dual output power for short and long communication.
10 NOAA Weather Channels
Instant access to national all hazards and weather information,
24 hours a day.
Weather Alert
Alerts with an audible tone and visual alarm if threatening weather
is nearby.
Unit Dimensions:
Individual Package
Dimensions:
Individual Package
Weight (lbs.):
4.0" H x 2.4" W x 1.2" D
(102 mm x 62 mm x 31 mm)
not including antenna
0 lbs., 5 oz. (228g) without batteries
11.50" H x 8.00" W x 3.25" D
(292 mm x 203 mm x 83 mm)
0 lbs., 12.8 oz. (363g)
RF Output Power:
1 or 3 Watts
Instant Channel 16 and 9
Instant access to channel 16 and 9 for emergency situations.
Batteries:
Scan all channels to find conversations in progress.
Model:
5X 850 mAh AAA NiMH Rechargeable
(included)
Signal Strength Meter shows the strength of outgoing and/or
incoming signal.
Button/Key Lock
Locks function buttons/keys to eliminate accidental change
of settings.
Battery Charge Jack allows charging of batteries in unit.
Illuminated LCD Display and Keys allows high visibility of display and
keys at night.
Speaker/Microphone Jack allows connection of hands-free
accessories. (Single pin connection)
Number of Channels:
Master Pack Qty.:
Master Pack
Dimensions:
Master Pack Weight:
UPC #:
Master Pack Barcode:
All: U.S.A., Canadian, International
10 NOAA Weather Channels
MR HH125
4
11.9" H x 8.50" W x 6.9" D
(302 mm x 216 mm x 175 mm)
4.0 lbs., 0 oz. (1814 g.)
028377 20122 6
1 00 28377 20122 3
Specifications subject to change without notice.
Waterproof to JIS4 standards; splashproof.
Includes 5X 850mAh AAA NiMH rechargeable batteries, 12V
accessory card, spring loaded belt clip and wrist strap.
1 Year Warranty (on radio) for products sold in the U.S.A.
©2018 Cobra Electronics Corporation, 6500 West Cortland Street, Chicago, IL 60707, USA
Cobra®, CobraMarine®, Nothing Comes Close to a Cobra®, and the snake design are registered trademarks of Cobra Electronics
Corporation, USA.
Cobra Electronics Corporation™ is a trademark of Cobra Electronics Corporation, USA.

* Your assessment is very important for improving the work of artificial intelligence, which forms the content of this project