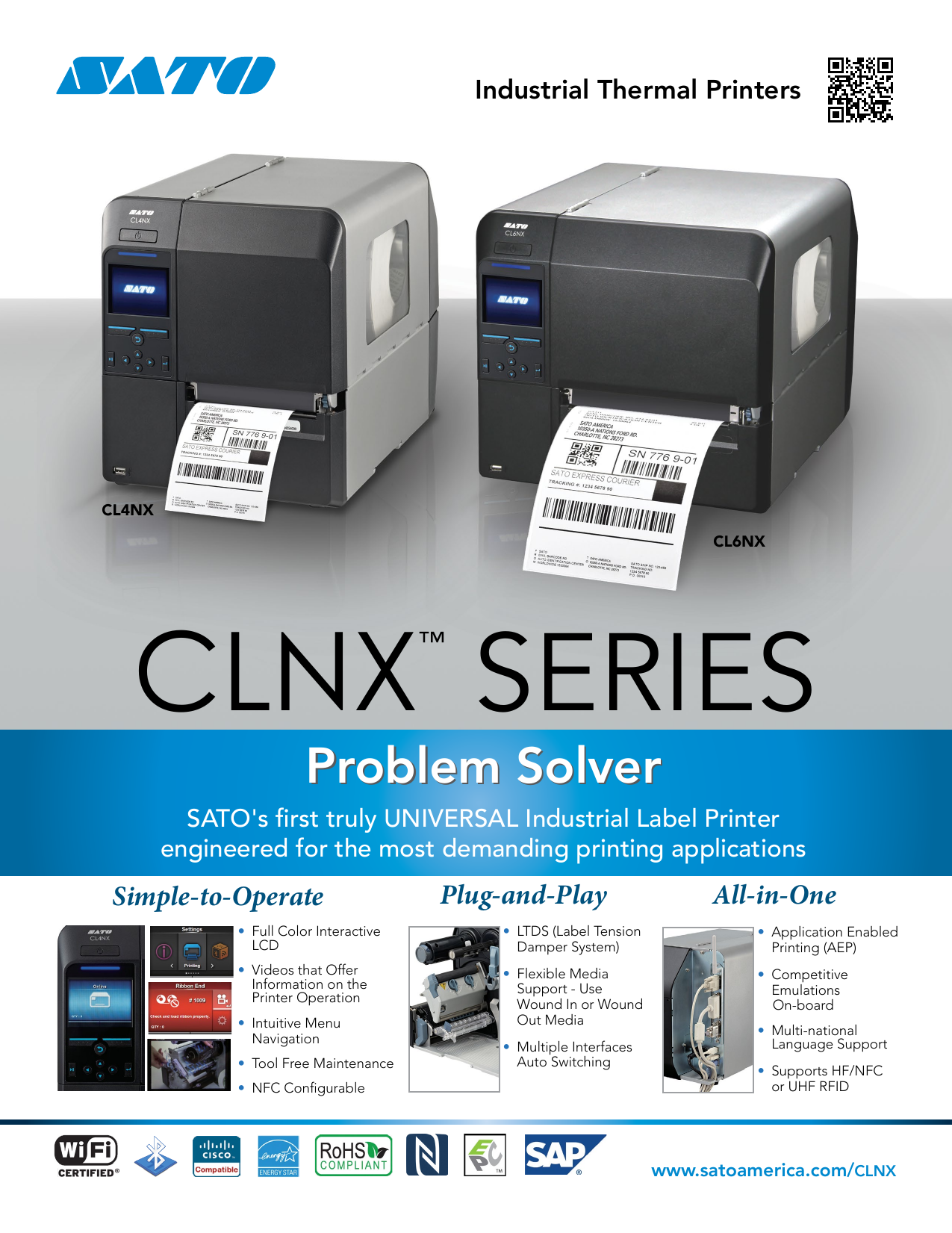 Industrial Thermal Printers
CL4NX
CL6NX
CLNX SERIES
™
Problem Solver
SATO's first truly UNIVERSAL Industrial Label Printer
engineered for the most demanding printing applications
Simple-to-Operate
Plug-and-Play
All-in-One
• Full Color Interactive
LCD
• LTDS (Label Tension
Damper System)
• Application Enabled
Printing (AEP)
• Videos that Offer
Information on the
Printer Operation
• Flexible Media
Support - Use
Wound In or Wound
Out Media
• Competitive
Emulations
On-board
• Intuitive Menu
Navigation
• Tool Free Maintenance
• NFC Configurable
• Multiple Interfaces
Auto Switching
• Multi-national
Language Support
• Supports HF/NFC
or UHF RFID
www.satoamerica.com/CLNX
GENERAL SPECIFICATIONS / CLNX Series
™
PRINTER MODEL
Print Resolution
Print Speed
Print Area
Media Width
Ribbon Width
Dimensions
Weight
CL4NX - 4" Model
CL6NX - 6" Model
203 dpi (8 dots/mm) 305 dpi (12 dots/mm) 609 dpi (24 dots/mm) 203 dpi (8 dots/mm)
305 dpi (12 dots/mm)
10 ips (254 mm/s)
8 ips (203 mm/s)
6 ips (152 mm/s)
10 ips (254 mm/s)
8 ips (203 mm/s)
4.1" (104.0 mm)
6.5" (167.5 mm)
Max Width
59.06" (1500 mm)
15.75" (400 mm)
98.43" (2500 mm)
59.06" (1500 mm)
Max Length 98.43" (2500 mm)
0.98" (25 mm) ~ 5.15" (131 mm)
1.96" (50 mm) ~7.00" (180 mm)
1.55" (39.5 mm) ~ 5.04" (128 mm)
2.322 (59 mm) ~ 6.96" (177 mm)
D: 17.99" (457 mm) W: 10.66" (271 mm) H: 12.63" (321 mm) D: 17.99" (457 mm) W: 13.30" (338 mm) H: 12.63" (321 mm)
33 lbs. (15 kgs)
42 lbs. (20 kgs)
PRINT SPECIFICATIONS
Method
Direct Thermal or Thermal Transfer
Mode
Continuous, Tear-off, Cutter, Dispense, Linerless
MEDIA SPECIFICATIONS
Sensor Type
Adjustable Transmissive Sensor for Gap,
Adjustable Reflective Sensor for Black Mark,
Paper Out, Ribbon Near-End/Out,
Label Near-End
Media Type
Roll (Continuous, Die-cut, Linerless), Fan-fold,
Tag, Ticket
Media
Minimum Length (With Liner)
Continuous
Tear-off/Cutter
Dispenser
0.35" (9 mm)
0.79" (20 mm)
1.18" (30 mm)
Thickness (Label & Liner)
0.002" (0.060 mm) - 0.011" (0.268 mm)
Roll Diameter
Up to 8.6" OD (220 mm) on 3" (76.0 mm) ID Core
Optional 10" OD (254.0 mm)
Wind
Face-in/Face-out, No Setting Change Required
Ribbon
Length
1,968.5 ft (600 m) on 1" (25.4 mm) ID Core
Roll Diameter
Maximum 3.54" (90.0 mm)
Wind
Face-in/Face-out, No Setting Change Required
SATO Genuine Consumables
For maximum print quality and optimum
use, SATO recommends the use of SATO
genuine consumables.
COMMUNICATION INTERFACES SPECIFICATIONS
Standard
USB 2.0 (Type A, Type B), Ethernet (IPv4/IPv6)
on Rear Panel, USB 2.0 (Type A) on Front
Panel, RS-232C, IEEE1284, EXT on Standard
Interface Board, Bluetooth® Ver. 3.0, NFC
Optional Wireless LAN Kit (Internal)
Wi-Fi®, Wi-Fi Direct® and CCX (Cisco®) Version
4 Certified, IEEE 802.11 a/b/g/n, Dual Band (2.4
GHz, 5 GHz)
CORPORATE
10350-A Nations Ford Rd
Charlotte, NC 28273
Phone: (704) 644-1650
Fax: (704) 644-1662
sales-sallc@sato-global.com
MEMORY & PROCESSING
Dual CPU
CPU1: 2GB Flash, 256MB RAM
CPU2: 4MB Flash, 64 MB RAM
USER FRIENDLY SUPPORT TOOLS
Large Status LED
Blue/Red
Audible Alerts
Adjustable Volume Setting
Self Diagnosis
Head Check, Cutter-Cover Open,
Stand-by Mode, Auto-Calibration
Display Panel
3.5" Full Color LCD
Tool Free Maintenance
Print Head Replacement and Adjustment,
Platen Replacement
Multi-national Language Support
47 Printable Languages with Scalable Fonts
31 Languages for LCD Menu
Operation Video
Multiple Instructional Videos On-board
(e.g. Error Resolution, Media Loading, Parts
Replacement and Cleaning)
Emulation
Auto Detect - SBPL®, SEPL®, SZPL®, SDPL®,
SIPL® or STCL® (Pre-installed), XML, AEP*
*Contact your SATO Sales Manager for more
information/requirements
Remote Maintenance
SNMP Ver. 3, HTTPS (Web Interface)
OPTIONS
Cutter, Powered Stacker, Linerless Cutter Kit,
Dispenser with Internal Liner Rewinder, Realtime Clock, UHF RFID (ISO18000-6 Type C), HF/
NFC RFID (ISO/IEC 15693 or ISO/IEC 14443
Type A), WLAN Kit, Barcode Validator, External
Rewinder (RWG-500) - Full 8" OD Roll Take Up
Note: Linerless and RFID available in CL4NX
Model only. Dispenser only option available in
CL6NX Model.
FONT SPECIFICATIONS
Internal Fonts
10 Bitmap SATO Fonts, 15 Scalable SATO
Fonts, Multi-National Language Support (47
Languages/Unicode), Single and Double Byte
Fonts (Korean, Chinese, Japanese)
BARCODE SYMBOLOGIES
Barcodes
Linear
Code 39, Code 93, Code 128, CODABAR
(NW7), EAN8/13, GS1-Databar™, GS1-128
(UCC/EAN128), Interleaved 2/5, Industrial 2/5,
JAN 8/13, Matrix 2/5, MS1, Bookland,
Postnet™, UPC-A/E
2D Symbologies
PDF417, Micro PDF, Maxi Code, GS1 Data
Matrix, QR Code, Micro QR Code and
Composite Symbologies, Aztec
User Downloadable Fonts, Graphics or Format
Maximum 100MB
OPERATING & ENVIRONMENT CHARACTERISTICS
Electrical Requirements
Universal Auto-ranging Power Supply,
100-240VAC +/- 10%, 50/60Hz
Energy Star Compliant
Standards & Agency Approvals
IEC 60950, CE Marking, EN 60950-1, EN 55022
Class A, EN 55024, R&TTE, NEMKO-GS,
cMETus, UL60950-1/CSA C22.2 No. 60950-1,
FCC 15 (SUB B, C), ICES-003, NMB-003, BIS,
C-Tick, RCM, CCC, SRRC, KC, S-Mark (Arg),
SIRIM, IDA, PTQC, NBTC, ANATEL
Environment
Operating
32 to 104°F (0 to 40°C), 30-80% RH,
Non-condensing; Linerless: 40 to 95°F
(5 to 35°C) 30 - 75% RH, Non-condensing
Storage
-4 to 140°F (-20 to 60°C), 30 - 90% RH,
Non-condensing
PHYSICAL CHARACTERISTICS
Construction
Die-cast Aluminum
(Base, Frame, Front Cover, Ribbon Spindle,
Print Head Mechanism)
Side-cover
Space saving design with large media supply
window and bi-fold door for easy access in
confined locations
Secure Mounting
3 Keyhole Slots on Chassis for Flat or
Incline Setting
LABEL MANUFACTURING, SERVICE & SALES
UNITED STATES
CANADA
MEXICO
CENTRAL AMERICA
CARIBBEAN
www.satoamerica.com/CLNX
©2019 SATO America. All rights Reserved. Rev G • Any unauthorized reproduction of this content, in part or whole, is strictly prohibited • SATO is a
registered trademark of SATO Corporation and its subsidiaries in Japan, the U.S. and other countries. All other trademarks are the property of their
respective owners.