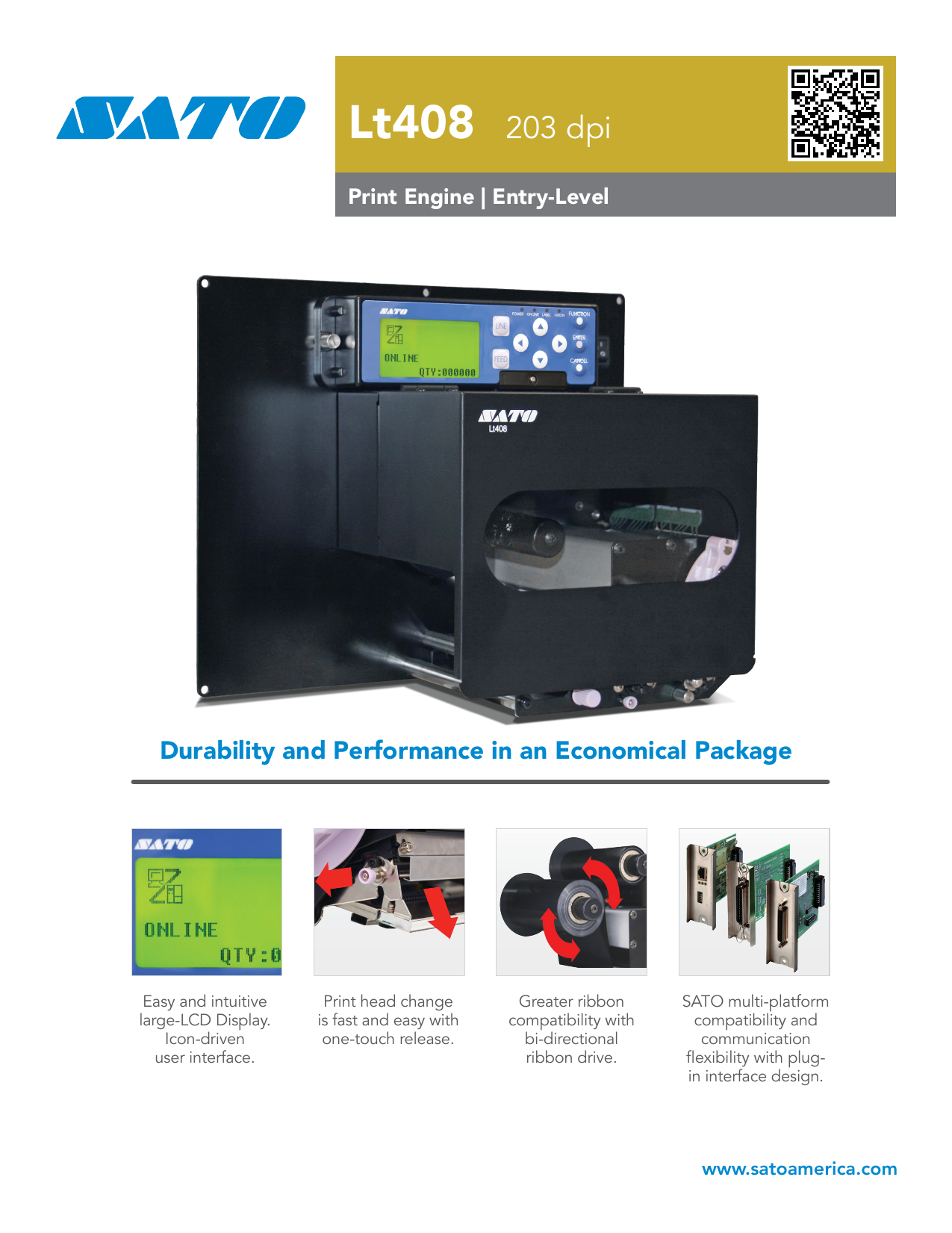 Lt408
203 dpi
Print Engine | Entry-Level
Durability and Performance in an Economical Package
Easy and intuitive
large-LCD Display.
Icon-driven
user interface.
Print head change
is fast and easy with
one-touch release.
Greater ribbon
compatibility with
bi-directional
ribbon drive.
SATO multi-platform
compatibility and
communication
flexibility with plugin interface design.
www.satoamerica.com
GENERAL SPECIFICATIONS
Lt408
MODEL
Lt408
PRINTING SPECIFICATION
Print Method
Direct Thermal/Thermal Transfer
Print Resolution
203 dpi (8 dots/mm)
Print Speed
2 to 6 ips (50 to 150 mm/s)
Maximum Print Area
4.09" (104 mm) W x 49.2" (1,249 mm) L
MEDIA SPECIFICATION
Sensor Type
Media Type
Media Size
Reflective Sensor (for use with pre-printed marks). Adjustable See-Through Sensor (for die-cut label with gap).
Die-Cut Labels, Waste Removed, Roll, 0.125" gap
Width
1.125" - 4.52" (28.6 mm - 115 mm)
Length
0.6" - 49.2" (15 mm - 1,249 mm)
Thickness
Ribbon
(CSI/CSO)
MEMORY
0.003" - 0.010" (0.08 mm - 0.26 mm)
Outer Diameter
Max. 12" (305 mm) Unwind Roll - Applicator Specification
Width
0.98"- 4.37" (25mm - 111 mm)
Length
Up to 1476' (450 m)
Processor
32-bit RISC
Memory
4MB Flash ROM, 16MB SDRAM
Receive Buffer
Maximum 2.95MB
FONT/BARCODE SYMBOLOGIES
Internal
Fonts
Standard
Barcode
Linear
XU, XS, XM, XB, XL, Outline, OCR-A, OCR-B
True Type
CG Times (Serif), CG Triumvirate (San Serif)
UPC-A/E, EAN-8, EAN-13, Code 39, Code 93, Code 128, Codabar, MSI, Bookland, Industrial 2/5,
Interleaved 2/5, Matrix 2/5, Postnet™, GS1-128, GS1-DataBar™, Intelligent Mail® Barcode (IMB)
2-D
PDF417, Micro PDF417, Truncated PDF417, Maxicode™, Data Matrix, QR Code, Composite Symbology
INTERFACE CHARACTERISTICS
Standard (Choose One)
IEEE1284 (Parallel); RS232C Serial (25-pin); USB, LAN (10BaseT/100BaseTX auto-switching)
Interface Options
RS422/485
EXT Port (Applicator Interface)
14-Pin Centronics style connector
OPERATING CHARACTERISTICS
Power Requirements
Environment
100 - 240 VAC (+/- 10%); 50/60 Hz; Auto-Switching
Operating
41° - 104°F (5° - 40°C); 15% - 85% RH, non-condensing
Storage
0° - 140°F (-20° - 60°C); 15% - 85% RH, non-condensing
Regulatory Approvals
FCC Class B, MET (UL60950-1/CSA60950-1), CE
Dimensions
13" (330 mm) W x 10.7" (271 mm) D x 10.6" (270 mm) H
Weight
CORPORATE
10350-A Nations Ford Rd
Charlotte, NC 28273
Phone: (704) 644-1650
Fax: (704) 644-1662
sales-sallc@sato-global.com
21.4 lbs (9.7Kg) Standard Configuration
LABEL MANUFACTURING, SERVICE & SALES
UNITED STATES
CANADA
MEXICO
CENTRAL AMERICA
CARIBBEAN
www.satoamerica.com
©2018 SATO America. All rights Reserved. Rev H • Any unauthorized reproduction of this content, in part or whole, is strictly prohibited • SATO is a registered
trademark of SATO Corporation and its subsidiaries in Japan, the U.S. and other countries. All other trademarks are the property of their respective owners.