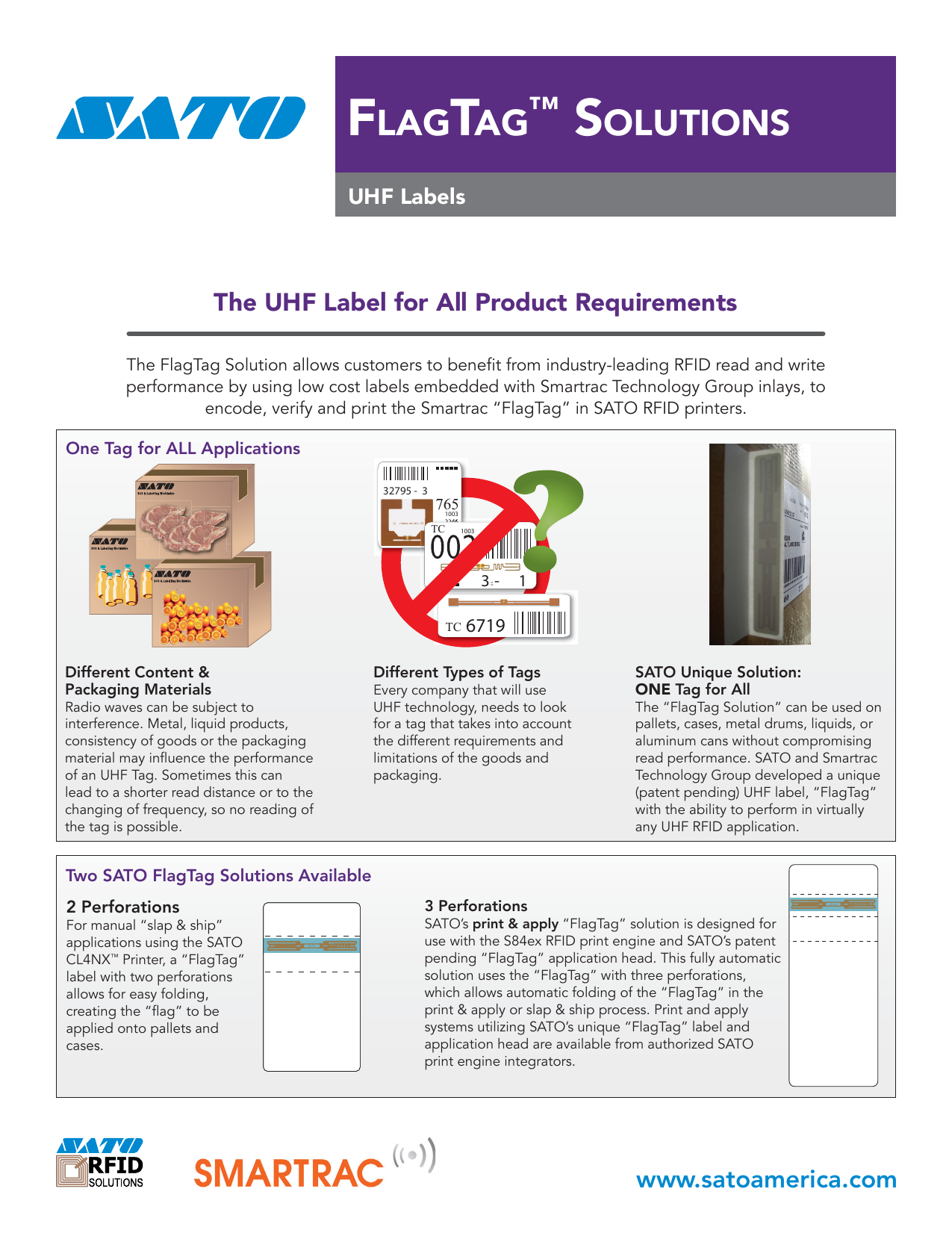 FlagTag™ Solutions
UHF Labels
The UHF Label for All Product Requirements
The FlagTag Solution allows customers to benefit from industry-leading RFID read and write
performance by using low cost labels embedded with Smartrac Technology Group inlays, to
encode, verify and print the Smartrac "FlagTag" in SATO RFID printers.
One Tag for ALL Applications
32795 - 3
765
1003
2246
TC
1003
397
46
1
1003
TC
Different Content &
Packaging Materials
Radio waves can be subject to
interference. Metal, liquid products,
consistency of goods or the packaging
material may influence the performance
of an UHF Tag. Sometimes this can
lead to a shorter read distance or to the
changing of frequency, so no reading of
the tag is possible.
6719
Different Types of Tags
Every company that will use
UHF technology, needs to look
for a tag that takes into account
the different requirements and
limitations of the goods and
packaging.
SATO Unique Solution:
ONE Tag for All
The "FlagTag Solution" can be used on
pallets, cases, metal drums, liquids, or
aluminum cans without compromising
read performance. SATO and Smartrac
Technology Group developed a unique
(patent pending) UHF label, "FlagTag"
with the ability to perform in virtually
any UHF RFID application.
Two SATO FlagTag Solutions Available
2 Perforations
For manual "slap & ship"
applications using the SATO
CL4NX™ Printer, a "FlagTag"
label with two perforations
allows for easy folding,
creating the "flag" to be
applied onto pallets and
cases.
3 Perforations
SATO's print & apply "FlagTag" solution is designed for
use with the S84ex RFID print engine and SATO's patent
pending "FlagTag" application head. This fully automatic
solution uses the "FlagTag" with three perforations,
which allows automatic folding of the "FlagTag" in the
print & apply or slap & ship process. Print and apply
systems utilizing SATO's unique "FlagTag" label and
application head are available from authorized SATO
print engine integrators.
www.satoamerica.com
PRODUCT FEATURES
UHF Label for all Product Requirements
Pallet-Labeling with SATO Printer and FlagTag™
The FlagTag Solution is designed to be used with the SATO CL4NX Series on-demand, RFID-enabled printer, as well as
SATO's RFID print engine for automated print and apply solutions.
SATO FlagTag Solutions — Easy as 1 • 2 • 3
Application of "FlagTag" labels is easy as 1 • 2 • 3.
Just remove the part of the label with the RFID
antenna, fold over at the perforated line and the
label is ready to apply!
SATO FlagTag Applicator Head
SATO's patent pending "FlagTag" applicator tamp pad is specifically designed for automatic print & apply
applications. This patent pending tamp pad assembles and applies a RFID "FlagTag" after it is encoded, verified &
printed on a SATO RFID print engine. The "FlagTag Solution" integrated in RFID label applicators provides free airlike RF performance for RFID case and pallet labeling.
Automatic
Print & Apply
Solutions
Examples
SATO Patent Pending "FlagTag" Applicator Head
PRINTER MODEL
S84ex RFID Print Engines
CL4NX RFID Printers
Direct Thermal/Thermal Transfer
203 / 305 / 609 dpi
4.1" (104.0 mm)
203 / 305 / 609 dpi
Dual CPU: CPU1: 2 GB Flash, 256 MB RAM
CPU2: 4 MB Flash, 64 MB RAM
4.1" (104.0 mm)
98.43" (2,500 mm) / 59.06" (1,500 mm) / 15.75" (400 mm)
98.43" (2,500 mm) / 59.06" (1,500 mm) / 15.75" (400 mm)
Print Resolution
Standard Memory
48 MB Flash, 64 MB RAM
Maximum Print Width
Minimum Media Width
0.51" (13 mm)
0.98" (25 mm)
5.15" (131 mm)
5.15" (131 mm)
16 ips (406.4 mm/s) / 14 ips (355.6 mm/s) / 6 ips (152.4 mm/s)
USB 2.0 (Type B), RS232C, IEEE1284, Ethernet (Protocol TCP/IP:
LPR, FTP, TELNET, SNTP), D-SUB 25 pin EXT (14 pin conversion
cable included)
UHF
10 ips (254 mm/s) / 8 ips (203 mm/s) / 6 ips (152 mm/s)
USB 2.0 (Type A, Type B), Ethernet (IPv4/IPv6) on Rear Panel, USB
2.0 (Type A) on Front Panel, RS-232C, IEEE1284, EXT on Standard
Interface Board, Bluetooth® Ver. 3.0
UHF & HF
Maximum Media Width
Maximum Print Speed
Interface
Protocols
CORPORATE
10350-A Nations Ford Rd
Charlotte, NC 28273
Phone: (704) 644-1650
Fax: (704) 644-1662
sales-sallc@sato-global.com
Dual Applicator
Direct Thermal/Thermal Transfer
Printing Method
Maximum Print Length
Single Applicator
LABEL MANUFACTURING, SERVICE & SALES
UNITED STATES
CANADA
MEXICO
CENTRAL AMERICA
CARIBBEAN
www.satoamerica.com
©2016 SATO America. All rights Reserved. Rev I • Any unauthorized reproduction of this content, in part or whole, is strictly prohibited • SATO is a registered
trademark of SATO Corporation and its subsidiaries in Japan, the U.S. and other countries. All other trademarks are the property of their respective owners.