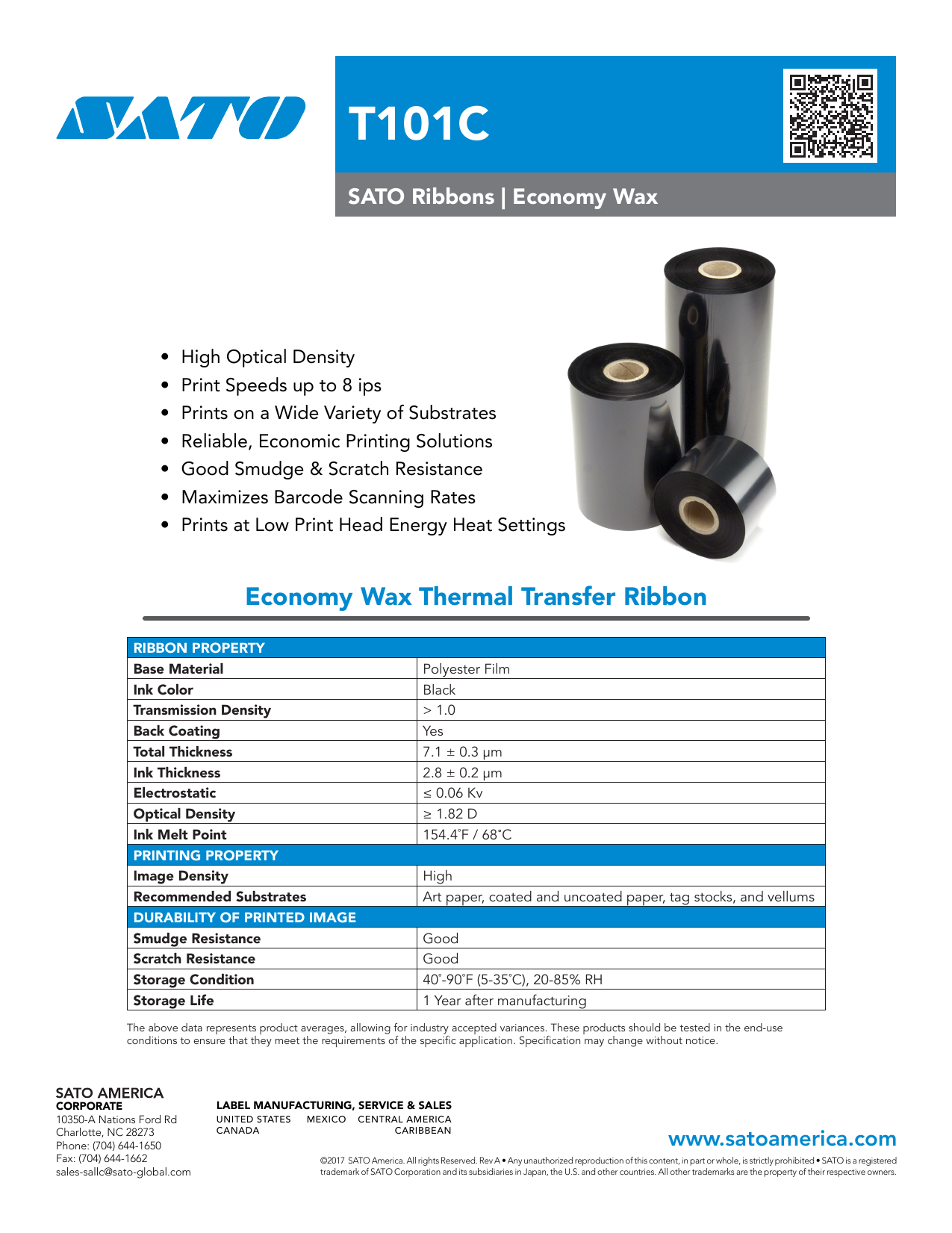 T101C
SATO Ribbons | Economy Wax
• High Optical Density
• Print Speeds up to 8 ips
• Prints on a Wide Variety of Substrates
•
•
•
•
Reliable, Economic Printing Solutions
Good Smudge & Scratch Resistance
Maximizes Barcode Scanning Rates
Prints at Low Print Head Energy Heat Settings
Economy Wax Thermal Transfer Ribbon
RIBBON PROPERTY
Base Material
Ink Color
Transmission Density
Back Coating
Total Thickness
Ink Thickness
Electrostatic
Optical Density
Ink Melt Point
PRINTING PROPERTY
Image Density
Recommended Substrates
DURABILITY OF PRINTED IMAGE
Smudge Resistance
Scratch Resistance
Storage Condition
Storage Life
Polyester Film
Black
> 1.0
Yes
7.1 ± 0.3 μm
2.8 ± 0.2 μm
≤ 0.06 Kv
≥ 1.82 D
154.4˚F / 68˚C
High
Art paper, coated and uncoated paper, tag stocks, and vellums
Good
Good
40˚-90˚F (5-35˚C), 20-85% RH
1 Year after manufacturing
The above data represents product averages, allowing for industry accepted variances. These products should be tested in the end-use
conditions to ensure that they meet the requirements of the specific application. Specification may change without notice.
CORPORATE
10350-A Nations Ford Rd
Charlotte, NC 28273
Phone: (704) 644-1650
Fax: (704) 644-1662
sales-sallc@sato-global.com
LABEL MANUFACTURING, SERVICE & SALES
UNITED STATES
CANADA
MEXICO
CENTRAL AMERICA
CARIBBEAN
www.satoamerica.com
©2017 SATO America. All rights Reserved. Rev A • Any unauthorized reproduction of this content, in part or whole, is strictly prohibited • SATO is a registered
trademark of SATO Corporation and its subsidiaries in Japan, the U.S. and other countries. All other trademarks are the property of their respective owners.

* Your assessment is very important for improving the work of artificial intelligence, which forms the content of this project