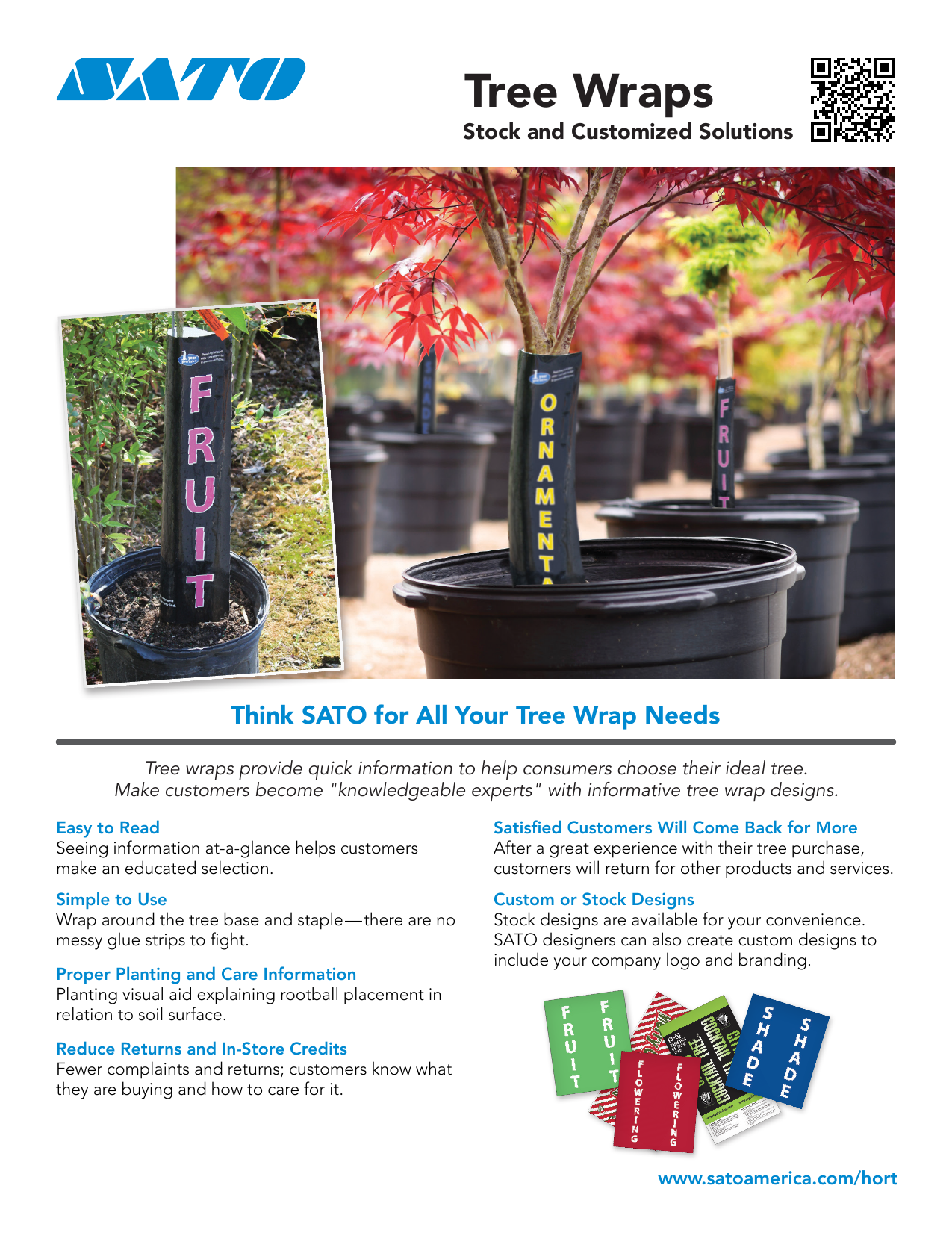 Tree Wraps
Stock and Customized Solutions
Think SATO for All Your Tree Wrap Needs
Tree wraps provide quick information to help consumers choose their ideal tree.
Make customers become "knowledgeable experts" with informative tree wrap designs.
Easy to Read
Seeing information at-a-glance helps customers
make an educated selection.
Satisfied Customers Will Come Back for More
After a great experience with their tree purchase,
customers will return for other products and services.
Simple to Use
Wrap around the tree base and staple—there are no
messy glue strips to fight.
Custom or Stock Designs
Stock designs are available for your convenience.
SATO designers can also create custom designs to
include your company logo and branding.
Proper Planting and Care Information
Planting visual aid explaining rootball placement in
relation to soil surface.
Reduce Returns and In-Store Credits
Fewer complaints and returns; customers know what
they are buying and how to care for it.
www.satoamerica.com/hort
TREE WRAPS
Stock and Customized Solutions
SATO Tree Wrap Features
Special Messaging
Tree Identification
Large, clearly visible
at a distance
Staple Guides
Care Instructions
Planting Directions
Logo & Branding
The SATO Solution for Your Retailers
• The Right Service and Support: Custom tag and label
design, printer service and readily-available SATO staff
specialized in retail solutions.
• The Right Software: SATO TAGGIT™ Pro Labeling Design
software solutions offer a scalable and versatile set of tools
to meet all design needs.
• The Right Printing Hardware: SATO printers are durable
enough for harsh environments and easily handle material
thickness up to 24 mil at speeds up to 10 ips.
• The Right Solutions: SATO offers a full range of tags,
slip-ons, stakes and labels. If SATO has not yet developed
the solution you require, our designers and engineers will
work with you to create it.
CORPORATE
10350-A Nations Ford Rd
Charlotte, NC 28273
Phone: (704) 644-1650
Fax: (704) 644-1662
sales-sallc@sato-global.com
LABEL MANUFACTURING, SERVICE & SALES
UNITED STATES
CANADA
MEXICO
CENTRAL AMERICA
CARIBBEAN
www.satoamerica.com/hort
©2018 SATO America. All rights Reserved. Rev H • Any unauthorized reproduction of this content, in part or whole, is strictly prohibited • SATO is a registered
trademark of SATO Corporation and its subsidiaries in Japan, the U.S. and other countries. All other trademarks are the property of their respective owners.

* Your assessment is very important for improving the work of artificial intelligence, which forms the content of this project