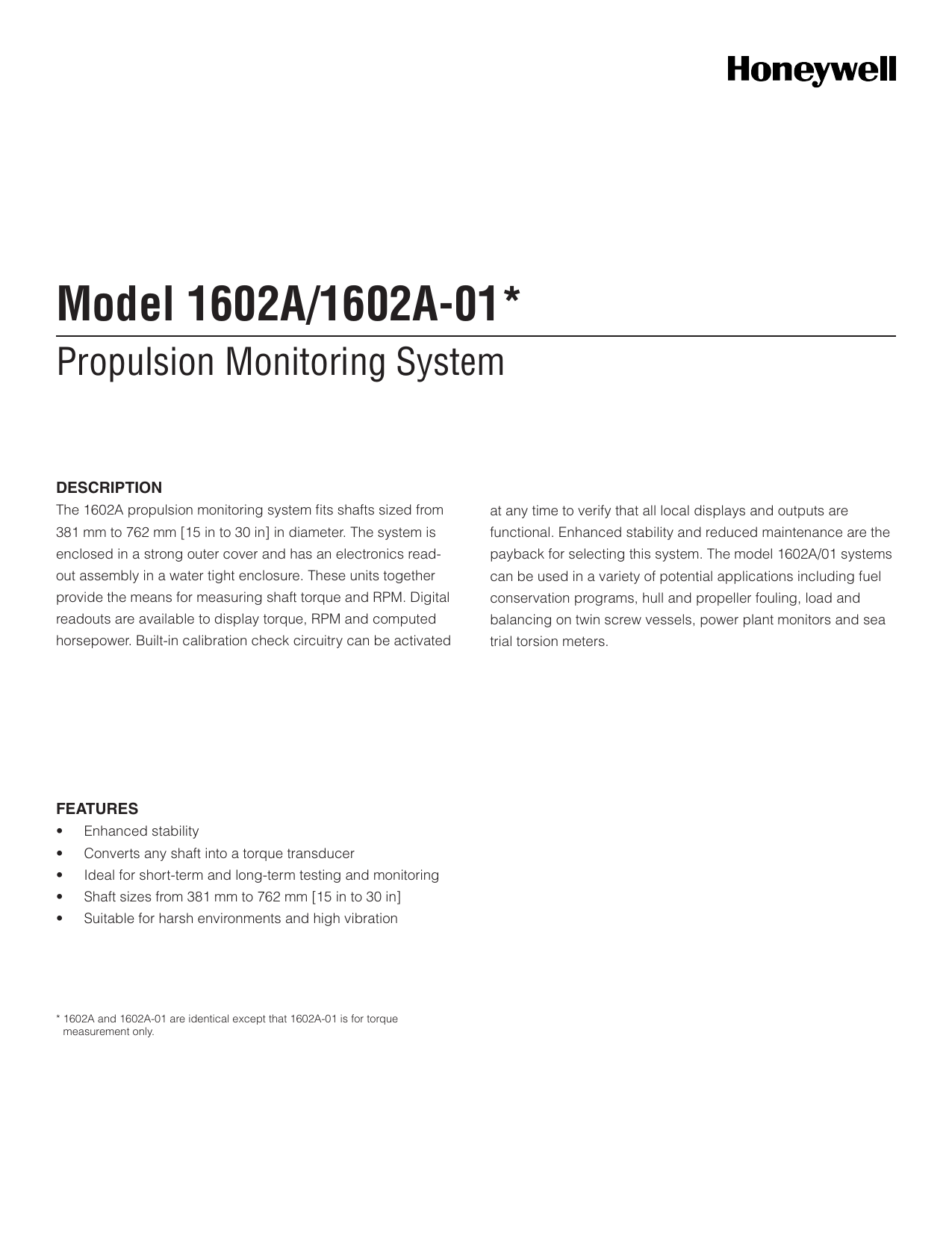 Model 1602A/1602A-01*
Propulsion Monitoring System
DESCRIPTION
The 1602A propulsion monitoring system fits shafts sized from
at any time to verify that all local displays and outputs are
381 mm to 762 mm [15 in to 30 in] in diameter. The system is
functional. Enhanced stability and reduced maintenance are the
enclosed in a strong outer cover and has an electronics read-
payback for selecting this system. The model 1602A/01 systems
out assembly in a water tight enclosure. These units together
can be used in a variety of potential applications including fuel
provide the means for measuring shaft torque and RPM. Digital
conservation programs, hull and propeller fouling, load and
readouts are available to display torque, RPM and computed
balancing on twin screw vessels, power plant monitors and sea
horsepower. Built-in calibration check circuitry can be activated
trial torsion meters.
FEATURES
•
Enhanced stability
•
Converts any shaft into a torque transducer
•
Ideal for short-term and long-term testing and monitoring
•
Shaft sizes from 381 mm to 762 mm [15 in to 30 in]
•
Suitable for harsh environments and high vibration
* 1602A and 1602A-01 are identical except that 1602A-01 is for torque
measurement only.
Model 1602A/1602A-01
PERFORMANCE SPECIFICATIONS
ELECTRICAL SPECIFICATIONS
Characteristic
Measure
Characteristic
Measure
Torque ranges
Varies on application; consult factory
Induction power source
160 kHz ±6 %
Frequency response
dc to 1000 Hz
Cables NOT included
Sensitivity (transmitter)
300 microstrain
Cable length
(PTU to receiver)
Number of channels
1 to 3 (Torque, RPM, HP)
100 ft
Sampling rate
5 kHz
Max. cable length
(PTU to receiver)
Receiver readout display
type
3.5 digit 7 segment LED
Power supply voltage
(receiver)
115 Vac to 230 Vac (user-selectable)
Power consumption
(receiver)
100 VA max.
RF operating frequency
16 MHz
RF modulation type
FSK
Max. analog output
(receiver)
±10 Vdc @ 1 mA max.
ENVIRONMENTAL SPECIFICATIONS
Characteristic
Measure
Temperature, operating
(transmitter)
-15 °C to 75 °C [5 °F to 167 °F]
Output impedance
(receiver)
< 1 Ohm
Temperature, operating
(receiver/IPS/PSU)
10 °C to 50 °C [50 °F to 122 °F]
Electrical termination
(receiver output)
Screw terminal
Temperature, compensated
(transmitter)
5 °C to 60 °C [40 °F to 140 °F]
Temperature, compensated
(receiver)
10 °C to 50 °C [50 °F to 122 °F]
Static G force (rotating
components)
100 G
RPM limits (rotating
components)
See graph - depends on shaft diameter
Vibration (rotating
components)
10 G to 1 kHz
Collar weight
Varies with shaft diameter
Electronics weight
(not including cables)
Receiver and PTU 14,69 kg [33 lb]
2 Honeywell • Sensing and Control
Propulsion Monitoring System
OPTION CODES
Range Code
RPM limits graph2
Many range/option combinations are available in
our quick-ship and fast-track manufacture programs. Please see http://sensing.honeywell.com/
TMsensor-ship for updated listings.
Totalizer
62a. Horsepower-hour totalizer
62b. Revolutions totalizer
RF operating
frequency
16 MHz1
Display
(receiver)
62c. Remote display
Analog output
(receiver)
62e. 1 Channel 4 mA to 20 mA isolated output
62f. 2 Channel 4 mA to 20 mA isolated output
Filter (receiver)
62d. EMI filter for analog outputs
Collar material
Zinc-plated steel2
Shock and
vibration
62g. Heavy duty shield and receiver
TYPICAL SYSTEM DIAGRAM
1. Other frequencies available. Consult factory.
2. Other collar materials available. Consult factory.
MECHANICAL SPECIFICATIONS
Characteristic
Measure
Dimensions
(collar cross section)
Varies with shaft diameter
Dimensions (receiver)
(L x W x H)
406,4 mm x 508 mm x 254 mm
[16 in x 20 in x 10 in]
Dimensions (PSU)
Not applicable
(built into shield assembly)
Rotational clearance
(collar)
Varies with shaft diameter
Shaft diameter limits
(collar)
381 mm to 762 mm
[15 in to 30 in]
Collar material
Zinc-plated steel
Honeywell • Sensing and Control 3
Model 1602A/1602A-01
Propulsion Monitoring System
Warranty. Honeywell warrants goods of its manufacture as
being free of defective materials and faulty workmanship.
Honeywell's standard product warranty applies unless agreed
to otherwise by Honeywell in writing; please refer to your
order acknowledgement or consult your local sales office for
specific warranty details. If warranted goods are returned to
Honeywell during the period of coverage, Honeywell will repair
or replace, at its option, without charge those items it finds
defective. The foregoing is buyer's sole remedy and is in lieu
of all warranties, expressed or implied, including those of
merchantability and fitness for a particular purpose. In no
event shall Honeywell be liable for consequential, special, or
indirect damages.
While we provide application assistance personally, through our
literature and the Honeywell web site, it is up to the customer to
determine the suitability of the product in the application.
Specifications may change without notice. The information we
supply is believed to be accurate and reliable as of this printing.
However, we assume no responsibility for its use.
For more information about Sensing and Control products, visit
www.honeywell.com/sensing or call +1-815-235-6847
Email inquiries to info.sc@honeywell.com
WARNING
PERSONAL INJURY
• DO NOT USE these products as safety or emergency
stop devices or in any other application where failure of
the product could result in personal injury.
Failure to comply with these instructions could result in
death or serious injury.
WARNING
MISUSE OF DOCUMENTATION
• The information presented in this catalogue is for
reference only. DO NOT USE this document as product
installation information.
• Complete installation, operation and maintenance
information is provided in the instructions supplied with
each product.
Failure to comply with these instructions could result in
death or serious injury.
Sensing and Control
Automation and Control Solutions
Honeywell
1985 Douglas Drive North
Golden Valley, MN 55422 USA
+1-815-235-6847
www.honeywell.com/sensing
008792-1-EN IL50 GLO
June 2008
Copyright © 2008 Honeywell International Inc. All rights reserved.

* Your assessment is very important for improving the work of artificial intelligence, which forms the content of this project