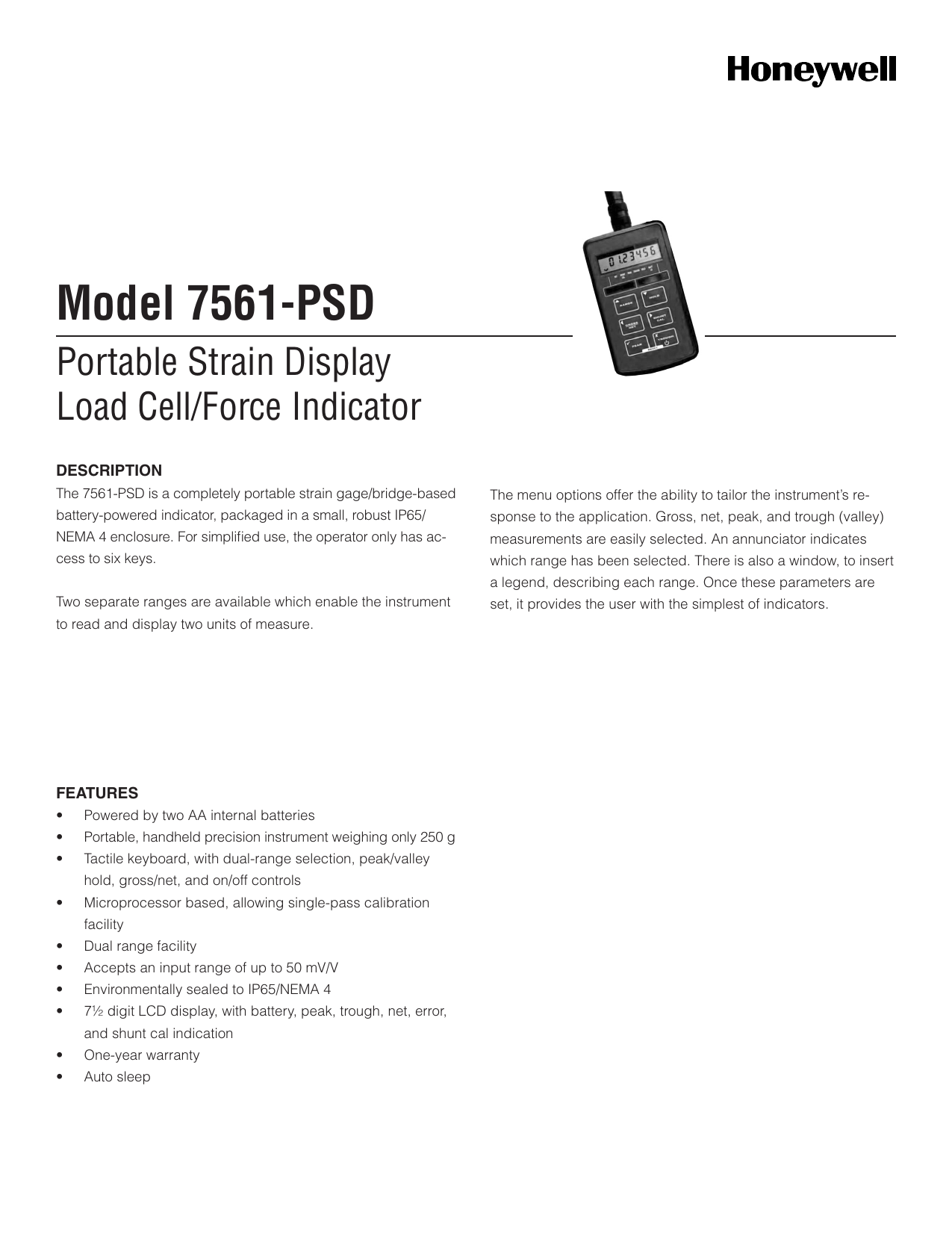 Model 7561-PSD
Portable Strain Display
Load Cell/Force Indicator
DESCRIPTION
The 7561-PSD is a completely portable strain gage/bridge-based
The menu options offer the ability to tailor the instrument's re-
battery-powered indicator, packaged in a small, robust IP65/
sponse to the application. Gross, net, peak, and trough (valley)
NEMA 4 enclosure. For simplified use, the operator only has ac-
measurements are easily selected. An annunciator indicates
cess to six keys.
which range has been selected. There is also a window, to insert
a legend, describing each range. Once these parameters are
Two separate ranges are available which enable the instrument
to read and display two units of measure.
FEATURES
•
Powered by two AA internal batteries
•
Portable, handheld precision instrument weighing only 250 g
•
Tactile keyboard, with dual-range selection, peak/valley
hold, gross/net, and on/off controls
•
Microprocessor based, allowing single-pass calibration
facility
•
Dual range facility
•
Accepts an input range of up to 50 mV/V
•
Environmentally sealed to IP65/NEMA 4
•
7½ digit LCD display, with battery, peak, trough, net, error,
and shunt cal indication
•
One-year warranty
•
Auto sleep
set, it provides the user with the simplest of indicators.
Model 7561-PSD
PERFORMANCE SPECIFICATIONS
Mechanical SPECIFICATIONS
Characteristic
Measure
Characteristic
Measure
Input type
Strain gage full-bridge sensors
Electrical connection
Input range
Up to ±5 mV/V (±50 mV/V can be supplied with factory-set option)
5-pin Binder socket
(mating plug supplied)
Physical size (H x W x D)
152 mm x 90 mm x 34 mm
[5.98 in x 3.5 in x 1.39 in]
Nonlinearity
±0.005 % FSD
Thermal drift
<25 ppm/°C
Weight
260 g
Excitation voltage
5 Vdc (±4 %), 59 mA max. current
Legends
Bridge resistance, min.
85 ohm (4 off 350 ohm sensors in parallel)
Insert legends for engineering unit
identification (supplied)
Internal battery
Two off AA size alkaline, access via
sealed rear compartment
Battery life
45 hours (typ. 450 hours in lower power
mode) with 350 ohm sensor
Characteristic
Measure
Up to 40 ms (can be set in configuration
menu)
Operating temperature
-10 °C to 50 °C [14 °F to 122 °F]
Environmental rating
IP65 (when mating plug fitted)
Update rate
Indication SPECIFICATIONS
Characteristic
Measure
Display type
7½ digit LCD display, 8.8 mm high
digits
Display resolution
1 part in 250000 at 1 Hz update rate; 1
part in 65000 at 10 Hz update rate
Annunciators
Low battery warning: peak, trough;
hold; net; shunt cal; range
Control variables SPECIFICATIONS
Characteristic
Measure
Front panel user keys
Tactile keys with recessed rims for:
On/off/trough
Switches power on/off displays trough
read.
Range
Selects between two ranges
Peak
Displays peak reading
Hold
Switches hold on/off
Gross/net
Toggles between gross/net readings
Shunt cal
Puts in shunt cal mode (100 K resis.)
Settable parameters
Tare/zero value; display resolution/decimal point position; display update rate;
low power mode; auto power off
2 Honeywell • Sensing and Control
Environmental SPECIFICATIONS
Model 7561-PSD
Portable Strain Display Load Cell/Force Indicator
Warranty. Honeywell warrants goods of its manufacture as
being free of defective materials and faulty workmanship.
Honeywell's standard product warranty applies unless agreed
to otherwise by Honeywell in writing; please refer to your
order acknowledgement or consult your local sales office for
specific warranty details. If warranted goods are returned to
Honeywell during the period of coverage, Honeywell will repair
or replace, at its option, without charge those items it finds
defective. The foregoing is buyer's sole remedy and is in lieu
of all warranties, expressed or implied, including those of
merchantability and fitness for a particular purpose. In no
event shall Honeywell be liable for consequential, special, or
indirect damages.
While we provide application assistance personally, through our
literature and the Honeywell web site, it is up to the customer to
determine the suitability of the product in the application.
Specifications may change without notice. The information we
supply is believed to be accurate and reliable as of this printing.
However, we assume no responsibility for its use.
For more information about Sensing and Control products, visit
www.honeywell.com/sensing or call +1-815-235-6847
Email inquiries to info.sc@honeywell.com
WARNING
PERSONAL INJURY
• DO NOT USE these products as safety or emergency
stop devices or in any other application where failure of
the product could result in personal injury.
Failure to comply with these instructions could result in
death or serious injury.
WARNING
MISUSE OF DOCUMENTATION
• The information presented in this catalogue is for
reference only. DO NOT USE this document as product
installation information.
• Complete installation, operation and maintenance
information is provided in the instructions supplied with
each product.
Failure to comply with these instructions could result in
death or serious injury.
Sensing and Control
Automation and Control Solutions
Honeywell
1985 Douglas Drive North
Golden Valley, MN 55422 USA
+1-815-235-6847
www.honeywell.com/sensing
008819-1-EN IL50 GLO
June 2008
Copyright © 2008 Honeywell International Inc. All rights reserved.

* Your assessment is very important for improving the work of artificial intelligence, which forms the content of this project