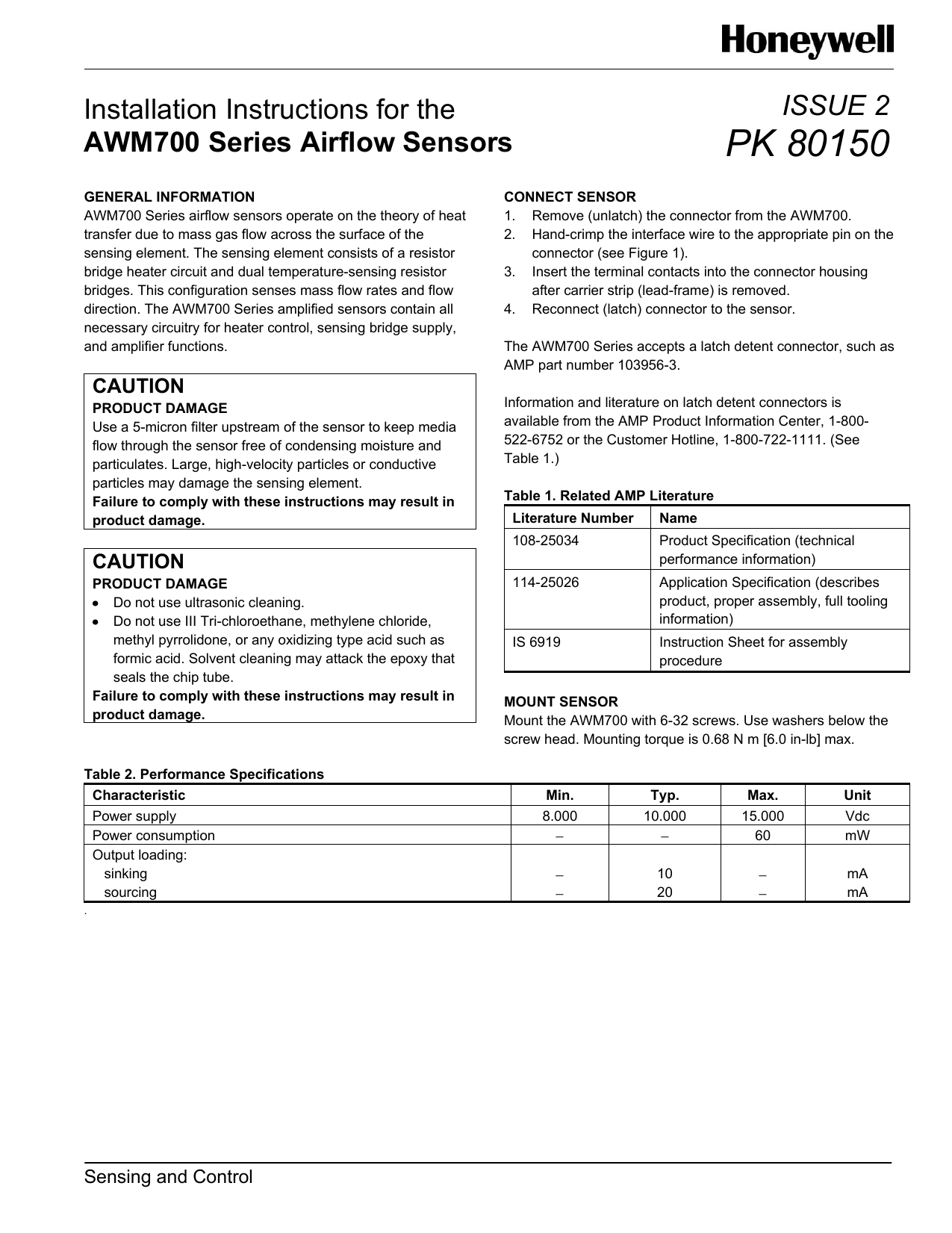 ISSUE 2
Installation Instructions for the
AWM700 Series Airflow Sensors
GENERAL INFORMATION
AWM700 Series airflow sensors operate on the theory of heat
transfer due to mass gas flow across the surface of the
sensing element. The sensing element consists of a resistor
bridge heater circuit and dual temperature-sensing resistor
bridges. This configuration senses mass flow rates and flow
direction. The AWM700 Series amplified sensors contain all
necessary circuitry for heater control, sensing bridge supply,
and amplifier functions.
CAUTION
PRODUCT DAMAGE
Use a 5-micron filter upstream of the sensor to keep media
flow through the sensor free of condensing moisture and
particulates. Large, high-velocity particles or conductive
particles may damage the sensing element.
Failure to comply with these instructions may result in
product damage.
PK 80150
CONNECT SENSOR
1. Remove (unlatch) the connector from the AWM700.
2. Hand-crimp the interface wire to the appropriate pin on the
connector (see Figure 1).
3. Insert the terminal contacts into the connector housing
after carrier strip (lead-frame) is removed.
4. Reconnect (latch) connector to the sensor.
The AWM700 Series accepts a latch detent connector, such as
AMP part number 103956-3.
Information and literature on latch detent connectors is
available from the AMP Product Information Center, 1-800522-6752 or the Customer Hotline, 1-800-722-1111. (See
Table 1.)
Table 1. Related AMP Literature
Literature Number
Name
108-25034
Product Specification (technical
performance information)
114-25026
Application Specification (describes
product, proper assembly, full tooling
information)
IS 6919
Instruction Sheet for assembly
procedure
CAUTION
PRODUCT DAMAGE
Do not use ultrasonic cleaning.
Do not use III Tri-chloroethane, methylene chloride,
methyl pyrrolidone, or any oxidizing type acid such as
formic acid. Solvent cleaning may attack the epoxy that
seals the chip tube.
Failure to comply with these instructions may result in
product damage.
Table 2. Performance Specifications
Characteristic
Power supply
Power consumption
Output loading:
sinking
sourcing
.
Sensing and Control
MOUNT SENSOR
Mount the AWM700 with 6-32 screws. Use washers below the
screw head. Mounting torque is 0.68 N m [6.0 in-lb] max.
Min.
8.000
Typ.
10.000
10
20
Max.
15.000
60
Unit
Vdc
mW
mA
mA
AWM700 Series Airflow Sensor
Issue 2
PK 80152
Figure 1. Mounting Dimensions (For reference only. mm/[in])
Output Connections
Pin Description
1
NC no connection
WARNING
PERSONAL INJURY
DO NOT USE these products as safety or emergency stop
devices or in any other application where failure of the
product could result in personal injury.
Failure to comply with these instructions could result
in death or serious injury.
WARRANTY/REMEDY
Honeywell warrants goods of its manufacture as being free of
defective materials and faulty workmanship. Honeywell's
standard product warranty applies unless agreed to otherwise
by Honeywell in writing; please refer to your order
acknowledgement or consult your local sales office for specific
warranty details. If warranted goods are returned to Honeywell
during the period of coverage, Honeywell will repair or replace,
at its option, without charge those items it finds defective. The
foregoing is buyer's sole remedy and is in lieu of all other
warranties, expressed or implied, including those of
merchantability and fitness for a particular purpose. In no
event shall Honeywell be liable for consequential, special,
or indirect damages.
While we provide application assistance personally, through
our literature and the Honeywell web site, it is up to the
customer to determine the suitability of the product in the
application.
ground
3
+
supply voltage
4
O
output voltage
SALES AND SERVICE
Honeywell serves its customers through a worldwide network
of sales offices, representatives and distributors. For
application assistance, current specifications, pricing or name
of the nearest Authorized Distributor, contact your local sales
office or:
E-mail: info.sc@honeywell.com
Internet: www.honeywell.com/sensing
Phone and Fax:
Asia Pacific
+65 6355-2828
+65 6445-3033 Fax
Europe
+44 (0) 1698 481481
+44 (0) 1698 481676 Fax
Latin America
+1-305-805-8188
+1-305-883-8257 Fax
USA/Canada
+1-800-537-6945
+1-815-235-6847
+1-815-235-6545 Fax
Honeywell
1985 Douglas Drive North
www.honeywell.com/sensing
-
Specifications may change without notice. The information we
supply is believed to be accurate and reliable as of this printing.
However, we assume no responsibility for its use
Sensing and Control
Golden Valley, MN 55422
2
80150-2-EN IL50 GLO Printed in USA
February 2010
Copyright © 2010 Honeywell International Inc. All rights reserved.

* Your assessment is very important for improving the work of artificial intelligence, which forms the content of this project