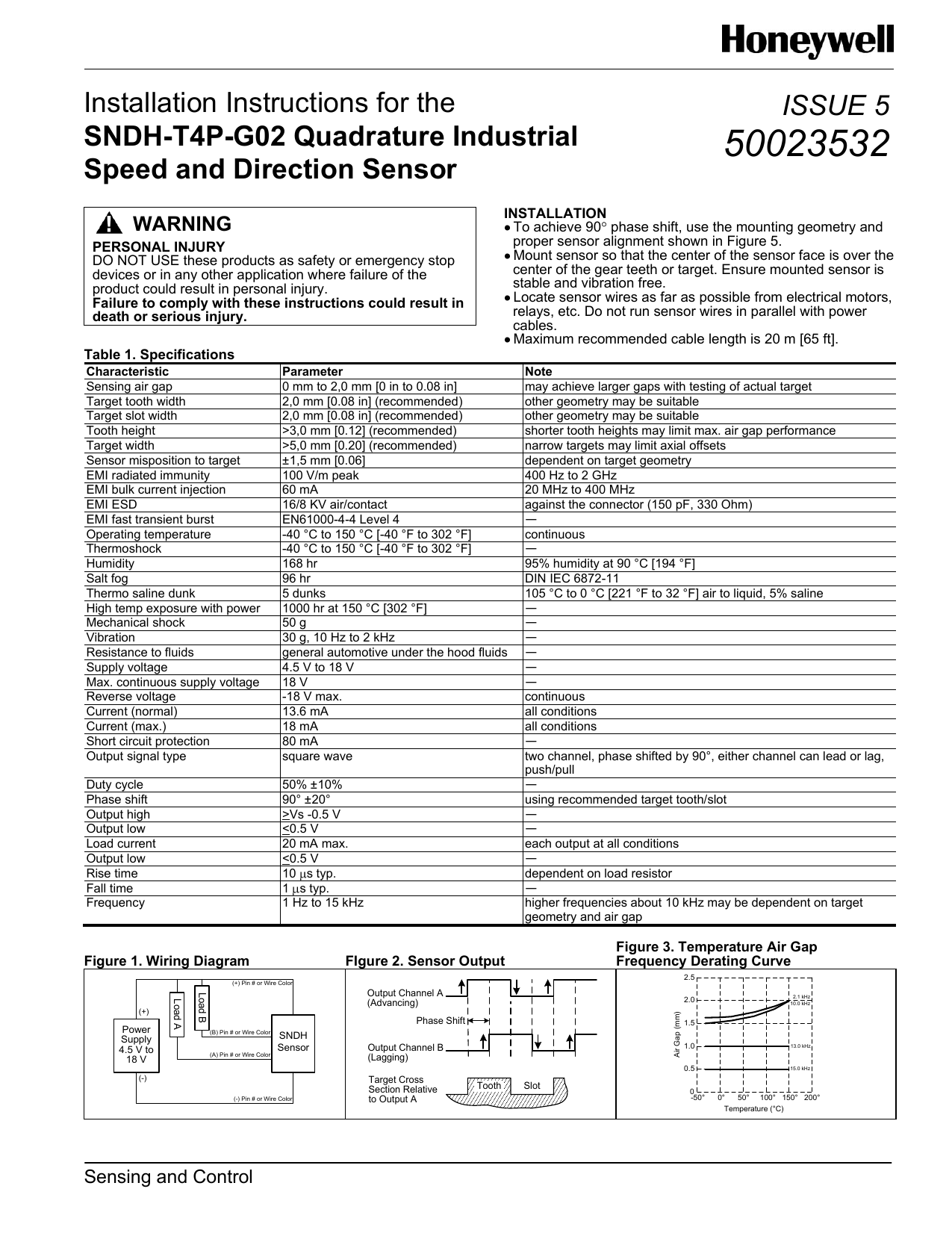 Installation Instructions for the
SNDH-T4P-G02 Quadrature Industrial
Speed and Direction Sensor
ISSUE 5
50023532
INSTALLATION
To achieve 90 phase shift, use the mounting geometry and
proper sensor alignment shown in Figure 5.
Mount sensor so that the center of the sensor face is over the
center of the gear teeth or target. Ensure mounted sensor is
stable and vibration free.
Locate sensor wires as far as possible from electrical motors,
relays, etc. Do not run sensor wires in parallel with power
cables.
Maximum recommended cable length is 20 m [65 ft].
WARNING
PERSONAL INJURY
DO NOT USE these products as safety or emergency stop
devices or in any other application where failure of the
product could result in personal injury.
Failure to comply with these instructions could result in
death or serious injury.
Table 1. Specifications
Characteristic
Sensing air gap
Target tooth width
Target slot width
Tooth height
Target width
Sensor misposition to target
EMI radiated immunity
EMI bulk current injection
EMI ESD
EMI fast transient burst
Operating temperature
Thermoshock
Humidity
Salt fog
Thermo saline dunk
High temp exposure with power
Mechanical shock
Vibration
Resistance to fluids
Supply voltage
Max. continuous supply voltage
Reverse voltage
Current (normal)
Current (max.)
Short circuit protection
Output signal type
Parameter
0 mm to 2,0 mm [0 in to 0.08 in]
2,0 mm [0.08 in] (recommended)
2,0 mm [0.08 in] (recommended)
>3,0 mm [0.12] (recommended)
>5,0 mm [0.20] (recommended)
±1,5 mm [0.06]
100 V/m peak
60 mA
16/8 KV air/contact
EN61000-4-4 Level 4
-40 °C to 150 °C [-40 °F to 302 °F]
-40 °C to 150 °C [-40 °F to 302 °F]
168 hr
96 hr
5 dunks
1000 hr at 150 °C [302 °F]
50 g
30 g, 10 Hz to 2 kHz
general automotive under the hood fluids
4.5 V to 18 V
18 V
-18 V max.
13.6 mA
18 mA
80 mA
square wave
Duty cycle
Phase shift
Output high
Output low
Load current
Output low
Rise time
Fall time
Frequency
50% ±10%
90° ±20°
>Vs -0.5 V
<0.5 V
20 mA max.
<0.5 V
10 s typ.
1 s typ.
1 Hz to 15 kHz
Figure 1. Wiring Diagram
Note
may achieve larger gaps with testing of actual target
other geometry may be suitable
other geometry may be suitable
shorter tooth heights may limit max. air gap performance
narrow targets may limit axial offsets
dependent on target geometry
400 Hz to 2 GHz
20 MHz to 400 MHz
against the connector (150 pF, 330 Ohm)
—
continuous
—
95% humidity at 90 °C [194 °F]
DIN IEC 6872-11
105 °C to 0 °C [221 °F to 32 °F] air to liquid, 5% saline
—
—
—
—
—
—
continuous
all conditions
all conditions
—
two channel, phase shifted by 90°, either channel can lead or lag,
push/pull
—
using recommended target tooth/slot
—
—
each output at all conditions
—
dependent on load resistor
—
higher frequencies about 10 kHz may be dependent on target
geometry and air gap
Figure 3. Temperature Air Gap
Frequency Derating Curve
FIgure 2. Sensor Output
2.5
(+) Pin # or Wire Color
2.0
Air Gap (mm)
Load B
Power
Supply
4.5 V to
18 V
Load A
(+)
Output Channel A
(Advancing)
Phase Shift
(B) Pin # or Wire Color
(A) Pin # or Wire Color
SNDH
Sensor
(-)
(-) Pin # or Wire Color
Sensing and Control
Output Channel B
(Lagging)
Target Cross
Section Relative
to Output A
Tooth
Slot
2.1 kHz
10.0 kHz
1.5
1.0
13.0 kHz
0.5
15.0 kHz
0
-50°
0°
50° 100° 150° 200°
Temperature (°C)
SNDH-T4P-G02 Quadrature Sensor
Issue 5
50023532
Figure 4. Mounting Dimensions (For reference only: mm/[in])
1
2
3
4
4
4,50
[0.18]
555,0
[21.85]
1
9,50
[0.37]
A
33,00
[1.3]
15,00
[0.6]
15,00
[0.6]
2
3
SECTION A-A
1. Output Channel A (White)
2. Output Channel B (Blue)
3. (-) Current Supply (Black)
4. (+) Current Supply (Yellow)
50,00
[1.97]
A
Ø 6,30
[0.25]
Figure 5. Mounting Geometry (For reference only: mm/[in])
X
12,70
[0.5]
SCALE 1:1
CLOCKWISE
TARGET
ROTATION
TARGET
ROTATION
TYPICAL
TARGET
Y
Z
5,00
[0.20]
SEE DETAIL A
2,00
[0.08]
2,00
[0.08]
DETAIL A
SCALE 2:1
WARRANTY/REMEDY
Honeywell warrants goods of its manufacture as being free of
defective materials and faulty workmanship. Honeywell's
standard product warranty applies unless agreed to otherwise
by Honeywell in writing; please refer to your order
acknowledgement or consult your local sales office for specific
warranty details. If warranted goods are returned to Honeywell
during the period of coverage, Honeywell will repair or replace,
at its option, without charge those items it finds defective. The
foregoing is buyer's sole remedy and is in lieu of all other
warranties, expressed or implied, including those of
merchantability and fitness for a particular purpose. In no
event shall Honeywell be liable for consequential, special,
or indirect damages.
While we provide application assistance personally, through
our literature and the Honeywell web site, it is up to the
customer to determine the suitability of the product in the
application.
Specifications may change without notice. The information we
supply is believed to be accurate and reliable as of this printing.
However, we assume no responsibility for its use.
SALES AND SERVICE
Honeywell serves its customers through a worldwide network
of sales offices, representatives and distributors. For
application assistance, current specifications, pricing or name
of the nearest Authorized Distributor, contact your local sales
office or:
E-mail: info.sc@honeywell.com
Internet: www.honeywell.com/sensing
Phone and Fax:
Asia Pacific
+65 6355-2828
+65 6445-3033 Fax
Europe
+44 (0) 1698 481481
+44 (0) 1698 481676 Fax
Latin America
+1-305-805-8188
+1-305-883-8257 Fax
USA/Canada
+1-800-537-6945
+1-815-235-6847
+1-815-235-6545 Fax
Sensing and Control
Honeywell
1985 Douglas Drive North
Minneapolis, MN 55422
www.honeywell.com/sensing
50023532-5-EN IL50 GLO Printed in USA
November 2009
Copyright © 2009 Honeywell International Inc. All rights reserved.