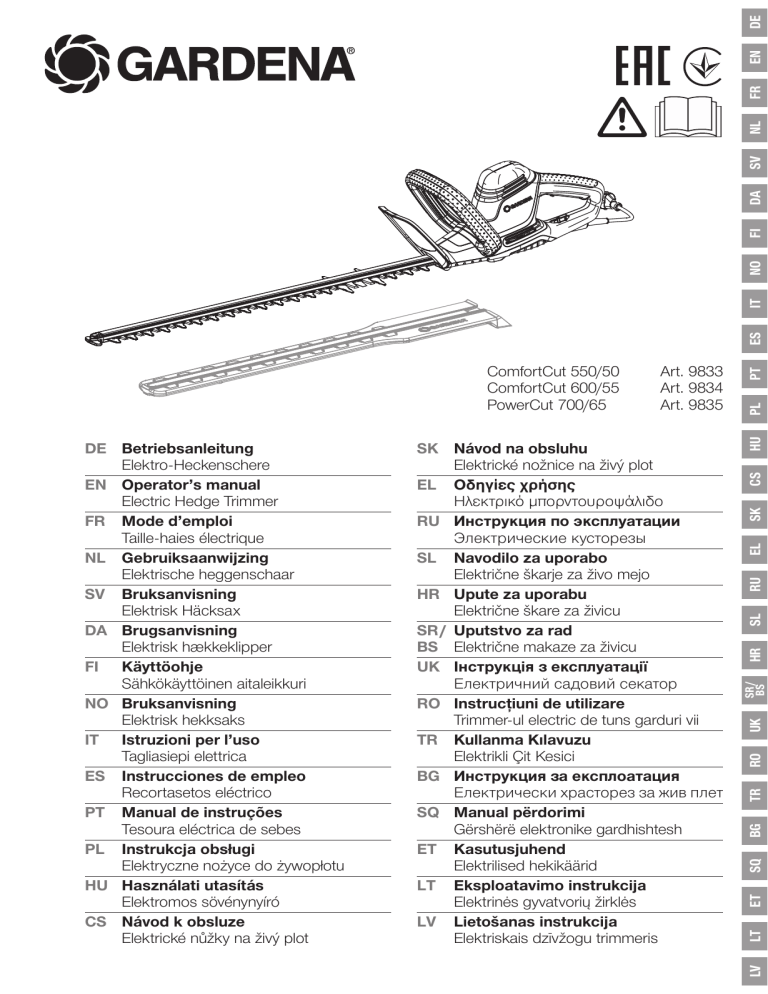 DE EN
Betriebsanleitung
Elektro-Heckenschere
Operator's manual
Electric Hedge Trimmer
FR
Mode d'emploi
Taille-haies électrique
NL
Gebruiksaanwijzing
Elektrische heggenschaar
SV
Bruksanvisning
Elektrisk Häcksax
DA
Brugsanvisning
Elektrisk hækkeklipper
FI
Käyttöohje
Sähkökäyttöinen aitaleikkuri
NO
Bruksanvisning
Elektrisk hekksaks
IT
Istruzioni per l'uso
Tagliasiepi elettrica
ES
Instrucciones de empleo
Recortasetos eléctrico
PT
Manual de instruções
Tesoura eléctrica de sebes
PL
Instrukcja obsługi
Elektryczne nożyce do żywopłotu
HU
Használati utasítás
Elektromos sövénynyíró
CS
Návod k obsluze
Elektrické nůžky na živý plot ComfortCut 550/50 ComfortCut 600/55 PowerCut 700/65 Art. 9833 Art. 9834 Art. 9835
SK
Návod na obsluhu
Elektrické nožnice na živý plot
EL
Οδηγίες χρήσης
Ηλεκτρικό μπορντουροψάλιδο
RU
Инструкция по эксплуатации
Электрические кусторезы
SL
Navodilo za uporabo
Električne škarje za živo mejo
HR
Upute za uporabu
Električne škare za živicu
SR /
Uputstvo za rad
BS
Električne makaze za živicu
UK
Інструкція з експлуатації
Електричний садовий секатор
RO
Instrucţiuni de utilizare
Trimmer-ul electric de tuns garduri vii
TR
Kullanma Kılavuzu
Elektrikli Çit Kesici
BG
Инструкция за експлоатация
Електрически храсторез за жив плет
SQ
Manual përdorimi
Gërshërë elektronike gardhishtesh
ET
Kasutusjuhend
Elektrilised hekikäärid
LT
Eksploatavimo instrukcija
Elektrinės gyvatvorių žirklės
LV
Lietošanas instrukcija
Elektriskais dzīvžogu trimmeris
DE
Produkthaftung
Wir weisen ausdrücklich darauf hin, dass wir in Übereinstimmung mit dem Produkthaftungsgesetz nicht für Schäden haften, die durch unsere Produkte entstehen, wenn diese unsachgemäß und nicht durch einen von uns autorisierten Servicepartner repariert wurden oder wenn keine Original GARDENA Teile oder von uns zugelassene Teile verwendet wurden.
EN
Product liability
In accordance with the German Product Liability Act, we hereby expressly declare that we accept no liability for damage incurred from our products where said products have not been properly repaired by a GARDENA-approved service partner or where original GARDENA parts or parts authorised by GARDENA were not used.
FR
Responsabilité
Conformément à la loi relative à la responsabilité du fait des produits défectueux, nous déclarons expressément par la présente que nous déclinons toute responsabilité pour les dommages résultant de nos produits, si lesdits produits n'ont pas été correctement réparés par un partenaire d'entretien agréé GARDENA ou si des pièces d'origine GARDENA ou des pièces agréées GARDENA n'ont pas été utilisées.
NL
Productaansprakelijkheid
Conform de Duitse wet inzake productaansprakelijkheid verklaren wij hierbij uitdrukkelijk dat wij geen aansprakelijkheid aanvaarden voor schade ontstaan uit onze pro ducten waarbij deze producten niet zijn gerepareerd door een GARDENA-erkende servicepartner of waarbij geen originele GARDENA-onderdelen of onderdelen die door GARDENA zijn goedgekeurd zijn gebruikt.
SV
Produktansvar
I enlighet med tyska produktansvarslagar förklarar vi härmed uttryckligen att vi inte åtar oss något ansvar för skador som orsakas av våra produkter där produkterna inte har genomgått korrekt reparation från en GARDENA-godkänd servicepartner eller där originaldelar från GARDENA eller delar godkända av GARDENA inte använts.
DA
Produktansvar
I overensstemmelse med den tyske produktansvarslov erklærer vi hermed udtrykkeligt, at vi ikke påtager os noget ansvar for skader på vores produkter, hvis de pågæl dende produkter ikke er blevet repareret korrekt af en GARDENA-godkendt servicepartner, eller hvor der ikke er brugt originale GARDENA-reservedele eller godkendte reservedele fra GARDENA.
FI
Tuotevastuu
Saksan tuotevastuulain mukaisesti emme ole vastuussa laitteiden vaurioista, jos korjauksia ei ole tehnyt GARDENAn hyväksymä huoltoliike tai jos niiden syynä on muiden kuin alkuperäisten GARDENA-varaosien tai GARDENAn hyväksymien varaosien käyttö.
IT
Responsabilità del prodotto
In conformità con la Legge tedesca sulla responsabilità del prodotto, con la presente dichiariamo espressamente che decliniamo qualsiasi responsabilità per danni causati dai nostri prodotti qualora non siano stati correttamente riparati presso un partner di assistenza approvato GARDENA o laddove non siano stati utilizzati ricambi originali o autorizzati GARDENA.
ES
Responsabilidad sobre el producto
De acuerdo con la Ley de responsabilidad sobre productos alemana, por la presente declaramos expresamente que no aceptamos ningún tipo de responsabilidad por los daños ocasionados por nuestros productos si dichos productos no han sido reparados por un socio de mantenimiento aprobado por GARDENA o si no se han utilizado piezas originales GARDENA o piezas autorizadas por GARDENA.
PT
Responsabilidade pelo produto
De acordo com a lei alemã de responsabilidade pelo produto, declaramos que não nos responsabilizamos por danos causados pelos nossos produtos, caso os tais produtos não tenham sido devidamente reparados por um parceiro de assistência GARDENA aprovado ou se não tiverem sido utilizadas peças GARDENA originais ou peças autorizadas pela GARDENA.
PL
Odpowiedzialność za produkt
Zgodnie z niemiecką ustawą o odpowiedzialności za produkt, niniejszym wyraźnie oświadczamy, że nie ponosimy żadnej odpowiedzialności za szkody poniesione na skutek użytkowania naszych produktów, w przypadku gdy naprawa tych produktów nie była odpowiednio przeprowadzana przez zatwierdzonego przez firmę GARDE NA partnera serwisowego lub nie stosowano oryginalnych części GARDENA albo części autoryzowanych przez tę firmę.
HU
Termékszavatosság
A németországi termékszavatossági törvénnyel összhangban ezennel nyomatékosan kijelentjük, hogy nem vállalunk felelősséget a termékeinkben keletkezett olyan károkért, amelyek valamely GARDENA által jóváhagyott szervizpartner által nem megfelelően végzett javításból adódtak, vagy amely során nem eredeti GARDENA alkatrészeket vagy a GARDENA által jóváhagyott alkatrészeket használtak fel.
CS
Odpovědnost za výrobek
V souladu s německým zákonem o odpovědnosti za výrobek tímto výslovně prohlašujeme, že nepřijímáme žádnou odpovědnost za poškození vzniklá na našich výrobcích, kdy zmíněné výrobky nebyly řádně opraveny schváleným servisním partnerem GARDENA nebo kdy nebyly použity originální náhradní díly GARDENA nebo náhradní díly autorizované společností GARDENA.
SK
Zodpovednosť za produkt
V súlade s nemeckými právnymi predpismi upravujúcimi zodpovednosť za výrobok týmto výslovne prehlasujeme, že nenesieme žiadnu zodpovednosť za škody spôsobené našimi výrobkami, v prípade ktorých neboli náležité opravy vykonané servisným partnerom schváleným spoločnosťou GARDENA alebo neboli použité diely spoločnosti GARDENA alebo diely schválené spoločnosťou GARDENA.
EL
Ευθύνη προϊόντος
Σύμφωνα με τον γερμανικό νόμο περί Ευθύνης για τα Προϊόντα, με το παρόν δηλώνουμε ρητώς ότι δεν αποδεχόμαστε καμία ευθύνη για τυχόν ζημίες που προκύπτουν από τα προϊόντα μας εάν αυτά δεν έχουν επισκευαστεί σωστά από κάποιον εγκεκριμένο συνεργάτη επισκευών της GARDENA ή εάν δεν έχουν χρησιμοποιηθεί αυθεντικά εξαρτήματα GARDENA ή εξαρτήματα εγκεκριμένα από την GARDENA.
SL
Odgovornost proizvajalca
V skladu z nemškimi zakoni o odgovornosti za izdelke,izrecno izjavljajo, da ne sprejemamo nobene odgovornosti za škodo, ki jo povzročijo naši izdelki, če teh niso ustrezno popravili GARDENINI odobreni servisni partnerji ali pri tem niso bili uporabljeni originalni GARDENINI nadomestni deli ali GARDENINIMI homologiranimi nadomestnimi deli.
HR
Pouzdanost proizvoda
Sukladno njemačkom zakonu o pouzdanosti proizvoda, ovime izričito izjavljujemo kako ne prihvaćamo nikakvu odgovornost za oštećenja na našim proizvodima nastala uslijed neispravnog popravka od strane servisnog partnera kojeg odobrava GARDENA ili uslijed nekorištenja originalnih GARDENA dijelova ili dijelova koje odobrava GARDENA.
RO
Răspunderea pentru produs
În conformitate cu Legea germană privind răspunderea pentru produs, declarăm în mod expres prin prezentul document că nu acceptăm nicio răspundere pentru defecţiunile suferite de produsele noastre atunci când acestea nu au fost reparate în mod corect de un atelier de service partener, aprobat de GARDENA, sau când nu au fost utilizate piese GARDENA originale sau piese autorizate de GARDENA.
BG
Отговорност за вреди, причинени от стоки
Съгласно германския Закон за отговорността за вреди, причинени от стоки, с настоящото изрично декларираме, че не носим отговорност за щети, причинени от нашите продукти, ако те не са били правилно ремонтирани от одобрен от GARDENA сервиз или ако не са използвани оригинални части на GARDENA или части, одобрени от GARDENA.
ET
Tootevastutus
Vastavalt Saksamaa tootevastutusseadusele deklareerime käesolevaga selgesõnaliselt, et me ei kanna mingisugust vastutust meie toodetest tingitud kahjude eest, kui need tooted ei ole korrektselt parandatud GARDENA heakskii detud hoolduspartneri poolt või kui parandamisel ei ole kasutatud GARDENA originaalosi või GARDENA volitatud osi.
LT
Gaminio patikimumas
Mes aiškiai pareiškiame, kad, atsižvelgiant į Vokietijos gaminių patikimumo įstatymą, neprisiimame atsakomybės dėl bet kokios žalos, patirtos dėl mūsų gaminių, jeigu jie buvo netinkamai taisomi arba jų dalys buvo pakeistos neoriginaliomis GARDENA dalimis ar nepatvirtintomis dalimis, arba jeigu remonto darbai buvo atliekami ne GARDENA techninės priežiūros centro specialistų.
LV
Atbildība par produkcijas kvalitāti
Saskaņā ar Vācijas likumu par atbildību par produkcijas kvalitāti ar šo mēs paziņojam, ka neuzņemamies atbildību par bojājumiem, kas radušies, lietojot mūsu izstrādāju mus, kuru remontu nav veicis uzņēmuma GARDENA apstiprināts apkopes partneris vai kuru remontam netika izmantotas oriģinālās GARDENA detaļas vai detaļas, kuru lietošanu apstiprinājis uzņēmums GARDENA.
2
3 2 9 1 2
A1
5 7 6 4 3
O2 O1 O3 O4
8 9 0 q
O5
1. SAFETY
IMPORTANT! Read the operator's manual carefully before use and keep for future reference.
Symbols on the product:
Read operator's manual.
Always wear approved hearing protection. Always wear approved eye protection.
EN Original instructions.
This product is not intended for use by persons (including chil dren) with reduced physical, sensory or mental capabilities, or lack of experience and knowledge, unless they have been given supervision or instruction concerning use of the product by a per son responsible for their safety. Children should be supervised to ensure that they do not play with the product. The use of this product by young people under the age of 16 is not recommended.
Intended use:
The GARDENA Hedge Trimmer is intended to cut hedges, shrubs and grass coverings in private domestic gardens and allotments.
The product is not intended for long term use.
DANGER! Risk of injury! Do not use the product to cut lawns / lawn edges, to chop up material or to make compost.
Danger – Keep hands away from blade.
Do not expose to rain.
Remove plug from the mains immediately if the cable is damaged or cut.
General safety warnings
General power tool safety warnings WARNING! Read all safety warnings and all instructions!
Failure to follow the warnings and instructions may result in electric shock, fire and / or serious injury.
Save all warnings and instructions for future reference.
The term "power tool" in the warnings refers to your mains operated (corded) power tool or battery operated (cordless) power tool.
1) Work area safety
a) Keep work area clean and well lit. Cluttered or dark areas invite accidents.
b) Do not operate power tools in explosive atmospheres, such as in the presence of flammable liquids, gases or dust.
Power tools create sparks which may ignite the dust or fumes.
c) Keep children and bystanders away while operating a power tool.
Distractions can cause you to lose control.
2) Electrical safety a) Power tool plugs must match the outlet. Never modify the plug in any way. Do not use any adaptor plugs with earthed (grounded) power tools.
Unmodified plugs and matching outlets will reduce risk of electric shock.
b) Avoid body contact with earthed or grounded surfaces, such as pipes,
radiators, ranges and refrigerators. There is an increased risk of electric
shock if your body is earthed or grounded.
c) Do not expose power tools to rain or wet conditions.
Water entering a power tool will increase the risk of electric shock.
d) Do not abuse the cord. Never use the cord for carrying, pulling or unplugging the power tool. Keep cord away from heat, oil, sharp edges or moving parts.
Damaged or entangled cords increase the risk of electric shock.
e) When operating a power tool outdoors, use an extension cord suitable for outdoor use.
Use of a cord suitable for outdoor use reduces the risk of electric shock.
f) If operating a power tool in a damp location is unavoidable, use a residual current device (RCD) protected supply.
Use of an RCD reduces the risk of electric shock.
3) Personal safety a) Stay alert, watch what you are doing and use common sense when operating a power tool. Do not use a power tool while you are tired
or under the influence of drugs, alcohol or medication. A moment of
inattention while operating power tools may result in serious personal injury.
b) Use personal protective equipment. Always wear eye protection.
Protective equipment such as dust mask, non-skid safety shoes, hard hat, or
hearing protection used for appropriate conditions will reduce personal injuries.
c) Prevent unintentional starting. Ensure the switch is in the off­position before connecting to power source and / or battery pack, picking up or
carrying the tool. Carrying power tools with your finger on the switch or
energising power tools that have the switch on invites accidents.
d) Remove any adjusting key or wrench before turning the power tool on.
A wrench or a key left attached to a rotating part of the power tools may result in personal injury.
e) Do not overreach. Keep proper footing and balance at all times.
This enables better control of the power tool in unexpected situations.
f) Dress properly. Do not wear loose clothing or jewellery. Keep your hair, clothing and gloves away from moving parts.
Loose clothes, jewellery or long hair can be caught in moving parts.
g) If devices are provided for the connection of dust extraction and collection facilities, ensure these are connected and properly used.
Use of dust collection can reduce dust-related hazards. 7
8
4) Power tool use and care a) Do not force the power tool. Use the correct power tool for your
application. The correct power tool will do the job better and safer at the
rate for which it was designed.
b) Do not use the power tool if the switch does not turn it on and off.
Any power tool that cannot be controlled with the switch is dangerous and must be repaired.
c) Disconnect the plug from the power source and / or the battery pack from the power tool before making any adjustments, changing acces­
sories, or storing power tools. Such preventive safety measures reduce
the risk of starting the power tool accidentally.
d) Store idle power tools out of the reach of children and do not allow persons unfamiliar with the power tool or these instructions to oper­ ate the power tool.
Power tools are dangerous in the hands of untrained users.
e) Maintain power tools. Check for misalignment or binding of moving parts, breakage of parts and any other condition that may affect the power tool's operation. If damaged, have the power tool repaired
before use. Many accidents are caused by poorly maintained power tools. f) Keep cutting tools sharp and clean. Properly maintained cutting tools with
sharp cutting edges are less likely to bind and are easier to control.
g) Use the power tool, accessories and tool bits etc. in accordance with these instructions, taking into account the working conditions and the
work to be performed. Use of the power tool for operations different from
those intended could result in a hazardous situation.
5) Service Have your power tool serviced by a qualified repair person using only identical replacement parts.
This will ensure that the safety of the power tool is maintained.
Hedge trimmer safety warnings: • Keep all parts of the body away from the cutter blade. Do not remove cut material or hold material to be cut when blades are moving. Make
sure the switch is off when clearing jammed material. A moment of inat-
tention while operating the hedge trimmer may result in serious personal injury.
• Carry the hedge trimmer by the handle with the cutter blade stopped. When transporting or storing the hedge trimmer always fit the cutting
device cover. Proper handling of the hedge trimmer will reduce possible per-
sonal injury from the cutter blades.
• Hold the power tool by insulated gripping sur faces only, because the cutter blade may contact hidden wiring or its own cord.
Cutter blades contacting a "live" wire may make exposed metal parts of the power tool "live" and could give the operator an electric shock.
• Keep cable away from the cutting area. During operation the cable may
be hidden in shrubs and can be accidentally cut by the blade.
Additional safety warnings
Work area safety
Only use the product in the manner and for the functions described in these instructions.
The operator or user is responsible for accidents or hazards occurring to other people or their property.
While operation and transport pay special attention to the hazard for other people.
Risk of stumbling. While operation pay attention to the cable.
Warning! When wearing hearing protection, and due to the noise produced by the product, the operator may not notice persons approaching.
Do not use the product when a thunderstorm is approaching.
Do not use the product nearby a water.
Electrical safety DANGER! Cardiac arrest!
This product makes an electromagnetic field while it operates. This field may under some conditions interfere with active or passive medical implants. To decrease the risk of conditions that can possibly injure or kill, we recommend persons with medical implants to speak with their physician and the medical implant manufacturer before you operate the product.
The product must be supplied through a residual current device (RCD) having a rated residual operating current not exceeding 30 mA. Check your R.C.D. every time you use it.
Before use, examine cable for damage, replace it if there are signs of damage or ageing.
If the replacement of the supply cord is necessary, this has to be done by the manufacturer or his agent in order to avoid a safety hazard.
Do not use the product if the electric cables are damaged or worn.
Immediately disconnect from the mains electricity supply if the cable is cut, or the insulation is damaged. Do not touch the electric cable until the electrical supply has been disconnected.
Your electric cable must be untangled, tangled cables can overheat and reduce the efficiency of your product.
Always disconnect the mains cable before disconnecting any plug, cable connec tor or extension cable.
Switch off, remove plug from mains and examine electric supply cable for dam age or ageing before winding cable for storage. Do not repair a damaged cable, send the product to the next GARDENA service Center or dealer authorised by GARDENA.
Always wind cable carefully, avoiding kinking.
Use only on AC mains supply voltage shown on the product rating label.
Do not connect an earth to any part of the product.
If the product starts unintentionally when the mains plug is connected, disconnect the mains at once. Contact GARDENA Service to check the product.
Cables
If extension cables are used, these must comply with the minimum cross- sections in the table below:
Voltage
220 – 240 V / 50 Hz 220 – 240 V / 50 Hz
Cable length
Up to 20 m 20 – 50 m
Cross section
1.5 mm 2 2.5 mm 2 1. Mains cables and extensions are available from your local Approved Service Centre.
2. Only use extension cables specifically designed for outdoor use and which conform to one of the following specifications: Ordinary rubber (60245 IEC 53), Ordinary PVC (60227 IEC 53) or Ordinary PCP (60245 IEC 57).
3. If the short connection lead is damaged, it must be replaced by the manufac turer, its service agent or similarly qualified persons in order to avoid a hazard.
Personal safety DANGER! Risk of suffocation!
Small parts can be easily swallowed. There is also a risk that the polybag can suffocate toddlers. Keep toddlers away when you assemble the product.
Always wear suitable clothing, protective gloves, and stout shoes.
Avoid contact to the oil of the blade in particular when you react allergic with it.
Thoroughly inspect the area where the product is to be used and remove all wires and other foreign objects.
Always hold the product properly with both hands and both handles.
Before using the product and after any impact, check for signs of wear or damage and repair as necessary.
Never attempt to use an incomplete product or one with an unauthorised modifi cation.
Power tool use and care
Know how to stop the product quickly in an emergency.
Never hold the unit by the guard.
Do not use the product if the protection equipments (protection cover, quick blade-stop) are damaged.
Do not use ladders whilst operating the product.
Disconnect the mains cable: • before leaving the unit unattended for any period.
• before clearing a blockage.
• before checking, cleaning or working on the product.
• if you hit an object. Do not use your product until you are sure that the entire product is in a safe operating condition.
• if the product starts to vibrate abnormally. Check immediately. Excessive vibration can cause injury.
• before passing to another person.
Only use the product between 0 – 40 °C.
Maintenance and storage Risk of injury!
Do not touch the blades!
v Disconnect the product from the mains and slid the protective cover
over the blade when you finish or interrupt the work.
Keep all nuts, bolts and screws secure to be sure the product is in safe working condition.
If the product got hot while operation, let it cool down before storage.
2. ASSEMBLY
DANGER! Risk of injury!
Cut injury when the product starts accidentally.
v
Disconnect the product from the mains and slide the protective cover over the blade before you do assembly.
To connect the front handle [ Fig. A1 ]:
1. Push the front handle (1) into the slot in the product.
Make sure that the front handle
(1)
is fully in place and the handle hole is inline up with the threaded hole.
2. Put both screws (2) in the threaded hole in the product.
Do not push the start button
(9)
while you doing this.
3. Tighten both screws (2) with a screwdriver.
Make sure that the screws
(2)
are fully tightened and the start button
(9)
can be fully pushed.
3. OPERATION
DANGER! Risk of injury!
Cut injury when the product starts accidentally.
v
Disconnect the product from the mains and slide the protective cover over the blade before you connect or transport the product.
To connect the hedge trimmer [ Fig. O1 ]:
DANGER! Risc of electric shock!
To avoid damage to the mains cable cable
(4) (3)
the extension must be inserted into the cable lock
(5)
.
v
Before you operate the product insert the extension cable into the cable lock
(5)
.
(4) v
Never take hold of the protective cover when connecting the product.
1. Loop the extension cable pull tight.
2. Connect the plug (6) (4) , insert the loop into the cable lock of the product into the socket of the extension cable.
3. Connect the extension cable (4) (7) into a 230 V mains socket.
(5) and
Work positions:
The product can be operated in 3 positions.
• Side trimming [ Fig. O2 ]
• High trimming [ Fig. O3 ] • Low trimming [ Fig. O4 ]
To start the hedge trimmer [ Fig. O5 ]:
DANGER! Risk of injury!
Risc of injury if the product does not stop when you release the start button.
v
Do not bypass the safety devices or switches. For example do not attach the start buttons
(9)
/
(11)
to the handle.
To start: The product is fitted with a two­handed safety device (2 start buttons) to prevent the product from being turned on by accident.
1. Remove the protective cover from the blade.
2. Hold the front handle (8) with one hand and push the start button (9) .
3. Hold the main handle button (11) .
The product will start.
(10) with the other hand and push the start
To stop:
1. Release the two start buttons (9) / (11) .
2. Slide the protective cover over the blade.
4. MAINTENANCE
DANGER! Risk of injury!
Cut injury when the product starts accidentally.
v
Disconnect the product from the mains and slide the protective cover over the blade before you do maintenance.
To clean the hedge trimmer:
DANGER! Risc of electric shock!
Risk of injury and risk of damage to the product.
v
Do not clean the product with water or with a water jet (in particular high­pressure water jet).
1. Clean the product with a damp cloth.
2. Clean the airflow slots with a soft brush (do not use a screwdriver).
3. Lubricate the blade with a low viscosity oil (e. g. GARDENA Maintenance Oil Art. 2366). Avoid contact with the plastic parts.
5. STORAGE
To put into storage:
The product must be stored away from children.
1. Disconnect the product from the mains. 2. Clean the product (see 4. MAINTENANCE) and slide the protective cover over the blade.
3. Store the product in a frost-free place before the first frost arrives.
Disposal:
(in accordance with RL2012/19/EC)
The product must not be disposed of to normal household waste. It must be disposed of in line with local environmental regulations.
IMPORTANT!
v Dispose of the product through or via your municipal recycling collection centre.
6. TROUBLESHOOTING
DANGER! Risk of injury!
Cut injury when the product starts accidentally.
v
Disconnect the product from the mains and slide the protective cover over the blade before you do troubleshooting.
Problem Product does not start Product can no longer be stopped Possible Cause
Extention cable is discon­ nected or damaged.
Blade is blocked.
Start button is stuck.
Remedy
v v Connect the extension cable or if necessary replace it.
Remove the obstacle.
v Disconnect the mains and loosen the start button.
Hedge is not cleanly cut
Blade is blunt or damaged.
v Have blade replaced by GARDENA Service.
NOTE: For any other malfunctions please contact the GARDENA service depart ment. Repairs must only be done by GARDENA service departments or specialist dealers approved by GARDENA.
7. TECHNICAL DATA
Electric Hedge Trimmer Rated Power Mains voltage Mains frequency Strokes Length of blade Tooth gap of blade Weight Unit
W V Hz 1/min cm mm kg
Value (Art. 9833) Value (Art. 9834) Value (Art. 9835)
550 230 50 3400 50 27 3.6
600 230 50 3400 55 27 3.7
700 230 50 3400 65 27 3.9
Sound pressure level L Uncertainty k pA pA 1) Sound power level L Uncertainty k WA WA 2) : Hand/arm vibration a Uncertainty k a vhw 1)
dB (A) dB (A) m/s 2 84 3 95 / 96 1.11
2.6 1.5
85 3 96 / 97 0.99
3.1 1.5
87 3 97 / 99 1.69
3.1 1.5
Measuring process complying with: 1) EN 60745­2­15 2) RL 2000/14/EC
NOTE: The stated vibration emission value has been measured according to a standardized test procedure and can be used for comparison of one electric power tool with another. It can also be used for preliminary evaluation of exposure. The vibration emission value can vary during actual use of the elec tric power tool.
8. ACCESSORIES
GARDENA Maintenance Oil GARDENA Collecting Bag Cut&Collect Comfort Cut / PowerCut
Extends the life of the blade.
Easy and comfortable collecting of the chopped property.
Art. 2366 Art. 6002
9
9. SERVICE / WARRANTY
Service:
Please contact the address on the back page.
Warranty:
In the event of a warranty claim, no charge is levied to you for the services provided.
GARDENA Manufacturing GmbH offers a two-year warranty (effective as of the date of purchase) for this product. This warranty includes all significant defects of the product that can be proved to be material or manufacturing faults. This warranty is fulfilled by supplying a fully functional replacement product or by repairing the faulty product sent to us free of charge; we reserve the right to choose between these options. This ser vice is subject to the following provisions: • The product was used for its intended purpose as per the recommen dations in the operating instructions.
• Neither the purchaser nor a third party has attempted to repair the product.
This manufacturer's warranty does not affect warranty entitlements against the dealer / retailer.
If problems arise with this product, please contact our Service depart ment or send the defective product along with a brief description of the fault to GARDENA Manufacturing GmbH, making sure to have sufficiently covered any shipping costs and to have followed the relevant postage and packaging guidelines. A warranty claim must be accompanied by a copy of the proof of purchase.
Consumables:
The blade and excentric drive are consumables and are not included in the warranty.
10
DE EU­Konformitätserklärung Der Unterzeichner, Husqvarna AB, 561 82 Huskvarna, Schweden, bescheinigt hiermit, dass die nachstehend auf geführten Geräte bei Verlassen des Werks die harmonisierten EU-Leitlinien, EU-Normen für Sicherheit und besondere Normen erfüllen. Dieses Zertifikat verliert seine Gültigkeit, wenn die Geräte ohne unsere Genehmigung verändert werden.
EN EC Declaration of Conformity The undersigned, Husqvarna AB, 561 82 Huskvarna, Sweden, hereby certifies that, when leaving our factory, the units indi cated below are in accordance with the harmonised EU guidelines, EU standards of safety and product specific standards. This certificate becomes void if the units are modified without our approval.
FR Déclaration de conformité CE Le constructeur, soussigné : Husqvarna AB, 561 82 Huskvarna, Suède, déclare qu'à la sortie de ses usines le matériel neuf désigné ci-dessous était conforme aux prescriptions des directives européennes énoncées ciaprès et conforme aux règles de sécurité et autres règles qui lui sont applicables dans le cadre de l'Union européenne. Toute modification apportée à cet appareil sans notre accord annule la validité de ce certificat.
NL ming.
EG­conformiteitsverklaring De ondergetekende, Husqvarna AB, 561 82 Huskvarna, Zweden, verklaart hierbij dat de producten die hieronder staan ver meld, wanneer ze onze fabriek verlaten, in overeenstemming zijn met de geharmoniseerde Europese richtlijnen, EU-normen voor veiligheid en productspecifieke normen. Dit certificaat vervalt als de producten worden aangepast zonder onze toestem SV EG­försäkran om överensstämmelse Undertecknad firma Husqvarna AB, 561 82 Huskvarna, Sverige, intygar härmed att nedan nämnda produkter, när de lämnar vår fabrik, överensstämmer med EU:s riktlinjer, EU:s säkerhetsstandarder och produktspecifika standarder. Detta intyg skall ogiltigförklaras om produkten ändras utan vårt godkännande.
DA EU­overensstemmelseserklæring Undertegnede, Husqvarna AB, 561 82 Huskvarna, Sverige erklærer hermed, at nedenfor anførte enheder er i overensstem melse med de harmoniserede EUret ningslinjer, EU-standarder for sikkerhed og produktspecifikke standarder, når de forlader fabrikken. Denne erklæring ugyldiggøres, hvis enhederne ændres uden vores godkendelse.
FI EY­vaatimustenmukaisuusvakuutus Husqvarna AB, 561 82 Huskvarna, Ruotsi, vakuuttaa täten, että alla mainitut laitteet ovat tehtaalta lähtiessään yhdenmukai stettujen EU-säännösten, EU:n turvastandardien ja tuotekohtaisten standardien mukaisia. Tämä vakuutus mitätöityy, jos lait teita muokataan ilman hyväksyntäämme.
IT Dichiarazione di conformità CE La sottoscritta Husqvarna AB, 561 82 Huskvarna, Svezia, certifica che il prodotto qui di seguito indicato, nei modelli da noi commercializzati, è conforme alle direttive armonizzate UE nonché agli standard di sicurezza UE e agli standard specifici di prodotto. Qualunque modifica apportata al prodotto senza nostra specifica autorizzazione invalida la presente dichiarazione.
ES ción.
Declaración de conformidad CE El abajo firmante, Husqvarna AB, 561 82 Huskvarna, Suecia, certifica por la presente que, cuando salen de la fábrica, las unidades indicadas a continuación cumplen las normas de armonización de la UE, las normas de la UE sobre seguridad y las normas específicas del producto. Este certificado quedará sin efecto si se modifican las unidades sin nuestra autoriza PT Declaração de conformidade CE O abaixo-assinado, Husqvarna AB, 561 82 Huskvarna, Suécia, certifica por este meio que, ao sair da nossa fábrica, as unidades indicadas acima estão em conformidade com as diretrizes uniformizadas da UE, os padrões de segurança da UE e os padrões específicos do produto. Este certificado deixa de ser válido se as unidades forem modificadas sem a nossa aprovação.
PL Deklaracja zgodności WE Niżej podpisany przedstawiciel firmy Husqvarna AB, 561 82 Huskvarna, Szwecja, niniejszym oświadcza, że podane poniżej wyroby opuszczające fabrykę są zgodne ze zharmonizowanymi normami UE oraz z obowiązującymi w UE przepisami bezpiec zeństwa i normami dotyczącymi danego produktu. Modyfikacja wyrobów bez naszej zgody powoduje unieważnienie niniejsze go certyfikatu.
HU EK megfelelőségi nyilatkozat Alulírott Husqvarna AB, 561 82 Huskvarna, Svédország ezzel tanúsítja, hogy az alábbiakban leírt egységek a gyár elhagyása kor megfeleltek a harmonizált uniós előírásoknak és biztonsági és termékspecifikus szabványoknak. Ez a tanúsítvány érvényét veszti, ha az egységeket jóváhagyásunk nélkül átalakítják.
CS Prohlášení o shodě ES Níže uvedená společnost Husqvarna AB, 561 82 Huskvarna, Švédsko, tímto potvrzuje, že při opuštění naší továrny jsou jed notky uvedené níže v souladu s harmonizovanými pokyny EU, standardy EU ohledně bezpečnosti a specifickými produktovými standardy. Tento certifikát pozbývá platnosti, pokud dojde k úpravě jednotek bez našeho schválení.
SK EÚ vyhlásenie o zhode Dolu podpísaná spoločnosť Husqvarna AB, 561 82 Huskvarna, Švédsko týmto osvedčuje, že nižšie uvedené jednotky boli v súlade s harmonizovanými usmerneniami EÚ, normami EÚ v oblasti bezpečnosti a špecifickými normami týkajúcimi sa produktu v čase opustenia výrobného závodu. Toto osvedčenie stráca platnosť, ak boli jednotky zmenené bez nášho súhlasu.
EL Δήλωση Συμμόρφωσης ΕΚ Η υπογεγραμμένη εταιρεία, Husqvarna AB, 561 82 Huskvarna, Σουηδία, πιστοποιεί ότι, κατά την έξοδο από το εργοστάσιο, οι μονάδες που αναφέρονται κατω τέρω συμμορφώνονται με τις εναρμονισμένες οδηγίες ΕΕ, τα πρότυπα ασφαλείας της ΕΕ και τα συγκεκριμένα πρότυπα προϊόντος. Αυτό το πιστοποιητικό καθίσταται άκυρο εάν οι μονάδες έχουν τροποποιηθεί χωρίς την έγκρισή μας.
SL Izjava ES o skladnosti Spodaj podpisana, Husqvarna AB, 561 82 Huskvarna, Švedska, s to izjavo potrjuje, da je bila spodaj navedena enota ob izhodu iz tovarne skladna z usklaje nimi smerni cami EU, standardi EU za varnost in standardi, specifičnimi za izdelek. Izjava postane neveljavna v primeru neodobrene spremembe enote.
HR Izjava o usklađenosti EZ Niže potpisana Husqvarna AB, 561 82 Huskvarna, Švedska, ovime potvrđuje kako su u nastavku navedene jedinice prilikom napuštanja tvornice bile u skladu s usklađenim smjernicama EU, EU sigurnosnim standardima i standardima specifičnima za proizvod. Ova certifikacija poništava se ako se jedinice izmjenjuju bez odobrenja.
RO Declaraţie de conformitate CE Subscrisa, Husqvarna AB, 561 82 Husqvarna, Suedia, certifică prin prezenta că, la momentul ieşirii din fabrica noastră, unităţile indicate mai jos sunt în conformitate cu directivele UE armonizate, cu standardele UE de siguranţă şi cu standardele specifice ale produsului. Prezentul certificat devine nul dacă unităţile sunt modificate fără aprobarea noastră.
BG Декларация за съответствие на ЕО С настоящото долуподписаната, Husqvarna AB, 561 82 Huskvarna, Швеция, удостоверява, че при напускане на фабриката модулите, посочени по-долу, са в съответствие с хармонизираните директиви на ЕС, стандартите на ЕС за безопасност и специфичните за продукта стандарти. Този сертификат става невалиден, ако модулите са променени без нашето одобрение.
ET EÜ vastavusdeklaratsioon Allakirjutanu Husqvarna AB, 561 82 Huskvarna, Rootsi, kinnitab käesolevaga, et tehasest väljumisel vastavad allpool nimeta tud seadmed harmoneeritud EL-i suunis tele, EL-i ohutusstandarditele ja tootele eriomastele standarditele. See vastavuskinni tus kaotab kehtivuse, kui seadet muudetakse ilma meie heakskiiduta.
LT EB atitikties deklaracija Husqvarna AB, 561 82 Huskvarna, Sweden, garantuoja, kad iš gamyklos siunčiami toliau nurodyti įrenginiai atitinka suderin tus EB reikalavimus, EB saugos ir konkretaus gaminio standartus. Pakeitus gaminį be mūsų patvirtinimo, nutraukiamas šio sertifi kato galiojimas.
LV EK atbilstības deklarācija Uzņēmums Husqvarna AB, 561 82 Huskvarna, Zviedrija, ar parakstu apliecina, ka tālāk minētās vienības, pametot rūpnīcu, atbilst saskaņotajām ES vadlīnijām, ES drošības standartiem un izstrādājumam specifiskajiem standartiem. Šis sertifikāts tiek anulēts, ja šīs vienības tiek modificētas bez mūsu apstiprinājuma.
EN ISO 12100 EN 60745-1 EN 60745-2-15 Art. 9833 Art. 9834 Art. 9835 95 dB(A) / 96 dB(A) 96 dB(A) / 97 dB(A) 97 dB(A) / 99 dB(A) 2016 ComfortCut 550/50 ComfortCut 600/55 PowerCut 700/65 9833 9834 9835 2006/42/EC 2014/30/EC 2000/14/EC 2011/65/EC
89
Deutschland / Germany
GARDENA Manufacturing GmbH Central Service Hans-Lorenser-Straße 40 D-89079 Ulm Produktfragen: (+49) 731 490- 123 Reparaturen: (+49) 731 490- 290 service @ gardena.com
Albania
COBALT Sh.p.k. Rr. Siri Kodra 1000 Tirana
Argentina
Husqvarna Argentina S.A. Av.del Libertador 5954 – Piso 11 – Torre B (C1428ARP) Buenos Aires Phone: (+54) 11 5194 5000 info.gardena
@ ar.husqvarna.com
Armenia
Garden Land Ltd. 61 Tigran Mets 0005 Yerevan
Australia
Husqvarna Australia Pty. Ltd. Locked Bag 5 Central Coast BC NSW 2252 Phone: (+61) (0) 2 4352 7400 customer.service
@ husqvarna.com.au
Austria / Österreich
Husqvarna Austria GmbH Industriezeile 36 4010 Linz Tel.: (+43) 732 77 01 01- 485 service.gardena
@ husqvarnagroup.com
Azerbaijan
Firm Progress a. Aliyev Str. 26A 1052 Baku
Belgium
Husqvarna België nv/sa Gardena Division Rue Egide Van Ophem 111 1180 Uccle / Ukkel Tel.: (+32) 2 720 92 12 info @ gardena.be
Bosnia / Herzegovina
SILK TRADE d.o.o. Industrijska zona Bukva bb 74260 Tešanj
Brazil
Husqvarna do Brasil Ltda Av. Francisco Matarazzo, 1400 – 19º andar São Paulo – SP CEP: 05001-903 Tel: 0800-112252 marketing.br.husqvarna
@ husqvarna.com.br
Bulgaria
AGROLAND България АД бул. 8 Декември, №13 Офис 5 1700 Студентски град София Тел.: (+359) 24666910 info @ agroland.eu
Canada / USA
GARDENA Canada Ltd. 100 Summerlea Road Brampton, Ontario L6T 4X3 Phone: (+1) 905 792 93 30 info @ gardenacanada.com
Chile
Maquinarias Agroforestales Ltda. (Maga Ltda.) Santiago, Chile Avda. Chesterton # 8355 comuna Las Condes Phone: (+56) 2 202 4417 Dalton @ maga.cl Zipcode: 7560330
China
Husqvarna (Shanghai) Management Co., Ltd. 富世华(上海)管理有限公司 3F, Benq Square B, No207, Song Hong Rd., Chang Ning District, Shanghai, PRC. 200335 上海市长宁区淞虹路207号明 基广场B座3楼,邮编:200335
Colombia
Husqvarna Colombia S.A. Calle 18 No. 68 D-31, zona Industrial de Montevideo Bogotá, Cundinamarca Tel. 571 2922700 ext. 105 jairo.salazar
@ husqvarna.com.co
Costa Rica
Compania Exim Euroiberoamericana S.A. Los Colegios, Moravia, 200 metros al Sur del Colegio Saint Francis – San José Phone: (+506) 297 68 83 exim_euro @ racsa.co.cr
Croatia
Husqvarna Austria GmbH Industriezeile 36 4010 Linz Tel.: (+43) 732 77 01 01- 485 service.gardena
@ husqvarnagroup.com
Cyprus
Med Marketing 17 Digeni Akrita Ave P.O. Box 27017 1641 Nicosia
Czech Republic
Husqvarna Česko s.r.o. Türkova 2319/5b 149 00 Praha 4 – Chodov Bezplatná infolinka: 800 100 425 servis @ cz.husqvarna.com
Denmark
GARDENA DANMARK Lejrvej 19, st. 3500 Værløse Tlf.: (+45) 70264770 husqvarna @ husqvarna.dk www.gardena.com /dk
Dominican Republic
BOSQUESA, S.R.L Carretera Santiago Licey Km. 5 ½ Esquina Copal II. Santiago Dominican Republic Phone: (+809) 736-0333 joserbosquesa @ claro.net.do
Ecuador
Husqvarna Ecuador S.A. Arupos E1-181 y 10 de Agosto Quito, Pichincha Tel. (+593) 22800739 francisco.jacome
@ husqvarna.com.ec
Estonia
Husqvarna Eesti OÜ Valdeku 132 EE-11216 Tallinn info @ gardena.ee
Finland
Oy Husqvarna Ab Gardena Division Lautatarhankatu 8 B / PL 3 00581 HELSINKI www.gardena.fi
France
Husqvarna France 9/11 Allée des pierres mayettes 92635 Gennevilliers Cedex France http://www.gardena.com/fr N° AZUR: 0 810 00 78 23 (Prix d'un appel local)
Georgia
Transporter LLC 8/57 Beliashvili street 0159 Tbilisi, Georgia Phone: (+995) 322 14 71 71
Great Britain
Husqvarna UK Ltd Preston Road Aycliffe Industrial Park Newton Aycliffe County Durham DL5 6UP info.gardena
@ husqvarna.co.uk
Greece
Π.ΠΑΠΑΔΟΠΟΥΛΟΣ ΑΕΒΕ Λεωφ. Αθηνών 92 Αθήνα Τ.Κ.104 42 Ελλάδα Τηλ. (+30) 210 5193100 info @ papadopoulos.com.gr
Hungary
Husqvarna Magyarország Kft. Ezred u. 1- 3 1044 Budapest Telefon: (+36) 1 251- 4161 vevoszolgalat.husqvarna
@ husqvarna.hu
Iceland
Ó. Johnson & Kaaber Tunguhalsi 1 110 Reykjavik ooj @ ojk.is
Ireland
Husqvarna UK Ltd Preston Road Aycliffe Industrial Park Newton Aycliffe County Durham DL5 6UP info.gardena
@ husqvarna.co.uk
Italy
Husqvarna Italia S.p.A. Via Santa Vecchia 15 23868 VALMADRERA (LC) Phone: (+39) 0341.203.111 assistenza.italia
@ it.husqvarna.com
Japan
KAKUICHI Co. Ltd. Sumitomo Realty & Development Kojimachi BLDG., 8F 5 -1 Nibanncyo Chiyoda-ku Tokyo 102-0084 Phone: (+81) 33 264 4721 m_ishihara @ kaku-ichi.co.jp
Kazakhstan
LAMED Ltd. 155 /1, Tazhibayevoi Str. 050060 Almaty IP Schmidt Abayavenue 3B 110 005 Kostanay
Korea
Kyung Jin Trading CO.,LTD. 107-4, SunDuk Bld., YangJae-dong, Seocho-gu, Seoul, (zipcode: 137-891) Phone: (+82) (0)2 574-6300
Kyrgyzstan
Alye Maki av. Moladaya Guardir J 3 720014 Bishkek
Latvia
Husqvarna Latvija SIA Ulbrokas 19A LV-1021 Rīga info @ gardena.lv
Lithuania
UAB Husqvarna Lietuva Ateities pl. 77C LT-52104 Kaunas info @ gardena.lt
Luxembourg
Magasins Jules Neuberg 39, rue Jacques Stas Luxembourg-Gasperich 2549 Case Postale No. 12 Luxembourg 2010 Phone: (+352) 40 14 01 api @ neuberg.lu
Mexico
AFOSA Av. Lopez Mateos Sur # 5019 Col. La Calma 45070 Zapopan, Jalisco Mexico Phone: (+52) 33 3818-3434 icornejo @ afosa.com.mx
Moldova
Convel S.R.L. 290A Muncesti Str. 2002 Chisinau
Netherlands
Husqvarna Nederland B.V. GARDENA Division Postbus 50131 1305 AC ALMERE Phone: (+31) 36 521 00 10 info @ gardena.nl
Neth. Antilles
Jonka Enterprises N.V. Sta. Rosa Weg 196 P.O. Box 8200 Curaçao Phone: (+599) 9 767 66 55 pgm @ jonka.com
New Zealand
Husqvarna New Zealand Ltd. PO Box 76-437 Manukau City 2241 Phone: (+64) (0) 9 9202410 support.nz
@ husqvarna.co.nz
Norway
Husqvarna Norge AS Gardena Division Trøskenveien 36 1708 Sarpsborg info @ gardena.no
Peru
Husqvarna Perú S.A. Jr. Ramón Cárcamo 710 Lima 1 Tel: (+ 51) 1 3320400 ext. 416 juan.remuzgo
@ husqvarna.com
Poland
Husqvarna Poland Spółka z o.o. ul. Wysockiego 15 b 03-371 Warszawa Phone: (+48) 22 330 96 00 gardena @ husqvarna.com.pl
Portugal
Husqvarna Portugal, SA Lagoa - Albarraque 2635 - 595 Rio de Mouro Tel.: (+351) 21 922 85 30 Fax : (+351) 21 922 85 36 info @ gardena.pt
Romania
Madex International Srl Soseaua Odaii 117- 123, RO 013603 Bucureşti, S1 Phone: (+40) 21 352.76.03 madex @ ines.ro
Russia / Россия
ООО "Хускварна" 141400, Московская обл., г. Химки, улица Ленинградская, владение 39, стр.6 Бизнес Центр "Химки Бизнес Парк", помещение ОВ02_04 http: // www.gardena.ru
Serbia
Domel d.o.o. Autoput za Novi Sad bb 11273 Belgrade Phone: (+381) 118 48 88 12 miroslav.jejina
@ domel.rs
Singapore
Hy- Ray PRIVATE LIMITED 40 Jalan Pemimpin #02-08 Tat Ann Building Singapore 577185 Phone: (+65) 6253 2277 shiying @ hyray.com.sg
Slovak Republic
Husqvarna Česko s.r.o. Türkova 2319/5b 149 00 Praha 4 – Chodov Bezplatná infolinka: 800 154 044 servis @ sk.husqvarna.com
Slovenia
Husqvarna Austria GmbH Industriezeile 36 4010 Linz Tel.: (+43) 732 77 01 01- 485 service.gardena
@ husqvarnagroup.com
South Africa
Husqvarna South Africa (Pty) Ltd Postnet Suite 250 Private Bag X6, Cascades, 3202 South Africa Phone: (+27) 33 846 9700 info @ gardena.co.za
Spain
Husqvarna España S.A. Calle de Rivas nº 10 28052 Madrid Phone: (+34) 91 708 05 00 atencioncliente @ gardena.es
Suriname
Agrofix n.v. Verlengde Hogestraat #22 Phone: (+597) 472426 agrofix @ sr.net Pobox : 2006 Paramaribo Suriname – South America
Sweden
Husqvarna AB Gardena Division S-561 82 Huskvarna gardenaorder @ husqvarna.se
Switzerland / Schweiz
Husqvarna Schweiz AG Consumer Products Industriestrasse 10 5506 Mägenwil Phone: (+41) (0) 62 887 37 90 info @ gardena.ch
Turkey
Dost Bahçe Dış Ticaret Mümessillik A.Ş Yunus Mah. Adil Sok. No:3 Ic Kapi No: 1 Kartal 34873 Istanbul Phone: (+90) 216 38 93 939 info @ dostbahce.com.tr
Ukraine / Україна
ТОВ «Хускварна Україна» вул. Васильківська, 34, офіс 204-г 03022, м. Київ Тел. (+38) 044 498 39 02 info @ gardena.ua
Uruguay
FELI SA Entre Ríos 1083 CP 11800 Montevideo – Uruguay Tel: (+598) 22 03 18 44 info @ felisa.com.uy
Venezuela
Corporación Casa y Jardín C.A.
Av. Caroní, Edif. Trezmen, PB. Colinas de Bello Monte. 1050 Caracas. Tlf: (+58) 212 992 33 22 info @ casayjardin.net.ve 0000- 20.960.08 / 0618 © GARDENA Manufacturing GmbH D-89070 Ulm http://www.gardena.com
90
* Your assessment is very important for improving the work of artificial intelligence, which forms the content of this project