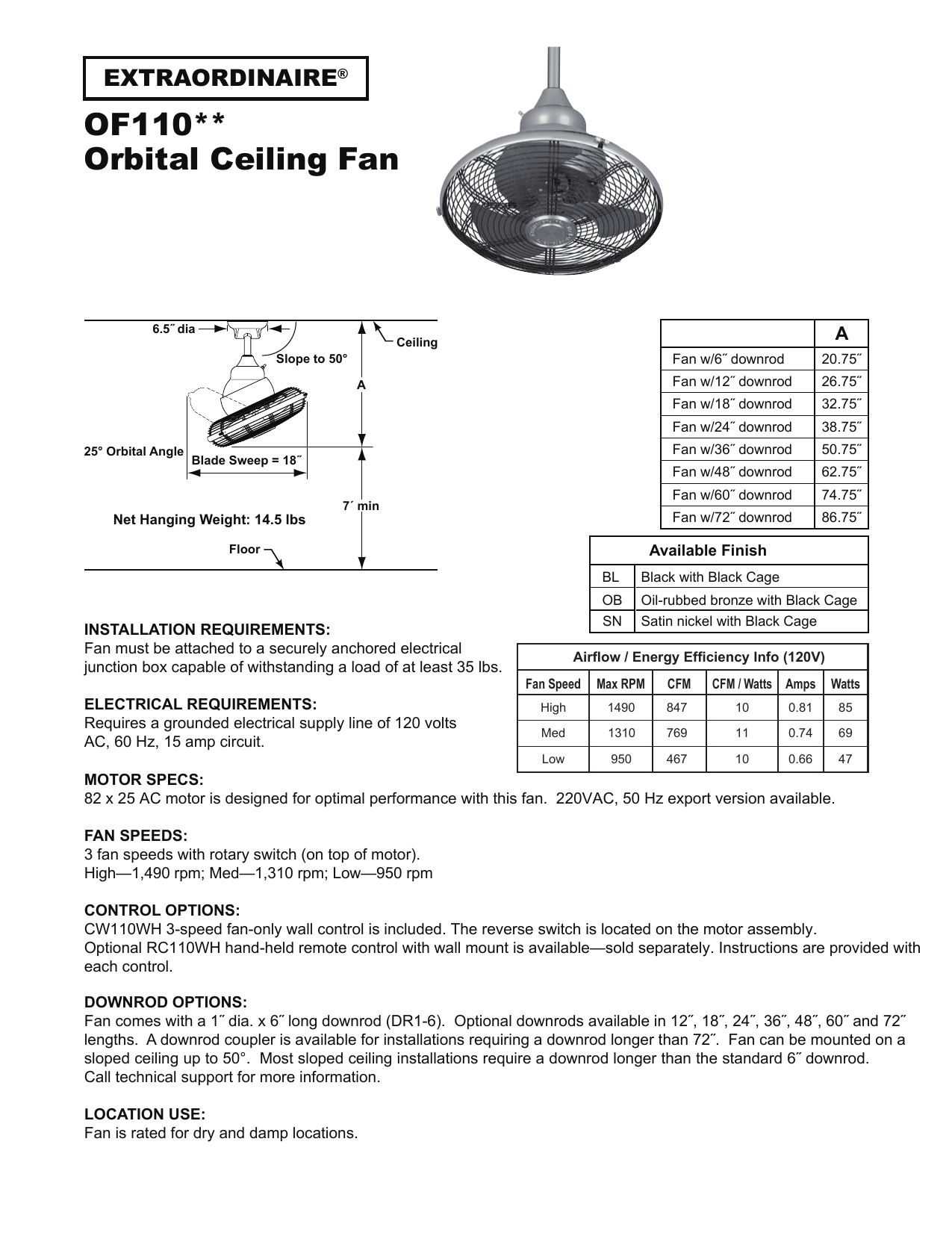 EXTRAORDINAIRE®
OF110**
Orbital Ceiling Fan
6.5˝ dia
A
Ceiling
Slope to 50°
A
25° Orbital Angle
Blade Sweep = 18˝
Net Hanging Weight: 14.5 lbs
7´ min
ELECTRICAL REQUIREMENTS:
Requires a grounded electrical supply line of 120 volts
AC, 60 Hz, 15 amp circuit.
20.75˝
Fan w/12˝ downrod
26.75˝
Fan w/18˝ downrod
32.75˝
Fan w/24˝ downrod
38.75˝
Fan w/36˝ downrod
50.75˝
Fan w/48˝ downrod
62.75˝
Fan w/60˝ downrod
74.75˝
Fan w/72˝ downrod
86.75˝
Available Finish
Floor
INSTALLATION REQUIREMENTS:
Fan must be attached to a securely anchored electrical
junction box capable of withstanding a load of at least 35 lbs.
Fan w/6˝ downrod
BL
Black with Black Cage
OB
Oil-rubbed bronze with Black Cage
SN
Satin nickel with Black Cage
Airflow / Energy Efficiency Info (120V)
Fan Speed
Max RPM
CFM
CFM / Watts Amps
Watts
High
1490
847
10
0.81
85
Med
1310
769
11
0.74
69
Low
950
467
10
0.66
47
MOTOR SPECS:
82 x 25 AC motor is designed for optimal performance with this fan. 220VAC, 50 Hz export version available.
FAN SPEEDS:
3 fan speeds with rotary switch (on top of motor).
High—1,490 rpm; Med—1,310 rpm; Low—950 rpm
CONTROL OPTIONS:
CW110WH 3-speed fan-only wall control is included. The reverse switch is located on the motor assembly.
Optional RC110WH hand-held remote control with wall mount is available—sold separately. Instructions are provided with
each control.
DOWNROD OPTIONS:
Fan comes with a 1˝ dia. x 6˝ long downrod (DR1-6). Optional downrods available in 12˝, 18˝, 24˝, 36˝, 48˝, 60˝ and 72˝
lengths. A downrod coupler is available for installations requiring a downrod longer than 72˝. Fan can be mounted on a
sloped ceiling up to 50°. Most sloped ceiling installations require a downrod longer than the standard 6˝ downrod.
Call technical support for more information.
LOCATION USE:
Fan is rated for dry and damp locations.

* Your assessment is very important for improving the work of artificial intelligence, which forms the content of this project