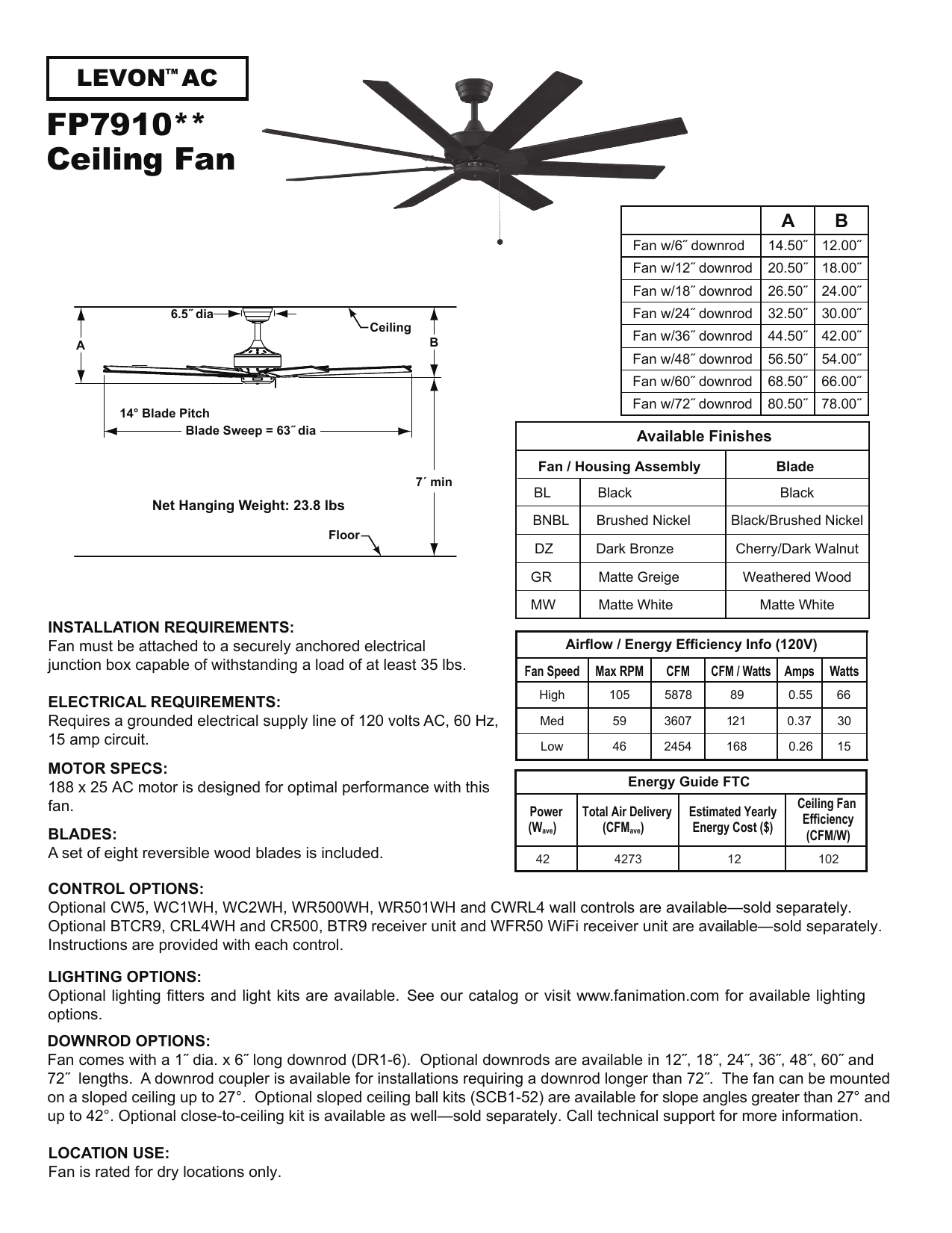 LEVON™ AC
FP7910**
Ceiling Fan
6.5˝ dia
Ceiling
A
B
14° Blade Pitch
Blade Sweep = 63˝ dia
A
B
Fan w/6˝ downrod
14.50˝
12.00˝
Fan w/12˝ downrod
20.50˝
18.00˝
Fan w/18˝ downrod
26.50˝
24.00˝
Fan w/24˝ downrod
32.50˝
30.00˝
Fan w/36˝ downrod
44.50˝
42.00˝
Fan w/48˝ downrod
56.50˝
54.00˝
Fan w/60˝ downrod
68.50˝
66.00˝
Fan w/72˝ downrod
80.50˝
78.00˝
Available Finishes
7´ min
Net Hanging Weight: 23.8 lbs
Floor
INSTALLATION REQUIREMENTS:
Fan must be attached to a securely anchored electrical
junction box capable of withstanding a load of at least 35 lbs.
ELECTRICAL REQUIREMENTS:
Requires a grounded electrical supply line of 120 volts AC, 60 Hz,
15 amp circuit.
MOTOR SPECS:
188 x 25 AC motor is designed for optimal performance with this
fan.
BLADES:
A set of eight reversible wood blades is included.
Fan / Housing Assembly
Blade
BL
Black
Black
BNBL
Brushed Nickel
DZ
Dark Bronze
Cherry/Dark Walnut
GR
Matte Greige
Weathered Wood
MW
Matte White
Matte White
Black/Brushed Nickel
Airflow / Energy Efficiency Info (120V)
Fan Speed
Max RPM
CFM
CFM / Watts Amps
Watts
High
105
5878
89
0.55
66
Med
59
3607
121
0.37
30
Low
46
2454
168
0.26
15
Energy Guide FTC
Power
(Wave)
Total Air Delivery
(CFMave)
Estimated Yearly
Energy Cost ($)
Ceiling Fan
Efficiency
(CFM/W)
42
4273
12
102
CONTROL OPTIONS:
Optional CW5, WC1WH, WC2WH, WR500WH, WR501WH and CWRL4 wall controls are available—sold separately.
Optional BTCR9, CRL4WH and CR500, BTR9 receiver unit and WFR50 WiFi receiver unit are available—sold separately.
Instructions are provided with each control.
LIGHTING OPTIONS:
Optional lighting fitters and light kits are available. See our catalog or visit www.fanimation.com for available lighting
options.
DOWNROD OPTIONS:
Fan comes with a 1˝ dia. x 6˝ long downrod (DR1-6). Optional downrods are available in 12˝, 18˝, 24˝, 36˝, 48˝, 60˝ and
72˝ lengths. A downrod coupler is available for installations requiring a downrod longer than 72˝. The fan can be mounted
on a sloped ceiling up to 27°. Optional sloped ceiling ball kits (SCB1-52) are available for slope angles greater than 27° and
up to 42°. Optional close-to-ceiling kit is available as well—sold separately. Call technical support for more information.
LOCATION USE:
Fan is rated for dry locations only.

* Your assessment is very important for improving the work of artificial intelligence, which forms the content of this project