Hama 00034634 Owner's manual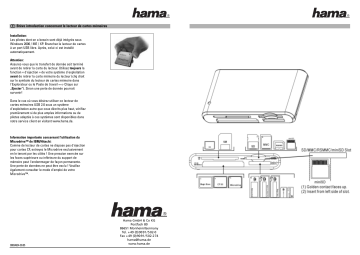 00034634bda 20.09.2005 11:45 Uhr Seite 2
Brève introduction concernant le lecteur de cartes mémoires Installation:
Les pilotes dont on a besoin sont déjà intégrés sous Windows 2000 / ME / XP. Branchez le lecteur de cartes à un port USB libre. Après, celui-ci est installé automatiquement.
Attention:
Assurez-vous que le transfert de donnée soit terminé avant de retirer la carte du lecteur. Utilisez
avant
"
Ejecter toujours
la fonction « d'éjection » de votre système d´exploitation de retirer la carte mémoire du lecteur (cliq droit sur le symbole du lecteur de cartes mémoire dans l´Explorateur ou le Poste de travail ==> Clique sur "). Sinon une perte de donnée pourrait survenir!
Dans le cas où vous désirez utiliser ce lecteur de cartes mémoires USB 2.0 sous un système d'exploitation autre que ceux décrits plus haut, vérifiez premièrement si de plus amples informations ou de pilotes adaptés à ces systèmes sont disponibles dans notre service client en visitant www.hama.de.
Information importante concernant l'utilisation du Microdrive™ de IBM/Hitachi:
Comme de lecteur de cartes ne dispose pas d'éjection pour cartes CF, extrayez le Microdrive exclusivement en le tenant par les côtés ! Une pression exercée sur les faces supérieure ou inférieure du support de mémoire peut l'endommager de façon permanente.
Une perte de données ne peut être exclu ! Veuillez également consulter le mode d'emploi de votre Microdrive™.
00034634-09.05
Hama GmbH & Co KG Postfach 80 86651 Monheim/Germany Tel. +49 (0)9091/502-0 Fax +49 (0)9091/502-274 [email protected]
www.hama.de
00034634bda 20.09.2005 11:45 Uhr Seite 4
Kurzanleitung Kartenleser Installation:
Die benötigten Treiber sind unter Windwos 2000/ME/XP bereits integriert.
Schließen Sie den Kartenleser an einem freien USB-Port an.
Danach wird dieser automatisch installiert.
Achtung:
Vergewissern Sie sich dass der Datentransfer beendet ist
bevor
Sie die Speicherkarte aus dem Kartenleser entnehmen. Verwenden Sie
immer
die Funktion "
Auswerfen
" Ihres Betriebsystems nicht ausgeschlossen werden !
bevor
Sie eine Speicherkarte aus dem Kartenleser entfernen (Rechts-Klick auf das Laufwerkssymbol der Speicherkarte im Explorer oder Arbeitsplatz ==> Klick auf "Auswerfen"). Andernfalls kann ein Datenverlust Möchten Sie den Kartenleser mit einem anderen Betriebssystem verwenden als oben beschrieben wurde, überprüfen Sie bitte zuerst ob im Service-Bereich unter www.hama.de weitere Informationen oder Treiber zu diesem Produkt zur Verfügung stehen.
Wichtiger Hinweis zur Verwendung des IBM/Hitachi Microdrives™:
Da dieser Kartenleser nicht über einen Auswurf für CFKarten verfügt, entnehmen Sie den Microdrive™ nur, indem Sie diesen an den Seiten festhalten ! Starker Druck auf die Ober- und Unterseite des Speichers kann diesen nachhaltig beschädigen. Ein Datenverlust wäre nicht auszuschließen !
Quick reference Card Reader Installation:
The required drivers are already integrated under Windows 2000 / ME / XP. Connect the card reader to a free USB port. Afterwards, this one is installed automatically.
Caution:
Make sure that the data transfer has ended before you remove the memory card from the card reader. Always use the function "Eject" (click right on the card reader drive where the memory card is insert, then click on "Eject") of the Windows Explorer in order to remove the memory card. If you want to use the Card reader with another operating system than those listed above, please check first if you can find more information or drivers in the service area at www.hama.de.
Important information for use with IBM/Hitachi Microdrive™:
This Card Reader has no eject-function for CF-Cards.
Because of this, you are only allowed to remove a Microdrive™ by holding it at the sides ! Heavy pressure on top and bottom will damage the Microdrive™ ! Lost of data can be the possible effect ! Please refer also the manual of your Microdrive™.
* Your assessment is very important for improving the work of artificial intelligence, which forms the content of this project