Hama F2052334 Owner's manual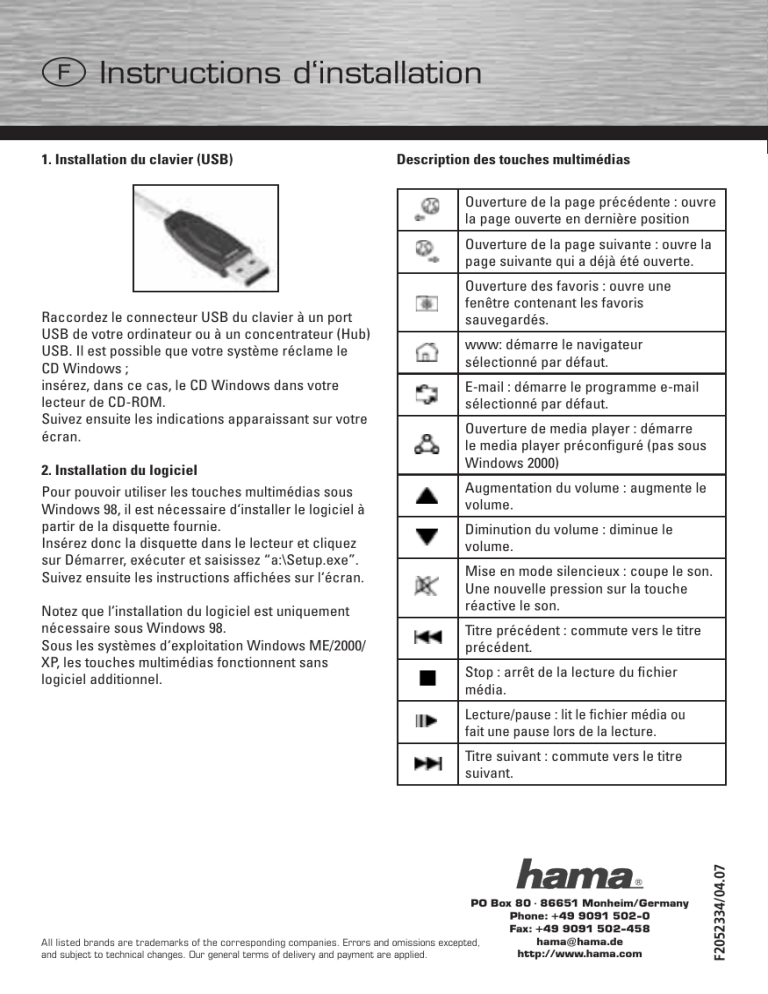 f Instructions d'installation
1. Installation du clavier (USB)
Description des touches multimédias
Ouverture de la page précédente : ouvre
la page ouverte en dernière position
Ouverture de la page suivante : ouvre la
page suivante qui a déjà été ouverte.
Raccordez le connecteur USB du clavier à un port
USB de votre ordinateur ou à un concentrateur (Hub)
USB. Il est possible que votre système réclame le
CD Windows ;
insérez, dans ce cas, le CD Windows dans votre
lecteur de CD-ROM.
Suivez ensuite les indications apparaissant sur votre
écran.
2. Installation du logiciel
Pour pouvoir utiliser les touches multimédias sous
Windows 98, il est nécessaire d'installer le logiciel à
partir de la disquette fournie.
Insérez donc la disquette dans le lecteur et cliquez
sur Démarrer, exécuter et saisissez "a:\Setup.exe".
Suivez ensuite les instructions affichées sur l'écran.
Notez que l'installation du logiciel est uniquement
nécessaire sous Windows 98.
Sous les systèmes d'exploitation Windows ME/2000/
XP, les touches multimédias fonctionnent sans
logiciel additionnel.
Ouverture des favoris : ouvre une
fenêtre contenant les favoris
sauvegardés.
www: démarre le navigateur
sélectionné par défaut.
E-mail : démarre le programme e-mail
sélectionné par défaut.
Ouverture de media player : démarre
le media player préconfiguré (pas sous
Windows 2000)
Augmentation du volume : augmente le
volume.
Diminution du volume : diminue le
volume.
Mise en mode silencieux : coupe le son.
Une nouvelle pression sur la touche
réactive le son.
Titre précédent : commute vers le titre
précédent.
Stop : arrêt de la lecture du fichier
média.
Lecture/pause : lit le fichier média ou
fait une pause lors de la lecture.
PO Box 80 · 86651 Monheim/Germany
Phone: +49 9091 502-0
Fax: +49 9091 502-458
[email protected]
All listed brands are trademarks of the corresponding companies. Errors and omissions excepted,
http://www.hama.com
and subject to technical changes. Our general terms of delivery and payment are applied.
F2052334/04.07
Titre suivant : commute vers le titre
suivant.
C
O
M
P
U
T
E
R
Multimedia Keyboard
»AK 220«
F2052334
d Installationshinweise
1. Installation der Tastatur (USB)
Funktionsbeschreibung der Multimediatasten
Vorherige Seite öffnen: Öffnet die vorher
besuchte Seite
Nächste Seite öffnen: Öffnet die nächste
Seite, die bereits besucht worden ist.
Verbinden Sie den USB-Stecker der Tastatur mit der
USB-Buchse am PC oder einem USB-Hub.
Eventuell kann es sein, dass Sie nach der Windows
CD gefragt werden.
Legen Sie dazu ihre Windows-CD in das CD-ROM
Laufwerk.
Folgen Sie nun den Vorgaben auf dem Bildschirm.
2. Installation der Software
Favoriten öffnen: Öffnet ein Fenster mit
den abgespeicherten Favoriten.
www: Startet den als Standard
eingestellten Web-Browser.
E-Mail: Startet das als Standard
eingestellte E-Mail-Programm.
Media-Player öffnen: Startet den
eingestellten Media Player (nicht unter
Windows 2000)
Für die Benutzung der Multimedia-Tasten unter
Windows 98 ist es notwendig, die Software von
der beigelegten Diskette zu installieren. Legen Sie
dazu die Diskette in das Diskettenlaufwerk, klicken
anschließend auf Start -> Ausführen und geben
"a:\Setup.exe" ein. Folgen Sie anschließend den
Vorgaben auf dem Bild-schirm.
Lautstärke erhöhen: Erhöht die
Lautstärke.
Bitte beachten Sie, dass die Installation dieser
Software nur unter Windows 98 erforderlich ist.
Bei den Betreibssystemen Windows ME/2000/XP
arbeiten die Multimedia-Tasten ohne zusätzliche
Software.
Vorheriger Titel: Schaltet zum vorherigen
Titel.
Lautstärke verringern: Vermindert die
Lautstärke.
Stummschaltung:Schaltet den Ton aus.
Erneutes Betätigen schaltet den Ton
wieder ein.
Stop: Wiedergabe der Mediendatei
anhalten.
Wiedergabe/Pause: Gibt eine Mediendatei
wieder bzw. schaltet auf Pause.
Nächster Titel: Schaltet zum nächsten
Titel.
g Installation instructions
1. Installing the keyboard (USB)
Multimedia key functions
Open previous page: Opens the previously visited page
Open next page: Open the next page that
was already visited.
Insert the USB plug of the keyboard into a USB port
on your PC or on a USB hub. You may be prompted to
insert the Windows CD.
If so, insert your Windows CD into the CD-ROM
drive.
Follow the instructions that appear on the screen.
2. Installing Software
To use the multimedia keys in Windows 98,
you must install the software on the enclosed floppy
disk.
Insert the floppy disk into the floppy-disk drive. Click
Start -> Run and enter "a:\Setup.exe". Follow the
instructions on your screen.
Please note:
You must only install this software for Window 98.
In Windows ME/2000/XP, the multimedia keys work
without additional software.
Open Favorites: Opens a window with
your saved Favorites.
www: Starts the default Web
browser.
E-mail: Starts the default e-mail program.
Open media player: Starts the default
media player
(not with Windows 2000).
Increase volume: Increases the
volume.
Decrease volume: Decreases the
volume.
Mute: Switches sound off.
Press again to switch sound on.
Previous track: Goes to the previous
track.
Stop: Stops media file playback.
Play/pause: Plays back a media file or
pauses it.
Next track: Goes to the next track.

* Your assessment is very important for improving the work of artificial intelligence, which forms the content of this project