Hama F2052335 Owner's manual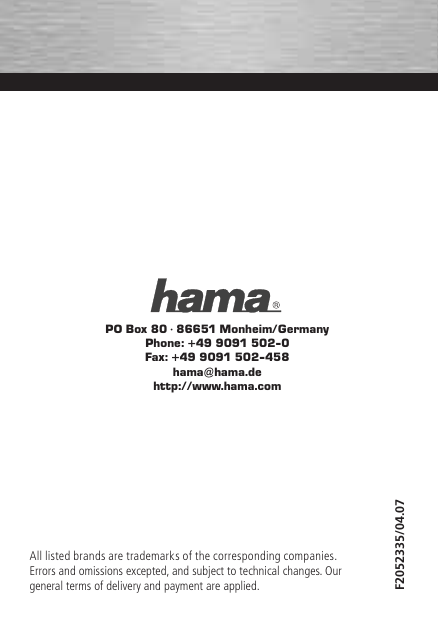 All listed brands are trademarks of the corresponding companies.
Errors and omissions excepted, and subject to technical changes. Our
general terms of delivery and payment are applied.
F2052335/04.07
PO Box 80 · 86651 Monheim/Germany
Phone: +49 9091 502-0
Fax: +49 9091 502-458
[email protected]
http://www.hama.com
C
O
M P
U
T E
R
Installationshinweise
Installation der Tastatur (USB)
Verbinden Sie den USB-Stecker der Tastatur
mit der USB-Buchse am PC oder einem
USB-Hub.
Eventuell kann es sein, dass Sie nach der
Windows CD gefragt werden.
Legen Sie dazu ihre Windows-CD in das CD-ROM Laufwerk.
Folgen Sie nun den Vorgaben auf dem Bildschirm.
Installation hints
Installing the keyboard (USB)
Connect USB plug of keyboard with USB
port of PC or other USB point. Should you
be asked for the Windows CD, insert this
into CD ROM drive of your PC, then follow the instructions that
appear on the screen.
Indications d'installation
Installation du clavier (USB)
Branchez le connecteur USB du clavier
à la prise USB de votre ordinateur ou à un
concentrateur (hub) USB. Il est possible
que Windows exige l'insertion du CD. Insérez donc votre CD
de Windows dans votre lecteur. Suivez ensuite les indications
apparaissant sur votre écran.

* Your assessment is very important for improving the work of artificial intelligence, which forms the content of this project