Hama 00039780 Owner's manual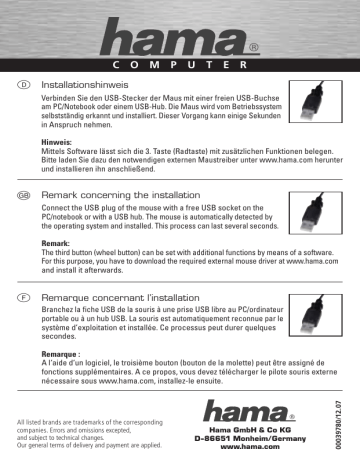 d Bedienungsanleitung
C
d
O
M
P
U
T
E
R
Installationshinweis
Verbinden Sie den USB-Stecker der Maus mit einer freien USB-Buchse
am PC/Notebook oder einem USB-Hub. Die Maus wird vom Betriebssystem
selbstständig erkannt und installiert. Dieser Vorgang kann einige Sekunden
in Anspruch nehmen.
Hinweis:
Mittels Software lässt sich die 3. Taste (Radtaste) mit zusätzlichen Funktionen belegen.
Bitte laden Sie dazu den notwendigen externen Maustreiber unter www.hama.com herunter
und installieren ihn anschließend.
g
Remark concerning the installation
Connect the USB plug of the mouse with a free USB socket on the
PC/notebook or with a USB hub. The mouse is automatically detected by
the operating system and installed. This process can last several seconds.
Remark:
The third button (wheel button) can be set with additional functions by means of a software.
For this purpose, you have to download the required external mouse driver at www.hama.com
and install it afterwards.
f
Remarque concernant l'installation
Branchez la fiche USB de la souris à une prise USB libre au PC/ordinateur
portable ou à un hub USB. La souris est automatiquement reconnue par le
système d'exploitation et installée. Ce processus peut durer quelques
secondes.
All listed brands are trademarks of the corresponding
companies. Errors and omissions excepted,
and subject to technical changes.
Our general terms of delivery and payment are applied.
Hama GmbH & Co KG
D-86651 Monheim/Germany
www.hama.com
00039780/12.07
Remarque :
A l'aide d'un logiciel, le troisième bouton (bouton de la molette) peut être assigné de
fonctions supplémentaires. A ce propos, vous devez télécharger le pilote souris externe
nécessaire sous www.hama.com, installez-le ensuite.

* Your assessment is very important for improving the work of artificial intelligence, which forms the content of this project