Hama 00050044 Owner's manual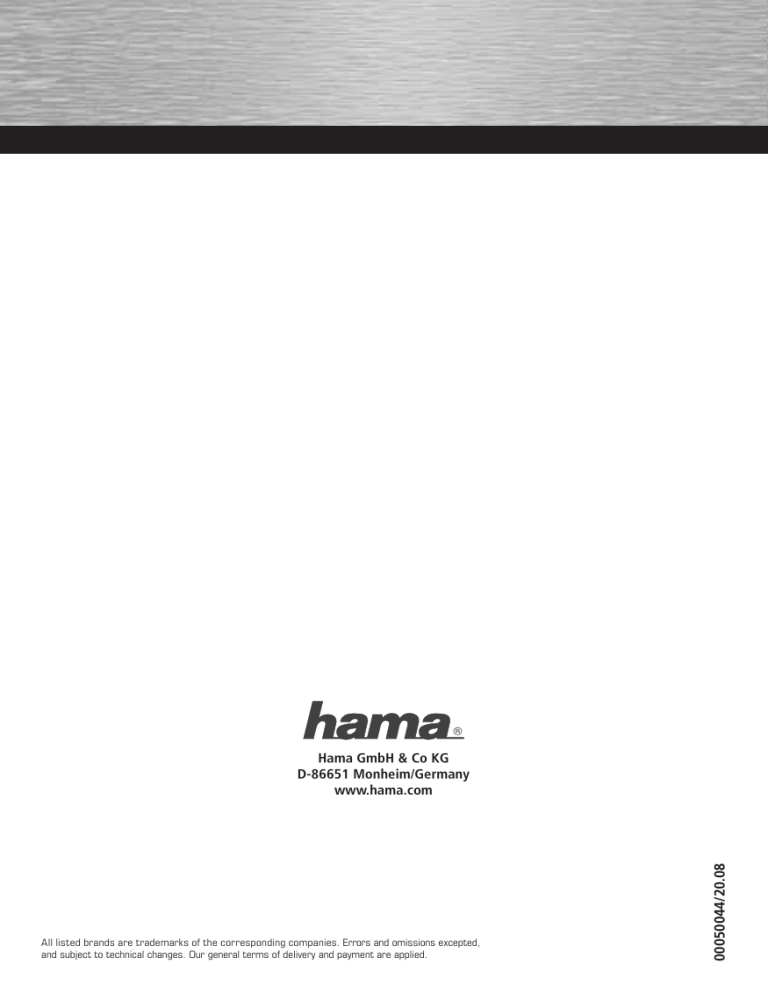 Hama GmbH & Co KG D-86651 Monheim/Germany www.hama.com
All listed brands are trademarks of the corresponding companies. Errors and omissions excepted, and subject to technical changes. Our general terms of delivery and payment are applied.
O F F I C E
Laminator »KHL 42« Laminateur
00050044
d
Bedienungsanleitung
Dieser DIN A4-Laminator ist speziell für die Laminierung mit Folienstärken zwischen 75µ und 150µ entwickelt wor den. Hierin können zum Beispiel Urkunden, Speisekarten, Bilder, etc., heiß und kalt eingeschweißt werden.
Sicherheitshinweise:
1. Lesen Sie alle Hinweise vor Benutzung der Maschine gewissenhaft durch.
2. Platzieren Sie das Kabel so, dass niemand darüber stolpern kann.
3. Öffnen Sie niemals das Gehäuse des Laminators.
4. Benutzen Sie das Gerät nicht, wenn es nass ist.
5. Schalten Sie das Gerät nach Benutzung aus und entfernen Sie den Stecker aus der Steckdose bei Nichtbenutzung.
6. Verdecken Sie nicht die Wärmeöffnungen während der Benutzung.
7. Berühren Sie nicht die Wärmeöffnungen während oder kurz nach der Benutzung -> Verbrennungsgefahr!
8. Führen Sie keine anderen Gegenstände als die dafür vorgesehenen Folien in das Gerät (auch nicht in die Wärmeöffnungen) ein.
9. Im Falle von Beschädigungen des Kabels, des Gehäuses oder der Fassung, benutzen Sie die Maschine nicht mehr.
10. Warten Sie etwa 3-5 Sekunden bis die Folie abgekühlt ist, bevor Sie sie in die Hand nehmen -> Folie könnte heiß sein!
11. Laminieren Sie keine Flüssigkeiten, Gelatine oder sonstige Feuchtstoffe, die auslaufen könnten.
Installation / Hinweise:
1. Entfernen Sie alle Verpackungseinheiten um das Gerät herum.
2. Platzieren Sie den Laminator standsicher auf einer ebenen Unterfl äche.
3. Schließen Sie das Stromkabel an eine Steckdose mit 220 - 240 V~ an.
4. Zum Einschalten des Gerätes betätigen Sie einfach die On/Off-Taste auf der rechten Seite. Zur Kontrolle der Stromversorgung leuchtet die rote "Power" Leuchte.
2 5. Danach wählen Sie an dem Drehrad die Folienstärke aus, die Sie für die Laminierung benutzen wollen. Wenn Sie eine Kaltlaminierfolie benutzen wollen, stellen Sie den Schalter entsprechend auf "Cold" ein.
6. Nach ca. 4-6 Minuten ist der Laminator aufgeheizt. Dies erkennen Sie an der grünen "Ready"-Leuchte.
7. Legen Sie die zu laminierende Vorlage wie in Abb. 1 in die entsprechende Laminiertasche ein. Lassen Sie dabei etwa 3-5 mm Freiraum zu den Ecken der Tasche. Vergewissern Sie sich, dass kein Schmutz in die Laminiertasche gelangt ist.
Abb.1
Abb.2
8. Nun können Sie mit dem Laminiervorgang starten. Schieben Sie die Folie mit der Vorlage in die Öffnung des Gerätes Beachten Sie dabei, dass die geschlos sene Seite der Tasche als erstes in das Gerät kommt! Die Folie fährt automatisch durch das Gerät. Entfernen Sie die Folie erst, wenn die Laminierung beendet wurde (wenn die Folie vollständig durchgelaufen ist).
9. Wenn Sie mit dem Laminiervorgang fertig sind und das Gerät nicht weiter benötigen, schalten Sie das Gerät aus, indem Sie den Schalter wieder auf "Off" stellen.
Weitere Bedienungshinweise:
1. Schalten Sie das Gerät immer aus und trennen Sie es vom Stromnetz, wenn es nicht benötigt wird!
2. Lassen Sie die Maschine nicht länger wie eine Stunde am Stück laufen und lassen Sie ca. 15 Sekunden zwischen zwei Laminaten vergehen.
3. Ehe Sie das Gerät bei Nichtgebrauch wieder in der Schachtel verstauen, lassen Sie es für mindestens 30 Minuten abkühlen!
4. Für das beste Laminierergebnis verwenden Sie den Laminator bei normaler Raumtemperatur (10-35°C).
g
Operating Instruction
Kaltlaminierung:
Bitte beachten Sie, dass das Gerät für eine Kaltlaminie rung wirklich abgekühlt (eine Temperatur unter 35°C) sein muss! Ebenso dürfen hierfür nur spezielle Kaltlaminierfo lien genommen werden.
Es wird empfohlen eine Kaltlaminierung, wenn nötig, grundsätzlich vor einer eventuellen Heißlaminierung durchzuführen!
Walzenentriegelung:
Für den Fall, dass die Laminiertasche nicht gerade eingelegt und eingezogen wird, können mit drücken der Entriegelungstaste (an der Rückseite links) die Walzen "geöffnet" und somit das Laminat entfernt und neu eingelegt werden.
Gerätepfl ege: Walzenreinigung:
1. Schalten Sie den Laminierer wie zuvor beschrieben ein.
2. Falten Sie ein DIN A4 großes Blatt Papier und schieben Sie es, mit der gefalteten Seite zuerst, in das Gerät.
3. Wiederholen Sie dies gegebenenfalls öfters, bis keine Kleberspuren mehr auf der Papier zu sehen sind.
Maschinenreinigung:
1. Schalten Sie das Gerät aus und trennen Sie es vom Stromnetz!
2. Wenn der Laminierer abgekühlt ist, kann er mit einem weichen Tuch äusserlich gereinigt werden.
Technische Daten:
- Walzenanzahl: - Netzanschluss: - Stromverbrauch: - max. Taschendicke: - max. Laminierbreite: - max. Laminierhöhe: - Aufheizzeit: - Laminiergeschwindigkeit: vier Stück 220 - 240 V~ 400 W 150µ 245 mm 0,6 mm 4 – 6 Minuten 350 mm/Min.
3
4 g
User manual
This DIN A4-Laminator was specially designed for lami nating foils with a thickness between 75 µm and 150 µm. It can be used for hot and cold lamination of certifi cates, menus, pictures, etc.
Safety notes:
1. Read all instructions thoroughly before using the machine.
2. Place the cable in such a way that no one will trip over it.
3. Never open the housing of the laminator.
4. Do not operate the device if it is wet.
5. Switch the device off after use and remove the plug from the power supply when the device is not in use.
6. Do not cover the heat openings during use.
7. Do not touch the heat openings during or directly after operation -> Danger of burns!
8. Do not insert any objects into the device (including into the heat openings) except the designated fi lm.
9. If the cable, housing, or socket is damaged, do not use the machine.
10. Wait approx. 3-5 seconds for the fi lm to cool down before touching it -> Film may be hot!
11. Do not laminate any liquids, gelatins, or other moist substances that could leak.
Installation/notes:
1. Remove all packaging materials from the device.
2. Place the laminator on a stable, even surface.
3. Connect the power cable to a 220 - 240 V~ outlet.
4. To switch the device on, press the On/Off button on the right-hand side. The red "Power" light will go on to show that power supply is functioning.
5. Then turn the dial and select the thickness of the foil you want to use for laminating. If you want to use a cold laminate foil, turn the switch to "Cold".
6. The laminator takes approx. 4-6 minutes to warm up. The "Ready" light turns green when the laminator is ready to be used.
7. Place the document to be laminated in the appropriate laminate sleeve, as shown in Fig.1. Leave approx. 3-5 mm of free space at the corners of the sleeve. Ensure that there is no dust or dirt in the laminate sleeve.
Fig.1
Fig.2
8. Begin the lamination process. Push the foil into the opening of the device with the template. Make sure that the closed sides of the case go into the device fi rst. The foil automatically passes through the device. Do not remove the foil until the lamination is complete (when the foil has completely passed through the machine).
9. When the lamination process is complete and the device is no longer needed, switch the device off by turning the switch to "Off".
Additional notes on use:
1. Always switch the device off and disconnect it from the power supply when not in use.
2. Do not let the machine run for more than one hour at a time and allow approx. 15 seconds between two laminations.
3. Before you store the device in the box, let it cool for at least 30 minutes.
4. For the best results, use the laminator at normal room temperature (10-35 °C).
Cold lamination:
Please make sure that the device has completely cooled down (a temperature below 35 °C) for a cold lamination. You may only use special cold lamination foils for this.
It is recommended to always do a cold lamination before doing any hot lamination, when necessary.
Roller release:
If the laminate sleeve is not inserted or fed evenly, pushing on the release button (on rear left) will "open" the rollers so the laminate can be removed and inserted again.
Device care: Roller cleaning:
1. Switch the laminator on as previously described.
2. Fold a size DIN A4 piece of paper and push it into the device with the folded side fi rst.
3. Repeat this again until there are no more traces of glue on the paper.
Machine cleaning:
1. Switch off the device and unplug it from the power supply.
2. When the laminator has cooled down clean the outside with a soft cloth.
Technical data:
- Number of rollers: - Mains supply: - Power consumption: - Max. sleeve thickness: - Max. lamination width: - Max. lamination height: - Warm-up time: - Lamination speed: Four 220 - 240 V~ 400 W 150 µm 245 mm 0.6 mm 4-6 minutes 350 mm/min 5
f
Mode d´emploi
Ce laminateur DIN A4 a été spécialement conçu pour la lamination de fi lms d´une épaisseur entre 75µ et 150µ. Vous pouvez laminer à chaud et à froid par exemple des documents offi ciels, des menus, des photos etc...
Mesures de sécurité :
1. Veuillez lire attentivement toute la notice avant d´utiliser l´appareil.
2. Veuillez poser le câble de façon à ce que personne ne trébuche dessus.
3. N´ouvrez jamais le boîtier du laminateur.
4. N´utilisez pas l´appareil quand il est humide.
5. Après son utilisation, éteignez l´appareil et enlevez la fi che de la prise de courant.
6. Ne masquez pas les ouvertures à chaleur pendant l´utilisation.
7. Ne touchez pas les ouvertures à chaleur pendant ou juste après l´utilisation -> risque de brûlure!
8. N´introduisez dans le laminateur aucun autre objet que les fi lms prévus pour cet appareil (les ouvertures à chaleur non plus). 9. Au cas où le câble, le boîtier ou la monture de l´appareil soient endommagés, ne l´utilisez plus.
10. Attendez environ 3-5 secondes jusqu´à ce que le fi lm refroidisse avant de le prendre dans vos mains -> Le fi lm peut être très chaud!
11. Ne laminez pas de liquide, de gélatine ou autre matière humide qui pourraient couler.
Installation / Indications :
1. Enlevez tout l´emballage de l´appareil.
2. Posez le laminateur sur une surface plate.
3. Enfi chez le câble dans une prise de courant de 220 - 240 V~.
4. Pour allumer l´appareil, appuyez sur la touche Marche/Arrêt sur le côté droit. Comme témoin de fonctionnement de l´alimentation en courant, la touche "Power" s´allume en rouge.
5. Sélectionnez ensuite l´épaisseur du fi lm que vous souhaitez utiliser pour la plastifi cation. Si vous utilisez un fi lm de lamination à froid, mettez l´interrupteur sur la position "Cold".
6. Au bout de 4-6 minutes le laminateur est chaud. Vous le reconnaîtrez à la touche "Ready" qui s´allumera en vert.
7. Comme l´illustration 1 le montre, insérez la pièce à laminer dans le fi lm correspondant. Laissez environ 3-5 mm d´espace libre aux coins du fi lm. Vérifi ez bien qu´ aucune poussière ne ne soit introduite dans le fi lm de lamination.
ill.1
ill.2
7. Vous pouvez à présent commencer à laminer. Introduisez le fi lm avec le document dans l´ouverture de l´appareil -> Veuillez observer que le côté scellé du fi lm doit être introduit en premier! Le fi lm passe alors automatiquement à travers l´appareil. Enlevez le fi lm uniquement quand la lamination est terminée (quand le fi lm est passé entièrement).
8. Lorsque vous avez fi ni de laminer et si vous n´avez plus besoin de l´appareil, éteignez-le en mettant l´interrupteur sur la position "Off".
D´autres conseils d´utilisation :
1. Eteignez toujours l´appareil puis enlevez la fi che de la prise de courant si vous n´en avez plus besoin pour le moment!
2. N´utilisez pas l´appareil plus d´une heure à la suite et attendez environ 15 secondes entre deux plastifi cations.
3. En cas de non utilisation, laissez refroidir l´appareil pendant au moins une demi-heure avant de le remettre dans son carton d´emballage!
4. Afi n d´avoir le meilleur résultat de plastifi cation, utilisez le laminateur à température ambiante normale (10-35°C).
6
g
Operating Instruction
Lamination à froid :
Veuillez observer que l´appareil doit vraiment être refroidi pour une lamination à froid (température inférieure à 35°C)! De plus, utilisez seulement des fi lms de lamination à froid spécifi ques.
Il est recommandé de procéder à la lamination à froid avant de laminer à chaud!
Déblocage des rouleaux :
Au cas où le fi lm de lamination ne soit pas bien introduit, il est possible d´"ouvrir" les rouleaux en appuyant sur la touche de déverrouillage (à l´arrière et à gauche) et ainsi d´enlever le fi lm et de le réintroduire.
Entretien des appareils : Nettoyage des rouleaux :
1. Eteignez le laminateur comme il est décrit ci-dessus.
2. Pliez une grande feuille de papier DIN A4 et introduisez la dans l´appareil, d´abord avec le côté plié.
3. Réitérez ce procédé plusieurs fois, jusqu´à ce qu´il n´y ait plus de trace de colle sur le papier.
Nettoyage de l´appareil :
1. Eteignez l´appareil et débranchez-le de la prise secteur!
2. Lorsque le laminateur est refroidi, vous pouvez le nettoyer de l´extérieur à l´aide d´ un chiffon doux.
Informations techniques :
- Quantité de rouleaux - Connexion au réseau 220 - 240 V~ - Alimentation en courant 4 400 W - Epaisseur maximale du fi lm - Largeur de lamination maximale - Hauteur de lamination maximale - Temps de chauffe - Vitesse de lamination 150 µ 245 mm 0,6 mm 4 – 6 minutes 350 mm/minute 7
8
9
* Your assessment is very important for improving the work of artificial intelligence, which forms the content of this project