Hama 00052216 Owner's manual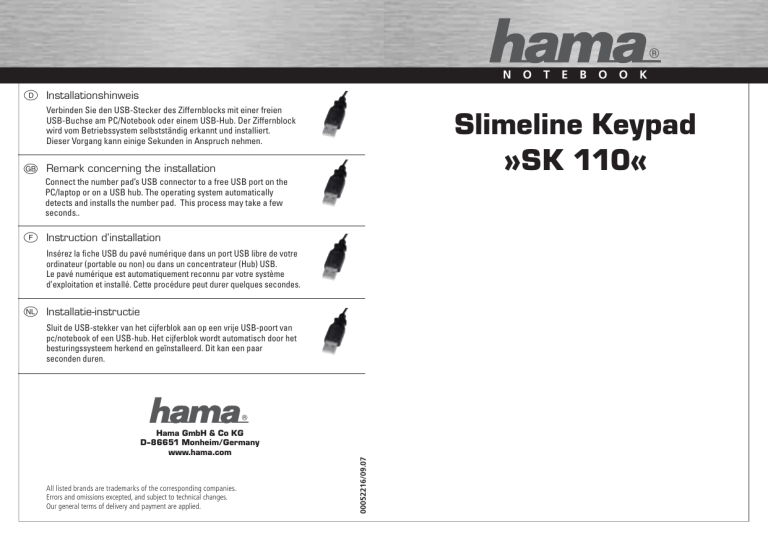 N
O
T
E
B
O
O
K
d Installationshinweis
Verbinden Sie den USB-Stecker des Ziffernblocks mit einer freien
USB-Buchse am PC/Notebook oder einem USB-Hub. Der Ziffernblock
wird vom Betriebssystem selbstständig erkannt und installiert.
Dieser Vorgang kann einige Sekunden in Anspruch nehmen.
Slimeline Keypad
»SK 110«
g Remark concerning the installation
Connect the number pad's USB connector to a free USB port on the
PC/laptop or on a USB hub. The operating system automatically
detects and installs the number pad. This process may take a few
seconds..
f Instruction d'installation
Insérez la fiche USB du pavé numérique dans un port USB libre de votre
ordinateur (portable ou non) ou dans un concentrateur (Hub) USB.
Le pavé numérique est automatiquement reconnu par votre système
d'exploitation et installé. Cette procédure peut durer quelques secondes.
o Installatie-instructie
Hama GmbH & Co KG
D-86651 Monheim/Germany
www.hama.com
All listed brands are trademarks of the corresponding companies.
Errors and omissions excepted, and subject to technical changes.
Our general terms of delivery and payment are applied.
00052216/09.07
Sluit de USB-stekker van het cijferblok aan op een vrije USB-poort van
pc/notebook of een USB-hub. Het cijferblok wordt automatisch door het
besturingssysteem herkend en geïnstalleerd. Dit kan een paar
seconden duren.

* Your assessment is very important for improving the work of artificial intelligence, which forms the content of this project