Hama 00011588 Owner's manual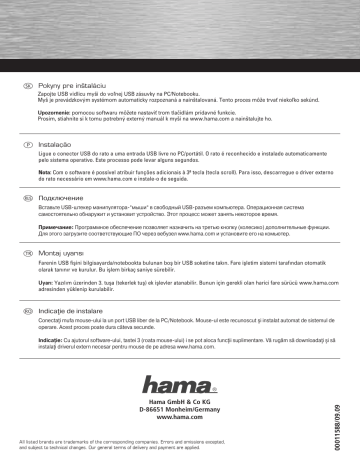 v
Pokyny pre inštaláciu
Zapojte USB vidlicu myši do voľnej USB zásuvky na PC/Notebooku.
Myš je prevádzkovým systémom automaticky rozpoznaná a nainštalovaná. Tento proces môže trvať niekoľko sekúnd.
Upozornenie:
pomocou softwaru môžete nastaviť trom tlačidlám prídavné funkcie.
Prosím, stiahnite si k tomu potrebný externý manuál k myši na www.hama.com a nainštalujte ho.
p
Instalação
Ligue o conector USB do rato a uma entrada USB livre no PC/portátil. O rato é reconhecido e instalado automaticamente pelo sistema operativo. Este processo pode levar alguns segundos.
Nota:
Com o software é possível atribuir funções adicionais à 3ª tecla (tecla scroll). Para isso, descarregue o driver externo do rato necessário em www.hama.com e instale-o de seguida.
u
Подключение
Вставьте USB-штекер манипулятора-"мыши" в свободный USB-разъем компьютера. Операционная система самостоятельно обнаружит и установит устройство. Этот процесс может занять некоторое время.
Примечание:
Программное обеспечение позволяет назначить на третью кнопку (колесико) дополнительные функции. Для этого загрузите соответствующие ПО через вебузел www.hama.com и установите его на комьютер.
t
Montaj uyarısı
Farenin USB fi şini bilgisayarda/notebookta bulunan boş bir USB soketine takın. Fare işletim sistemi tarafından otomatik olarak tanınır ve kurulur. Bu işlem birkaç saniye sürebilir.
Uyarı:
Yazılım üzerinden 3. tuşa (tekerlek tuş) ek işlevler atanabilir. Bunun için gerekli olan harici fare sürücü www.hama.com adresinden yüklenip kurulabilir.
r
Indicaţie de instalare
Conectaţi mufa mouse-ului la un port USB liber de la PC/Notebook. Mouse-ul este recunoscut şi instalat automat de sistemul de operare. Acest proces poate dura câteva secunde.
Indicaţie:
Cu ajutorul software-ului, tastei 3 (roata mouse-ului) i se pot aloca funcţii suplimentare. Vă rugăm să downloadaţi şi să instalaţi driverul extern necesar pentru mouse de pe adresa www.hama.com.
Hama GmbH & Co KG D-86651 Monheim/Germany www.hama.com
All listed brands are trademarks of the corresponding companies. Errors and omissions excepted, and subject to technical changes. Our general terms of delivery and payment are applied.
C O M P U T E R
Optical Mouse
»AM-5000« 00011588
2 g
Remark concerning the installation
Connect USB plug of mouse with a free USB socket on the PC/Notebook. The mouse is automatically detected by the operating system and installed. This process can last several seconds.
Remark:
The third button (wheel button) can be set with additional functions by means of a software. For this purpose, you have to download the required external mouse driver at www.hama.com and install it afterwards.
d
Installationshinweis
Verbinden Sie den USB-Stecker der Maus mit einer freien USB-Buchse am PC/Notebook. Die Maus wird vom Betriebssystem selbständig erkannt und installiert. Dieser Vorgang kann einige Sekunden in Anspruch nehmen.
Hinweis:
Mittels Software lässt sich die 3. Taste (Radtaste) mit zusätzlichen Funktionen belegen. Bitte laden Sie dazu den notwendigen externen Maustreiber unter www.hama.com herunter und installieren ihn anschließend f
Instruction d'installation
Branchez la fi che USB de la souris à une prise USB libre au PC/ordinateur portable. La souris est automatiquement reconnue par le système d'exploitation et installée. Ce processus peut durer quelques secondes.
Remarque :
A l'aide d'un logiciel, le troisième bouton (bouton de la molette) peut êstre assigné de fonctions supplémentaires. A ce propos, vous devez télécharger le pilote souris externe nécessaire sous www.hama.com, installez-le ensuite e
Instrucciones de instalación
Conecte el conector USB del ratón a un puerto USB libre del PC/notebook. El ratón es identifi cado e instalado automáticamente por el sistema operativo. Este proceso puede durar algunos segundos.
Nota:
Mediante software se pueden asignar funciones adicionales a la 3° tecla (tecla de rueda). Por favor, descargue para este fi n desde www.hama.com el controlador de ratón externo necesario e instálelo a continuación.
o
Installatie-instructie
Sluit de USB-stekker van de muis op een vrije USB-poort van pc/notebook aan. De muis wordt automatisch door het besturingssysteem herkend en geïnstalleerd. Dit kan een paar seconden duren.
Opmerking:
met de software kan de 3e toets (wieltoets) van extra functies voorzien worden. Download daarvoor de benodigde externe muisdriver onder www.hama.com en installeer deze vervolgens.
i
Indicazioni per l'installazione
Collegare il connettore USB del mouse a una presa USB libera sul PC o il notebook. Il mouse viene riconosciuto e installato automaticamente dal sistema operativo. Questo procedimento può durare alcuni secondi.
Nota:
Mediante il software in dotazione si possono assegnare funzioni supplementari al 3° tasto (rotellina). A questo proposito, scaricare il driver del mouse esterno all'indirizzo www.hama.com e installarlo.
k
Οδηγία εγκατάστασης
Συνδέστε το βύσμα USB του ποντικιού σε μία ελεύθερη υποδοχή USB του σταθερού/φορητού υπολογιστή. Το ποντίκι αναγνωρίζεται και εγκαθίσταται αυτόματα από το λειτουργικό σύστημα. Αυτή η διαδικασία μπορεί να διαρκέσει μερικά δευτερόλεπτα.
Υπόδειξη:
Μέσω του λογισμικού μπορείτε να αντιστοιχίσετε στο 3ο πλήκτρο (τροχίσκος) πρόσθετες λειτουργίες. Για το σκοπό αυτό κατατεβάστε από τη διεύθυνση www.hama.com το αντίστοιχο εξωτερικό πρόγραμμα οδήγησης και στη συνέχεια εγκαταστήστε το.
s
Installationsanvisning
Anslut musens USB-kontakt till en ledig USB-port på PC:n/den bärbara datorn. Drivsystemet upptäcker själv musen och installerar den. Detta kan ta några sekunder.
Information:
Med software kan man programmera den tredje knappen (skrollhjulet) med extra funktioner. Ladda då ner den nödvändiga externa musdrivrutinen på www.hama.com och installera den sedan.
m
Asennusohje
Kytke hiiren USB-pistoke vapaaseen USB-liittimeen tietokoneessa/kannettavassa. Käyttöjärjestelmä tunnistaa ja asentaa hiiren itsenäisesti. Tämä toiminto voi kestää muutamia sekunteja.
Ohje:
Mittels-ohjelmiston 3. näppäimeen (pyörönäppäin) voidaan liittää lisätoimintoja. Lataa siihen tarvittava ulkoinen hiiriohjain osoitteesta www.hama.com ja asenna se seuraavaksi.
q
Instalacja
Wtyk USB myszy komputerowej należy podłączyć do wolnego portu USB w komputerze (PC/ notebook). Mysz zostanie szybko rozpoznana przez system komputerowy oraz zainstalowana. Proces ten może potrwać przez kilka sek.
UWAGA!
Za pomocą oprogramowania można zaprogramować 3 przycisk (Scroll) myszy. W tym celu należy zainstalować dodatkowy sterownik ze strony www.hama.com.
h
Üzembe helyezés
Csatlakoztassa az egér USB-dugaszát a PC/Notebook szabad USB-aljzatába. Az egeret azonnal felismeri a rendszer minden egyéb telepítés nélkül. Ez a folyamat csupán néhány másodpercnyi időt igényel.
Megjegyzés:
A szoftver segítségével a 3. gombbal (kerék-gomb) a kiegészítő funkciók működtethetők.
Szükség esetén a kiegészítő egérvezérlő letölthető a www.hama.comhonlapról.
c
Pokyny pro instalaci
Propojte USB vidlici myši s volnou USB zdířkou na PC/ Notebooku. Myš je provozním systémem automaticky rozpoznána a nainstalována. Tento proces může trvat několik sekund.
Upozornění:
pomocí softwaru se dají osadit 3 tlačítka přídavnými funkcemi.
Prosím, stáhěte si k tomu potřebný externí manuál k myši na www.hama.com a nainstalujte jej.
3
* Your assessment is very important for improving the work of artificial intelligence, which forms the content of this project