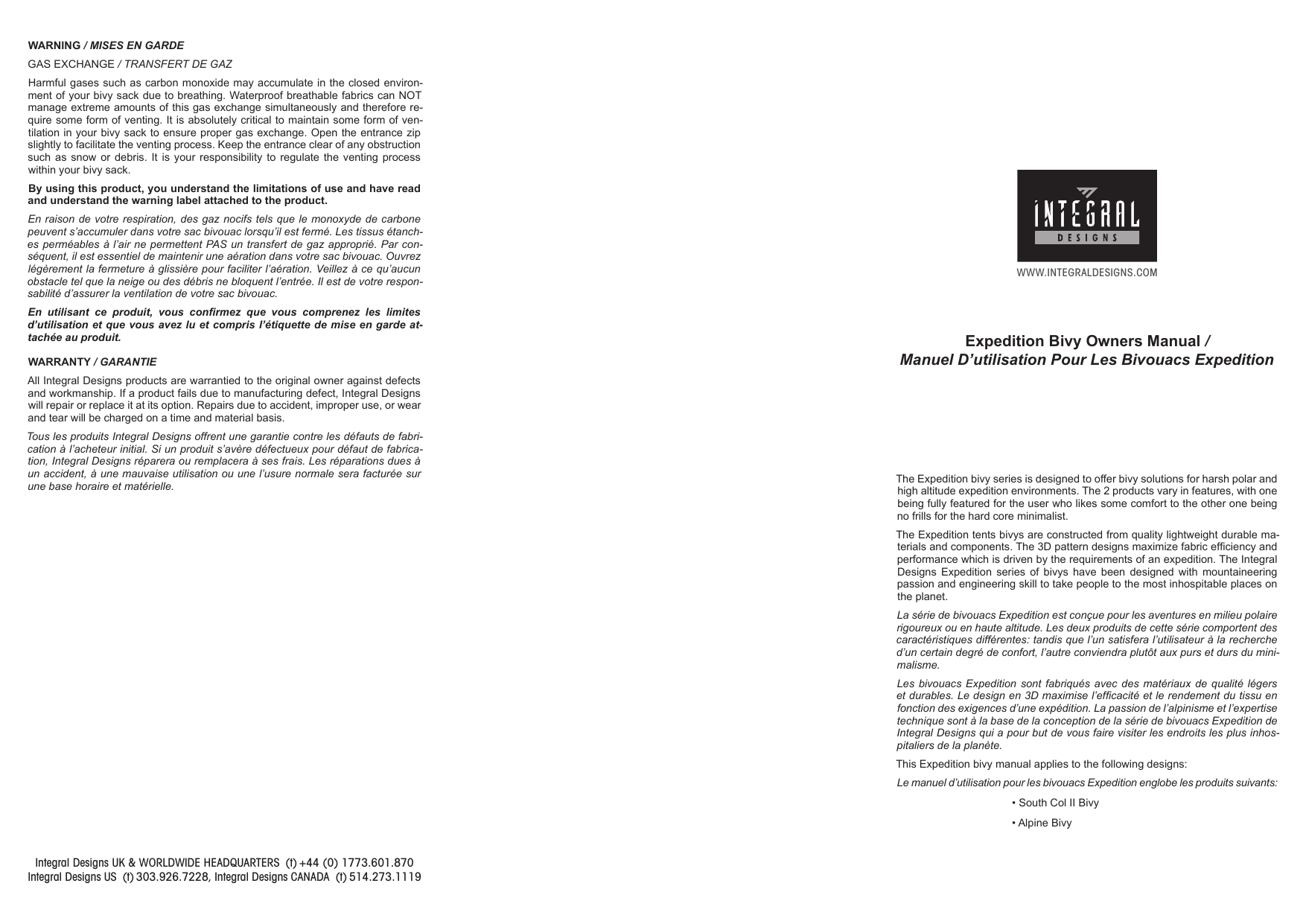 WARNING / MISES EN GARDE
GAS EXCHANGE / TRANSFERT DE GAZ
Harmful gases such as carbon monoxide may accumulate in the closed environment of your bivy sack due to breathing. Waterproof breathable fabrics can NOT
manage extreme amounts of this gas exchange simultaneously and therefore require some form of venting. It is absolutely critical to maintain some form of ventilation in your bivy sack to ensure proper gas exchange. Open the entrance zip
slightly to facilitate the venting process. Keep the entrance clear of any obstruction
such as snow or debris. It is your responsibility to regulate the venting process
within your bivy sack.
By using this product, you understand the limitations of use and have read
and understand the warning label attached to the product.
En raison de votre respiration, des gaz nocifs tels que le monoxyde de carbone
peuvent s'accumuler dans votre sac bivouac lorsqu'il est fermé. Les tissus étanches perméables à l'air ne permettent PAS un transfert de gaz approprié. Par conséquent, il est essentiel de maintenir une aération dans votre sac bivouac. Ouvrez
légèrement la fermeture à glissière pour faciliter l'aération. Veillez à ce qu'aucun
obstacle tel que la neige ou des débris ne bloquent l'entrée. Il est de votre responsabilité d'assurer la ventilation de votre sac bivouac.
En utilisant ce produit, vous confirmez que vous comprenez les limites
d'utilisation et que vous avez lu et compris l'étiquette de mise en garde attachée au produit.
WARRANTY / GARANTIE
www.integraldesigns.com
Expedition Bivy Owners Manual /
Manuel D'utilisation Pour Les Bivouacs Expedition
All Integral Designs products are warrantied to the original owner against defects
and workmanship. If a product fails due to manufacturing defect, Integral Designs
will repair or replace it at its option. Repairs due to accident, improper use, or wear
and tear will be charged on a time and material basis.
Tous les produits Integral Designs offrent une garantie contre les défauts de fabrication à l'acheteur initial. Si un produit s'avère défectueux pour défaut de fabrication, Integral Designs réparera ou remplacera à ses frais. Les réparations dues à
un accident, à une mauvaise utilisation ou une l'usure normale sera facturée sur
une base horaire et matérielle.
The Expedition bivy series is designed to offer bivy solutions for harsh polar and
high altitude expedition environments. The 2 products vary in features, with one
being fully featured for the user who likes some comfort to the other one being
no frills for the hard core minimalist.
The Expedition tents bivys are constructed from quality lightweight durable materials and components. The 3D pattern designs maximize fabric efficiency and
performance which is driven by the requirements of an expedition. The Integral
Designs Expedition series of bivys have been designed with mountaineering
passion and engineering skill to take people to the most inhospitable places on
the planet.
La série de bivouacs Expedition est conçue pour les aventures en milieu polaire
rigoureux ou en haute altitude. Les deux produits de cette série comportent des
caractéristiques différentes: tandis que l'un satisfera l'utilisateur à la recherche
d'un certain degré de confort, l'autre conviendra plutôt aux purs et durs du minimalisme.
Les bivouacs Expedition sont fabriqués avec des matériaux de qualité légers
et durables. Le design en 3D maximise l'efficacité et le rendement du tissu en
fonction des exigences d'une expédition. La passion de l'alpinisme et l'expertise
technique sont à la base de la conception de la série de bivouacs Expedition de
Integral Designs qui a pour but de vous faire visiter les endroits les plus inhospitaliers de la planète.
This Expedition bivy manual applies to the following designs:
Le manuel d'utilisation pour les bivouacs Expedition englobe les produits suivants:
• South Col II Bivy
• Alpine Bivy
Integral Designs UK & WORLDWIDE HEADQUARTERS (t) +44 (0) 1773.601.870
Integral Designs US (t) 303.926.7228, Integral Designs CANADA (t) 514.273.1119
innovative outdoor gear for self propelled adventurers
GENERAL EXPEDITION BIVY KNOWLEDGE / CONNAISSANCES GÉNÉRALES SUR LES BIVOUACS EXPEDITION
PACKING YOUR BIVY / RANGEMENT DU BIVOUAC
If time and weather permits, roll the bivy into the stuff sack. Rolling allows the bivy
to be packed smaller and causes fewer creases in the coatings and membranes
on the fabrics.
CLEANING / NETTOYAGE
REPAIRING YOUR BIVY / RÉPARATION DU BIVOUAC
Hand wash with warm water using a sponge and mild, non-detergent soap. Rinse
thoroughly to remove all soap residue. Do not dry clean, machine wash or machine
dry. Consider leaving stubborn stains (i.e. oil) in place and dusting them with cornstarch or baby powder to prevent transfer to other areas of the bivy in storage.
FABRIC AND SEAM TEARS / DÉCHIRURES DU TISSU ET DES COUTURES
After cleaning, a spray-on water repellent designed for synthetic fabric should be applied to the outer surface if the water repellency has been compromised. This is apparent when water droplets no longer bead up on the fabric and the fabric "wets out".
Watertight repairs to rips can be made using 'Integral Designs Seam Sealant'
which has been specifically designed to be compatible with your products fabric.
Other suppliers' product can be also used such as McNett Freesole™, Aquaseal™
or Seam Grip™.
We hope you have many years of outdoor adventures in your new Integral Designs
bivy sack. With proper care and maintenance, your investment will offer a comfortable shelter in the wildest conditions.
Nettoyez le produit à la main avec de l'eau chaude, une éponge et un savon doux
sans détersif. Rincez le soigneusement pour enlever tous les résidus de savon. Le
nettoyage à sec et le lavage et le séchage à la machine ne sont pas recommandés.
Envisagez de laisser les taches tenaces (par exemple les tâches d'huile) en place
et de les saupoudrer de fécule de maïs ou de poudre de talc pour éviter qu'elles ne
salissent le reste du bivouac une fois entreposé.
For tears shorter than 1.5cm (1/2"), apply duct tape to one side and sealant to the
other. On tears longer than 1.5cm, apply duct tape to one side. On the other side
place a patch of no-see-um netting extending about 6-12mm (1/4- 1/2") beyond
the edges of the tear. Cover the patch thoroughly in sealant. Patches with rounded
edges, rather than square edges, are less likely to peel away. On either small or
large repairs, the duct tape may be removed once the sealant is completely dry.
For longer trips, a sewing kit and extra fabric, webbing, a pole sleeve, and pole
shock cord are recommended.
Nous espérons que vous aurez de nombreuses années d'aventures en plein air
dans votre nouveasu bivouac Integral Designs. Avec de bons soins et un entretien
régulier, votre investissement vous offrira in abri confortable dans les conditions
les plus rigoureuses.
Après le nettoyage, nous recommandons de vaporiser un produit hydrofuge pour les
tissus synthétiques sur la surface externe si le caractère hydrofuge du tissu s'est affaibli. Vous le remarquerez lorsque l'eau ne perle plus à la surface du tissu et le tissu
devient mouillé.
Your Integral Designs bivy comes complete with factory taped waterproof seams.
These seam tapes have been specifically designed to be compatible with the product fabrics they have been applied to. If the seams on your product are damaged or
fatigued, use the above fabric tear repair technique to fix problem areas.
STORING YOUR BIVY / ENTREPOSAGE DU BIVOUAC
If the repair needed on your product is substantial and beyond your capabilities,
contact Integral Designs who will be able to help or direct you to a repair agent.
Si le temps et les conditions météorologiques le permettent, roulez le bivouac
dans son sac de rangement. Vous le rendrez ainsi plus compact et minimiserez le
froissement des revêtements et des membranes de tissu.
ENJOY YOUR NEW BIVY / DE VOTRE NOUVEAU BIVOUAC
CARE AND MAINTENANCE / SOINS ET ENTRETIEN
PROTECTING YOUR BIVY FROM UV / PROTECTION DU BIVOUAC CONTRE
LES RAYONS UV
Ultraviolet damage is the single largest hazard your product faces in its lifetime.
Fabrics should not be exposed to sunlight for extended periods of time as this will
eventually result in color fading and fabric failure. If extended exposure is unavoidable, cover this product with a tarp or sheet of nylon.
Le dommage causé par les rayons UV représente le plus grand danger pour votre
bivouac. Le tissu ne doit pas être exposé au soleil pendant de longues périodes,
car au fil du temps, cela entraînera une décoloration et une défaillance du tissu. Si
l'exposition prolongée du bivouac au soleil est inévitable, recouvrez le d'une bâche
ou d'une toile de nylon.
FOOD IN YOUR BIVY / NOURRITURE DANS LE BIVOUAC
Promptly mop up spills with water. Many foods, particularly acidic ones like fruit
juices, can weaken synthetic fabrics over time. In any case, it is best not to eat
and store foods in this product to avoid attracting animals, which may damage your
product and / or endanger your safety.
Si vous renversez de l'eau dans le bivouac, nettoyez rapidement le dégât. De nombreux aliments, en particulier les aliments acides tels que les jus de fruits, peuvent
affaiblir les tissus synthétiques au fil du temps. Dans tous les cas, il est préférable
de ne pas manger ou de conserver de la nourriture dans le bivouac afin d'éviter
d'attirer des animaux, qui peuvent l'endommager et menacer votre sécurité.
It is essential to dry this product completely before storage to avoid the irreversible
consequences of mildew (mold growth). Store the product rolled in its stuff sack in a
cool, dry place out of direct sunlight. Mildew can be cleaned as described above, but
there is no way to remove the dark stains without damaging the fabric. Mildew will
probably take some time to affect the silicone coatings, so the product may be usable
even if it's not nice-looking.
Il est essentiel de sécher complètement le bivouac avant de l'entreposer afin d'éviter
les conséquences irréversibles de la moisissure. Entreposez le bivouac roulé dans
son sac de rangement dans un endroit frais, sec et à l'abri de la lumière directe du
soleil. Les traces de moisissure peuvent être nettoyées tel qu'indiqué précédemment,
mais il n'existe aucun moyen d'enlever les taches foncées sans endommager le tissu.
La moisissure prendra probablement un certain temps avant d'endommager l'enduit
de silicone, de sorte que vous pouvez utiliser le bivouac même si des taches y apparaissent.
Vous pouvez réparer les déchirures à l'aide du Seam Sealant de Integral Designs,
spécialement conçu pour les tissus de votre bivouac. Vous pouvez également utiliser des produits d'autres fournisseurs tels que le McNettFreesole™, le Aquaseal™ ou le Seam Grip™.
Pour les déchirures de moins de 1,5 cm (0,5 po), appliquez un ruban adhésif (Duct
tape) sur un côté et le produit d'étanchéité de l'autre. Pour les déchirures de plus
de 1,5 cm, appliquez un ruban adhésif (duct tape) sur un côté et de l'autre côté,
mettez un morceau de moustiquaire antibrûlots qui dépasse les extrémités de la
déchirure de 6 à 12 mm (de 0,25 à 0,5 po). Appliquez généreusement le produit
d'étanchéité sur le morceau de tissu. Les morceaux de tissu arrondis plutôt que
carrés sont moins susceptibles de se décoller. Pour les petites ou les grandes
déchirures, vous pouvez retirer le ruban adhésif lorsque le produit est bien sec.
Pour les expéditions de longue durée, nous recommandons d'apporter une trousse de couture et du tissu, des sangles, un manchon d'arceau et un cordon élastique pour les arceaux.
Les coutures de votre bivouac Integral Designs sont dotées de rubans d'étanchéité.
Ces rubans d'étanchéité ont été spécialement conçus pour adhérer aux tissus du
produit. Si les coutures de votre bivouac sont endommagées ou usées, utilisez la
technique de réparation des déchirures indiquée précédemment.
Dans le cas où les réparations nécessaires sont substantielles et dépassent vos
capacités, communiquez avec Integral Designs qui pourra vous aider ou vous diriger vers un réparateur.
ZIPPERS / FERMETURES À GLISSIÈRE
A worn slider is the cause of most zipper problems as grit greatly accelerates slider
wear. Keep the zippers clean by rinsing them in water after use in high wind or
sandy environments. Sometimes a careful squeeze with a pair of pliers on both
sides of a slider will restore some life. Contact Integral Designs who will be able to
help or direct you to a repair agent.
L'usure du curseur est la principale cause des problèmes liés aux fermetures à
glissière, car le sable accélère grandement son usure. Rincez les fermetures à
glissière après un usage dans des milieux venteux ou sablonneux pour les garder
propres. Serrer les deux faces du curseur à l'aide de pinces pourrait prolonger son
utilisation. Au besoin, communiquez avec Integral Designs qui pourra vous aider
ou vous diriger vers un réparateur.