Hama 00087514 Owner's manual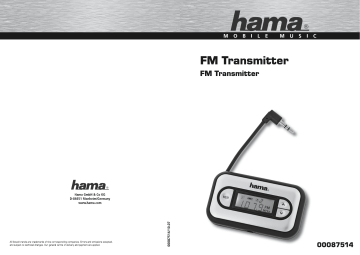 и ны нина
иена = —]—— — —
но — ; — — — —
= — "= "= ee о — —
- — >[[ [ [ — =" — mm = —
—— — EE = —— — — — =
- —— — — = = —— = -
—— — —_ >= === —_— — — =
—. =——=— = = — —
—.—— ——]]_-——————————— — _—
оч — = —— — —
— — = ==
hama.
Hama GmbH & Co KG
D-86651 Monheim/Germany
www.hama.com
All listed brands are trademarks of the corresponding companies. Errors and omissions excepted,
and subject to technical changes. Our general terms of delivery and payment are applied.
il
|
| |
IH |
|
|
|
|
|
||
|
FM Transmitter
FM Transmitter
00087514/10.07
00087514
Verpackungsinhalt
* FM-Transmitter
e 12 V Stromversorgungskabel
e 2x Batterie Micro (AAA)
* Bedienungsanleitung
* Adapter fir I-Phone, Nokia und SonyEricsson
Gerätebeschreibung
A)
E) B)
A) Memory Taste
B) Funktionstaste Suchlauf abwárts in 100 kHz-Schritten
C)Funktionstaste Suchlauf aufwärts in 100 kHz-Schritten
D) 3,5-mm-Klinken-Anschluss
E)12V Stromversorgungsbuchse
Bedienung der UKW Funkübertragung
1. Entfernen Sie zuerst den Batteriefachdeckel.
Legen Sie nun unter Berücksichtigung der Polarität
(+/-), wie im Batteriefach angezeigt, zwei Batterien ein.
SchlieBen Sie das Batteriefach wieder.
2. Driicken Sie fiir ca. 3 Sekunden die MEM Taste, um
das Gerät einzuschalten. Das Gerät prüft nun
automatisch ob ein Signal von einer Audioquelle
anliegt oder nicht. Wenn kein Signal anliegt, bzw. keine
Taste gedrückt wird, schaltet sich die Funkübertragung
nach ca. 1 Minute wieder ab.
3. Stecken Sie den 3,5-mm-Klinkenstecker an der
Audioquelle (MP3 Player etc...) ein.
4. Stellen Sie den Stereoempfánger im Auto oder zu
Hause auf einen Kanal mit schwachem Rundfunksignal
ein. Ideal ist ein Kanal, auf dem überhaupt kein
Radioprogramm gesendet wird oder auf dem nur
sehr schwach ein Programm zu hören ist.
5. Drücken Sie die Taste Up oder Down, um den Sender
auf die Frequenz abzustimmen. Zur Schnellabstimmung
können Sie die jeweilige Taste gedrückt halten.
6. Der Transmitter kann maximal neun Frequenzen für den
Schnellabruf speichern
a) Wählen Sie durch Drücken der Taste MEM den
Speicherplatz aus
b) Drücken Sie nun die Tasten Up bzw. Down, um die
Frequenz auszuwählen
c) Durch Weiterdrücken der Taste MEM ist die
Frequenz automatisch gespeichert
. Stellen Sie die Lautstärke bei Ihrem MP3 Player (oder
der sonstigen Audioquelle) auf einen mittleren Wert
ein. Wegen der UKW-Sendecharakteristik erzielen Sie
bessere Tonqualität, wenn Sie die Lautstärke am
Stereoradio im Auto oder zu Hause regeln und den
MP3 Player (oder sonstigen Audioquelle) auf mittlerer
Laustärke eingestellt lassen.
. Die Lautstärke, mit der Sie Musik hören möchten,
stellen Sie am UKW-Radio ein.
~J
oo
Netzkabel für zusätzliche Stromversorgung enthalten
SchlieBen Sie ein Ende des Kabels an den Gleichstrom-
anschluss unten am FM-Sender an. Stecken Sie das
andere Ende des Kabels in die Zigarettenanziinderbuchse
im Auto.
Hinweis:
Der FM-Sender wird iiber dieses Kabel NICHT geladen.
Das Kabel dient nur zur Stromversorgung wáhrend des
Betriebs im Auto, so dass Batterieleistung gespart wird.
So erzielen Sie die besten Ergebnisse:
Positionieren Sie den Transmitter móglichst nahe bei der
Antenne des UKW-Radios. Der Transmitter funktioniert
zwar oft auch noch über Entfernungen von 10 Metern und
mehr, liefert aber im Bereich unter 3 Metern das stärkste
Signal bei minimalen Störungen.
Verwenden Sie immer frische Batterien. Je schwächer
die Batterien, desto schwächer auch das Sendesignal.
Package contents
® FM transmitter
e 12 V power supply cable
e 2x AAA batteries
* Operating instructions
e Adapter for iPhone, Nokia and SonyEricsson
Device description
A) Memory button
B) Seek down function key (100 kHz steps)
C)Seek up function key (100 kHz steps)
D) 3.5 mm jack connection
E) 12 V power supply socket
Using the FM radio transmitter
. First, remove the cover of the battery compartment.
Insert two batteries, observing the polarity (+/-) as
depicted in the battery compartment. Close the battery
compartment.
Press the MEM button for approximately three seconds
to switch on the device. The device automatically
checks whether there is a signal from an audio source
or not. If there is no signal or if no key is pressed, the
radio transmitter switches off after approximately one
minute.
Plug the 3.5 mm jack plug into the audio source (MP3
player, etc.).
Set the stereo receiver in your car or home to a
channel to a weak signal. A channel where no radio
program is transmitted or a very weak signal is heard is
ideal.
Press the Up or Down button to tune the frequency of
the channel. Press and hold the respective button for
quick tuning.
—
No
©
>
N
6. The transmitter can save a maximum of nine
frequences that can be selected quickly.
a) Select the station preset by pressing the MEM
button
b) Press the Up or Down button to select the frequency
of the channel
c) Press the MEM button again to automatically save
the frequency
. Adjust the volume of your MP3 player (or other audio
source) to a medium level. Due to the character of
FM radio, you will hear a better quality of sound if you
control the volume on the stereo radio in your car or
home and leave the MP3 player (or other audio source)
set a medium volume level.
. Adjust the volume of the music you hear using the FM
radio.
~J
oo
Power cable for additional power supply
Connect one end of the cable to the DC connection on the
bottom of the FM transmitter. Insert the other end of the
cable into the cigarette lighter socket in your car.
Note:
The FM transmitter can NOT be charged with this cable.
The cable is only to be used as a power supply while the
car is running to save the battery.
Achieving the best results:
Position the transmitter as close as possible to the
antenna of the FM radio. The transmitter can often work
at distances of 10 metres or more but provides the
strongest signal at distances less than 3 metres with
minimum interference.
Always use new batteries. The weaker the battery, the
weaker the transmitter signal.
Contenu de l'emballage
e Transmetteur FM
e Câble d'alimentation en électricité 12 V
e 2 piles LRO3/Micro/AAA
e Mode d'emploi
e Adaptateur pour |-Phone, Nokia et SonyEricsson
Description de l'appareil
E) B)
A) Touche mémoire
B) Touche de fonction recherche automatique par pas
de 100 kHz
C) Touche de fonction recherche automatique vers le
haut par pas de 100 kHz
D) Connexion jack 3,5 mm
Е) Prise femelle d'alimentation en électricité 12 V
Commande de la transmission radio FM
1. Ouvrez le couvercle du compartiment de piles.
Insérez deux piles dans le logement en respectant les
indications de polarité (+/-). Refermez le compartiment
des piles.
2. Appuyez sur la touche MEM pendant 3 secondes
afin de mettre l'appareil sous tension. L'appareil vérifie
automatiquement si un signal ou une source audio est
détecté. L'appareil se met automatiquement hors
tension aprés une minute lorsqu aucun signal n'est
détecté ou aucune activé n'est détectée.
3. Connectez le jack stéréo mâle 3,5 mm à la source
audio (lecteur MP3, etc.).
4. Dans un véhicule ou chez vous, sélectionnez un canal
a signal radio faible pour le récepteur stéréo. Lidéal
est un canal sur lequel aucun programme radio n'est
émis ou sur lequel un programme est reçu très
faiblement.
|
| |
| ||
|
Ne
IN |
LL
5. Appuyez la touche up ou down afin de régler la
fréquence. Maintenez la touche enfoncée afin de
régler la fréquence plus rapidement.
. Le transmetteur est capable de mémoriser un maximum
de neuf fréquences
a) Sélectionnez l'emplacement mémoire en appuyant
sur la touche MEM.
b) Appuyez les touches up ou down afin de
sélectionner la fréquence
a) Vous pouvez mémoriser automatiquement la
fréquence en continuant à appuyer sur la touche
MEM
. Réglez le volume de votre lecteur MP3 (ou de toute
autre source audio) sur intensité moyenne. En raison
des caractéristiques des émissions FM, vous
obtiendrez une meilleure qualité du son en réglant le
volume sur une radio stéréo dans une voiture ou chez
vous et conservez un réglage moyen pour le volume
du lecteur MP3 (ou de toute autre source audio).
. Réglez le volume désiré pour écouter de la musique sur
une radio FM.
©
~J
oo
Câble d'alimentation électrique supplémentaire
Insérez une extrémité du câble dans la connexion élec-
trique située dans la partie inférieure du transmetteur
FM. Insérez l'autre extrémité du câble dans la prise de
l'allume-cigares de votre véhicule.
Remarque :
Le transmetteur FM n'est PAS alimenté par ce câble.
Le câble est utilisé uniquement pour l'alimentation en
électricité pendant le fonctionnement de l'appareil dans
un véhicule afin d'économiser les piles.
Pour les meilleurs résultats :
Placez le transmetteur le plus près possible de l'antenne
de la radio FM. Le transmetteur fonctionne certes à un
éloignement de la radio de 10 m ou davantage mais vous
obtiendrez le signal le plus fort et le moins de parasites à
une distance inférieure à 3 m.
Utilisez toujours des piles neuves. Plus le niveau des piles
est faible, plus le signal est faible.
Contenido del paquete
* Emisor FM
* Cable de alimentación de corriente de 12 V
* 2 pilas Micro (AAA)
* Instrucciones de uso
* Adaptador para I-Phone, Nokia y SonyEricsson
Descripción del aparato
A) Tecla Memory
B) Tecla funcional de búsqueda hacia atrás en pasos
de 100 kHz
C) Tecla funcional de búsqueda hacia delante en pasos
de 100 kHz
D) Conexión de jack stereo de 3,5 mm
E) Hembrilla de alimentación de corriente de 12 V
Manejo del emisor por radio UKW
. Retire primero la cubierta del compartimento de pilas.
Teniendo en cuenta la correcta polaridad (+/ -)
indicada en el compartimento de pilas, coloque dos
pilas alcalinas. Cierre de nuevo el compartimento de
pilas.
2. Mantenga pulsada durante aprox. 3 segundos la tecla
MEM para encender el aparato. El aparato comprueba
ahora automáticamente si viene señal de la fuente de
audio o no. Si no viene señal o si no se pulsa ninguna
tecla durante un minuto, el emisor por radio se
desconecta tras aprox. 1 minuto.
. Inserte el jack stereo de 3,5 mm en la fuente de audio
(reproductor MP3, etc.).
Ajuste el receptor stereo del vehículo o de la casa a un
canal cuya señal de radiofrecuencia sea débil. Lo ideal
es un canal en el que no se emita ningún programa de
radio o en el que el programa se oiga débilmente.
—
o
>
5. Pulse la tecla Up o Down para sintonizar la emisora a
la frecuencia. Para hacerlo más rápido, puede
mantener pulsada la tecla en cuestión.
6. El emisor puede guardar un máximo de nueve
frecuencias de llamada rápida.
a) Seleccione la posición de memoria pulsando la
tecla MEM
b) Pulse ahora la tecla Up o Down para seleccionar la
frecuencia
c) Pulsando de nuevo la tecla MEM, la frecuencia se
guarda automáticamente
. Ajuste el volumen de su reproductor MP3 (o de otra
fuente de audio) a un valor medio. Por motivo de las
características de emisión de UKW, conseguirá una
mejor calidad de sonido regulando el volumen en
la radio stereo del vehículo o en la de casa y dejando
ajustado el reproductor MP3 (o la fuente de audio
correspondiente) a un volumen medio.
8. Ajuste el volumen al que desee oír música en la radio
UKW.
~J
Cable de red para suministro de corriente adicional
incluido
Conecte un extremo del cable a la toma de corriente
continua en la parte inferior del emisor FM. Enchufe el
otro extremo del cable en la hembrilla del encendedor de
cigarrillos del vehiculo.
Nota:
El emisor FM NO se carga mediante este cable. Este
cable sirve sólo para el suministro de corriente durante
el funcionamiento en el vehículo, que supone un ahorro
de pilas.
Para conseguir los mejores resultados:
Coloque el emisor lo más cerca posible de la antena de la
radio UKW. Aunque el emisor funcione frecuentemente
con distancias superiores a 10 metros, es en el rango de
distancias inferiores a 3 metros donde emite la señal más
fuerte con las mínimas interferencias.
Utilice siempre pilas nuevas. Cuanto más gastadas están
las pilas, más débil es la señal de emisión.
Inhoud van de verpakking
* FM-transmitter
e 12V stroomtoevoerkabel
* 2 batterijen micro (AAA)
* Gebruiksaanwijzing
* Adapter voor |-Phone, Nokia en SonyEricsson
Beschrijving van het toestel
A) Memory-toets
B) Functietoets voor zoeken terug in stappen van 100 kHz
C) Functietoets voor zoeken vooruit in stappen van
100 kHz
D) 3,5-mm-audioaansluiting
E) 12V-ingang voor stroomtoevoer
Bediening van de draadloze HF-overdracht
1. Verwijder eerst het deksel van het batterijvak.
Plaats vervolgens, met inachtneming van de polariteit
(+/-), zoals in het batterijvak wordt aangegeven, twee
batterijen. Sluit het batterijvak weer.
2. Druk gedurende ca. 3 seconden de MEM-toets in om
het toestel in te schakelen. Het toestel controleert
automatisch of er een signaal van een audiobron
aanwezig is of niet. Als er geen signaal aanwezig is,
resp. als er geen toets ingedrukt wordt, wordt de
draadloze overdracht na ca. 1 minuut weer
uitgeschakeld.
3. sluit de 3,5-mm-audiostekker op de audiobron
(MP3-speler etc...) aan.
4. Stel de stereo-ontvanger in de auto of thuis op een
kanaal met een zwak signaal in. Ideaal is een kanaa
waarop helemaal geen radioprogramma wordt
uitgezonden of waarop alleen een heel zwak signaal
ontvangen wordt.
||
WA
5. Druk op Up of Down om de zender op de frequentie
af te stemmen. Voor een snelle afstemming houdt u de
betreffende toets ingedrukt.
6. De transmitter kan maximaal negen frequenties
opslaan
a) Selecteer de geheugenplaats door op de toets MEM
te drukken
b) Druk nu op Up of Down om de frequentie te kiezen.
c) Door nogmaals op de toets MEM te drukken wordt
de frequentie automatisch opgeslagen
. Stel het volume van uw MP3-speler (of de andere
audiobron) op een gemiddelde waarde in. Vanwege de
HF-frequentiekarakteristiek is de geluidskwaliteit beter
als u het volume op de stereoradio in de auto of thuis
regelt en de MP3-speler (of andera audiobron) op een
gemiddeld volume ingesteld laat.
8. Het volume waarmee u naar de muziek wilt luisteren
stelt u op de HF-radio in.
~J
Voedingskabel voor extra stroomtoevoer inbegrepen
Sluit een uiteinde van de kabel op de gelijkstroomaans-
luiting onder aan de FM-zender aan. Sluit het andere
uiteinde van de kabel op de sigarettenaansteker-aanslui-
ting van de auto aan.
Aanwijzing:
De FM-zender wordt NIET via deze kabel geladen. De ka-
bel dient alleen voor de stroomvoorziening tijdens gebruik
in de auto, zodat de accu gespaard wordt.
Zo bereikt u het beste resultaat:
Plaats de transmitter zo dicht mogelijk in de buurt van de
antenne van de HF-radio. De transmitter werkt weliswaar
ook vaak nog op een afstand van 10 meter en meer, maar
levert binnen een bereik van 3 meter het sterkste signaal
bij een minimum aan storingen.
Gebruik altijd volle batterijen. Hoe zwakker de batterij,
des te zwakker is het zendsignaal.
Contenuto della confezione
* Trasmettitore FM
* Cavo di alimentazione 12 V
* 2 batterie ministilo (AAA)
e |struzioni per luso
* Adattatore per I-Phone, Nokia e SonyEricsson
Descrizione dell'apparecchio
A) Tasto memoria
B) Tasto funzione ricerca indietro in passi da 100 kHz
C) Tasto funzione ricerca in avanti in passi da 100 kHz
D) Attacco jack 3,5 mm
E) Presa di alimentazione elettrica 12V
Utilizzo del trasmettitore radio FM
1. Togliere il coperchietto del vano batterie.
Introdurre due batterie con la corretta polarità (+ / -),
come indicato nel vano batterie. Richiudere
nuovamente il vano batterie.
2. Per accendere l'apparecchio, premere il tasto MEM
per ca. 3 secondi. Lapparecchio verifica
automaticamente se é presente un segnale da una
fonte audio. Se non e presente nessun segnale e non
si preme alcun tasto, la trasmissione radio si
disinserisce automaticamente dopo ca. 1 minuto.
3. Inserire il jack da 3,5 mm nella fonte audio
(lettore MP3 ecc.).
4, Regolare il ricevitore stereo in auto o a casa su un
canale con segnale radio debole. Lideale & un canale
in cui non vengono trasmessi programmi radiofonici o il
programma si sente in modo molto debole.
5. Premere i tasti Up o Down per impostare ||
trasmettitore sulla frequenza. Per la sintonia veloce,
premere il relativo tasto.
6. Il trasmettitore pué memorizzare massimo nove
frequenze da richiamare velocemente
a) Scegliere la posizione di memoria premendo il tasto
MEM
b) Premere i tasti Up o Down per selezionare la
frequenza
c) Tenendo premuto il tasto MEM, la frequenza viene
memorizzata automaticamente
. Regolare il volume del lettore MP3 (o di un'altra fonte
audio) su un valore medio. Per via della caratteristica
di trasmissione FM, si ha una qualita audio migliore se
si regola il volume nello stereo della macchina 0 a casa
e si lascia impostato il lettore MP3 (o un'altra fonte
audio) su un volume medio.
8. Regolare il volume con cui si desidera ascoltare la
musica sulla radio FM.
~J
Cavo di rete per I'alimentazione elettrica in dotazione
Collegare un'estremitá del cavo all'attacco della corrente
continua, sul trasmettitore FM in basso. Inserire l'altra
estremita del cavo nella presa accendisigari della
macchina.
Avvertenza:
Il trasmettitore FM NON si carica mediante questo cavo.
Il cavo serve solo per I'alimentazione elettrica durante
I'esercizio in auto, per risparmiare le batterie.
Per ottenere i migliori risultati:
Posizionare il trasmettitore il più vicino possibile
all'antenna della radio FM. II trasmettitore funziona anche
a distanze superiori a 10 metri, ma nel raggio di 3 metri il
segnale é piu forte e i disturbi sono minimi.
Utilizzare sempre batterie nuove. Pil le batterie sono
scariche, pit debole € il segnale di trasmissione.
Fórpackningens innehall
® FM-Transmitter
o 12 V strómfórsóriningskabel
* 2x batterier micro (AAA)
e Bruksanvisning
* Adapterkabel for I-Phone, Nokia och SonyEricsson
Produktbeskrivning
A) Memory knapp
B) Funktionsknapp fallande sókning ¡ 100 kHz steg
C) Funktionsknapp stigande sókning ¡ 100 kHz steg
D) 3,5-mm jackanslutning
E) 12V stróomfórsóriningsport
Hantering UKW-signalôverfôring
1. Ta fôrst av locket till batterifacket.
Lägg nu i tvä batterier ochvar noga med att polerna ár
rättvända (+ / -), som visat i batterifacket. Stäng locket
till batterifacket igen.
2. Tryck pá MEM knappen under tre sekunder fôr att
starta apparaten. Apparaten kontrollerar nu
automatiskt om det finns en signal fran en audiokalla
eller inte. Om det inte finns nagon signal, eller om
ingen knapp trycks in, kopplas signalôverfôringen bort
efter ca en minut.
3. Anslut 3,5-mm jackkontakten till audiokällan (MP3
spelare etc...)
4. Stáll stereomottagaren pá auto eller pa en kanal med
svag radiosignal hemma. En kanal dér inget
radioprogram sánds, eller en dár ett program endast
hórs svagt, ár det básta.
5. Tryck pa knappen Up eller Down fór att stálla in
sándaren pá frekvensen. Háll respektive knapp
nedtryckt om snabbinställning ônskas.
6. Transmittern kan spara maximalt nio frekvenser fdr
snabbinställningen
a) Valj lagringsplats genom att trycka pa MEM
knappen
b) Tryck pa knapparna Up eller Down for att vélja
frekvensen.
c) Fortsátter man att trycka pá MEM knappen sparas
frekvensen automatiskt
. Stall in volymen pa din MP3 spelare (eller annan
audiokálla) pá medelnivá. Karaktáristiken hos UKW
sándaren gor att man far béttre ljudkvalitet om man
stéller in volymen pa stereoradion i bilen eller hemma
och later MP3 spelaren (eller annan audiokalla) vara
instálld medelvolym.
8. Den musikvolym man vill lyssna pa stéller man in pa
UKW radion.
~J
Nitkabel for stromforsorjning medfdljer
Anslut kabelns ena ánde till likstrómsuttaget nere pá FM-
sándaren. Sátt andra ánden av kabelni
cigarettándaruttaget | bilen.
Hánvisning:
FM sándaren laddas INTE via denna kabel. Kabeln ár
endast avsedd fór strómfórsórining vid anvándning ¡ bilen
sá att batterierna sparas.
Sá fár du bást resultat:
Placera transmittern sá nára antennen pá UKW-radion
som mójligt. Transmittern fungerar visserligen ofta med
avstánd pá tio meter och mer men den básta signalen,
med minimala stórningar, fár man med avstánd under tre
meter.
Använd alltid laddade batterier. Ju svagare batterierna ár,
desto svagare är ocksä sändarsignalen.
|
|
И ||
Zawartos¢ opakowania
e Nadajnik FM
Przewod zasilajacy 12 V
2 baterie typu Micro (AAA)
Instrukcja obstugi
Adapter do |-Phone, Nokia i SonyEricsson
Opis urzadzenia
A) Przycisk programowania MEM
B) Przycisk funkcyjny do przetaczania czestotliwosci w
dot w krokach co 100 kHz
C) Przycisk funkcyjny do przelaczania czestotliwosci do
góry w krokach co 100 kHz
D) Wtyk typu jack o srednicy 3,5 mm
E) Gniazdo zasilania 12 V
Obstuga nadajnika radiowego UKF
. Zdjac najpierw pokrywe schowka na baterie.
Nastepnie wtozyc dwie baterie, uwzgledniajac
wiasciwe potaczenie biegunów (+/-), oznaczone w
schowku na baterie. Ponownie zamknaé schowek na
baterie.
. Nacisngc¢ przez ok. 3 sekundy przycisk MEM, aby
wtaczyé urzadzenie. Urzadzenie sprawdza teraz
automatycznie, czy dostepny jest sygnat ze zrodta
audio. Jezeli sygnat nie jest dostepny lub nie
nacisnieto zadnego przycisku, nadajnik radiowy
wytacza sie ponownie po ok. 1 minucie.
. Podtaczyc wtyk typu jack o srednicy 3,5 mm do
gniazda sprzetu audio (odtwarzacz MP3 itp....).
Ustawic odbiornik stereo w samochodzie lub w domu
na kanat o stabym sygnale radiowym. Najlepiej nadaje
sie do tego kanat, na ktôrym nie jest transmitowany
zaden program radiowy lub program o bardzo stabym
sygnale.
—
N
o
>
5. Nacisnac przycisk Gora lub Dót, aby dostroié
czestotliwosé radiostacji. Aby uruchomié szybkie
dostrajanie, odpowiedni przycisk nalezy trzymac
wcisniety.
. Nadajnik zapamietuje maksymalnie dziewieé
czestotliwosci.
a) Przyciskiem MEM wybraé miejsce w pamieci.
b) Nastepnie nacisngé przycisk Gora lub Dét, aby
ustawié czestotliwosé.
c) Ponowne nacisniecie przycisku MEM programuje
automatycznie czestotliwosé.
Ustawié gtosnosé odtwarzacza MP3 (lub innego
sprzetu audio) na sredni poziom. Ze wzgledu na
charakterystyke fal UKF najlepszg jakos¢ dzwieku
uzyskuje sie, gdy gtosnosé radia stereo wyreguluje sie
w samochodzie lub w domu, a odtwarzacz MP3
(lub inny sprzet audio) ustawi sie na sredni poziom
gtosnosci.
8. Gtosnosé stuchanej muzyki ustawia sie na radiu UKF.
©
>
Przewód sieciowy do dodatkowego zasilania
elektrycznego
Podtaczyé jeden koniec przewodu do gniazda pradu
statego na dole nadajnika FM. Drugi koniec przewodu
wiozy¢ w gniazdo zapalniczki w samochodzie.
Wskazówka:
Nadajnik FM NIE jest tadowany przez ten przewod.
Przewôd stuzy jedynie do dodatkowego zasilania
elektrycznego podczas stosowania w samochodzie w
celu ochrony baterii przed roztadowaniem.
Jak uzyskac najlepsza jakosé odbioru?
Umiescié nadajnik jak najblizej anteny radia UKF.
Nadajnik dziata jeszcze wprawdzie nawet w odlegtosci
10 metrow i wiecej, jednakze najsilniejszy sygnat przy
minimalnych zaktóceniach transmituje w odlegtosci
ponizej 3 metrów.
Zawsze nalezy stosowac nowe baterie. Im stabsze
baterie, tym stabszy sygnal.
Pakuotéje yra
+ Moduliuoto daznio transmiteris
* 12 V maitinimo kabelis
* 2x mikroelementai (AAA)
- Naudojimo vadovas
* Adapteris ,¡Phone", ,Nokia* ir ,Sony Ericsson"
telefonams
Prietaiso aprasymas
A) Atminties mygtukas
B) Funkcinis siystuvo paieSkos 100 kHz Zingsniu mazejimo
tvarka mygtukas
C) Funkcinis siystuvo paieSkos 100 kHz Zingsniu didéjimo
tvarka mygtukas
D) 3,5 mm fiksatoriaus jungtis
E) 12V lizdas maitinimo kabeliui
Ultratrumpyjy radijo bangy signaly perdavimo
valdymas
1. Pirmiausia nuimkite elementy skyriaus dangtel;.
Tada, atsizvelgdami j poliskuma (+/-), nurodyta elementy
skyriuje, jdékite du elementus. Vél uzdarykite elementy
skyriy.
2. Mazdaug 3 sekundes spauskite MEM mygtuka ir taip
junkite prietaisa. Dabar prietaisas automatiSkai patikrina,
ar yra iSejimo signalas 15 garso Saltinio, ar tokio signalo
nera. Jeigu signalo nera arba nepaspaudziamas joks
mygtukas, radijo perdavimas mazdaug po 1 minutes vel
iSsijungia.
3. |statykite 3,5 mm fiksatoriaus kiStuka j garso Saltinj (MP3
grotuva ar pan.).
4. Automobilyje ar namuose esanciame stereoimtuve
nustatykite kanala su silpnu radijo signalu. Geriausiai
tam tinka toks kanalas, kuriuo netransliuojama jokia radijo
programa, arba kur programa girdisi tik labai silpnai.
10
5. Siystuvo daznj nustatykite, spausdami mygtuka
,AukStyn* arba ,Zemyn". Greitajam suderinimui galite
laikyti atitinkama mygtuka nuspausta.
6. Tiesioginiam iSkvietimui transmiteryje gali büti iSsaugoti
ne daugiau kaip devyni dazniai.
a) Spausdami MEM mygtuka parinkite atmintinés vieta.
b) Dabar, spausdami mygtuka ,Auk&tyn" ar "Zemyn",
parinkite dazn;.
c) Dar karta spusteléjus MEM mygtuka, daznis
automatiSkai iSsaugomas.
7. Savo MP3 grotuve (ar kitame garso Saltinyje) nustatykite
vidutinio stiprumo garsa, Del ultratrumpujy bangy
transliavimo charakteristiky Jus iSgausite geresnés
kokybés garsa, jeigu jj reguliuosite automobilyje ar
namuose esanciame stereoradijo aparate, o MP3 grotuve
(ar kitame garso Saltinyje) garso nuostata paliksite ties
vidutine verte.
8. Garsuma, kuriuo pageidaujate klausytis muzikos,
nustatykite ultratrumpujy bangy radijo aparate.
Pridedamas el. tinklo kabelis papildomam maitinimui.
Vieng kabelio gala jjunkite j nuolatinés srovés jungtj
moduliuoto daznio siystuvo apacioje. Kita kabelio gala
|statykite | automobilyje esantj Ziebtuvélio lizda.
Nuoroda:
Moduliuoto daznio siystuvas per $j kabelj NEJKRAUNAMAS.
Kabelis skirtas tik prietaisui maitinti, kai jis naudojamas
automobilyje, kad buty tausojami elementai.
Taip gausite geriausius rezultatus:
Padékite transmiterj kuo arCiau prie ultratrumpyjy bangy
radijo aparato antenos. Transmiteris daZnai veikia ir tada,
kai yra nutoles per 10 ar daugiau metry, ta¢iau jam esant
mazesniu kaip 3 metry spinduliu gaunamas stipriausias
signalas ir minimalüs trikdZiai.
Visada naudokite tik naujus elementus. Kuo silpnesnis
elementas, tuo silpnesnis ir siystuvo signalas.

* Your assessment is very important for improving the work of artificial intelligence, which forms the content of this project