Hama 99044721 Owner's manual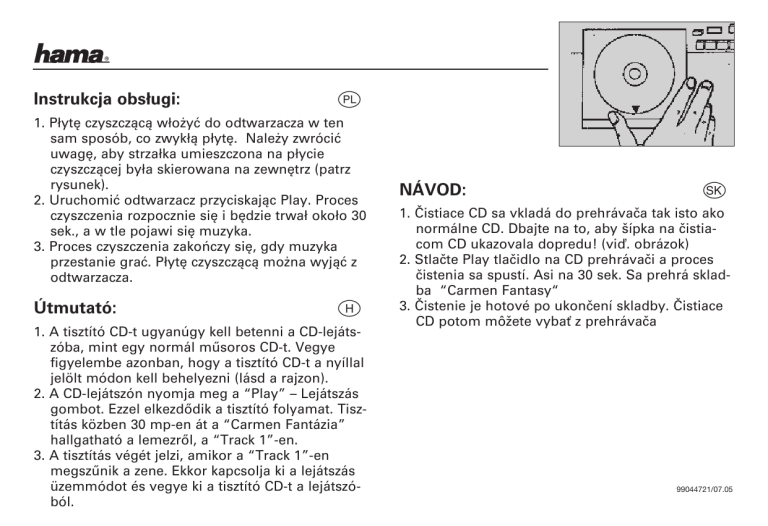 Instrukcja obsługi:
PL
ø
1. Płytę czyszczącą włożyć do odtwarzacza w ten
sam sposób, co zwykłą płytę. Należy zwrócić
uwagę, aby strzałka umieszczona na płycie
czyszczącej była skierowana na zewnętrz (patrz
rysunek).
2. Uruchomić odtwarzacz przyciskając Play. Proces
czyszczenia rozpocznie się i będzie trwał około 30
sek., a w tle pojawi się muzyka.
3. Proces czyszczenia zakończy się, gdy muzyka
przestanie grać. Płytę czyszczącą można wyjąć z
odtwarzacza.
Útmutató:
k
1. A tisztító CD-t ugyanúgy kell betenni a CD-lejátszóba, mint egy normál műsoros CD-t. Vegye
figyelembe azonban, hogy a tisztító CD-t a nyíllal
jelölt módon kell behelyezni (lásd a rajzon).
2. A CD-lejátszón nyomja meg a "Play" – Lejátszás
gombot. Ezzel elkezdődik a tisztító folyamat. Tisztítás közben 30 mp-en át a "Carmen Fantázia"
hallgatható a lemezről, a "Track 1"-en.
3. A tisztítás végét jelzi, amikor a "Track 1"-en
megszűnik a zene. Ekkor kapcsolja ki a lejátszás
üzemmódot és vegye ki a tisztító CD-t a lejátszóból.
NÁVOD:
J
1. Čistiace CD sa vkladá do prehrávača tak isto ako
normálne CD. Dbajte na to, aby šípka na čistiacom CD ukazovala dopredu! (viď. obrázok)
2. Stlačte Play tlačidlo na CD prehrávači a proces
čistenia sa spustí. Asi na 30 sek. Sa prehrá skladba "Carmen Fantasy"
3. Čistenie je hotové po ukončení skladby. Čistiace
CD potom môžete vybať z prehrávača
99044721/07.05
Návod k použití:
j
1. Čisticí CD vložte do přehrávače. Šipka na čisticím
CD musí směřovat dopředu (viz obrázek)!
2. Stiskněte tlačítko PLAY. Po dobu 30 s uslyšíte
pod TRACK 1 "Carmen Fantasy".
3. Po ukončení TRACK 1 je čištění u konce. Vyjměte
čisticí CD.
Anleitung:
l
1. Die Reinigungs-CD wird wie eine normale CD in den
Player eingelegt. Unbedingt darauf achten, dass der
Pfeil auf der Reinigungs-CD nach vorne zeigt!
(siehe Zeichnung)
2. Die Play-Taste am CD-Player drücken und der
Reinigungsprozess beginnt. Es ist für ca. 30 Sek.
unter Track 1 "Carmen Fantasy" zu hören.
3. Die Reinigung ist beendet, sobald Track 1
abgespielt ist. Anschließend kann die Reiniguns-CD
aus dem Player entnommen werden.
Instuctions:
L
1. Load the cleaning CD in the CD player in the
customary manner, except that the arrow on the CD
cleaning disc should be pointing forwards
(see drawing).
2. Press the PLAY key on the CD player, and the
cleaning process commences.
The "Carmen Fantasy" on TRACK 1 is played for
approx. 30 seconds.
3. Cleaning is complete as soon as TRACK 1 has
finished playing. The cleaning CD can now be taken
out of the CD player.

* Your assessment is very important for improving the work of artificial intelligence, which forms the content of this project