Hama 73046641 Owner's manual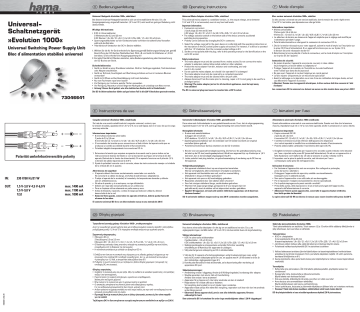 ©) Bedienungsanleitung Operating Instructions (> Mode d'emploi
POWER
Universal-Netzgerät »Evolution 1000«, stabilisiert Universal Mains Adapter »Evolution 1000«, stabilized Bloc secteur universel »Evolution 1000«, stabilisé
Ce bloc secteur universel est une version stabilisée, dont la tension de sortie réglée entre
1,5 et 12 V n'est même pas dépassée sous charge faible.
This universal mains adapter is a stabilized version, i.e. the output voltage, set at between
1.5 V and 12 V, is not exceeded, even at very low load levels.
Bei diesem Universal-Netzgerät handelt es sich um eine stabilisierte Version. D.h. die
Ausgangsspannung, eingestellt zwischen 1,5 V und 12 V, wird auch bei geringer Belastung nicht
überschritten.
Universal-
Schaltnetzgerat
»Evolution 1000«
Universal Switching Power Supply Unit
Bloc d alimentation stabilisé universel
Important information:
* 8 universal connectors:
2 Jack plugs 2.5 mm and 3.5 mm
6 DC plugs: 1.0 x 3.0/2.1 x 5.0 / 1.3 х 3.5 / 0.75 х 2.35 / 1.7 х 4.0 / 2.5 x 5,5 mm
The voltage selection switch on the bottom side of the device prevents accidental
switching during operation.
Polarity can be selected by changing the DC-In connector.
Informations importantes:
* 8 fiches universelles
2 fiches jack: 2,5 et 3,5 mm
6fiches CC : 1,0 x 3,0 / 2,1 x 5,0 / 1,3 x 3,5 / 0,75 x 2,35 / 1,7 x 4,0 / 2,5 x 5,5 mm
* Le sélecteur de tension au dessous de l'appareil empêche que le réglage soit modifié par
inadvertance pendant l'usage.
* Polarité sélectionnable en changeant la connexion du connecteur DC-In.
Wichtige Informationen:
* 8 DC-In Universalstecker
2 Klinkenstecker 2,5 und 3,5 mm
6 DC Stecker: 1,0 x 3,0/ 2,1 x 5,0/ 1,3 x 3,5/ 0,75 Xx 2,35 / 1,7 х 4,0 / 2,5 х 5,5 тт
Spannungswahlschalter auf der Geráteunterseite verhindert versehentliches Verstellen
wáhrend des Betriebs.
e Polarität durch Umstecken der DC-In Stecker wählbar.
—
. Selectthe voltage required for the given device in conformity with the operating instructions or
the inscription on the DC socket (power supply unit socket). For instance, if a device is operated
with four 1.5 V batteries, then the necessary output voltage is 6 V.
. Set the correct polarity with the plug; refer to the operating manual or the identification on the
unit's DC socket.
1.Choisir la tension nécessaire pour votre appareil, suivant le mode d'emploi ou l'inscription sur
la prise CC (Prise d'alimentation). Si un appareil fonctionne par ex. sur 4 piles 1,5 V,
la tension de sortie nécessaire est de 6 V.
2.Sélectionnez la bonne polarité à l'aide du connecteur, voir le mode d'emploi ou l'inscription
sur la prise DC de l'appareil.
—
. Wählen Sie die für Ihr Gerät erforderliche Spannung gemäß Bedienungsanleitung bzw. gemäß
Beschriftung der DC-Buchse (Netzteilbuchse). Wird z.B. ein Gerät mit 4 Batterien a 1,5 Volt
betrieben, ist die erforderliche Ausgangsspannung 6 V.
. Korrekte Polarität mit Stecker einstellen, siehe Bedienungsanleitung oder Kennzeichnung Sa
der DC-Buchse am Gerát. .
No
No
fety instructions:
The mains adapter must only be operated from a mains socket. Do not connect the mains
adapter to extension cables, table socket outlets or other adapters.
Protect the mains adapter from dirt, moisture and overheating, and only
use it in dry rooms!
Do not open the mains adapter, nor should it be operated if it is damaged
The mains adapter must only be repaired by a competent specialist.
The mains adapter must only be cleaned with a dry soft cloth.
Always disconnect from the mains prior to cleaning, repair or if it is not going to be used for a
prolonged period.
Warning! The mains adapter, just as for all electrical appliances, must be kept away
from children!
Instructions de sécurité:
* Ne jamais brancher I'appareil a une prise de courant, ni a des cables
de prolongation, prises de tables ou adaptateurs!
e Protéger l'appareil de la saleté, de l'humidité ou du suréchauffement
et ne l'utiliser que dans des locaux secs!
* Ne pas ouvrir l'appareil et ne plus I'employer en cas de panne!
e Le faire réparer uniquement par un mécanicien spécialisé!
* Avant le nettoyage ou la réparation ou en cas d'une no nutilisation de longue durée, en tout
cas débrancher l'appareil du secteur.
Attention! Comme tous les appareils électriques, le bloc secteur doit être conservé à l'abri
d'enfants!
Sicherheitshinweise:
Gerät nur direkt an einer Steckdose betreiben. Nicht an Verlängerungskabel, Tischsteckdosen
oder Adapter anschlieBen. '
Gerät vor Schmutz, Feuchtigkeit und Überhitzung schützen und nur in trockenen Räumen
verwenden!
Gerät nicht öffnen und bei Beschädigung nicht mehr betreiben.
Nur vom Fachmann reparieren lassen!
Zur Reinigung nur trockene, weiche Tücher verwenden.
Vor Reinigung, Reparatur und bei längerem Nichtgebrauch unbedingt vom Netz trennen.
Achung! Dieses Gerät gehört, wie alle elektrischen Geräte nicht in Kinderhände!
The DC-in universal plug must never be inserted into a 230 V socket. Les connecteurs DC-In universels ne doivent en aucun cas étre insérés dans une prise a 230 V.
Die DC-In Universalstecker diirfen auf gar keinen Fall in die 230 V Steckdose gesteckt werden.
73046641
(E) Instrucciones de uso D Gebruiksaanwijzing (D Istruzioni per luso
Cargador universal »Evolution 1000«, estabilizado Universele lichtnetadapter »Evolution 1000«, gestabiliseerd Alimentatore universale »Evolution 1000« stabilizzato
Questo alimentatore universale & una versione stabilizzata. Questo vuol dire che la tensione
d'uscita, impostata tra gli 1,5 e | 12 V, non viene superata anche in presenza di un carico ridotto.
Deze universele lichtnetadapter is een gestabiliseerde versie. D.w.z. dat de uitgangsspanning,
ingesteld tussen 1,5 V en 12 V, ook bij geringe belasting niet overschreden wordt.
Se trata de una versión estabilizada del cargador universal, es decir, que
la tensión de salida, ajustada entre 1,5 V y 12 V, no se sobrepasa aún en el caso de que la carga
sea muy reducida.
Informazioni importanti:
* 8 spine universali DC-IN
2 jack da 2,5 e 3,5 mm
6 connettori DC: 1,0 x 3,0 / 2,1 x 5,0 / 1,3 x 3,5 / 0,75 х 2,35 / 1,7 x 4,0 / 2,5 x 5,5 mm
Il selettore di tensione sul lato inferiore dell'apparecchio impedisce
che i valori impostati si modifichino accidentalmente durante il funzionamento.
Polaritá selezionabile cambiando l'inserimento delle spine DC-IN.
Belangrijke informatie:
Informaciones importantes: * 8 universele aansluitstekkers
* 8 enchufes/conectores universales: 2 pluggen 2,5 en 3,5 mm
2 jacks de 2,5 y 3,5 mm 6 DC-stekkers: 1,0 x 3,0 / 2,1 x 5,0 / 1,3 x 3,5 / 0,75 x 2,35 / 1,7 x 4,0 / 2,5 x 5,5 mm
6 enchufes de CC: 1,0 x 3,0 / 2,1 x 5,0 / 1,3 x 3,5 / 0,75 x 2,35 / 1,7 x 4,0 / 2,5 x 5,5 mm * Spanningskeuzeschakelaar aan de onderzijde van het toestel voorkomt per ongeluk
El conmutador de tensión que se encuentra en el lado inferior del aparato evita que se verstellen tijdens gebruik.
produzca un cambio accidental durante el funcionamiento. e Polariteit selecteerbaar dankzij omsteken van de DC-in-stekker.
Polaridad elegible transponiendo los conectores DC-In.
ED +—9—-
AOL - 2
Polaritát umkehrbar/reversible polarity
—
. Scegliete la tensione adeguata per l'apparecchio secondo quanto indicato nelle istruzioni
per l'uso o riportato sulla presa DC (presa dell'alimentatore). Se ad es. un apparecchio é
fatto funzionare con 4 batterie da 1,5 volt, la tensione di uscita richiesta e di 6 V.
Impostare con la spina la polarita corretta, vedi istruzioni per l'uso o
contrassegno sulla spina DC dell'apparecchio.
1. Kies de voor uw apparaat benodigde spanning. Zie hiervoor de gebruiksaanwijzing resp.
de tekst op de DC-bus (voedingsadapterbus). Wordt een apparaat bijv. op 4 batterijen a 1,5 V
bedreven, dan is de benodigde uitgangsspanning 6 V.
2. Juiste polariteit met plug instellen, zie gebruiksaanwijzing of markering op de DC-bus op
het apparaat.
—
. Seleccione la tensiôn que requiera su aparato de acuerdo con lo que se indica en las
instrucciones de manejo del mismo o con la inscripciôn que figura en la toma de CC del
aparato (Entrada de la fuente de alimentaciôn). Si un aparato funciona con 4 pilas de 1,5 V,
la tensión de salida requerida será de 6 V.
Ajuste la polaridad correcta con el conector, véase las instrucciones de manejo o el símbolo
de la entrada DC en el aparato.
>
>
Indicazioni di sicurezza:
Far funzionare l'apparecchio solo su una spina. Non collegarlo a prolunghe,
prese da tavolo o adattatori.
Proteggere l'apparecchio da sporcizia, umiditá e surriscaldamento.
Veiligheidsaanwijzingen:
Het apparaat uitsluitend direct op een stopcontact aansluiten.
Niet op verlengkabels, tafelcontactdozen of adapters aansluiten.
Het apparaat niet blootstellen aan vuil, vocht en oververhitting.
Advertencias de seguridad:
El aparato debera funcionar exclusivamente conectado a un enchufe.
No conectarlo a cables de alargo, enchufes de sobremesa o adaptadores.
Uitsluitend in droge vertrekken gebruiken!
Impiegarlo solo in ambienti asciutti.
IN: 230 V/50 Hz/21 W e Proteja el aparato de la suciedad, la humedad y de temperaturas elevadas y utilicelo e Het apparaat niet open en bij beschadiging gebruiken. * Non aprire l'apparecchio e non utilizzarlo piú se danneggiato.
sólo en ambientes secos. * Reparaties uitsluitend door een vakman laten uitvoeren! e Per le riparazioni rivolgersi esclusivamente a tecnici specializzati.
* No abra el aparato y, si se estropea, no siga utilizándolo. * Voor het reinigen uitsluitend droge, zachte doeken gebruiken. * Perla pulizia impiegare solo panni asciutti e morbidi!
OUT: 1,5 V-3,0 V-45 V-6,0 V max. 1400 mA * Deberá ser reparado exclusivamente por un profesional. * Wanneer het apparaat gereinigd, gerepareerd of voor langere tijd niet * Prima della pulizia, della riparazione e di un arresto prolungato dell apparecchio,
* Para su limpieza utilice solamente un paño suave y seco. gebruikt wordt, moet de stekker uit het stopcontact worden getrokken. separarlo dall'alimentazione di corrente.
7,5 V-9,0 V max. 1100 mA * Antes de limpiarlo, repararlo, o antes de largos períodos sin utilizarlo, deberá e Opgelet! Dit apparaat, net zoals alle andere elektrische apparatuur, uit de buurt van * Attenzione! Tenere questo apparecchio, come tutte le apparecchiature elettriche,
12,0 max. 1000 mA desenchufarlo de la red. kinderen houden! fuori dalla portata dei bambini!
Atención! Este aparato, como todos los aparatos eléctricos, deberá quedar fuera del
alcance de los niños.
El conector universal DC-In no se debe enchufar nunca en una entrada de 230 Y.
Oônyiec ye1piouoÚú
TPOPOSOTIKÓ yevumc xpñonc »Evolution 1000«, oradepottoMuÉVvo
DC-In universele stekkers mogen nooit op een 230 V contactdoos worden aangesloten.
(S) Bruksanvisning
Universell nätadapter »Evolution 1000«, stabiliserad
Le spine universali DC-IN non devono in nessun caso essere inserite nella presa da 230 V.
EN Pistokelaturi
Stabiloitu yleisverkkolaite »Evolution 1000«
Tämä yleisverkkolaite on stabiloitu. Toisin sanoen 1,5 ja 12 voltin välille säädetty lähtôjännite ei
AUTO TO TDOPOBOTIKÔ YEVIKAC Xpriong eival pia otabepomompévn ouokeur). AnAadr n таст) 256600 dma yle
ylity silloinkaan, kun kuormitus on vähäistä.
Hos denna universella ndtadapter ror det sig om en stabiliserad version. D.v.s. att
puBuiITÓuEe нета о 1,5 \ каг 12 V, парацёме! oTABEPT akÓUN Kat NE ANEANTÉO poptio.
utgángsspánningen, instálld mellan 1,5 V och 12 V, inte óverskrids áven vid ringa belastning.
73046611/02.09
Enpavtikéc TANpOPopiec:
1
8 Büouata DC-In
2 iowa Boouata 2,5 kat 3,5 mm
6 Búouata DC: 1,0x3,0/2,1x5,0/1,3x3,5/0,75x2,35/1,7x4,0/2,5x5,5mm
О бакбттпс етЛоуйс тастс OMV KÁTA) TINEUPÁ MG OUOKEUTC ENTIOGITE! mv katd AdOog
оапоробщот ката тп S1ápkeia TIC AerTOUPyíac.
H TrONKÓMTO EMMÉYETAI HE AMaYT TWV PueuáTWV DC-In.
. EmVÉETE MV TÓON VIA TN CUOKEUT CAC CÓMMWVA LE TIC OBNYIEC xpÑOaNC Ñ CÚEWVA PE TV
eTrypamn omv uT1o6ox DC (UTTOSOxf TPOCMOBOTIKOÚ). Av TI.X. Ма OUOKEUR NELTOUPYEÍ LE
Viktiga informationer:
—
8 DC-In universella stickkontakter
2 jackkontakter - 2,5 och 3,5 mm
6 DC-stickkontakter: 1,0 x 3,0/2,1 x 5,0/1,3x 3,5 / 0,75 x 2,35 / 1,7 x 4,0 / 2,5 x 5,5 mm
Spánningsomkopplare pá apparatens undersida fôrhindrar oavsiktlig
omställning av driftsmodus nár apparaten ár páslagen.
Vilj polaritet genom omkoppling av DC-In stickkontakter.
. Välj den fôr Er apparat erforderliga spänningen enligt bruksanvisningen resp. enligt
text vid DC-porten (nätadapterport) Om t.ex. en apparat med 4 1,5 Volt batterier drivs är
Tärkeää tietoa:
—
8 DC-in -yleispistoke
2 stereopistoketta 2,5 ja 3,5 mm
6 tasavirtapistoketta: 1,0 x 3,0 / 2,1 x 5,0 / 1,3 x 3,5 / 0,75 x 2,35 / 1,7 x 4,0/ 2,5 x 5,5 mm
Jännitteen valitsin laitteen alla estää tahattoman siirtymisen käytôn aikana
Polariteetti valittavissa kytkemällä DC-In-pistokkeet uudelleen
. Valitse laitteeseen tarvittava jánnite käyttôohjeen tai tasavirtapistokkeen (verkkolaitteen
pistokkeen) merkinnän mukaisesti. Esim. jos laitetta käytetään neljällä 1,5 voltin paristolla,
tarvittava lähtôjännite on 6 V.
4 pmatapiec TOV 1,5 Volt, n anapaîmm TAOM 656600 elval 6 V. Ш den nédviindiga utgängsspänningen 6 V. 2. fou pistokkeilla oikea polariteetti, katso joko käyttôohjetta tai laitteen tasavirtapistokkeen
2. PuOpiote m owom noAKôTmTa pe Ta Büoyata, BAéne oônyiec XeipioyoŸ À emypapñ TG 2. Korrekt polaritet ställs in med stickkontakt, se bruksanvisning eller markering pâ merkintaa.
unoboxrig DC om ouokeury. apparatens DC-port.
Turvaohjeita: '
Обпу!ес аофаЛе!ас: Säkerhetsanvisningar: * Kytke laite aina pistorasiaan. Alá liitá laitetta jatkokaapeleihin, poytápistorasiaan tai
ZUVDÉETE Tn OUOKEUR pÔvo oe pia TIPICa. Mn TT ouvdéete oc KaANMÉIA TIPOÉKTAOTC, ETITPATÉTIEC
TIpiCec 1 de TIPOJAPHOYEÍC.
MpootaTEÚETE TI CUOKEUÑ ото Вроша, UYpacÍía KaI UTEPOÉPuavon.
Xpñon uôvo oe Enpoûc xopouc!
Mrv avoíyete T CUOKEUÑ KAI LNV TI XPNOINOTIOIEÍTE AV XOAGOE1!
Ot EMOKEVÉC ETITPÉTIETAL VA YiVOVTAL HÓVOV ATTÓ ELBIKEUMÉVOUC TEXVÍTEC.
Га тоу кадарюно XpnhOINOTIOIOTE ÉVa OTEYVÓ, наЛако пам.
Av dev TIPÓKEITAL VA XPNOIMOTIOINOEÍ yla TIONÚ коцоб кадас кан прм отб тоу кадарюцб кси тим
ETMIOKEUN ATTOOUVEÉOTE ATÓ TV TIPITA.
MNpoooyn! AuT n ouoKEUR ÔTTOG KAL OL áÓMEC NAEKTPIKÉC CUOKEUÉC Bev EÍvaL TIALYVÍÓL
ya ta nadia!
Ta Boopara DC-In dev emrpéneTal o€ kapia nepimreon va ouvdedouv oe пра том 230 М.
Användning endast i vágguttag. Anslut ej till fórlángningskabel, bordsuttag eller adapter.
Skydda apparaten mot smuts, fukt och dverhettning.
Använd den endast i torra utrymmen!
Apparaten fár ej óppnas och inte heller anvándas om den ár skadad!
Reparationer fár endast utfóras av fackman.
Vid rengóring skall endast torra och mjuka trasor anvándas.
Apparaten máste skiljas frán nátet fóre rengóring, reparation och áven nár den inte anvánds
under lángre period.
Observera! Denna apparat skall, precis som alla elektriska apparater, fórvaras
oátkomligt fór barn!
Den universella DC-in kontakten fár under inga omständigheter sättas i 230 V vägguttaget!
sovittimeen!
Suojaa laite lialta, kosteudelta ja ylikuumenemiselta.
Käytä laitetta vain kuivissa tiloissa!
Alä avaa laitetta, äläkä käytä sitä enää, jos siihen on tullut vaurioita!
Anna korjaus aina ammattilaisen tehtäväksi.
Käytä puhdistukseen vain kuivia, pehmeitä liinoja.
* Ennen puhdistusta, korjausta ja pidemmän käyttôtauon jälkeen laite on irrotettava verkosta.
e Huomaa! Tämä laite kuten muutkaan sähkôlaitteet eivät kuulu lasten kásiin!
DC-In-yleispistokkeita ei saa missään tapauksessa kytkeä 230 V pistorasiaan.
POWER
Zasilacz uniwersalny »Evolution 1000«
Univerzális kapcsolóuzemú tápegység
Univerzalni spinany zdroj
ow
>
Ea.
| a
Teen
73046641
(OC +—o—-
(OL - —+
Polaritát umkehrbar/reversible polarity
IN: 230 V/50 Hz/21 W
OUT: 1,5 V-3,0 V-4,5 V-6,0 V max. 1400 mA
7,5 V-9,0 V max. 1100 mA
12,0 max. 1000 mA
Instrukcja obstugi
Uniwersalny zasilacz »Evolution 1000« stabilizowany
Zasilacz stabilizowany, tzn. napiecie na wyjéciu, ustawione na wartosé
z zakresu 1,5 V do 12 V, nie jest przekraczane takze przy matym obciazeniu.
Wazne informacie:
* 8 uniwersalnych wtyków DC-IN:
2 wtyki jack 2,5 i 3,5 mm,
6 wtykôw DC: 1,0 x 3,0 / 2,1 х 5,0 / 1,3 x 3,5 / 0,75 x 2,35 / 1,7 x 4,0 / 2,5 x 5,5 mm
Przetacznik wyboru napiecia na spodzie urzadzenia, niemozliwia omytkowe przetaczenie
podzas pracy
Zmiana biegunowosci za pomoca przetaczenia wtyczki DC-In.
—
. Urzadzenie podtaczyé do gniazda o napieciu zgodnym z wymaganiami zawartymi w
instrukcji wzgl. opisem na gniazdku zasilacza. Jezeli np. urzadzenie zasilane jest 4 bateriami,
kazda po 1,5 V, to wymagane napiecie wyjsciowe wynosi 6 V.
. Ustawié prawidtowo biegunowosé za pomoca wtykôw, patrz instrukcja obstugi lub
oznakowanie gniazdka DC na urzadzeniu.
N
Wskazówki dotyczace bezpiecznego uzytkowania urzadzenia:
Urzadzenie nalezy podtaczac do pradu tylko za pomoca jego oryginalnego wtyku, nie
taczyé za posrednictwem przedtuzaczy, gniazdek biurkowych lub adapterôw.
Nie otwieraé i w razie awarii nie uzywag!
Naprawy zlecaé w specjalistycznych punktach serwisowych
Czyscié sucha i miekka szmatka.
Przed rozpoczeciem czyszczenia, naprawa lub dtuzsza przerwa w ekspoloatacji wytaczyc
urzadzenie z pradu.
UWAGA! Chronié przed dzieémi.
Nie wkiadaé uniwersalnych wtykow DC-IN do gniazda o napieciu 230 V
GO Návod na pouzitie
Univerzálny stabilizovany sietovy adaptér »Evolution 1000«
Pri tomto sietovom adaptéry sa jedná o stabilizované prevedenie, to
znamena, Ze vystupné napátie nastavené medzi 1,5 V a 12 V nebude aj pri najmensom zatazeni
prekrocené.
Dôlezité informâcie:
* 8 DC-In univerzálna zástrcka
2 jack-konektory: 2,5 a 3,5 mm
6 DC konektorov: 1,0 x 3,0 / 2,1 x 5,0 / 1,3 x 3,5 / 0,75 x 2,35 / 1,7 x 4,0 / 2,5 x 5,5 mm
Prepinaë napátia na spodnej strane zariadenia zabrañuje náhodnému prestaveniu
pocas prevádzky.
Volitelná polarita podra zapojenia DC-In konektoru.
—
. Zvolte pre vase zariadenie potrebné napátie podfa návodu na pouzitie, alebo podla popisku
DC-zastrcky (sietovej zastréky). Napr. pri prevadzkovani zariadenia so Styrmi 1,5 V batériami,
bude pozadované vystupné napátie 6 V.
. Nastavte konektormi správnu polaritu — podfa navodu na pouzitie alebo oznacenia
DC-zástréky zariadenia.
N
Bezpecnostné upozornenia:
* Zariadenie prevadzkujte iba v jednej elektrickej zasuvke. Nezapajajte na predlzovaci kabel
alebo adapter.
Zariadenie chráñte pred Spinou, vikom a prehriatim. Prevádzkujte len v suchych
miestnostiach.
Zariadenie neotvarajte a poskodené nepouzivajte!
Opravu zverte do rúk Specializovaného odbornika.
Na cistenie pouZivajte suchú, mákkú handricku.
Pred cistenim, opravou a pri nepouzivaní odpojte z elektrickej siete.
POZOR! Toto zariadenie nepatrí do detskych rúk!
DC-In univerzálna zastrcka sa v Ziadnom prípade nesmie zapájat do 230 V zásuvky.
Kullanma kilavuzu
Universal sebeke adaptórii »Evolution 1000«, dengeli
Bu universal sebeke adaptórú dengeli bir versiyondur. Yani, 1,5 V ve 12 V olarak ayarlanan çikis
gerilimi hafif bir yúklenmede dahi asilmaz.
Ónemii bilgiler:
» 8 DC-In Universal fig
2 adet 2,5 ve 3,5 mm jack fis
6 DC fis: 1,0x3,0/2,1x5,0/1,3x3,5/0,75x2,35/1,7x4,0 /2,5x5,5 MM
e Cihazin alt tarafindaki gerilim segme anahtari gerilimin yanlislikla deóistirilmesini ónler.
* Kutup secimiigin DC-In fisi ters takilabilir.
1. Kullanma kilavuzuna bakarak veya DC soketi (sebeke adaptórú soketi) Uzerindeki yazilara
bakarak gerekli gerilimi ayarlayin. Bir cihaz 4 adet 1,5 V pille calisiyorsa, gerekli cikis gerilimini
6 V olarak ayarlayin.
2. Figile dogru kutup ayarlayin, kullanma kilavuzuna veya cihazdaki DC soket (izerindeki
isarete bakin.
Emniyet uyarilan:
e Cihazi sadece bir prizde calistirin. Uzatma kablosuna, masa prizine veya adaptóre baglamayin.
* Cihazi pisliklere, neme ve asiri isinmaya karsi koruyun.
Sadece kuru mekanlarda kullanin!
* (Cihazi agmayin veya arizali ise kullanmayin!
* Sadece uzman tamiratcilara tamir ettirin.
Temizlemek icin sadece kuru, yumusak bezler kullanin.
e Temizlemeden, tamir etmeden ônce veya uzun sure kullaniimayacaksa sebekeden ayirin.
e Dikkat! Bu cihaz, tüm dider elektrikli cihazlar için cocuklar tarafindan kullanilmamalidir!
DC-In iiniversal fisler kesinlikle 230 V prize takilmamalidir.
Chronic przed kurzem, wilgocig i przegrzaniem. Uzytkowac tylko w suchych pomieszczeniach!
(H) Használati útmutató
Univerzális stabilizált tápegység, feszúltségválasztóval »Evolution 1000«
Ez a hálózati tápegység stabilizált feszúltséget szolgáltat.
A kimeneti feszúltség 3,0 V és 12 V kozott választható és sem kis terhelésnél,
sem nagy terhelésnél nem változik meg a kimeneti fesziiltségérték.
További információk:
* 8 db univerzális csatlakozódugasz
2 db Jack-dugasz, 2,5 mm-és és 3,5 mm-es
6 db DC-dugasz: 0,75 x 2,4 / 1,0 x 3,0 / 1,3 x 3,5 / 1,7 x 4,0 / 2,1 x 5,0 / 2,5 x 5,5 mm
* Afesziltségváltó kapcsoló a készúulék hátoldalán megakadályozza a téves átváltást
Uzemeltetés kôzben.
* A polaritás dugaszolással átváltható, a DC-dugasz megforditasaval.
1. Válassza ki az Ón késziléke számára alkalmas tapfesziiltséget a feszültségvélasztéval. Ha pl.
a készülék 4 db 1,5 V-os elemmel múkódik, akkor a megfeleló tápfeszilltség: 6 V.
2. A megfeleló polaritás a dugasszal állitható be. Ha nem biztos a feszúltség és a polaritás
kivalasztasaban, nézze at a késziilék használati útmutatóját vagy keresse meg a
polaritas-jelzést a késziilék DC-bemenete mellett.
Biztonsâgi elôiräsok:
e À készüléket csak hälôzati konnektorba dugaszolva használja.
Ne csatlakoztassa hosszabbító kábelre vagy adapterre.
* Ovja készúulékét nedvességtól, portól, túlzott hóségtól, csak száraz helyiségben használja.
® À tisztitäshoz szâäraz tôrlôkendôt használjon. Tisztitás vagy szerelés elótt húzza ki a
konnektorból. Ha hosszabb ¡deig nem használja a tápegységet, húzza ki a konnektorból.
* Gyermektól tartsa távol!
Az egyenáramú (DC) univerzälis csatlakozôdugaszt véletlenül sem csatlakoztassa 230 V-os
hálózati konnektorba!
(P) Manual de instrucôes
Fonte de alimentaçäo universal »Evolution 1000«, estabilizada
Esta fonte de alimentaçäo universal é uma versáo estabilizada. Isto significa que a tensäo de
saída, definida entre 1,5 V e 12 V, náo é excedida mesmo quando a carga é baixa.
Informaçôes importantes:
e 8fichas 8 DC-In universais
2 fichas jaque de 2,5 e 3,5 mm
6fichas DC: 1,0 x 3,0 / 2,1 x 5,0 / 1,3 х 3,5 / 0,75 х 2,35 / 1,7 x 4,0 / 2,5 x 5,5 mm
O selector de tensáo na parte inferior do aparelho evita uma deslocagáo
acidental durante o funcionamento.
Polaridade possível de seleccionar, mudando a ficha DC-In.
—
. Seleccione a tensäo necessäria para 0 seu aparelho, de acordo com o manual de instruçôes
ou com a inscriçäo da tomada DC (tomada da fonte de alimentaçäo). Se utilizar, р. ex., um
aparelho com 4 pilhas de 1,5 Volt, a tensáo de saída necessária é de 6 V.
Para ajustar a polaridade correcta com a ficha, consulte o manual de instruçôes ou
a identificaçäo da tomada DC no aparelho.
ro
Indicaçôes de segurança:
Utilize o aparelho apenas directamente numa tomada. Náo ligar a um cabo de extensáo,
tomadas de bancada ou adaptadores.
Proteja o aparelho de sujidade, humidade ou sobreaquecimento.
Utilizar apenas em espagos secos!
Náo abra o aparelho e náo o utilize se este estiver danificado!
0 aparelho só deve ser reparado por técnicos.
Use panos secos e macios para efectuar a limpeza.
Desligue sempre o aparelho da rede, antes de efectuar a limpeza, reparagáo e quando
o náo utilizar durante um longo período de tempo.
Atençäo! Assim como qualquer aparelho eléctrico, este aparelho também náo pode ser
manuseado por criangas!
As fichas DC-In universais nunca podem ser inseridas em tomadas de 230 V.
EZ) Návod k pouzití
Sitovy adaptér »Evolution 1000« stabilizovany
Tento sifovy adaptér je stabilizovany, tzn., Ze nastavené vystupy napéti neni zavislé na
odebiraném proudu.
Dúlezité informace:
* 8 napájecich konektorú:
2 jack konektory 1,5mm a 3,5 mm,
6 DC konektorü: 1,0 x 3,0 / 2,1 x 5,0 / 1,3 x 3,5 / 0,75 x 2,35 / 1,7 x 4,0 / 2,5 x 5,5 mm
Prepínac napétí na spodní strané prístroje zabrañuje náhodnému prenastavení
béhem provozu.
Specialni transformator — minimalni zahrivani.
—
. Nastavte vystupni napéti, které je potrebné pro napajeny pristroj -
informaci naleznete v navodu nebo na pfistroji u zdifky napájení
2. Nastavte spravnou polaritu.
Bezpecnostni pokyny:
Nepripojujte na prodluzovací Sñúry, stolní zásuvky nebo zásuvkové adaptéry.
Pozívejte jen v suchém prostredí, chrañte pred prachem, $pínou a vysokou teplotou.
Pfistroj neotevirejte a pri poskozeni nepouzívejte!.
Opravu prenechte odbornému servisu.
Pro cisténi pouzívejte suchy , jemny hadrik.
Pred cisténim a delsím nepouzivánim odpojte ze sité.
Pozor! Pristroj nepatfi do rukou détem!
Napájecí konektor se nesmí v ¿zádném prípadé zasunout do zásuvky elektrické sité 230 V!
Руководство по эксплуатации
Универсальный блок питания со стабилизатором
Блок питания снабжен стабилизатором напряжения. Поэтому при небольшой нагрузке
отсутствует девиация напряжения, которое может быть установлено в диапазоне от 1,5 до
12 вольт.
Описание
® в комплект входят 8 штекеров постоянного тока:
2 джек-штекера 2,5 мм и 3,5 MM
6 разъемов пост. тока: 1,0 х 3,0 / 2,1х 5,0 / 1,3 х 3,5 / 0,75 х 2,35 / 1,7 х 4,0 / 2,5 х 5,5 MM
переключатель напряжений на нижней панели прибора предотвращает случайное
изменение выходного напряжения во время работы
полярность переключается установкой штекеров постоянного тока
—
' Входное напряжение питаемого устройства смотрите в инструкции по эксплуатации или
на маркировке разъема питания. Если, например, устройство питается от 4-х
батарей по 1,5 В, установите выходное напряжение блока питания на 6 В.
2. С помощью штекера установите правильную полярность (см. руководство по
эксплуатации или маркировку на разъеме постоянного тока прибора).
Техника безопасности
® Блок питания разрешается подключать только к розетке электросети. Запрещается
подключение к удлинителю, колодке или переходнику.
Беречь от грязи, влаги и источников тепла.
Эксплуатировать только в сухих помещениях.
Не открывать. Запрещается эксплуатировать неисправное изделие.
Ремонтировать разрешается только квалифицированному специалисту.
Для чистки применяйте сухую, мягкую салфетку.
Перед началом выполнения работ по техобслуживанию, ремонту, а также в случае
длительного простоя всегда отключайте от сети питания.
® Внимание! Не давать детям!
Категорически запрещается подключать универсальный блок питания постоянного
тока к электросети 230 В.

* Your assessment is very important for improving the work of artificial intelligence, which forms the content of this project