Hama 01042913 Owner's manual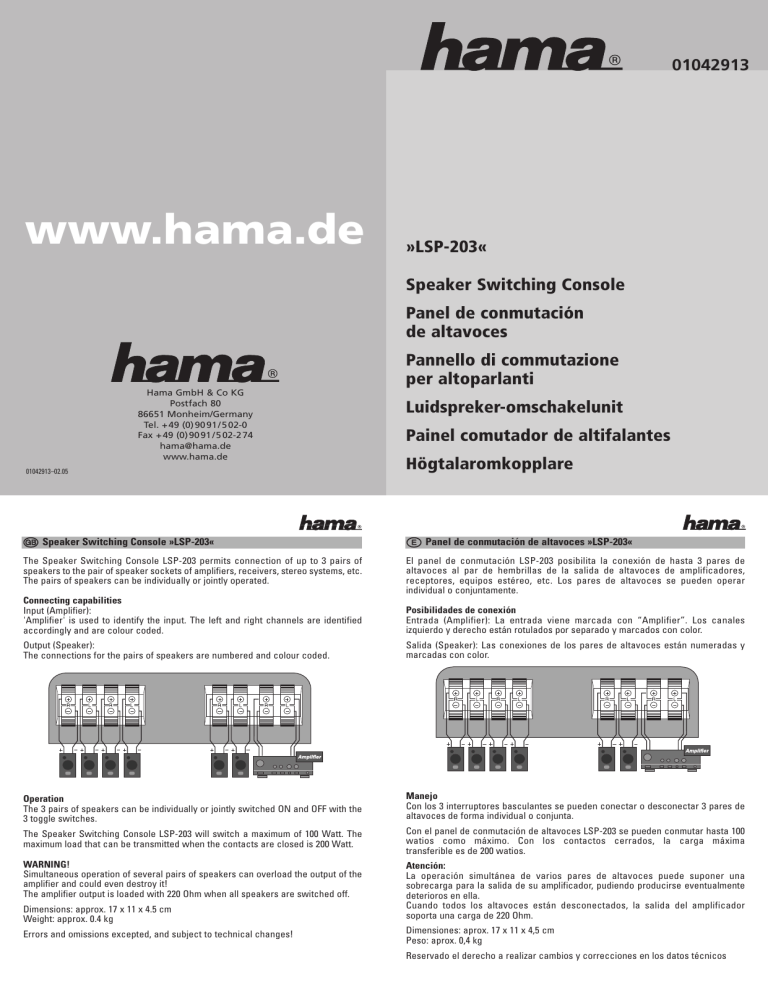 01042913
www.hama.de
»LSP-203«
Speaker Switching Console
Panel de conmutación
de altavoces
Hama GmbH & Co KG
Postfach 80
86651 Monheim/Germany
Tel. + 49 (0) 90 91 / 5 02-0
Fax + 49 (0) 90 91 / 5 02-2 74
[email protected]
www.hama.de
01042913–02.05
Pannello di commutazione
per altoparlanti
Luidspreker-omschakelunit
Painel comutador de altifalantes
Högtalaromkopplare
1
L Speaker Switching Console »LSP-203«
fl Panel de conmutación de altavoces »LSP-203«
The Speaker Switching Console LSP-203 permits connection of up to 3 pairs of
speakers to the pair of speaker sockets of amplifiers, receivers, stereo systems, etc.
The pairs of speakers can be individually or jointly operated.
El panel de conmutación LSP-203 posibilita la conexión de hasta 3 pares de
altavoces al par de hembrillas de la salida de altavoces de amplificadores,
receptores, equipos estéreo, etc. Los pares de altavoces se pueden operar
individual o conjuntamente.
Connecting capabilities
Input (Amplifier):
'Amplifier' is used to identify the input. The left and right channels are identified
accordingly and are colour coded.
Posibilidades de conexión
Entrada (Amplifier): La entrada viene marcada con "Amplifier". Los canales
izquierdo y derecho están rotulados por separado y marcados con color.
Output (Speaker):
The connections for the pairs of speakers are numbered and colour coded.
Salida (Speaker): Las conexiones de los pares de altavoces están numeradas y
marcadas con color.
Operation
The 3 pairs of speakers can be individually or jointly switched ON and OFF with the
3 toggle switches.
Manejo
Con los 3 interruptores basculantes se pueden conectar o desconectar 3 pares de
altavoces de forma individual o conjunta.
The Speaker Switching Console LSP-203 will switch a maximum of 100 Watt. The
maximum load that can be transmitted when the contacts are closed is 200 Watt.
Con el panel de conmutación de altavoces LSP-203 se pueden conmutar hasta 100
watios como máximo. Con los contactos cerrados, la carga máxima
transferible es de 200 watios.
WARNING!
Simultaneous operation of several pairs of speakers can overload the output of the
amplifier and could even destroy it!
The amplifier output is loaded with 220 Ohm when all speakers are switched off.
Atención:
La operación simultánea de varios pares de altavoces puede suponer una
sobrecarga para la salida de su amplificador, pudiendo producirse eventualmente
deterioros en ella.
Cuando todos los altavoces están desconectados, la salida del amplificador
soporta una carga de 220 Ohm.
Dimensions: approx. 17 x 11 x 4.5 cm
Weight: approx. 0.4 kg
Errors and omissions excepted, and subject to technical changes!
Dimensiones: aprox. 17 x 11 x 4,5 cm
Peso: aprox. 0,4 kg
Reservado el derecho a realizar cambios y correcciones en los datos técnicos
. Pannello di commutazione per altoparlanti »LSP-203«
: Luidspreker-omschakelunit »LSP-203«
Il pannello di commutazione LSP-203 consente il collegamento di max. 3 coppie di
altoparlanti alla coppia di prese dell'uscita dell'altoparlante di amplificatori,
ricevitori, impianti stereo ecc. Le coppie di altoparlanti possono essere messe in
esercizio singolarmente o insieme.
Met de omschakelunit LSP-203 kunnen er maximaal 3 luidsprekerparen worden
aangesloten op de twee bussen van de luidsprekeruitgang bij versterkers,
receivers, stereo-installaties, enz. De luidsprekerparen kunnen afzonderlijk of
samen gebruikt worden.
Possibilità di allacciamento
Ingresso (amplificatore):
L'ingresso è contrassegnato con Amplifier. Il canale destro e sinistro sono
contrassegnati con scritte e colori diversi.
Aansluitmogelijkheden
Ingang (versterker):
De ingang wordt met versterker aangegeven. Het linker en rechter kanaal hebben
elk een opschrift en zijn met kleuren gemarkeerd.
Uscita (altoparlante):
Gli attacchi delle coppie di box altoparlanti sono numerati e colorati.
Uitgang (luidspreker):
De aansluitingen voor de luidsprekerparen zijn genummerd en met kleuren
gemarkeerd.
Comando
Mediante i 3 interruttori si possono accendere o spegnere singolarmente o in
coppia 3 coppie di altoparlanti.
Bediening
Met de 3 tuimelschakelaars kunnen de 3 luidsprekerparen afzonderlijk of samen
worden in- of uitgeschakeld.
Con il pannello di commutazione altoparlante LSP-203 è possibile commutare al
massimo 100 Watt. Quando i contatti sono collegati, il carico massimo
trasferibile è pari a 200 Watt.
Met de luidspreker-omschakelunit LSP-203 is de maximale belasting 100 watt. Als
de contacten gesloten zijn, bedraagt de maximale belasting 200 watt.
Attenzione!
Il funzionamento simultaneo di più coppie di altoparlanti può sovraccaricare ed
eventualmente danneggiare l'uscita dell'amplificatore.
Se tutti gli altoparlanti sono disinseriti, l'uscita dell'amplificatore viene caricata con
220 Ohm.
Dimensioni: ca. 17 x 11 x 4,5 cm
Peso: ca. 0,4 kg
Con riserva di errori e modifiche tecniche!
Attentie!
Door het gelijktijdige gebruik van meerdere luidsprekerparen kan de uitgang van uw
versterker overbelast raken en evt. kapot gaan.
Als alle luidsprekers uitgeschakeld zijn, dan wordt de versterkeruitgang met 220
ohm belast.
Afmetingen: ca. 17 x 11 x 4,5 cm
Gewicht: ca. 0,4 kg
Vergissingen en technische wijzigingen voorbehouden!
– Painel comutador de altifalantes »LSP-203«
… Högtalaromkopplare »LSP-203«
O painel comutador possibilita a ligação de até 3 pares de altifalantes no par de
tomadas da saída de altifalantes em amplificadores, receptores, aparelhagem
estéreo, etc. Os pares de altifalantes podem ser operados separadamente ou em
conjunto.
Högtalaromkopplaren LSP-203 gör det möjligt att ansluta upp till 3 högtalarpar till
högtalarutgången på förstärkare, receiver, stereoanläggningar, osv. Högtalarparen
kan drivas enskilt eller båda samtidigt.
Possibilidades de ligação
Entrada (Amplificador):
A entrada está caracterizada com o nome amplificador. O canal esquerdo e
direito estão rotulados e marcados com cores separadamente.
Saída (Altifalante):
As ligações dos pares de caixas de altifalantes são numeradas e caracterizadas
com cores.
Utilização:
Com os três comutadores basculantes é possível ligar e desligar 3 pares de
altifalantes separadamente ou em conjunto.
Com o painel comutador de altifalantes LSP-203 é possível ligar no máximo 100
Watts. Quando os contactos estão fechados, a carga máxima transmissível é de 200
Watts.
Atenção!
No funcionamento simultâneo de vários pares de altifalantes é possível que a saída de
seu amplificador fique sobrecarregada e possa eventualmente ser destruída.
Se todos os altifalantes estiverem desligados, a saída do amplificador é carregada com
220 Ohm.
Dimensões: aprox. 17 x 11 x 4,5 cm
Peso: aprox. 0,4 kg
Salvo erros e modificações técnicas!
Anslutningsmöjligheter
Ingång (Amplifier):
Ingången är märkt med "Amplifier". Vänster och höger kanal har märkts olika i skrift
och färg.
Utgång (Speaker):
Anslutningarna för högtalarparen är numrerade och märkta i färg.
Betjäning
Med de tre vippkontaktern kan 3 högtalarpar enskilt eller tillsammans kopplas till
och från.
Maximalt 100 Watt kan kopplas om med omkopplaren LSP-203. När kontakterna är
slutna är maximalt överförbar belastning 200 Watt.
Observera!
Genom samtidig drift av flera högtalarpar kan utgången på din förstärkare
överbelastas och ev. förstöras.
Är alla högtalare frånkopplade är belastningen på förstärkarutgången 220 Ohm.
Mått: ca. 17 x 11 x 4,5 cm
Vikt: ca. 0,4 kg
Fel och tekniska ändringar förbehållna!

* Your assessment is very important for improving the work of artificial intelligence, which forms the content of this project