Hama 00014209 Owner's manual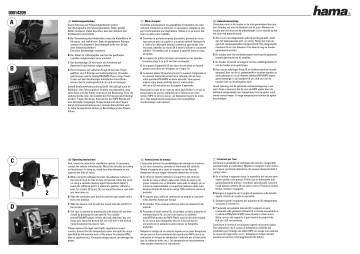 00014209bda 28.02.2007 11:06 Uhr Seite 1
00014209 A B
l
Bedienungsanleitung
Zuerst Fahrzeug auf Einbaumöglichkeiten prüfen. Ggf. Rücksprache mit Fahrzeughersteller. Halter gemäß Bilder montieren. Dabei beachten, dass kein Element den Sichtbereich einschränkt.
A
Bei Verwendung des Klebehalters muss die Klebefläche im Kfz staub- und fettfrei sein. Bitte mit geeignetem Reiniger säubern (Fachhandel!). Das Klebepad sollte min. 24 Std.
ohne Belastung bleiben! Erst dann Geräteträger montieren.
B
Der Halter für Lüftungsgitter wird auf die geöffneten Lamellen aufgeschoben bis er einrastet.
C
Der Geräteträger (2) wird dann mit Aufnahme auf Rastnase(1) des Halters aufgeschoben.
D
Durch Drücken auf seitlichen Knopf (3) wird der Träger geöffnet, durch Drücken auf seitliche Backen (4) wieder geschlossen und Ihr Handy/PDA/MP3-Player sicher fixiert. In dem auf dem Geräteträger befindlichen Fotorahmen können Sie Ihr Lieblingsbild (4,4 cm x 6,9 cm) einlegen.
Gemäß Straßenverkehrsordnung (StVO 1AV §23) gilt auch für Radfahrer: Der Fahrzeugführer ist dafür verantwortlich, dass seine Sicht und das Gehör nicht durch die Besetzung, Tiere, die Ladung, Geräte oder den Zustand des Fahrzeugs beeinträchtigt werden. Tragen Sie Sorge, dass der für den MP3-Betrieb sei tens Hersteller festgelegte Temperaturbereich des Players (durch Sonneneinstrahlung etc.) niemals überschritten wird. Zu hohe Temperaturen können zu Beschädigung des Players führen.
¬
Mode d'emploi
Contrôlez premièrement les possibilités d'installation de votre véhicule. Contactez le fabricant, si nécessaire. Installez le sup port conformément aux illustrations. Veillez à ce qu'aucun élé ment ne gêne votre visibilité.
A
Contrôlez la parfaite propreté (poussière, graisse) de la sur face prévue pour accueillir le coussinet adhésif. Nettoyez-la à l'aide d'un détergent adapté (commerce spécialisé). Une fois posé, attendez au moins 24 h avant d'utiliser le coussinet adhésif ! N'installez pas le support d'appareil avant ce laps de temps.
B
Le support de grille d'aération est installé sur les lamelles ouvertes jusqu'à ce qu'il soit bien encliqueté.
C D
Le support d'appareils (2) est alors mis en place en faisant glisser sa surface de réception sur l'ergot (1).
Le bouton latéral (3) permet d'ouvrir le support d'appareils et le poussoir latéral (4) permet de le refermer afin de fixer votre portable/PDA/MP3 en toute sécurité. Vous pouvez insérez votre photo préférée dans le cadre photo (4,4 cm x 6,9 cm) placé sur le support d'appareils.
Respecter le code de la route de votre pays.Veillez à ce que la température de service indiquée par le fabricant de votre lecteur MP3 ne soit en aucun cas dépassée (rayons du soleil, etc.). Des températures excessives sont susceptibles d'endommager votre lecteur.
:
Gebruiksaanwijzing
Controleer eerst of de houder in de auto gemonteerd kan wor den. Overleg evt. met de fabrikant van de auto. Monteer de houder aan de hand van de afbeeldingen. Let er daarbij op dat het zicht niet beperkt wordt.
A
Als er van het plakgedeelte gebruik wordt gemaakt, maak dan het plakoppervlak stof- en vetvrij. Reinig het met een geschikt reinigingsmiddel (vakspecialist!). Het plakgedeelte minstens 24 uur niet belasten! Pas daarna mag de houder gemonteerd worden.
B
De houder voor het ventilatierooster wordt op de geopende lamelle geschoven tot hij vastklikt.
C D
De houder (2) wordt vervolgens met het vastklikgedeelte (1) van de houder erop geschoven.
Door op de zijdelingse knop (3) te drukken wordt de houder geopend, door op de zij- gedeeltes(4) te drukken worden ze weer gesloten en is uw mobiele telefoon/PDA/MP3-speler goed bevestigd. In de fotolijst (4,4 cm x 6,9 cm) van de houder kunt uw lievelingsfoto doen.
Houdt rekening met de geldende verkeerswetgeving in uw land. Zorgt u daarvoor, dat de voor de MP3-speler door de fabrikant vastgestelde max. temperatuur van de speler nooit wordt overschreden. Te hoge temperaturen kunnen de speler beschadigen.
C D 1 4 2
4–11cm
3
L
Operating Instructions
First, check the vehicle for installation options. If necessary, consult the vehicle manufacturer. Mount the bracket according to the pictures. In doing so, make sure that elements do not obstruct the field of vision.
A
When using the adhesive bracket, the adhesive surface in the vehicle must be free of dust and grease. Clean the surfa ce using a suitable cleaning agent (specialised dealer!).
Leave the adhesive pad in a stationary position, without a load, for at least 24 hours! Do not mount the device rack until you have done so.
B
Slide the ventilation grill bracket onto the open panel until it locks into position.
C D
Slide the device rack (2) with the mount onto the latch(1) of the bracket.
The rack is opened by pressing the side button (3) and then closed by pressing the side jaw (4). Your mobile phone/PDA/MP3 player is then securely attached. You can insert your favourite picture (4,4 cm x 6,9 cm) in the picture frame located on the device rack.
Please observe the legal road traffic regulations in your country. Ensure that the temperature never exceeds the range specified by the manufacturer of the player for playing MP3s (due to sunshine etc.). Excessive temperatures can damage the player.
fl
Instrucciones de manejo
Compruebe primero las posibilidades de montaje en el vehícu lo. En caso necesario, consulte al fabricante del vehículo.
Monte el soporte tal y como se muestra en las figuras.
Asegúrese de que ningún elemento obstaculiza la visión.
A B
Si utiliza el soporte adhesivo, la superficie del vehículo donde se vaya a adherir debe estar limpia de polvo y de grasa. Límpiela con un limpiador adecuado (a adquirir en un comercio especializado). La superficie adhesiva debe man tenerse durante 24 horas sin carga. Sólo entonces, monte el portador.
El soporte para rejilla de ventilación se empuja en las lami nillas abiertas hasta que encaja.
C
El portador (2) se empuja entonces sobre la pestaña (1) del soporte.
D
Pulsando el botón lateral (3), el portador se abre, pulsando la mordaza lateral (4), se cierra de nuevo y su teléfono móvil/PDA/reproductor MP3-Player que fijo de forma segura.
En el marco para fotografías (4,4 cm x 6,9 cm) que se encuentra en el portador puede colocar su fotografía preferida.
Respete el código de circulación vigente en su país. Asegúrese de que para el funcionamiento del reproductor MP3 nunca se sobrepase el margen de temperatura indicado por el fabricante (por la radiación solar, etc.). Las temperaturas excesivamente altas pueden deteriorar el reproductor.
.
Istruzioni per l'uso
Verificare le possibilità di montaggio del veicolo, rivolgendosi eventualmente al costruttore. Montare il supporto come indica to in figura, prestando attenzione che nessun elemento limiti il campo visivo.
A
Se si utilizza il supporto visivo, la superficie del veicolo deve essere pulita e non grassa. Pulirla con un detergente ade guato(disponibile presso i rivenditori specializzati). Lasciare il pad adesivo almeno 24 ore senza carico! Trascorso questo tempo, montare il supporto.
B
Spingere il supporto per la griglia di aerazione sulle lamelle aperte, finché non scatta in posizione.
C
Spingere quindi il supporto per apparecchi (2) alloggiandolo sul punto di innesto (1).
D
Premendo sul pulsante laterale (3) il supporto si apre, premendo sulla ganascia laterale (4) si chiude nuovamente e il cellulare/PDA/lettore MP3 viene fissato in modo sicuro.
Nella cornice del supporto si può inserire la propria foto (4,4 cm x 6,9 cm) preferita.
Consultare le norme di circolazione vigenti nel proprio paese. Fare attenzione che il campo di temperatura stabilito dal produttore per l'impiego dei lettori MP3 non venga mai superato (a causa dei raggi solari, ecc.). Temperature troppo elevate possono provocare il danneggiamento del lettore.
* Your assessment is very important for improving the work of artificial intelligence, which forms the content of this project