Hama 00011864 Owner's manual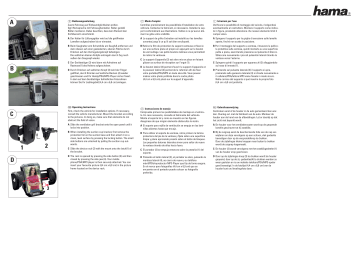 A
l Bedienungsanleitung
Zuerst Fahrzeug auf Einbaumöglichkeiten prüfen.
Ggf. Rücksprache mit Fahrzeughersteller. Halter gemäß
Bilder montieren. Dabei beachten, dass kein Element den
Sichtbereich einschränkt.
¬ Mode d'emploi
Contrôlez premièrement les possibilités d'installation de votre
véhicule. Contactez le fabricant, si nécessaire. Installez le support conformément aux illustrations. Veillez à ce qu'aucun élément ne gêne votre visibilité.
. Istruzioni per l'uso
Verificare le possibilità di montaggio del veicolo, rivolgendosi
eventualmente al costruttore. Montare il supporto come indicato in figura, prestando attenzione che nessun elemento limiti il
campo visivo.
A Der Halter für Lüftungsgitter wird auf die geöffneten
Lamellen aufgeschoben bis er einrastet.
A Le support de grille d'aération est installé sur les lamelles
ouvertes jusqu'à ce qu'il soit bien encliqueté.
A Spingere il supporto per la griglia di aerazione sulle lamelle
aperte, finché non scatta in posizione.
B Beim Saughalter erst Schutzfolie am Saugfuß entfernen und
dann diesen auf einer gesäuberten, ebenen Fläche durch
Drücken auf den Verriegelungsknopf befestigen.
Die seitlichen kleinen Knöpfe entriegeln durch Zug nach
außen den Saugnapf wieder.
B Retirez le film de protection du support-ventouse et fixez-le
sur une surface plane et propre en appuyant sur le bouton
de verrouillage. Les petits boutons latéraux vous permettent
de retirer la ventouse.
B Per il montaggio del supporto a ventosa, rimuovere la pellicola protettiva sulla ventosa, quindi montarla su una superficie
pulita e piana, esercitando pressione sul pulsante di blocco.
Sbloccare nuovamente i piccoli pulsantini laterali tirando la
ventosa verso l'esterno.
C Der Geräteträger (2) wird dann mit Aufnahme auf
Rastnase(1) des Halters aufgeschoben.
B
D Durch Drücken auf seitlichen Knopf (3) wird der Träger
geöffnet, durch Drücken auf seitliche Backen (4) wieder
geschlossen und Ihr Handy/PDA/MP3-Player sicher fixiert.
In dem auf dem Geräteträger befindlichen Fotorahmen
können Sie Ihr Lieblingsbild (4,4 cm x 6,9 cm) einlegen.
L Operating Instructions
First, check the vehicle for installation options. If necessary,
consult the vehicle manufacturer. Mount the bracket according
to the pictures. In doing so, make sure that elements do not
obstruct the field of vision.
C
A Slide the ventilation grill bracket onto the open panel until it
locks into position.
2
1
C Slide the device rack (2) with the mount onto the latch(1) of
the bracket.
D The rack is opened by pressing the side button (3) and then
closed by pressing the side jaw (4). Your mobile
phone/PDA/MP3 player is then securely attached. You can
insert your favourite picture (4,4 cm x 6,9 cm) in the picture
frame located on the device rack.
D
4
B When installing the suction cup bracket, first remove the
protection foil on the suction base and then attach it on a
clean, level surface by pressing the locking button. The small
side buttons are unlocked by pulling the suction cup outwards.
m
4 – 11 c
3
C Le support d'appareils (2) est alors mis en place en faisant
glisser sa surface de réception sur l'ergot (1).
D Le bouton latéral (3) permet d'ouvrir le support d'appareils et
le poussoir latéral (4) permet de le refermer afin de fixer
votre portable/PDA/MP3 en toute sécurité. Vous pouvez
insérez votre photo préférée dans le cadre photo
(4,4 cm x 6,9 cm) placé sur le support d'appareils.
C Spingere quindi il supporto per apparecchi (2) alloggiandolo
sul naso di innesto (1).
D Premendo sul pulsante laterale (3) il supporto si apre,
premendo sulla ganascia laterale (4) si chiude nuovamente e
il cellulare/PDA/lettore MP3 viene fissato in modo sicuro.
Nella cornice del supporto si può inserire la propria foto
(4,4 cm x 6,9 cm) preferita.
fl Instrucciones de manejo
Compruebe primero las posibilidades de montaje en el vehículo. En caso necesario, consulte al fabricante del vehículo.
Monte el soporte tal y como se muestra en las figuras.
Asegúrese de que ningún elemento obstaculiza la visión.
: Gebruiksaanwijzing
Controleer eerst of de houder in de auto gemonteerd kan worden. Overleg evt. met de fabrikant van de auto. Monteer de
houder aan de hand van de afbeeldingen. Let er daarbij op dat
het zicht niet beperkt wordt.
A El soporte para rejilla de ventilación se empuja en las laminillas abiertas hasta que encaja.
A De houder voor het ventilatierooster wordt op de geopende
lamelle geschoven tot hij vastklikt.
B Para utilizar el soporte de ventosa, retire primero la lámina
protectora del pie de la ventosa y fíjela sobre una superficie
limpia y plana ejerciendo presión sobre el botón de bloqueo.
Los pequeños botones laterales sirven para soltar de nuevo
la ventosa tirando de ellos hacia fuera.
B Bij de zuignap eerst de beschermende folie van de nap verwijderen en deze vervolgens op een schoon, vlak gedeelte
bevestigen door op de vergrendelknop te drukken.
Door de zijdelingse kleine knoppen naar buiten te trekken
wordt de zuignap losgemaakt.
C El portador (2) se empuja entonces sobre la pestaña (1) del
soporte.
C De houder (2) wordt vervolgens met het vastklikgedeelte (1)
van de houder erop geschoven.
D Pulsando el botón lateral (3), el portador se abre, pulsando la
mordaza lateral (4), se cierra de nuevo y su teléfono
móvil/PDA/reproductor MP3-Player que fijo de forma segura.
En el marco para fotografías (4,4 cm x 6,9 cm) que se
encuentra en el portador puede colocar su fotografía
preferida.
D Door op de zijdelingse knop (3) te drukken wordt de houder
geopend, door op de zij- gedeeltes(4) te drukken worden ze
weer gesloten en is uw mobiele telefoon/PDA/MP3-speler
goed bevestigd. In de fotolijst (4,4 cm x 6,9 cm) van de
houder kunt uw lievelingsfoto doen.

* Your assessment is very important for improving the work of artificial intelligence, which forms the content of this project