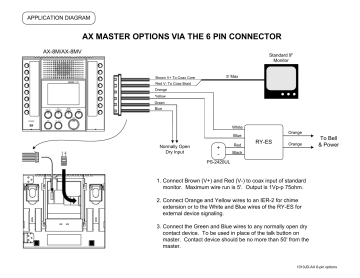 APPLICATION DIAGRAM AX-8M/AX-8MV
AX MASTER OPTIONS VIA THE 6 PIN CONNECTOR
Standard 9" Monitor 5' Max Brown V+ To Coax Core Red V- To Coax Braid Orange Yellow Green Blue Normally Open Dry Input White Blue Red + PS-2420UL Black RY-ES Orange Orange 1. Connect Brown (V+) and Red (V-) to coax input of standard monitor. Maximum wire run is 5'. Output is 1Vp-p 75ohm.
2. Connect Orange and Yellow wires to an IER-2 for chime extension or to the White and Blue wires of the RY-ES for external device signaling.
3. Connect the Green and Blue wires to any normally open dry contact device. To be used in place of the talk button on master. Contact device should be no more than 50' from the master.
To Bell & Power 1010JD-AX 6-pin options
* Your assessment is very important for improving the work of artificial intelligence, which forms the content of this project