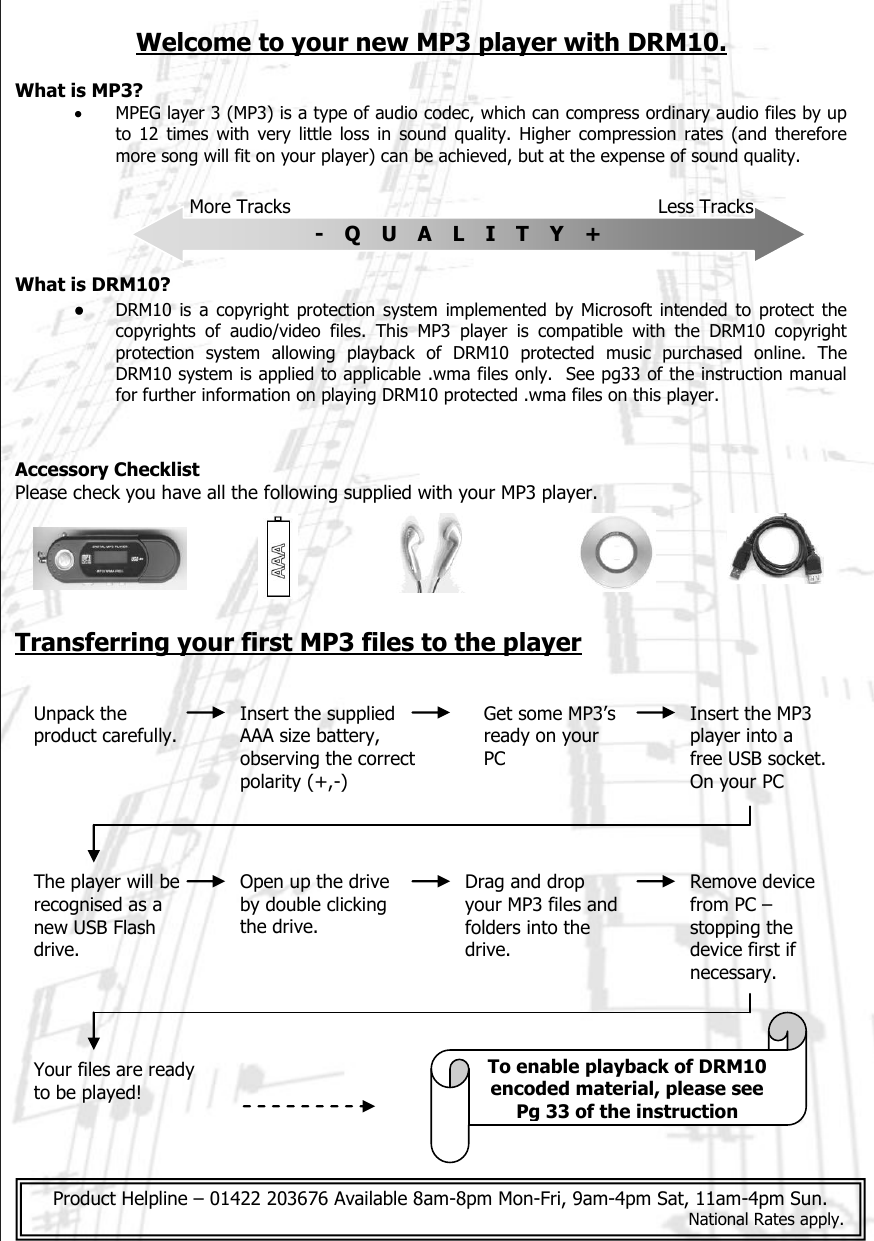 Welcome to your new MP3 player with DRM10.
What is MP3?
MPEG layer 3 (MP3) is a type of audio codec, which can compress ordinary audio files by up
to 12 times with very little loss in sound quality. Higher compression rates (and therefore
more song will fit on your player) can be achieved, but at the expense of sound quality.
More Tracks
Less Tracks
-
Q
U A
L
I T
Y
+
What is DRM10?
DRM10 is a copyright protection system implemented by Microsoft intended to protect the
copyrights of audio/video files. This MP3 player is compatible with the DRM10 copyright
protection system allowing playback of DRM10 protected music purchased online. The
DRM10 system is applied to applicable .wma files only. See pg33 of the instruction manual
for further information on playing DRM10 protected .wma files on this player.
Accessory Checklist
Please check you have all the following supplied with your MP3 player.
Transferring your first MP3 files to the player
Unpack the
product carefully.
Insert the supplied
AAA size battery,
observing the correct
polarity (+,-)
The player will be
recognised as a
new USB Flash
drive.
Open up the drive
by double clicking
the drive.
Your files are ready
to be played!
Get some MP3's
ready on your
PC
Drag and drop
your MP3 files and
folders into the
drive.
Insert the MP3
player into a
free USB socket.
On your PC
Remove device
from PC –
stopping the
device first if
necessary.
To enable playback of DRM10
encoded material, please see
Pg 33 of the instruction
manual.
Product Helpline – 01422 203676 Available 8am-8pm Mon-Fri, 9am-4pm Sat, 11am-4pm Sun.
National Rates apply.

* Your assessment is very important for improving the work of artificial intelligence, which forms the content of this project