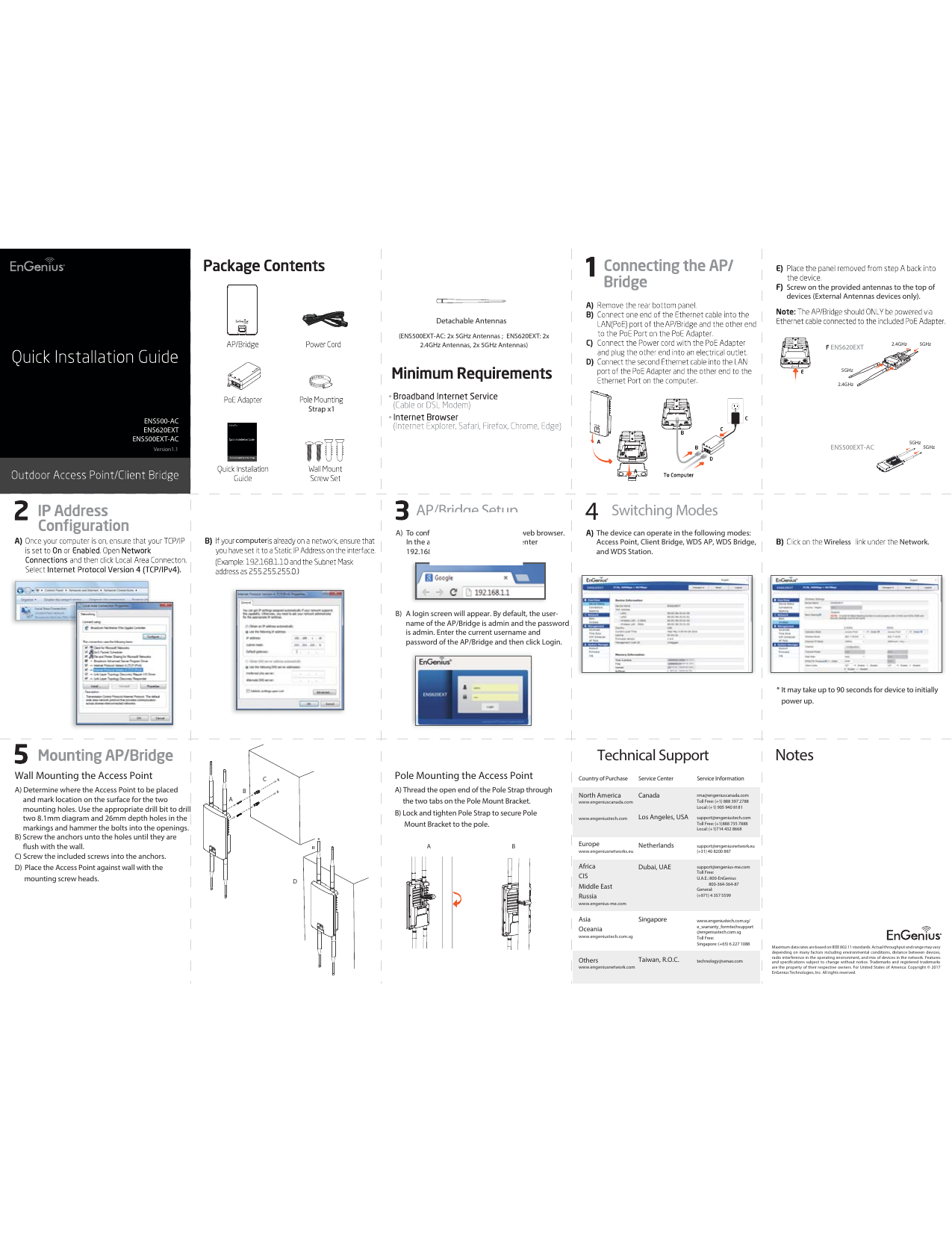 Screw on the provided antennas to the top of
devices (External Antennas devices only).
Detachable Antennas
(ENS500EXT-AC: 2x 5GHz Antennas ; ENS620EXT: 2x
2.4GHz Antennas, 2x 5GHz Antennas)
ENS620EXT
2.4GHz
5GHz
5GHz
2.4GHz
5GHz
5GHz
Strap x1
ENS500-AC
ENS620EXT
ENS500EXT-AC
2.4GHz
2.4GHz
ENS500EXT-AC
Version1.1
AP/Bridge Setup
A) To configure the AP/Bridge, open a web browser.
In the address bar of web browser, enter
192.168.1.1 and hit enter.
computer
4
5GHz
5GHz
Switching Modes
The device can operate in the following modes:
Access Point, Client Bridge, WDS AP, WDS Bridge,
and WDS Station.
Wireless
Network.
)
B) A login screen will appear. By default, the username of the AP/Bridge is admin and the password
is admin. Enter the current username and
password of the AP/Bridge and then click Login.
* It may take up to 90 seconds for device to initially
power up.
6
Technical Support
Wall Mounting the Access Point
A) Determine where the Access Point to be placed
and mark location on the surface for the two
mounting holes. Use the appropriate drill bit to drill
two 8.1mm diagram and 26mm depth holes in the
markings and hammer the bolts into the openings.
B) Screw the anchors unto the holes until they are
flush with the wall.
C) Screw the included screws into the anchors.
D) Place the Access Point against wall with the
mounting screw heads.
Pole Mounting the Access Point
C
A) Thread the open end of the Pole Strap through
the two tabs on the Pole Mount Bracket.
B) Lock and tighten Pole Strap to secure Pole
Mount Bracket to the pole.
B
A
A
D
B
Country of Purchase
Service Center
Service Information
North America
Canada
rma@engeniuscanada.com
Toll Free: (+1) 888 397 2788
Local: (+1) 905 940 8181
www.engeniustech.com
Los Angeles, USA
support@engeniustech.com
Toll Free: (+1)888 735 7888
Local: (+1)714 432 8668
Europe
Netherlands
support@engeniusnetwork.eu
(+31) 40 8200 887
Dubai, UAE
support@engenius-me.com
Toll Free:
U.A.E.: 800-EnGenius
800-364-364-87
General:
(+971) 4 357 5599
www.engeniuscanada.com
www.engeniusnetworks.eu
Africa
CIS
Middle East
Russia
Notes
www.engenius-me.com
Asia
Oceania
Singapore
www.engeniustech.com.sg
Others
www.engeniusnetwork.com
Taiwan, R.O.C.
www.engeniustech.com.sg/
e_warranty_formtechsupport
@engeniustech.com.sg
Toll Free:
Singapore: (+65) 6 227 1088
technology@senao.com
Maximum data rates are based on IEEE 802.11 standards. Actual throughput and range may vary
depending on many factors including environmental conditions, distance between devices,
radio interference in the operating environment, and mix of devices in the network. Features
and specifications subject to change without notice. Trademarks and registered trademarks
are the property of their respective owners. For United States of America: Copyright © 2017
EnGenius Technologies, Inc. All rights reserved.

* Your assessment is very important for improving the work of artificial intelligence, which forms the content of this project